Splinterlands Weekly Social Media Challenge! | Djinn Ferni Devastating attacks.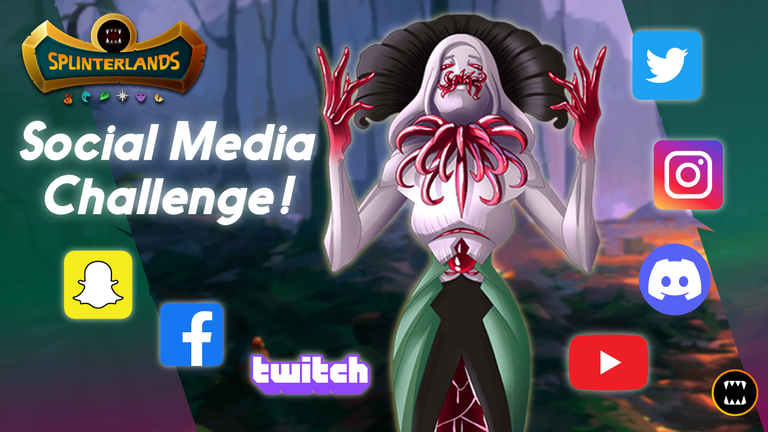 After not writing a splinterlands' challenge for 2 weeks. I make my first post again, and I'd like to share a battle of Djinn inferni in gold leagues. To not breaching the rules that say not to use more than one splitnerlands account to join the challenge,from now on I decide to use my scholarship account from nfty arcade na-spl-83. this account has more cards than my personal and the cards also consists of many chaos legion cards which is widely use by new players. Hope this battle post will be helpful to them.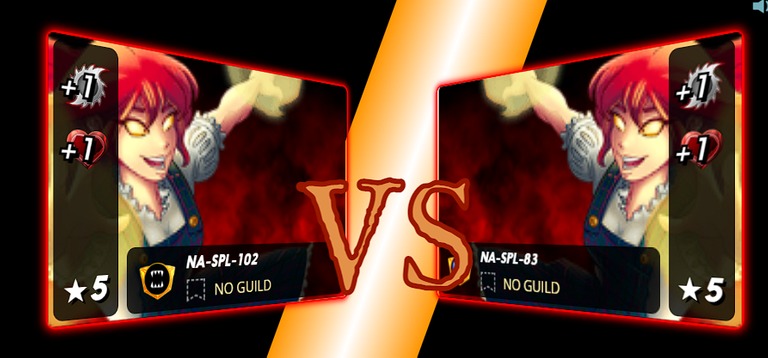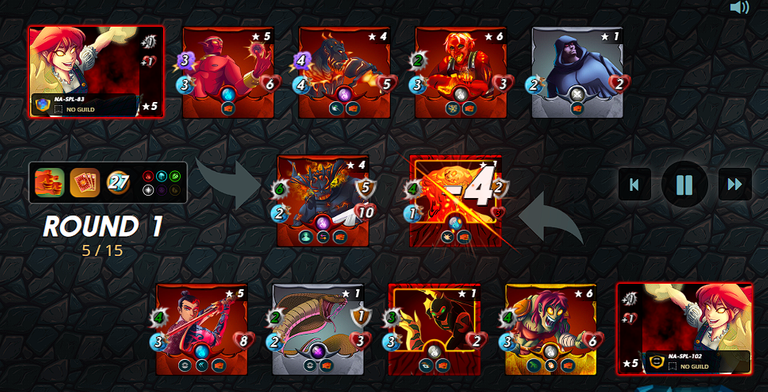 If you want to watch the battle directly, you may tap the links below.

My Line Up Explanation
RULE

Leagues = Gold 3
Heavy hitters = This rulesets only activated in gold above rank since in silver none monsters has stun ability that will trigger the effect of this rule.
Odds one out = Only odds mana cost monster that can be used in this battle. So owning all the cards despite the stats is also useful, including this rulesets that limit the cards that we can summon
summoner = Dragon and death can't be used
---
SUMMONER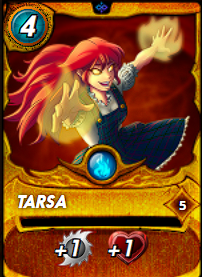 I used tarsa in this battle cause fire splinter has more strong monsters that has odd mana cost. Tarsa will give aour team 1 melee attack and 1 health buff. I believe fire element will make me win this timewith the combination of Tarsa and the odd monsters from fire splinter. The weakness of this splinter is magic damage, the void tank damage has even cost mana that unfortunate we can't use due to rule.
---
FRONT ROW (TANK POSITION)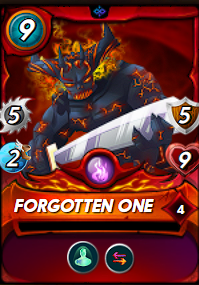 The most strong tank that can be used in my deck was Forgotton one so without any doubt I summone this monsters as my tank. After checking available monsters in every other splinters it show that, the chaos legion monsters is lack off magic monsters in odds mana. This facts will make the Forgotten one will be a good tank in this battle. This card has either strong attacks and defense.
---
SECOND MONSTER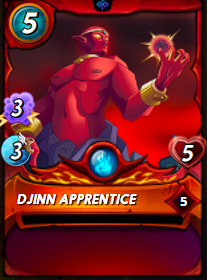 Djinn apprentice is my second pick. This card is magic card will ignore the shield of enemy monsters if it attacks. It is a good choice to bring this type of monsters as it will deal damage directly to the opponent monsters. This card has 3 magic attacks and 5 health that is quite low, but it's okay since it is not a tank and it is placed before the tank to secure it from direct attack.
---
THIRD MONSTERS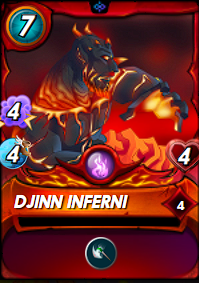 The monster that we are highlighted today is Djinn Inferni that will add a magic base attacks to the opponents' monster. eventhough it also has low health but the card has powerfull attack and high speed to deal damage quickly. This card used 7 maan that is quite high but a good card comes with a good price too, doesn't it?. This card has a giant killer ability that will double the damage if the oopenent use monsters that has more than 10 mana cost.
---
FOURTH MONSTER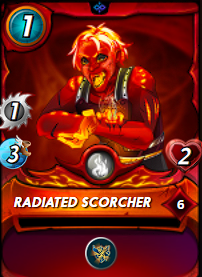 The fourth monster is Radiated Schorcer that I intend to use as a shield from a sneak attack. I have two low health magic monsters that need a cover from sneak attacks. So I use this card as a shield because it has low mana to summon, although it has potential to put in front to destroy the enemy shield from it's shieldbreaker ability, but I wanna ensure that my magic monsters is secure in the first place
---
FIFTH MONSTERS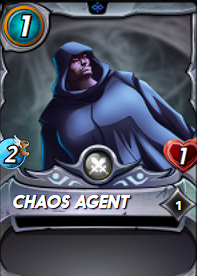 The fifth monsters that I used is a chaos agent cards, this is the only cards that we not in high level yet. this card is actually has good ability in high level. To use the remaining mana effectively, I chose to use this card also as a shield. Like I said earlier I want to make sure my magic monsters secure from sneak attack. I could put this card in the second position also to take damage from snipe but sneak attacks monsters is likely to be summoned more in this ruleset
---

Did My Strategy Worked? What will I do Differently?
Apparently the enemy is also a nfty arcade scholarship account. from the opponent's line-up we could see that the enemy has two sneak monsters and he is not using the forgotten one as a tanks, but I guess he doesn't use it to save mana in order to summoned other monsters. The enemy line-up is obviously countered by my monsters placement. The sneak monster could not directly touch my main damager while my magic monsters is freely dealing magic damage from it's seat. Also the magic attacks ignore the enemy shield that directly send the tanks to the graveyard. eventhoug the enemy has multiple attacks but it doesn't kill my monsters in a single attack while my tanks and magic monsters could do that.

About This Monsters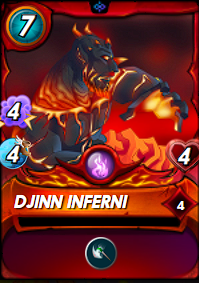 What I like about this monster :
high magic attacks This monster's attack is very high compare to usual monsters and what makes it more interesting is it is magic monsters.
high speed This cards will has a high speed that will delivering combo faster and it also could evade an incoming melee and range attacks.
What i don't like about this monster:
**low health **, This cards has low health, it will be a nightmare if the enemy use magic and high attacks monsters
high mana cost This cards consumes 7 mana to summon, it's hard to use this card in several situations. especially in low mana cap

When to use This monsters
I suggest you to use this monster only for this situation:
armored up This card will have shield to cover its low health which is one of the card's weakness
Equalizer Despite having good stats and giant killer ability this cards is still not too good because of the low health. But with equalizer rulesets we could definately use this cards
Odds one out As shown in this battle this card is definately a good choice to have around.

When to Avoid using This Monsters :
I don't recommend you to use this monster for this situation below:
low mana cap, This card consumes high mana cost and also it could not doing good without team to support it.
Weak magic, I feel that this card is not suitable in this rulesets as it will attack the shield first before the health stats. It has 4 magic attacks and most shield will take the damage and will not apply the difference number.

Final Words
Thank you for reading my post, i hope you enjoyed this post and could give another view about this monster. Let me know if you got another view about this monster on comment section. In addition for the new players to Splinterlands if you sign up with my referral link and complete the spellbook purchase, I will send you 75 DEC in game which should help you get started by renting some cards and building up your teams
---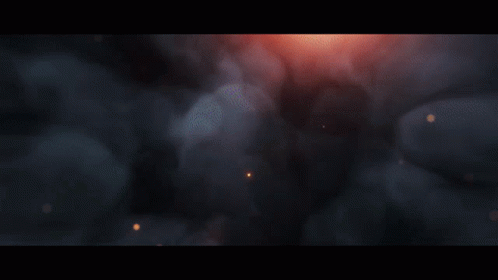 Credits
Splinterlands for making a masterpiece play2earn game
carrieallen for ultimate markdown tutorial
Mr. Flauwy for the dividers
---
---