Opening 64 Loot Chests for EoS + 17 from Daily Focus on June 15th; & Opening 5 Chaos Legion Packs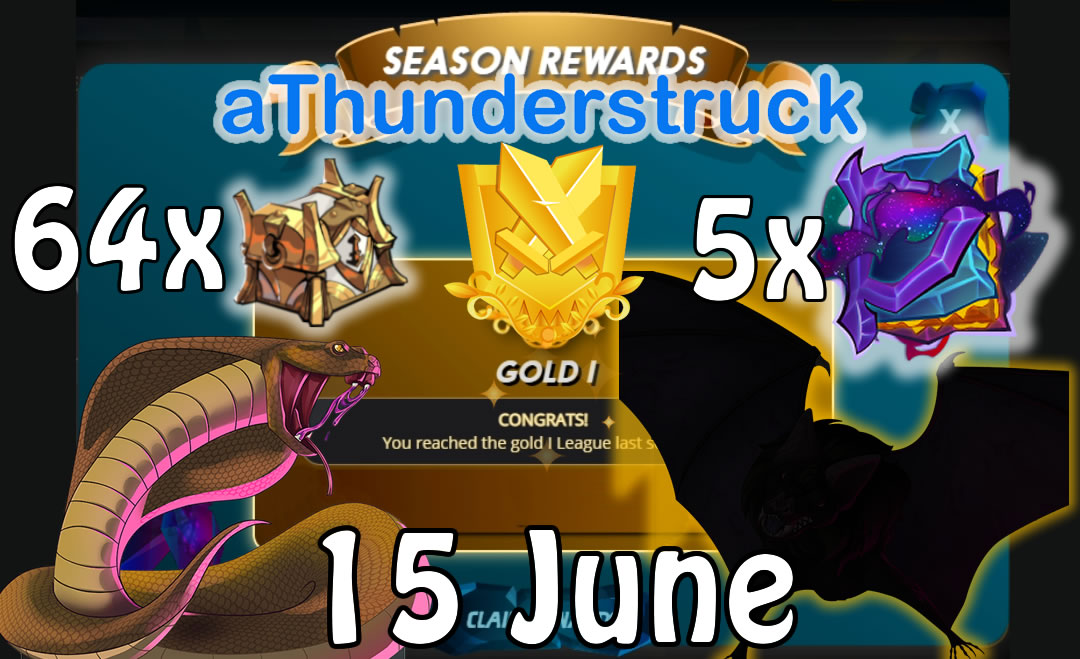 thumbnail added since I edited the post and it could mess up
---
Ahoy, on this June 15th the latest season in Splinterlands has ended and this is also the first End of Season since the introduction of the new rewards changes!
I was able to gain 17 loot chests for my Daily Focus on the last day of the season, but I had to wait like 7 hours after End of Season before I was able to claim those. I decided to wait with claiming them so that I could also open them in this video together with the End of Season loot chests.
For the season itself I gained 64 End of Season Loot Chests. Which is more than double of what I would normally get from finishing the season in Gold 1. I was trying to get to 65 Loot Chests before the timer for the season was up, but I ended up losing my last 2 fights before there were 5 minutes left until the end. In the last 5 minutes you can't queue for any new battles anymore, only finish the ones still going on. Still the 64 Loot Chests is pretty good for the first season with the update, I can now try to aim for more chests at the end of this next season.
I start claiming the Daily Focus chests first, and from those 17 chests I got the following rewards:
DEC: 48, 48, 24 & 24
6x Legendary Potion
1x Alchemy Potion
1x Ever-Hungry Skull
1x Vulguine, yay that's my first of this card! I didn't get this one from my Daily Focus chests until now
1x Blood Maker
1x Venari Wavesmith
1x Merdhampi
1x Uraeus, yay an Epic card!
Now that I've opened those, it's time to claim the End of Season chests. When I click on details it still shows pending rewards 64 chests, so I have to refresh the site before I'm able to claim them. Once I've refreshed I claim those 64 Loot Chests.
From them I got:
DEC: 56, 56, 24, 72, 40, 32, 32, 72, 152, 32, 16, 152, 24, 16, 168, 64, 24, 56, 24, 32, 80, 8; for a total of 1232 DEC
6x Legendary Potion
12x Alchemy Potion
2x Chaos Legion Pack, alright awesome 2 Chaos Legion Packs that I'll open after the End of Season chests
5x Ever-Hungry Skull
2x Bloodmaker
2x Merdhampir
3x Gargoya Lion
1x Twilight Basilisk
3x Pelacor Conjurer
1x Pelacor Mercenary
1x Pelacor Bandit
2x Venari Heatsmith
1x Gargoya Devil
1x Gold Foil Vampire Bat, yay my first gold foil version of this card!
Here are all of them in a nice overview provided by splintershare.info that Clove71 has just taught me about.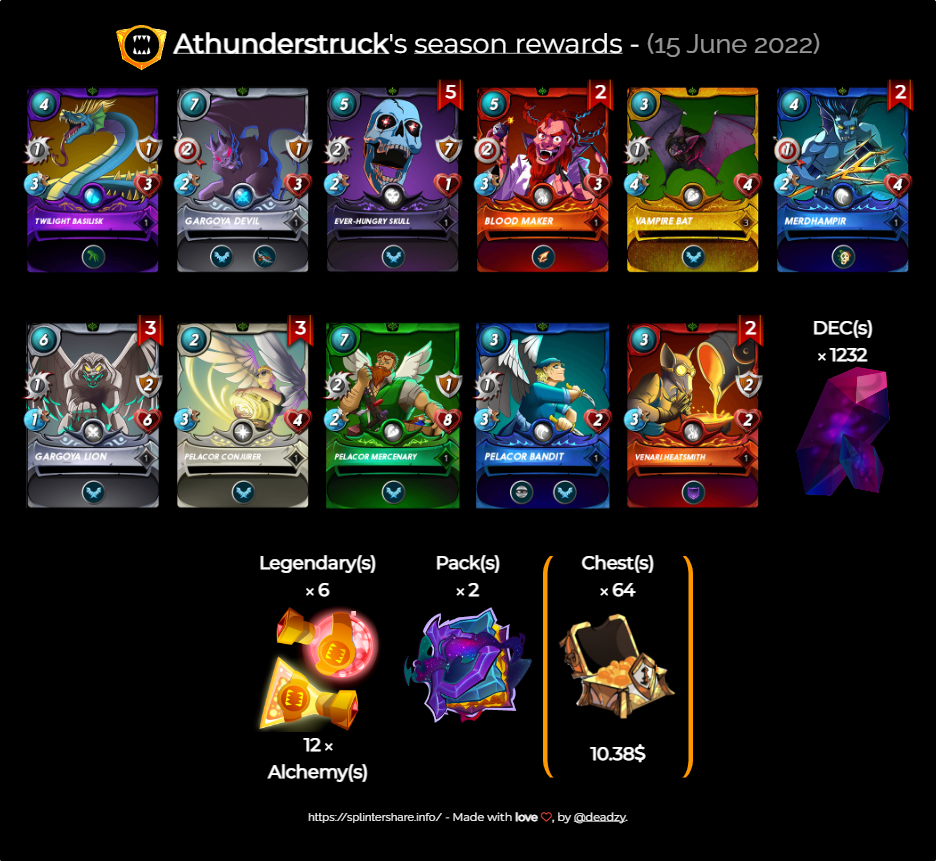 This overview looks really good!
Unfortunately no Epic or Legendary here, but I did get a Gold Foil card and that's always great to find as well!
Those 2 Chaos Legion Packs from the End of Season rewards definitely have to be opened. On top of those I received 2 from some of my Daily Focus throughout the season, and I received one from the amazing @clove71 😄 I decided to keep those 3, and thanks to the 2 I got from End of Season Loot Chests I now have 5 to open! Let's open them and see what I get:
Common Cards:
2x Hardy Stonefish
2x Mycelic Morphoid
1x Antoid Platoon
1x Chaos Knight
1x Hill Giant
1x Flying Squid
1x Kulu Swimhunter
1x Goblin Psychic
1x Venari Knifer
1x Silent Sha-vi
1x Radiated Scorcher
1x Disintegrator
1x Scavo Hireling
1x Stitch Leech
Rare Cards:
1x Soul Strangler
1x Mycelic Infantry
2x Tarsa
1x Scavo Firebolt
2x Tenyii Striker
1x Merdaali Guardian
1x Diemonshark
No Epic or Legendary cards from the packs unfortunately, and no Gold Foils. But with 9 Rare Cards from the packs that's definitely a pretty good opening, especially with 2 of them being Summoners! 😄
How many chests did you end up getting for your End of Season rewards and what was one of the best rewards you got from them?
Thanks for watching!
If you haven't signed up for Splinterlands yet and want to check it out, you can do so with my referral link at: https://splinterlands.com?ref=athunderstruck
---
▶️ 3Speak
---
---