Opening 58 Loot Chests for EoS Rewards on December 30th & Opening 10 Chaos Legion Packs
---
Ahoy, today on December 30th the latest season in Splinterlands has ended. This is also the final season ending of this year because tomorrow it's New Year's Eve and then the new year will start.
Once again the majority of my battles have taken place in the Wild format. I got to Silver 1 here quite quickly, within the first days. That's where I stayed for the whole rest of the season too. As I decided to perhaps try challenging for Wild Silver Leaderboards this time.
Throughout the season I was often in the top 25 there in the Silver league, also regularly falling out of the top 25 but still being i nthe top 50. On this final day before the season ending I was doing some more battling, my rating stayed about the same which wasn't good because this afternoon I was not in the top 25. Then I had a win streak with 5 wins in a row, it started looking good again! Unfortunately after those I had 3 losses. With those losses I had to get quite a bit more rating again and there were only 20 minutes or so left. I figured it does not look good.
That's when I switched over to battle a bit more in Modern. The night before I had already gotten into Gold 3 in Modern, because I wanted to achieve Gold there for getting Gold End of Season loot chests in the next season. Since most of my battling took place in Wild, I was only in Gold 3 in Modern.
After switching over to battle a bit more in Modern before the season ended to try and get an additional loot chest I was able to get into Gold 2 from my wins. A few more wins on my win streak could've probably gotten me into Gold 1 there. There were only 5 minutes left at that point though when I got my next End of Season loot chest, so I stopped battling.
This way I did get quite a bit less End of Season loot chests than before, but I still got 58 Loot Chests.
Let's see what I get from them.
From opening those 58 Loot Chests I get the following rewards displayed in a screenshot from splintershare info made by deadzy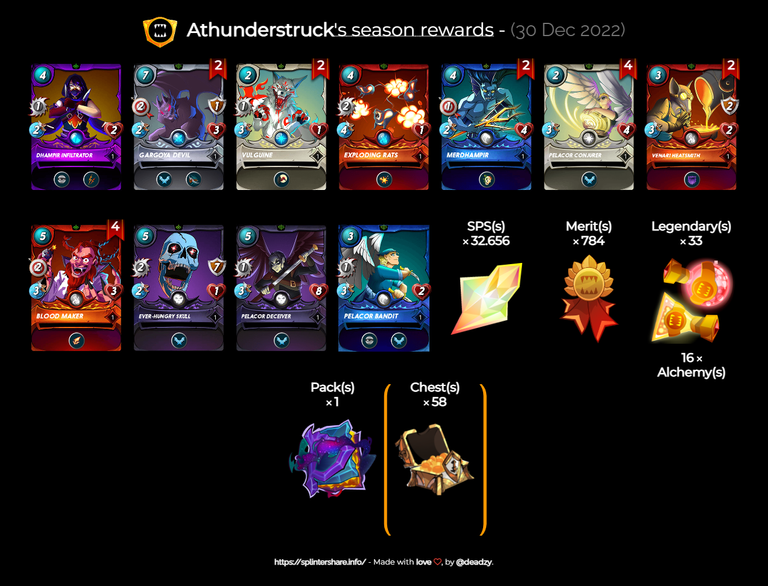 Here are those rewards in bullet list:
SPS: 32.656
Merits: 785
Legendary Potions: 33
Alchemy Potions: 16
Chaos Legion Pack: 1
Common Cards:
1x Pelacor Bandit
1x Pelacor Deceiver
1x Ever-Hungry Skull
4x Bloodmaker
2x Venari Heatsmith
2x Pelacor Conjurer
2x Merdhampir
Rare Cards:
1x Exploding Rats
2x Vulguine
2x Gargoya Devil
1x Dhampir Infiltrator
Comparing to last season's End of Season loot chests I got just over double the SPS. On the other hand I got less than 1/4th of the Merits in that one. This time I got a total of 49 potions whereas I got 111 last season. I think the same amount of cards I think, but unfortunately no epic, legendary and/or Gold Foil cards this time. So yeah this time it seems I did get quite a bit less rewards overall with those 5 chests less. Except the SPS that was over double compared to last season.
Time to open 10 Chaos Legion packs like I've done in the past few videos.
From those 10 packs I get the following cards, leaving out the Common Cards (except for Gold Foil).
Common Cards:
1x GOLD FOIL Lava Spider
1x GOLD FOIL Venari Scout
Rare Cards:
1x Pelacor Arbalest
1x Dhampir Stalker
1x Molten Ash Golem
1x Thaddius Brood
1x Diemonshark
2x Tenyii Striker
1x Merdaali Guardian
1x Kelya Frendul
Epic Card:
Legendary Card:
Alright I got 2 Gold Foil cards in these packs which are always great to get! This time I got only 9 Rare Cards so that's a bit less than last time, but I still got an Epic and also a Legendary card in them!
The Legendary card is Legionnaire Alvar. I already own 2 of this card, but was still missing a 3rd one to level it up. I had one of those two up for rent. It expires in about 5 hours so then I will take it off the rental market and combine all 3 of them into a level 2 Legionnaire Alvar! :D At level 2 he gets the Giant Killer ability, so he can be pretty strong with that if the enemy has a 10+ Mana Monster that he gets to attack. Looking forward to upgrading that card.
That wraps it up for this video.
How many chests did you end up getting for your End of Season rewards and what was one of the best rewards you got from them?
Thanks for watching!
If you haven't signed up for Splinterlands yet and want to check it out, you can do so with my referral link at: https://splinterlands.com?ref=athunderstruck
---
▶️ 3Speak
---
---