Opening 63 Loot Chests for EoS Rewards on December 15th & Opening 10 Chaos Legion Packs
---
Ahoy, yesterday on December 15th the latest season in Splinterlands ended. I recorded the video yesterday but have done a little bit of editing and made the thumbnail today. So I'm uploading the video and making the post now that I'm done with that.
The majority of my battles in this season have been in the Wild format. A lot of the battles were in Silver league and then with like 3 days left in the season I moved up to gold. This time I was able to stay in Gold 1 the whole time. Last season I dropped below the rating and dropped into Gold 2 a few times but this season I stayed above 2500 rating for my whole time in Gold 1.
I didn't battle much in the Modern format this season. I of course did get to Silver there to be able to enter Silver Modern tournaments. But apart from that I didn't battle much in Modern. Mostly if my daily focus still needed some points, like 6k for example, and a win in Wild would be too much then I'd get those points by playing in Modern.
On the day of the season ending I was away from home and quite busy. In the last hour I managed to get on with my phone and still do a few battles. I was like 10k points away from reaching 64 end of season loot chests. Unfortunately I had a loss and then a win and after that win there were 4 minutes left until the season ending so I couldn't queue up anymore.
So close to getting 64 End of Season loot chests, but it ended up being 63 loot chests like last season. They're gold loot chests as my highest achieved rank was Gold 1 during this previous season.
Let's see what I get from them.
From opening those 63 Loot Chests I get the following rewards displayed in a screenshot from splintershare info made by deadzy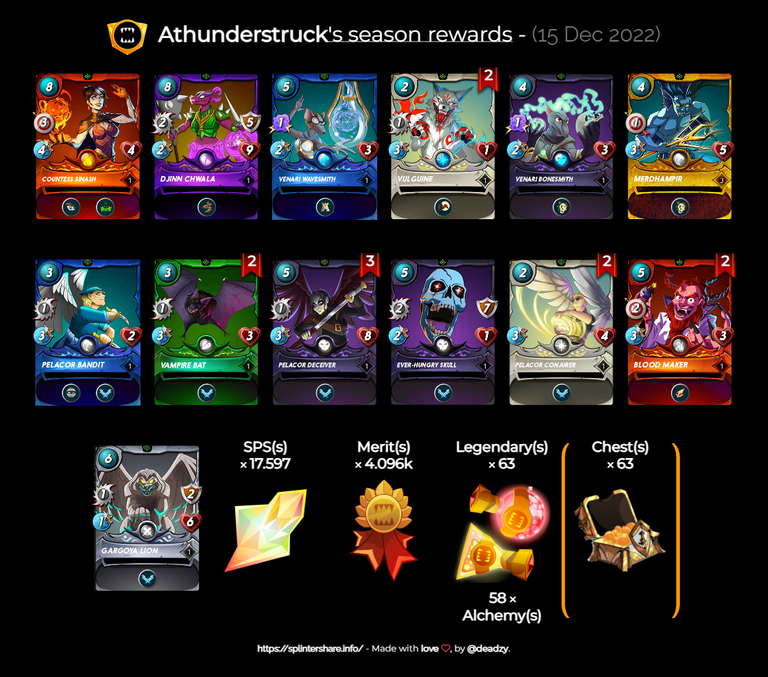 Here are those rewards in bullet list:
SPS: 17.597
Merits: 4096
Legendary Potions: 63
Alchemy Potions: 58
Common Cards:
1x Gargoya Lion
2x Bloodmaker
2x Pelacor Conjurer
1x Ever-Hungry Skull
3x Pelacor Deceiver
2x Vampire Bat
1x Pelacor Bandit
1x GOLD FOIL Merdhampir
Rare Cards:
1x Venari Bonesmith
2x Vulguine
1x Venari Wavesmith
Epic Card:
Legendary Card:
This season ending no big SPS drops either like I got a few seasons ago. I got a Gold Foil common card the Merdhampir. In the first row of 5 chests I even found an epic card already, the Djinn Chwala! Always a great card to get.
OOOOOHHH I got a Legendary reward card in my chests this season!! Countess Sinash, awesome!! 😄
This is now my 2nd Countess Sinash that I got from loot chests since she was added to the reward cards. I'll need to get 1 more now so that I can level her up to level 2 to get that Swiftness ability for more speed.
Time to open 10 Chaos Legion packs like I've done in the past few videos.
From those 10 packs I get the following cards, leaving out the Common Cards (except for Gold Foil).
Common Cards:
1x GOLD FOIL Riftwing
1x GOLD FOIL Silent Sha-vi
1x GOLD FOIL Venari Scout
1x GOLD FOIL Antoid Platoon
Rare Cards:
1x Obsidian
2x Tarsa
1x Celestial Harpy
1x Life Sapper
1x Diemonshark
1x Molten Ash Golem
1x Xenith Archer
1x Portal Spinner
1x Tenyii Striker
1x River Nymph
1x General Sloan
2x Mycelic Slipspawn
Legendary Card:
Yay this time I get some Gold Foil cards too! All of them are Common cards unfortunately but still it's really awesome that I got 4 Gold Foil card in these 10 packs!! 😄
I also got 14 Rare Cards in these packs which is quite awesome, especially because in these packs I once again find a Legendary card too!
The Legendary card is Adelade Brightwing! Awesome! This is my first Adelade Brightwing that I got from opening packs. Sometimes I rent her at level 2, but I don't have her rented all the time so yeah I can't always play her.
Now that I have my very first Adelade Brightwing I can finally play her more often. Of course I will need to get 2 more so I can level her up to level 2 so that she can get the Resurrect ability!
That wraps it up for this video.
How many chests did you end up getting for your End of Season rewards and what was one of the best rewards you got from them?
Thanks for watching!
If you haven't signed up for Splinterlands yet and want to check it out, you can do so with my referral link at: https://splinterlands.com?ref=athunderstruck
---
▶️ 3Speak
---
---