Daily quest pack opening - a really lucky one this time
---
Today I finished my daily quest in Splinterlands, which was the life quest. It was not so easy, to complete it since the life deck is one of those that I don't usually use, and so also the level of my cards is not so high. For this reason, I decided to rent some cards from the market.
The summoner Chanseus the Great, in particular, is a really useful one (and as a matter of fact is one of the most expensive in the market), since it allows:
to restore part of the armor that has taken the more damage in that round;
to heal the friendly back-line monster that has taken the most damage during each round;
to resurrect one friendly monster after its death.
This last battle, as you can see from the video was a really close one, and I was able to win at the end only because my Soul Fiend had a little more speed than the opposing monster and was able to attack first, otherwise, it would have been a loss for sure.
So, after having won the last battle, it was time to claim the rewards, and since I was in Silver III, there were actually two chests to open.
And when I opened the first one, I saw that it was a card and not a potion/credit/DEC and I was already happy (since the probability is not so high), then I saw that it was an epic card and I was even happier... but then I saw it becoming a gold foil one 😍.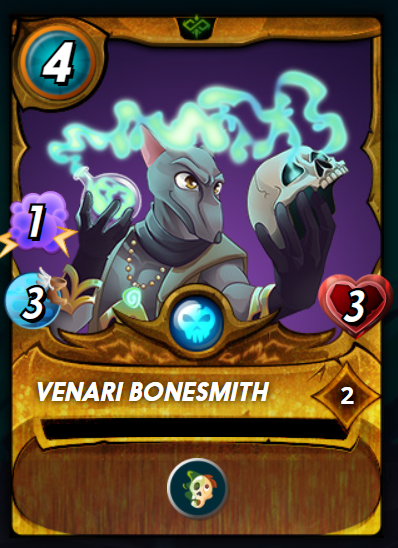 The card I found was Venari Bonesmith, which has an interesting ability since it increases its health each time it deals damage to an enemy monster (proportional to the damage). This was for sure one of the luckiest quest openings that I had on Splinterlands.
Right now my goal for this season is to arrive at least to Silver I, and if possible also to gold III but this will be really difficult.
If you enjoyed the post, please leave an upvote and/or a comment and feel free to follow me (at the link below) if you want to see my next post about Splinterlands.
➡️ hive.blog/@aurzeq ⬅️

---
▶️ 3Speak
---
---