Killing the Golden Goose
Killing the Golden Goose
Obviously the moral of the story is, don't do it. You have all read it as a kid, so don't do it.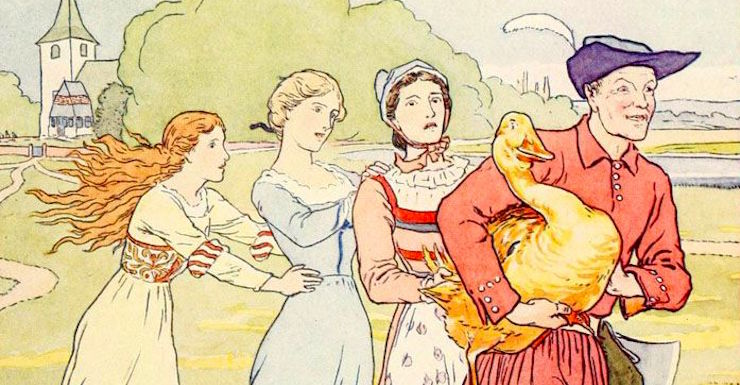 Source
The premise of some of recent discussions at the mav chaneel is regarding human vs bot and how it is hurtful to the economy of the Splinterlands. There have been a lot of argument about how do we identify bot (not easy at code level), to how to nerf them (again not easy, depends on the good will of bot-maker), to how to make them less profitable. Splinterlands team have actively tried the last point over the years.
What people have often fail to recognize that the Splinterlands team has done significant efforts to flight against bots and improve manual play. CP, ECR, clipping bronze rewards are all examples. It's just the other side can do magic too, and since they don't have a game to run and only have to find exploits; they are faster than the team. But all those efforts have also hurt low level human players who are new to the game. It is rather difficult for them to climb of the novice to bronze to silver against highly optimized bots with ideal decks.
ECR also sometimes proven to me a challenge for Diamond-Champion league level human players. For example, this is thanksgiving week, and I have a lot of time on hand for the next 9 days, but my ECR is at 55%! I want to play now, but I can't too much!
This is something Simsahas#7958 said on the mav chat today. I am recording it as is, there is some editing needed but I am keeping it as is, so that you can appreciate how we often type on mav chat!
I know its not something new. But just today again it makes me pretty mad: I really hate this 50% ECR mechanism. It was meant to prevent bots from leeching the rewards pools. But in fact it keep players from playing the game. In my case - and I know its the same for many others - it leads to the situation that I am only playing every third day. And why is this? Solely due to the bots issue. And frankly speaking, I cannot hear this "we cant disallow bots because this is decentralized" agrument anymore. Its 100% nonsense. There is absolutely no connection between botting and decentrality. There are only three real reasons why bots are still allowed in SL: 1. During the hype they helped to provide incredible traffic allowing to prentend a massiv user base, 2. there is a fear that they have meanwhile become necessary to keep the game eco working and 3. no really effective efforts have been taken to find ways for differenciating between bots and humans (however 3. is rather a consequence from 1. and 2.).
This brings us back to the start: Instead of really facing and eliminating the bot issue, we had stupid stuff implemented like the ECR cap that prevents human players from playing - while bots just keep playing at exactely 50% 24/7. This is nothing else but ridiculous. And it is one of the major reasons why no new players join (or are leaving after a few days only) and why active player loosing the interest in the game. And yes, we are also in the middle of a bear market. But the bear market cant be held accountable for self-made problems. It just makes such problems worse.
Point of this is damn if you do, damn if you don't!
Policing is often not a solution. Solution need to come from moral ground from the bot makers. If bot makers for a second stop and think that exploits are actually hurting the game and helping their pocket book now, but won't do it in the long run.
Maybe don't make the bots so strong!
This is your personal choice as a bot-maker. If you kill the golden goose, which is the community and game; and there won't be any bot to run. It's a deep thought actually, please think about it.

splinterlands/the-splinterlands?si=c5533244312f483ca0e23fc0b6bdaf13&utm_source=clipboard&utm_medium=text&utm_campaign=social_sharing soundcloud ~~~
The Splinterlands

---
---