NOT IN TOS! Well Not YET ANYWAYS!

NOT IN TOS
Using all caps in social media or in writing means two things:
You are shouting
You are making an emphasis on what you are saying
Maybe you have a smart cat who can press the 'shift' key while you typed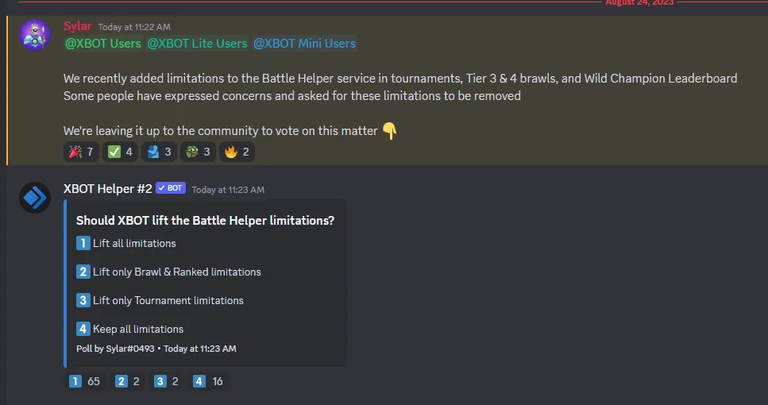 I think, the 3rd point is probably not true for Bubke. He may or may not have a cat, but I think that level of smartness from a cat is rather unlikely and untimely. So we will leave it at that. Oh! Please note the popularity emojis there!
For those who do not know what I am talking about, Splinterlands community recently passed two key proposals #41 and #42 that makes the game more friendly to human players. They both passed with major success. It is widely understood that it changed the game for the better for many human players.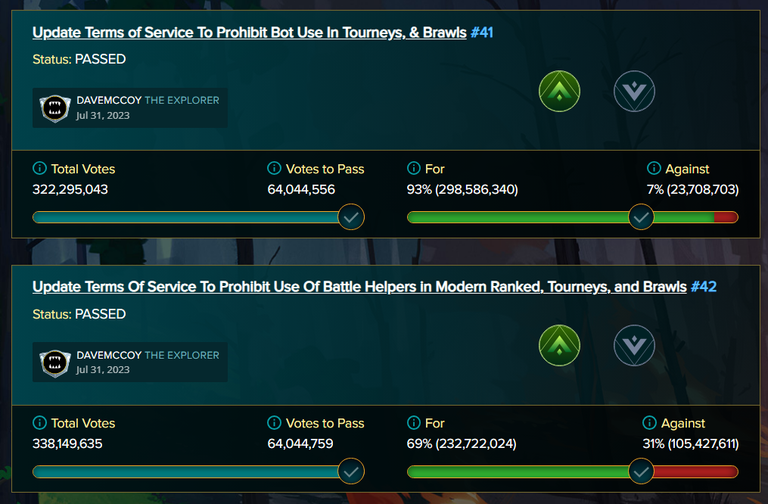 If you folks like examples; I have numerous comments for human players to share below. Several days back, after proposal #28 was passed to stop the use of bots in the Modern League, I asked the following question openly:

Tell me in a few sentences your experience playing modern now vs a few weeks back when there were bots
Below are some of the answers I got:
It gives me joy to actually see rewards, that feel worth playing and winning games while I do find the battles way harder than against the bots to some degree it is still a better experience for me. I feel this is a much truer reflection of the skill of the community.....damour
I'm starting to enjoy playing again. 🙂 matching with an opponent takes a little bit longer but I don't mind. It now feels like a more even playing field.....The Jedo
I have always enjoyed playing rank, but now it is more satisfying to win, increased chances of win streaks, more conversation regarding great strategies, the ability to actually get positions on leaderboards and to top it off promising rewards. What the founders should know, more cards are being purchased, rental market has improved, more dec is being burnt for energy yet the community is happy to do so.....MangoMayhem
it's like I'm back to the gameplay of year 2021 where the excitement and nervousness of every battle is there. Since there is no bot, even if I lose I still feel happy because a human beat me not a bot.....demon19
IMO the biggest change is being able to give everyone the benefit of the doubt when playing, before anytime I lost it was "awe stupid bot" even if it wasnt. Its the same thing that happens in FPS shooters, when you let cheaters run rampant anyone amazing gets called a cheater.....Hewitt
Modern is in a much better place now. I had given up on playing manually because of the state of the game, now I'm back to playing my battles and am having a whole lot of fun.....bTeim
I think I have mixed feelings. I think that the degree of competition has increased, which is a double edged sword, since people are disappointed that they can't achieve the same results they might have only days earlier. Rewards are higher for wins, but wins are harder to come by. I do think there is room for optimism now, having a game that is played by people, Vs people encourages competition and community in a way that is harder to foster otherwise.
When people are mostly comparing their botting results or rewards chest RNG, they don't experience joy in the process - just the outcome....oaaguy
I can go on and on, but then this will be a very long post and you will struggle to read it. I chose a handful of them, simply because they are not WHALES, they are common players from different backgrounds and stake. They all say, the implementation of human only league is a good thing.
Veteran hiver @tarazkp wrote multiple posts about his personal experience as a manual human player, after the changes were implemented:
https://peakd.com/hive-13323/@tarazkp/300percent-increase-in-battle-rewards
https://peakd.com/hive-13323/@tarazkp/t50-and-time-to-land
Bottomline: I have proven how this human only league made people excited again to do battle manually. Maybe tag someone you know and do a bit of friendly trash talk. With this backdrop the community passed the Battle Helper proposal, which is a landmark in SPL governance in my opinion. Trouble is, the SPL team is currently busy with Land 1.5 Launch, so they are strapped for people's free time within the team. It is obvious, therefore, that changing the wording of TOS is taking time.
We expected, as legitimate businesses XBOT will stop the service of Battle Helper in Modern league voluntarily; and they did. But later the owner of Sylar is having second thought and he has flip-flopped several times in the past.


And then that apparent discord poll above where 19 people participated at the time of screenshot!
@davemccoy summerized the problem nicely here:
This all comes down to 4 groups:
the team making the TOS officially - which I believe @Weird Beard -Esports/Tournaments is working on and said it should be the focus after land is released
bubke is keeping his bots on because there is not official TOS, but he has clearly stated that he will remove them once the new TOS is implemented
XBOT took their BHs down for certain modes, but the other 2 didn't follow (bubke and now Legendary Tools). So he is going to turn it back on until the team implements the new TOS officially. But he has committed to following the TOS when its implemented.
Legendary Tools has added BHs until such time as the other 2 stop. But he has committed to following the TOS when its implemented.
My understanding is the 3 main groups will be following the TOS as soon as they are "officially implemented". I also think WeirdBeard is considering pausing new Tournaments until such time as they can get the new TOS active and everyone can be on a level playing field.
I realize this looks like it is getting out of control, but I actually think we are very close to implementation and adherence from the groups. Its a situation where everyone is worried about the other guy and they feel they need to protect their players. So that's why I actually agree that pausing tourneys for a few weeks makes sense.
Anyways. I don't know what kind of legitimate business will go against a published TOS. But Sylar indeed think he can.

Here is a free advice from an old man. Please don't be foolish Sylar!
Thank you!
PS. Sylar flip-flops a lot! Now he again have his personal guardian angel sitting on his shoulder, and he says:
I say AMEN to that!
PPS: TEAM; please implement the TOS ASAP. Thank you!

splinterlands/the-splinterlands?si=c5533244312f483ca0e23fc0b6bdaf13&utm_source=clipboard&utm_medium=text&utm_campaign=social_sharing soundcloud ~~~
The Splinterlands

---
---