Why we always talk about our WIN?

Lets talk about some Losses
Today, I like to do something different, I will switch the general style of Splinterlands related battle/strategy post. 99% of the time we write to make video of a set up that helps us win. This is funny, because most of times, my season average win rate is 55-57%. In other words, very near 50%, half of the battles I actually lose! Here is the things, most pro-players will tell you, when they learned, they learned more from their losses than from their wins. While that is being true, few like to write about it. Writing posts is not the trait of a good gamer, so there's that! But since, I am neither a pro-gamer, not 'good'; I have no problem or shame in discussing my losses!

A classic set up in Earth
OK! 20 Mana battle, with fogs of war. Here was my thought process:
Maylor is safe if I can keep the front tank alive longer, self-heal the monk
Opportunity and scavange is key in the fogs of war rule, the vulture and Dr Blight
Blight is never alone so the Queen
Now I am out of Mana, so only 2 left, and I was deciding between the failed summoner and the acid shooter
I ended up chosing the acid shooter, as scattershot can negate the fog of war rule and hit the back line and in thorn proof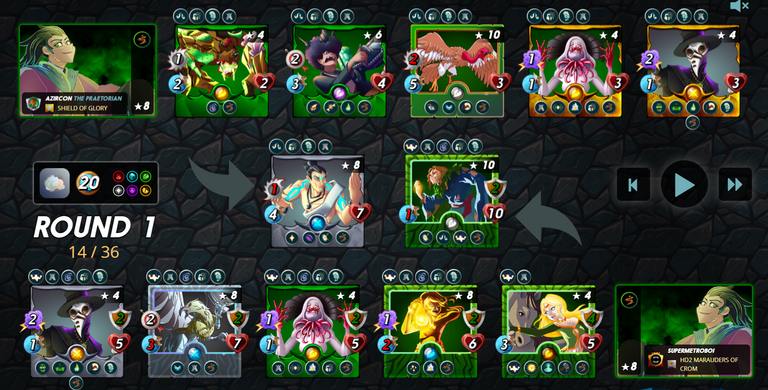 Battle Link
There was nothing really wrong with the thought process above. But my opponent thoughts were more optimized than mine. All of them different cards; Epona, Failed Summoner and Tower Griffin, all played vital role. Tower Griffin did the shield, Epona repaired them and the Failed Sumonner reflected and reduced the melee from the Screeching Vulture! @supermetroboi, which seems like a bot account, had the perfectly optimized strategy! I am beat. But at Fogs of war, at 20 mana, now I know what to play!!

Shield Game!
I haven't played the new Chaos Water Summoner Keyla Frendul much. However, the rule was lost magic and I was trying to finish my water quest so I felt boxed in. Bad idea. Never try to force finish the quest, because this leads to certain loss in most cases. I have a good try with the double sneak, but with Mylor, I didn't really have an answer for the Flesh Golem!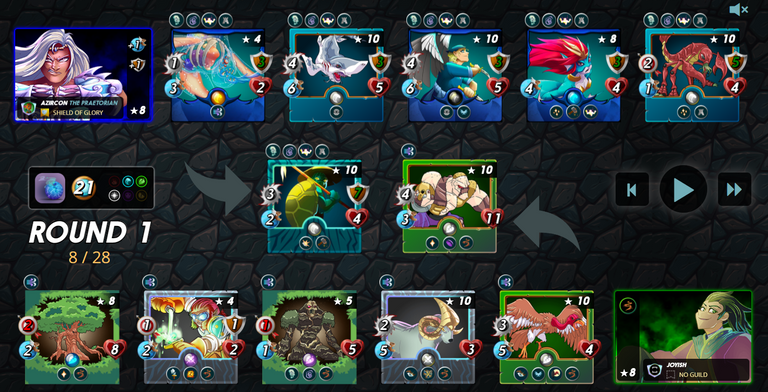 Battle Link
Oh, by the way, my opponent, this account @joyish is also likely a bot. Yeah, I hate to lose to bots, but that's life!


---
---