Tried to Surprise me M#[email protected] 12 Mana Last Stand Kron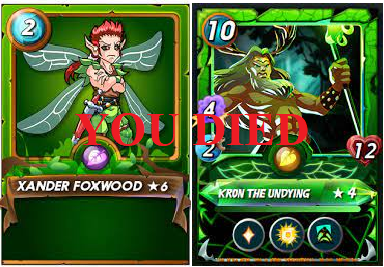 How you doing folks this is bakuoni here giving you yet another situation which might be a scary situation against a Kron but with some luck and smart thinking you can slay the Last Stand Kron.
So for some of you newer players or players that just never thought of using this strategy to actually pull off a Last Stand Kron with just 12 mana. How you achieve this is by using the 2 Mana epic Summoner Xander Foxwood at lvl 4 or 5 is enough for Gold League and pairing him with a lvl3 Kron. Since he's 2 mana you just have enough Mana with 10 from Kron to pull off a beast of a combo the Last Stand Kron which becomes a powerhouse of a card especially with the ruleset I had to fight him in.

The Ruleset I had to fight this combo was under the Ruleset of Blast and Close Range so as you can see here this wasn't favourable for me. A Last Stand Kron with blast with just 12 Mana yikes thats as yikes as you can get considering anything with a 5 magical attack and add on a blast to that with 18 health and heal yikes indeed.
So what was my thought process on what I could do with the limited amount of mana of 12.
Firstly I simply don't have Water or Fire splinters to deal with a last stand Kron so I went to my bread and butter of Earth. From here I had to decide whether I would take affliction or stun and the only 2 candidates for affliction or stun in earth is the Spirit Shaman and Goblin Chef.
The Reason I went with Goblin Chef is because i also had him at lvl 8 hence there was a chance I could also apply poison dealing a possible 3 damage in 1 round while also being 1 mana less than Spirit Shaman to allow me to slot in more monsters.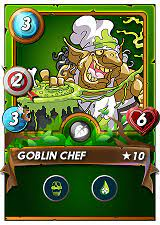 Now what else did I need? A frontline cheap tank that could dish as much damage as it would received and who better than Failed Summoner considering I'm assuming he's going to Last Stand Kron my ass with a whooping reflect magic damage of 3. Now the problem I had was that I only have a level 6 one rented so it was risky at best he could only tank 2 hits while being healed, now with the level 8 he would of definitely been able to tank 4 hits with 10 health while being healed by Khmer Princess cause the heal is 1/3 of the hp.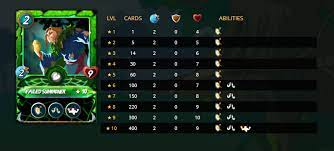 Now I needed as much filler between my backline and his magical blast Kron
So I filled the space with Ooze and a Chicken this would ensure my backline would take 2 hits before the magical blast would decimate my next essential monster.
Brownie in 4th position plus the speed and inspire buff would ensure that everyone would be as fast as possible to get first turn and be able to attack Kron as soon as possible and when it got to Brownie's turn he would atleast be able to do 2 damage.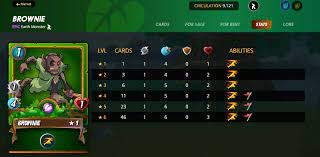 Last but not least I have Khmer Princess with the heal, now this didn't work out as well as I intended considering Failed Summoner was only level 6 cause he would of been able to be healed more if he was even just level 7 with 8 hp+1 from natura. Either way I had no choice but to use Khmer for the extra damage and well heal and is probably the only 2 mana monster I could fill out at this point that was still faster than Kron.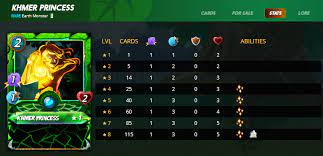 Now as you can see I got super lucky in the fact he didn't place a chicken in front to soak up the first hit from Goblin Chef and I also immediately applied Affliction and Poison so I had more and more damage since he couldn't heal and well you can see from the rest of the fight I won with some atleast 1 margin of safety which is he wouldn't of been able to kill my Goblin Chef and Khmer Princess in 1 hit so I still had a chance even if it went down to the wire. But as I said this would of been way safer with a level 8 Failed Summoner and this still requires some luck atleast.
https://splinterlands.com/?p=battle&id=sl_f0f4f1830c8a35b16d9bbf6816d36285&ref=bakuoni
---
---