March Guild Report - Dinero Juegos (Eng/Esp)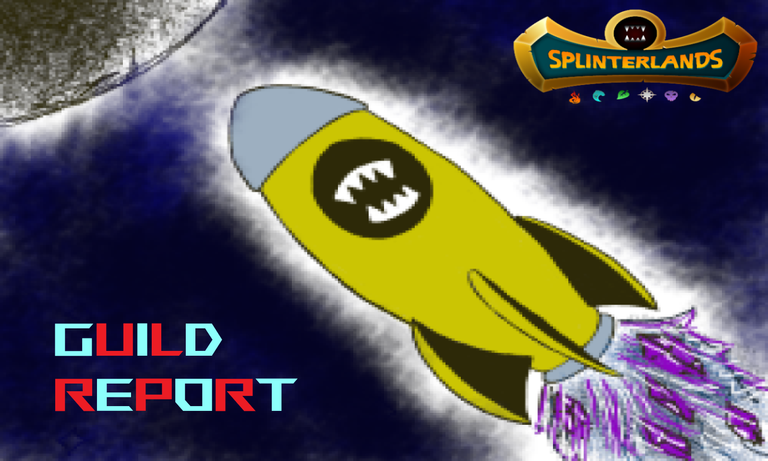 An overview of some of the events, accomplishments, and metrics for Dinero Juegos over the month of January.
Una descripción general de algunos de los eventos, logros y métricas de Dinero Juegos durante el mes de enero.



Dinero Juegos - A guild built on community.
I founded this guild with the goal of gathering friendly, dedicated members with a desire to make profit and support each other as a team.
We have no required fees - Simply to be active in the game, active in the community, and take the game seriously in an attempt to profit. (Though we still love to have fun!)
It can be hard to profit with price fluctuations, and I wanted to provide a place for people who can't afford to purchase a full deck and need to rent. So I created Dinero Juegos to provide smaller investors and/or friendly players a Guild where they can work together. (Myself included!)
While we're hoping to spread deeper into Splinterlands community overall, at heart we are simply a smaller, English / Spanish guild on Splinterlands. Hoping to climb to rank 1 Spanish Guild, engage as a community, and grow as a team.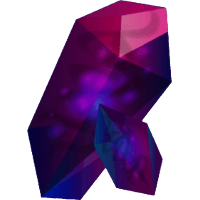 Dinero Juegos - Un gremio basado en la comunidad.

Fundé este gremio con el objetivo de reunir miembros amigables y dedicados con el deseo de obtener ganancias y apoyarse mutuamente como equipo.
No tenemos tarifas requeridas: simplemente para estar activo en el juego, activo en la comunidad y tomar el juego en serio en un intento de obtener ganancias. (¡Aunque todavía nos encanta divertirnos!)
Puede ser difícil obtener ganancias con las fluctuaciones de precios, y quería brindar un lugar para las personas que no pueden comprar una terraza completa y necesitan alquilarla. Así que creé Dinero Juegos para proporcionar a los inversores más pequeños y/oa los jugadores amistosos un gremio en el que puedan trabajar juntos. (¡yo incluido!)
Si bien esperamos extendernos más profundamente en la comunidad de Splinterlands en general, en el fondo somos simplemente un gremio más pequeño, inglés / español en Splinterlands. Con la esperanza de ascender al rango 1 de Spanish Guild, participar como comunidad y crecer como equipo.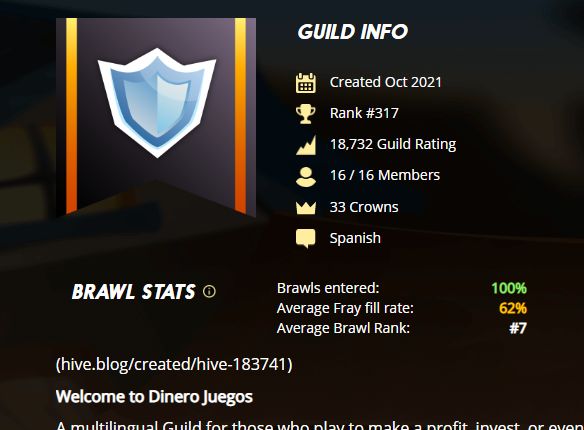 A screenshot of our guild page just before this post./ Una captura de pantalla de la página de nuestro gremio justo antes de esta publicación.
Progress on goals, plans going forward:
Big progress overall, many subtle improvements!
One of our longtime goals was to unlock the Arena, which we did earlier this year. After that, we wanted the "basics" unlocked with it. A Level 2 Shop, and a level 1 Barracks.
In March, we hit both of those goals!
We are well on our way to collecting Gladius cards, and currently working toward a level 3 Guild Hall. That way, we can raise the player cap and maximum levels for buildings by 1. Which is a great improvement for the 20,000 DEC. Next, we will likely target a Level 3 Shop and Level 2 Arena. With plans to stay at a level 2 Arena until the guild as a whole are higher ranks.
On the side, we made some strides in several ways.
Our % of players using hiveblog is up, and the community page has more active users

Dinerobot has received over 7K collection power and 35HP+ delegations from players

Over 25 Hive was raised to help one of our members, @taromilktea100, in his time of need. Shortly after, he was also paid by Kyobo Drakes, the SOL NFT project he made art for. He recently was able to get a new laptop, and is back playing Splinterlands!

Changes to member list and guild structure resulting in more active guild

A second step: Guild Wallet portfolio increased, with plans to invest further in SL assets and #CARTEL tokens, newly including #LBI, #PIZZA, and #SBT as assets to collect as well. Official Dinero Juegos posts by myself or @maggotmilk should have a % of post rewards going towards the guild wallet as well. Assets to be held or staked for rewards, or to delegate. Liquid assets can be voted on for use by Guild Members once a significant amount is collected.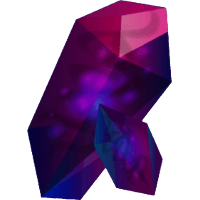 Progreso en las metas, planes para el futuro:
¡Gran progreso en general, muchas mejoras sutiles!
Uno de nuestros objetivos desde hace mucho tiempo era desbloquear la Arena, lo cual hicimos a principios de este año. Después de eso, queríamos desbloquear los "básicos". Una tienda de nivel 2 y un cuartel de nivel 1.
¡En marzo alcanzamos ambos objetivos!
Estamos bien encaminados para coleccionar cartas de Gladius y actualmente estamos trabajando para lograr un Guild Hall de nivel 3. De esa forma, podemos aumentar el límite de jugadores y los niveles máximos de los edificios en 1. Lo cual es una gran mejora para los 20 000 DEC. A continuación, probablemente apuntaremos a una tienda de nivel 3 y una arena de nivel 2. Con planes de permanecer en una arena de nivel 2 hasta que el gremio en su conjunto alcance rangos más altos.
Por otro lado, hicimos algunos avances de varias maneras.

Nuestro porcentaje de jugadores que usan hiveblog ha aumentado y la página de la comunidad tiene más usuarios activos
Dinerobot ha recibido más de 7K de poder de recolección y 35HP+ delegaciones de jugadores
Se recaudaron más de 25 Hive para ayudar a uno de nuestros miembros, @taromilktea100, en su momento de necesidad. Poco después, Kyobo Drakes también le pagó, el proyecto SOL NFT para el que hizo arte. ¡Recientemente pudo conseguir una nueva computadora portátil y ha vuelto a jugar a Splinterlands!
Los cambios en la lista de miembros y la estructura del gremio dan como resultado un gremio más activo
Un segundo paso: La cartera de Guild Wallet aumentó, con planes para invertir más en activos SL y tokens #CARTEL, incluyendo recientemente #LBI, #PIZZA y #SBT como activos para coleccionar también. Las publicaciones oficiales de DineroJuegos mías o de @maggotmilk deberían tener un % de las recompensas de las publicaciones destinadas también a la billetera del gremio. Activos que se mantendrán o apostarán por recompensas, o para delegar. Los activos líquidos pueden ser votados por los miembros del gremio una vez que se haya recaudado una cantidad significativa.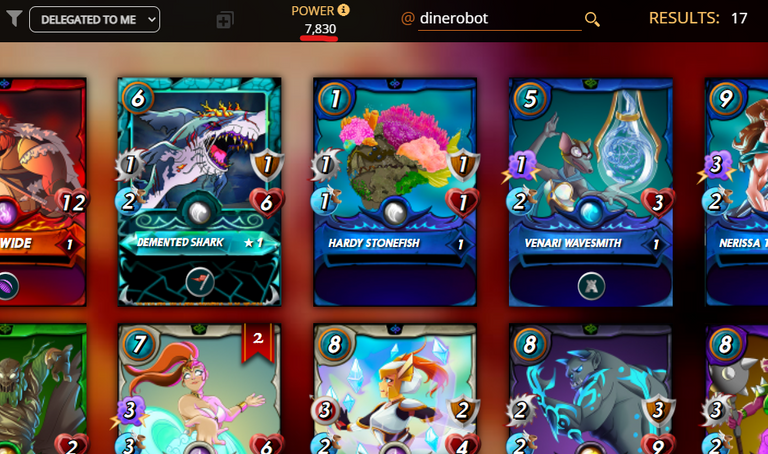 Recent screenshot of Dinerobot's CP and cardlist. / Captura de pantalla reciente del CP y la lista de cartas de Dinerobot.

Fun Highlights!
Destacados divertidos!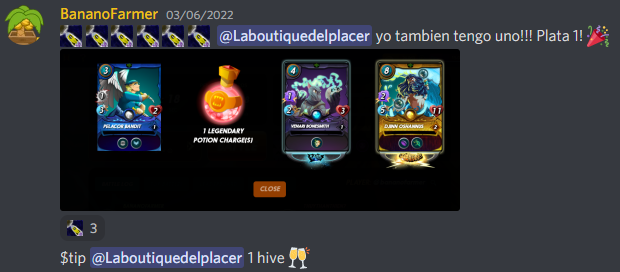 Celebrating a gold Oshannus that I got at the start of the month, which is the same card @laboutique obtained about a month before. / Celebrando un Oshannus dorado que recibí a principios de mes, que es la misma tarjeta que @laboutique recibió aproximadamente un mes antes.


Having some fun with the tipcc bot in our Discord. Math challenges for PIZZA. / Divertirse con el bot tipcc en Discord. Desafíos matemáticos para PIZZA.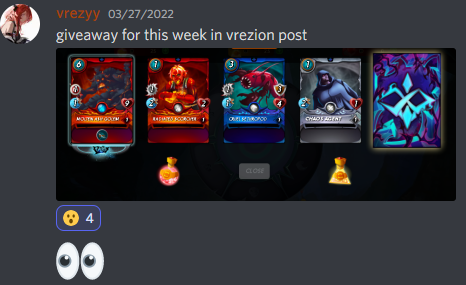 @Vrezyy hinting the prize for one of his latest giveaways. Be sure to check out the giveaway series on his @vrezion account. / Vrezyy insinuando el premio de uno de sus últimos sorteos. Asegúrese de ver la serie de obsequios en cuenta @vrezion.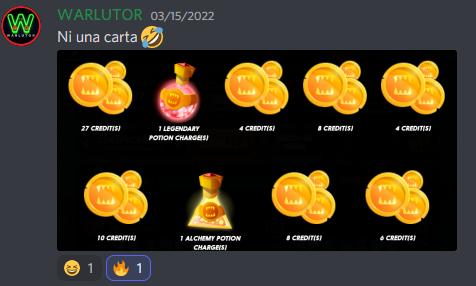 @Warlutor collecting the credits once again. 😆 / Warlutor recogiendo los créditos una vez más.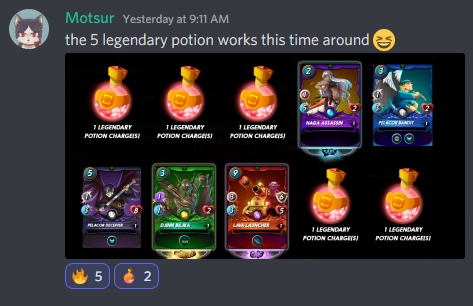 @Hatdogsensei reporting in with some legendary rewards. / Hatdogsensei informando con algunas recompensas legendarias.


One of our recent dinerobot giveaways. It finished Bronze 1 last season. / Uno de nuestros sorteos recientes de dinerobot. Terminó Bronce 1 la temporada pasada.


Sending some of the fundraiser #HIVE to @taromilktea100. It was both motivating and helpful to get support, from inside and outside the guild. / Enviando parte de la recaudación de fondos HIVE a taromilktea100. Fue motivador y útil obtener apoyo, tanto dentro como fuera del gremio.

Check out some of our recent posts!
¡Mira algunas de nuestras publicaciones recientes!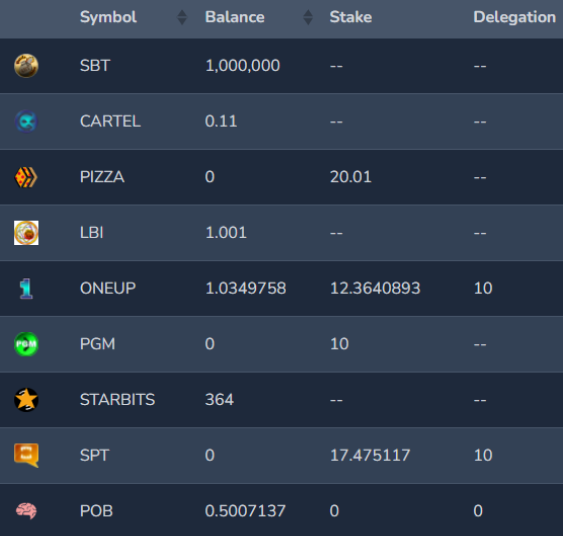 Guild Wallet / Dinero Juegos Treasury before shortly this post. / Guild Wallet / Dinero Juegos Tesoro antes de poco este post.
Stats and Achievements:
34,000+ DEC burned from Guild upgrades🔥
60+ PIZZA airdropped to members in the Discord ❤️
4+ HIVE sent out in giveaways 🚀
15+ HP delegated to guild members🌐
20+ Cards sent as prizes 🏅
Guild Wallet (hive-183741) holdings increased 💎
Number of active hive.blog users has increased ⏫
Estadísticas y Logros:
34,000+ DEC quemados de las actualizaciones del gremio🔥
60+ PIZZA Airdropped a las miembros de la Discord ❤️
4+ HIVE enviado en obsequios 🚀
15+ HP delegado a miembros del gremio 🌐
20+ Tarjetas regaladas como premios 🏅
Los activos de Guild Wallet (hive-183741) aumentaron 💎
El número de usuarios activos de hive.blog ha aumentado ⏫

¡Thank you - Gracias!
Thank you to all the guild members who play each day, and especially to those who are active here on hive.blog!
Thank you as well to all the people out there who support us through upvotes, reblogs and comments. I wish you the best on your Splinterlands journey!
Lastly, thank you to the @Splinterlands team for this awesome game.
¡Gracias a todos los miembros del gremio que juegan cada día, y especialmente a aquellos que están activos aquí en hive.blog!
Gracias también a todas las personas que nos apoyan a través de votos a favor, reblogs y comentarios. ¡Te deseo lo mejor en tu viaje Splinterlands!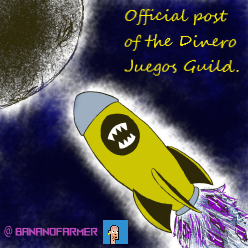 Haven't played Splinterlands yet and want to join in on the fun? You can start playing for free here!
Looking for more P2E games on Hive? Be sure to check out the indie music game, Rising Star.
Come hang out with myself and others over in the Hive Pizza Discord
Go Dinero Juegos!💯🚀
---
---