BATTLE MAGE SECRETS Weekly Challenge! Even Stevens // BATTLE MAGE SECRETS Wöchentliche Herausforderung! Even Stevens (ENG/DEU)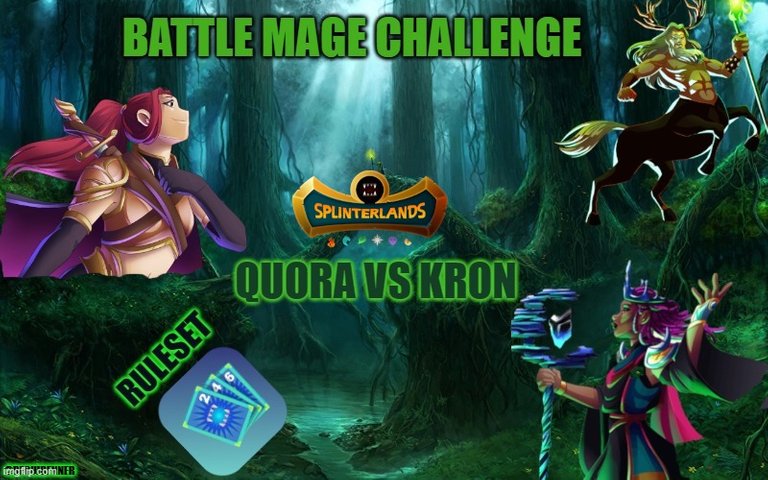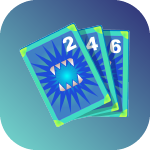 BATTLE MAGE SECRETS Weekly Challenge- Even Stevens
Hello Splinterlands Friends - Hallo Splinterlands Freunde
---
Since I apparently did something
wrong in my last Battlechallenge
I hope to have done everything right again this week.
The weekly challenge this time is about the Even Stevens ruleset,
which means that only mana cards with grade numbers can be used in the battle.
So both fighters are missing half of their deck each.
I got 2 additional rulesets in my fight, which makes the task even harder.
Da ich bei meiner letzten Battlechallenge anscheinend was falsch gemacht habe hoffe ich diese Woche wieder alles richtig gemacht zu haben. Bei der wöchentlichen Herausforderung geht es diesmal um das Regelwerk Even Stevens, was dazu führt, dass nur Mana Karten mit Graden Zahlen bei dem Kampf verwendet werden dürfen. Somit fehlen beiden Kämpfern jeweils die Hälfte ihres Deckes. Ich habe bei meinem Kampf noch 2 zusätzliche Regelwerk dazu bekommen, was die Aufgabe gleich noch schwerer macht.
---
Rulesets in Combat - Regelwerke im Kampf
Rulesets in Combat:
Even Stevens, Scattershot, Unprotected
Regelwerke im Kampf:
Even Stevens, Streuschuss. Ungeschützt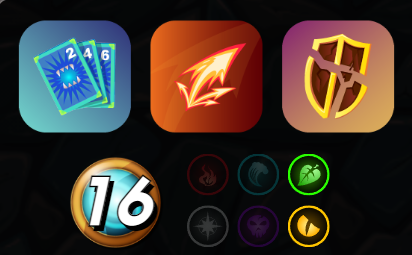 Description of the ruleset of Splintercards.
---> Source quotes ---
Only Monsters with even Mana costs may be used in battles.
There are no special tricks for this ruleset,
but having an idea of mana
points of a few monsters
helps in predicting what your opponent can and cannot use.
This monster's attacks hit a random enemy target
Monsters do not have any armor and
do not get armor from
Abilities or Summoner Buffs.
Protect, Piercing, Repair, Rust are useless.
Focus on a tank with high
HP and Heal.
Mana 16
Team selection options:
Earth, Dragon*
Beschreibung des Regelwerk von Splintercards
---> Source quotes ---
n Schlachten dürfen nur Monster mit gleichmäßigen Manakosten eingesetzt werden.
Es gibt keine besonderen Tricks für diesen Regelsatz, aber eine Vorstellung von den Manapunkten einiger Monster hilft dabei, vorherzusagen, was Ihr Gegner nutzen kann und was
Die Angriffe dieses Monsters treffen ein zufälliges feindliches Ziel
Monster haben keine Rüstung und erhalten keine Rüstung durch Fähigkeiten oder Beschwörer-Buffs.
Schützen, Durchstechen, Reparieren, Rosten sind nutzlos. Konzentrieren Sie sich auf einen Tank mit hoher HP und Heilung.
Mana 16
Teamauswahl-Optionen:
Erde, Drache

As a summoner, I chose Lobb Lowland
despite the low mana
cost.
Als Beschwörer habe ich mich trotz der niedriegen Mana kostet für Lobb Lowland entschieden.
---
LOBB LOWLAND Level 2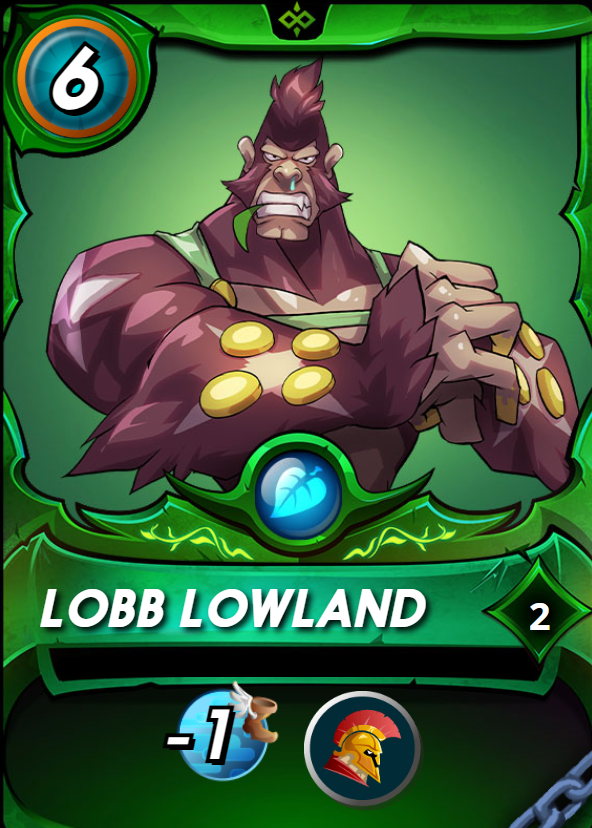 Even though I had very few mana at my disposal with 16,
I wanted to use a very specific card, for which I needed Lobb, otherwise I would not have been allowed to play this card.
Since Lobb also allows me to use Gladiator cards in the Ranking, the decision was easy.
On top of that, it subtracts one speed from every opponent's monsters.
Auch wenn ich mit 16 Mana sehr wenige zur Verfügung hatte wollte ich eine ganz bestimmte Karte einsetzten, dafür brauchte ich Lobb ansonsten hatte ich diese Karte nicht spielen dürfen. Da ich durch Lobb auch Gladiatoren Karten im Ranking einsetzten, darf fiel mir die Entscheidung leicht. Dazu kommt noch, dass er jeden gegnerischen Monstern eine Schnelligkeit abzieht.

Startcard - Startkarte
QUORA TOWERSHEAD Level 1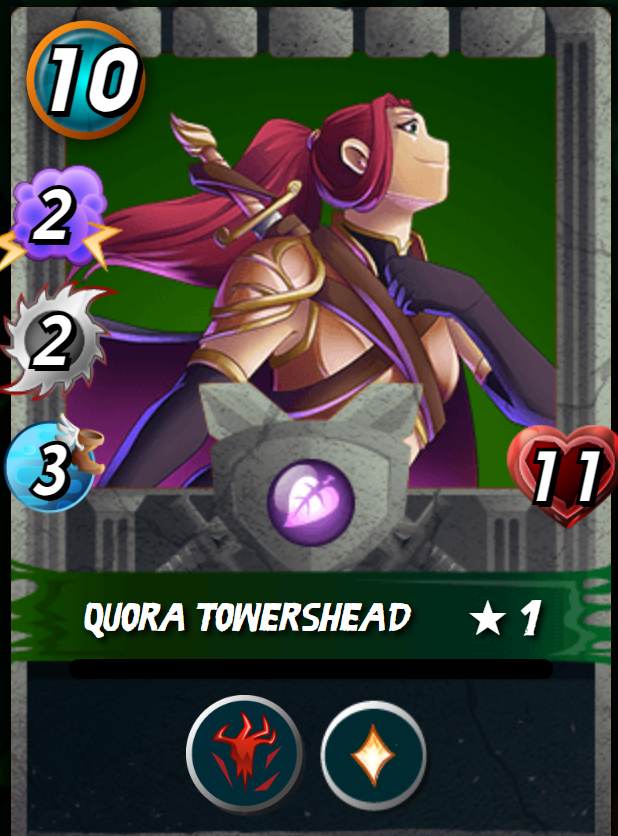 ---
Since I took one of the new Soulbound summoners as summoners,
I could also use Gladiators cards, as described above.
Since my Summoners has already eaten up 6 of the 16 mana costs,
I still had exactly 10 left for Quora. She can win some battles on her own, and that's what I hoped for this time.
One of the strongest and most feared cards in Splinterlands.
Since she not only attacks with a melee attack, but fires 2 magic attack hits right after.
And if she destroys an opponent, all her stats increase by one point each.
On top of that, she recovers some lost lives after each round through her healing function. Which is incredibly valuable.
Da ich ja als Summoners einen der neuen Soulbound Beschwörer genommen habe, konnte ich dem her auch Gladiatoren Karten einsetzten, wie oben schonmal kurz beschrieben.
Da mein Summoners ja schon 6 der 16 Mana Kostet aufgefressen hat, blieben mir noch genau 10 für Quora übrig. Sie kann alleine schon einige Kämpfe für sich entscheiden, so erhoffte ich es mir auch diesmal. Eine der stärksten und gefürchteten Karten bei Splinterlands. Da sie nicht nur mit einem Nahkampf angriff, angreift, sondern im Anschluss gleich noch 2 magische Angriff Treffer hinterher feuert. Und sollte sie einen Gegner zerstören, erhöhen sich alle ihre Werte jeweils um einen Punkt. Dazu kommt, dass sie sich nach jeder Runde durch ihre Heilfunktion einige verloren gegangen Leben wieder zurückholt. Was unglaublich wertvoll ist.

Opposing Team - Gegnerisches Team
Summoners - Beschwörer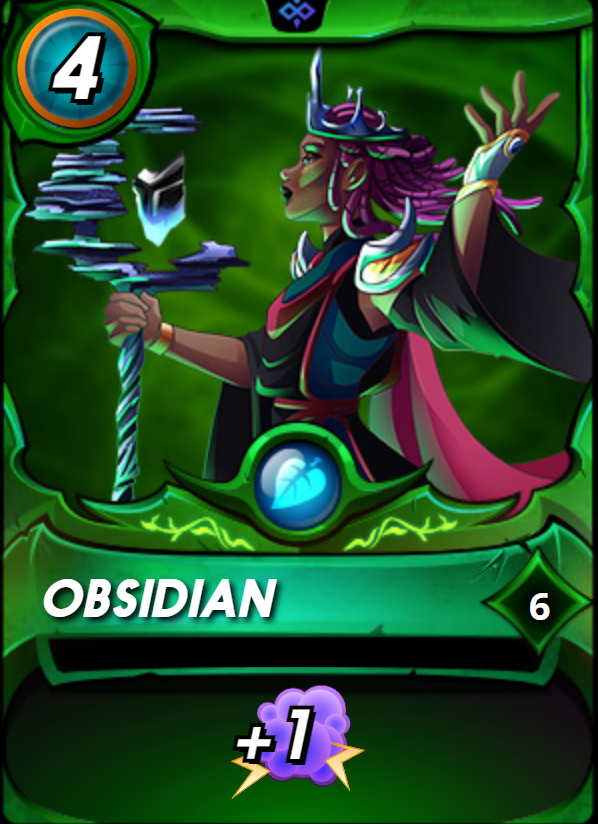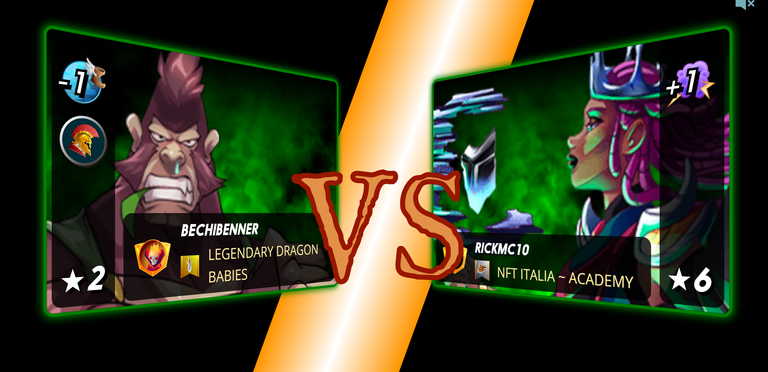 ⚔️ WATCH BATTLE ⚔️

Round 1 - Runde 1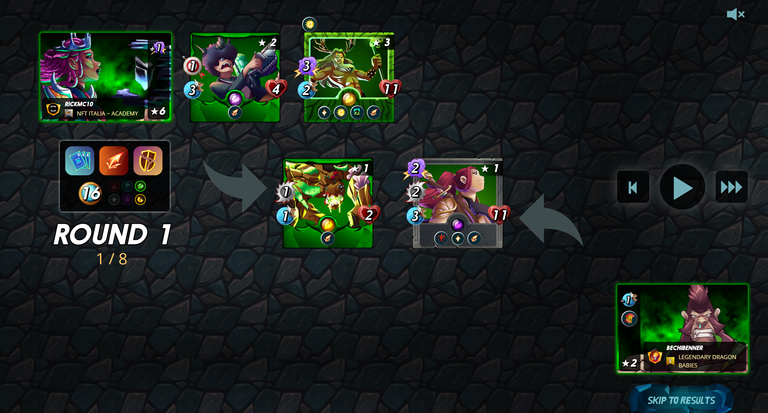 Round 2 - Runde 2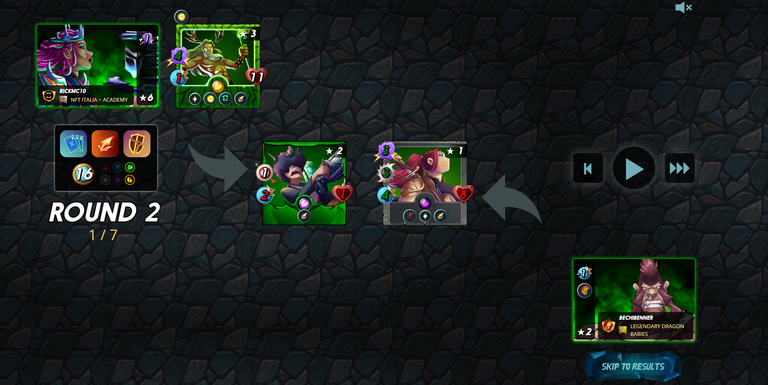 Round 3 - Runde 3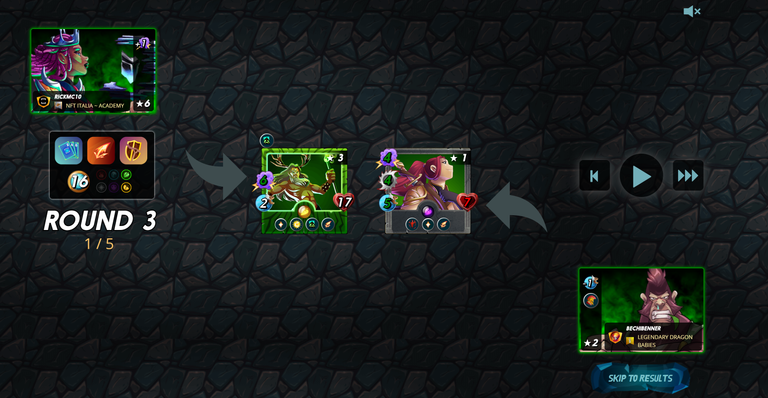 Round 4 - Runde 4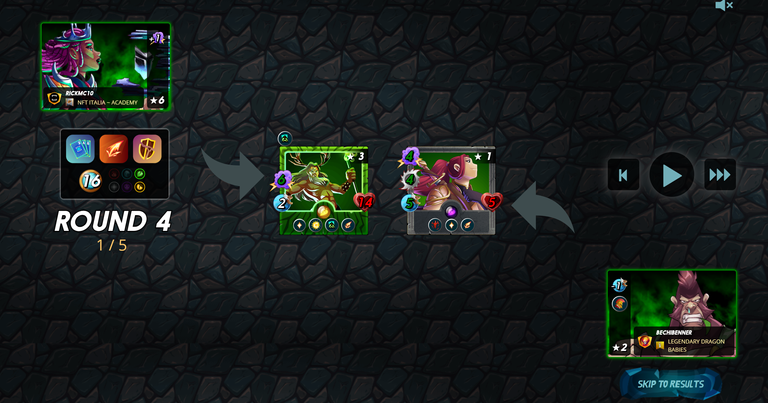 Round 5 - Runde 5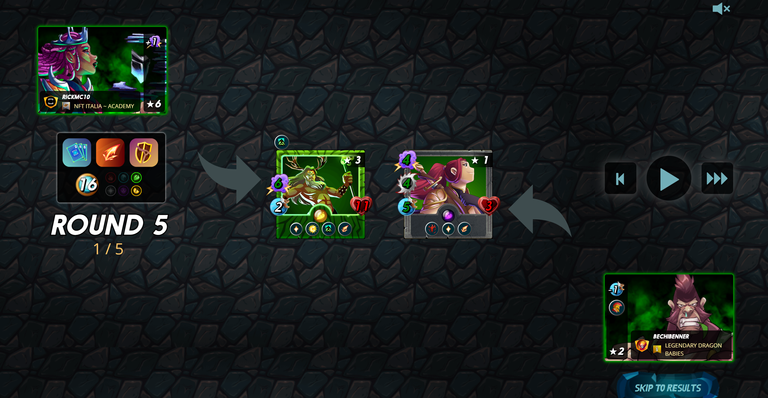 Round 6 - Runde 6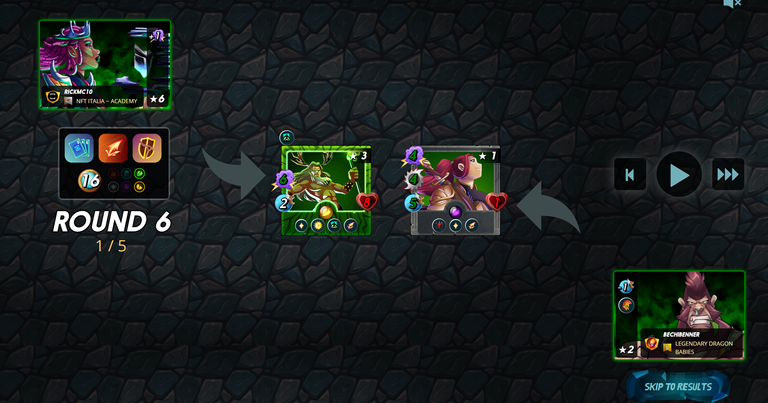 Finish - Ende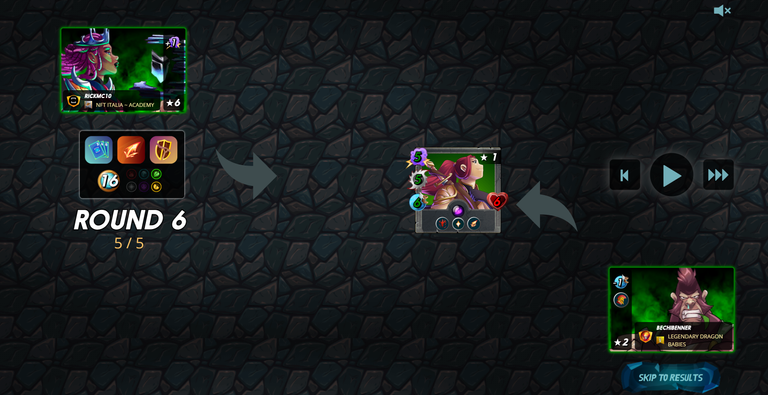 Rewards - Belohnung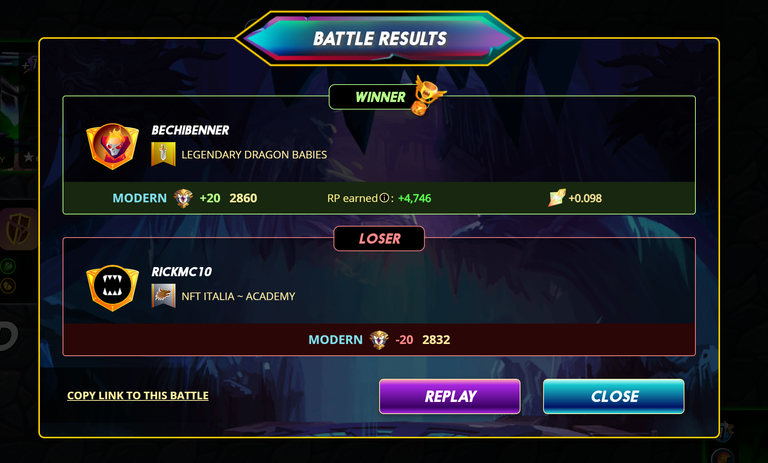 My opponent had a very strong lineup with a level 6 obsidian.
Due to his level 6 summoner he could also play Kron at level 3.
Which gives him the last stand ability
and he gets a significant boost in power
as the last card. I didn't expect this in my setup and was actually sure I was going to lose the fight.
However, Quora was able to strengthen himself by destroying the other two cards before the direct duel with Kron.
In the end, it was probably the final blow.
If the Kron hadn't destroyed, it would probably
flatten my Quora the following turn.
Fortunately for me, this didn't happen and my
card walked off the field as the winner.
Although with a lot of luck, but that also hears sometimes.
Mein Gegner hatte eine sehr starke Aufstellung mit einem Obsidian auf Stufe 6. durch seinen Level 6 Beschwörer konnte er auch Kron auf Stufe 3 spielen. Wodurch er die letzten Stand Fähigkeit bekommt und er als letzte Karte einen deutlichen Schub an Kraft bekommt. Damit hatte ich bei meiner Aufstellung nicht gerechnet und war mir eigentlich sicher, den Kampf zu verlieren. Jedoch hat Quora sich durch die Zerstörung der beiden anderen Karten nochmal stärken können, bevor es an das direkte Duell mit Kron ging.
Am Ende war es vermutlich der letzte Schlag. Wenn der Kron nicht zerstört hatte, würde er meine Quora vermutlich in der darauf folgenden Runde platt machen. Was zu meinem Glück jedoch nicht gelang und meine Karte als Sieger vom Feld marschierte. Zwar mit sehr viel Glück, doch das hört auch mal dazu.

Today I show you instead of packs times my last 5 Focus yields, which were also quite good I found but decide for yourself.
Heute zeige ich euch statt Packs mal meine 5 letzten Focus Ausbeuten, auch die waren recht gut fand ich aber entscheidet selbst.





I think there were some very good and useful cards. Especially the golden ones I can use very well for my Brawl, because I can only play with golden cards there.
Ich finde, da waren einige sehr gute und nützliche Karten dabei. Grade die goldenen kann ich sehr gut für meine Brawl benutzen, da ich dort nur mit goldenen Karten spielen kann.


Also feel free to check out my Gold Quiz, here's the link to it, just submit a hint -
Schaut auch gerne bei meinem Gold Quiz vorbei, hier der Link dazu, einfach einen Tipp abgeben.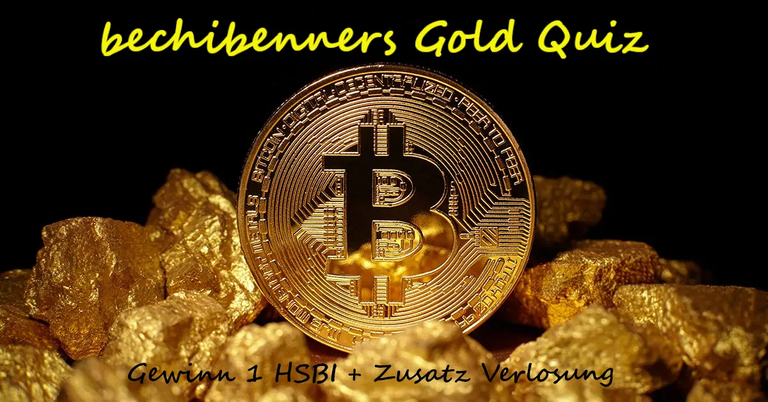 ---
---