BATTLE MAGE SECRETS Weekly Challenge! Even Stevens // BATTLE MAGE SECRETS Wöchentliche Herausforderung! Even Stevens (ENG/DEU)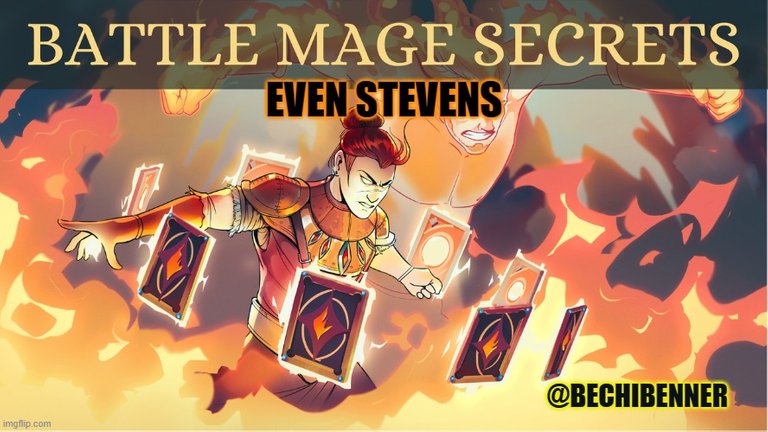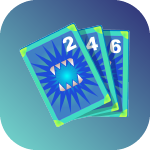 BATTLE MAGE SECRETS Weekly Challenge- Even Stevens
Hello Splinterlands Friends - Hallo Splinterlands Freunde
---
And again I was lucky and managed to play the required ruleset.
This Battle Mage Secret Chalengen is about Even Stevens, which only allows cards with even numbers.
It is a completely different battle than in my first Challegnen , so
I wanted to present it to you.
Since I could not take so many cards in the last post, I have relied this time again on a whole team.
Und wieder habe ich Glück gehabt und es geschafft das geforderte Regelwerk zu spielen. In dieser Battle Mage Secret Chalengen geht es ja wie oben beschrieben um Even Stevens, welches nur Karten mit graden Zahlen zulässt. Es ist ein völlig anderer Kampf wie noch in meiner ersten Challegnen , deswegen wollte ich ihn euch auch noch präsentieren. Da ich im letzten Post ja nicht so viele Karten nehmen konnte, habe ich mich diesmal wieder auf ein ganzes Team verlassen.
---
Rulesets in Combat - Regelwerke im Kampf
Rulesets in Combat:
Even Stevens, Healed Out
Regelwerke im Kampf:
Even Stevens, Ausgeheilt

Description of the ruleset of Splintercards.
---> Source quotes ---
Only Monsters with even Mana costs may be used in battles.
There are no special tricks for this ruleset,
but having an idea of mana
points of a few monsters
helps in predicting what your opponent can and cannot use.
All healing abilities are removed from Monsters and Summoners.
You can skip monsters and summoners having Affliction. Life Leech is not impacted by this ruleset.
Mana 51
Team selection options:
Water, Life, Dragon*
Beschreibung des Regelwerk von Splintercards
---> Source quotes ---
n Schlachten dürfen nur Monster mit gleichmäßigen Manakosten eingesetzt werden.
Es gibt keine besonderen Tricks für diesen Regelsatz, aber eine Vorstellung von den Manapunkten einiger Monster hilft dabei, vorherzusagen, was Ihr Gegner nutzen kann und was
Alle Heilfähigkeiten werden von Monstern und Beschwörern entfernt.
Du kannst Monster und Beschwörer mit Gebrechen überspringen. Life Leech ist von diesem Regelsatz nicht betroffen.
Mana 51
Teamauswahl-Optionen:
Wasser, Leben , Drache

I chose Kelya Frendul as the summoner for this ruleset.
Als Beschwörer habe bei diesem Regelwerk für Kelya Frendul entschieden.
---
KELYA FRENDUL Level 5 Gold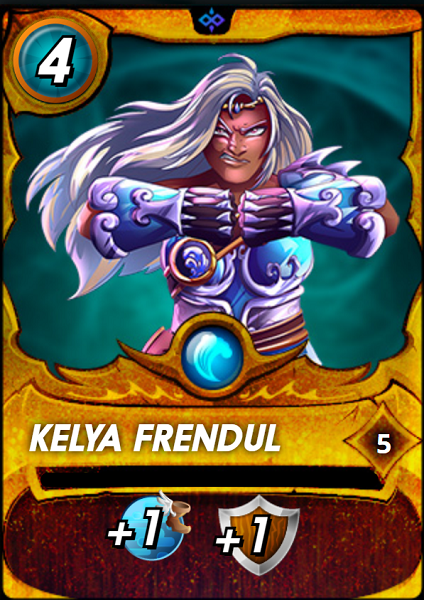 Through the ruleset and the
cards left with it, I figured I was doing pretty well with my Frendul.
At level 5, I have additional ability at higher cards freely leveled.
Which I hoped would give me an advantage.
He gives each of my monsters +1 speed and one armor each also gets each monster in my team on top.
Durch das Regelwerk und den damit verbliebenen Karten dachte ich mir, dass ich mit meinen Frendul ganz gut beraten bin. Auf Stufe 5 habe ich zusätzliche Fähigkeit bei höheren Karten frei gelevelt. Wodurch ich mir einen Vorteil erhoffte. Er gibt jedem meiner Monster +1 Geschwindigkeit und je eine Rüstung bekommt auch jedes Monster in meinem Team obendrauf.

Startcard - Startkarte
DIEMONSHARK Level 3 Gold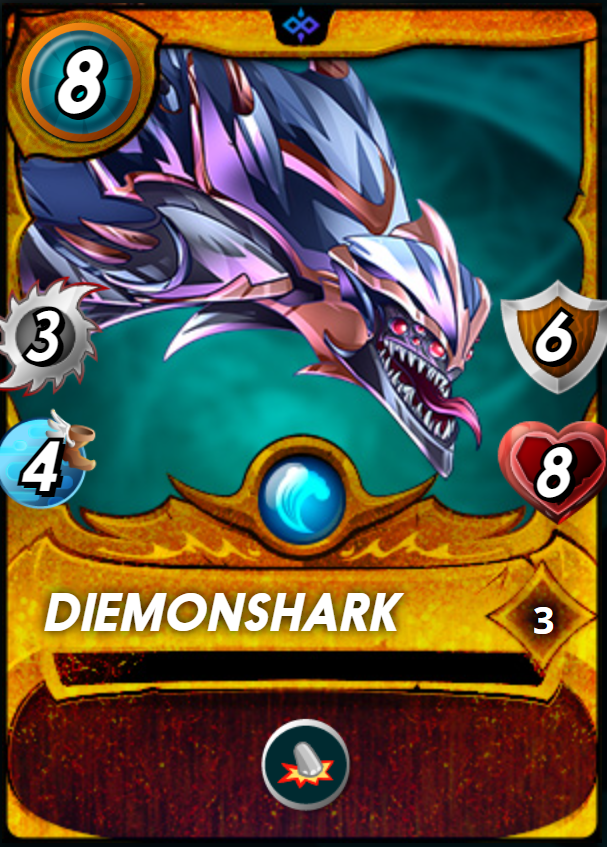 ---
With Diemonshark I got one of my
favorite water cards as a starting
card in the team, because he can often dodge hits due to his high speed.
In addition he has 6 armor and 8 life. He himself attacks my opponent's monsters with 3 strong melee hits.
With his ability to trample, he also has the possibility, if he destroys a monster, that he directly targets the next monster in the opponent's team.
Mit Diemonshark habe ich mir gleich als Startkarte eine meiner Liebling-Wasserkarten mit ins Team geholt, da er durch seine hohe Geschwindigkeit öfters mal Treffers ausweichen kann. Dazu kommen seine 6 Rüstungen und 8 Leben. Er selbst greift mit 3 starken Nahkampftreffern die Monster meines Gegners an. Mit seiner Fähigkeit das Trampeln hat er außerdem noch die Möglichkeit, wenn er ein Monster zerstört, dass er direkt nochmal auf das nächste Monster im Gegnerteam zielt.

Card 2 - Karte 2
DJINN OSHANNUS Level 3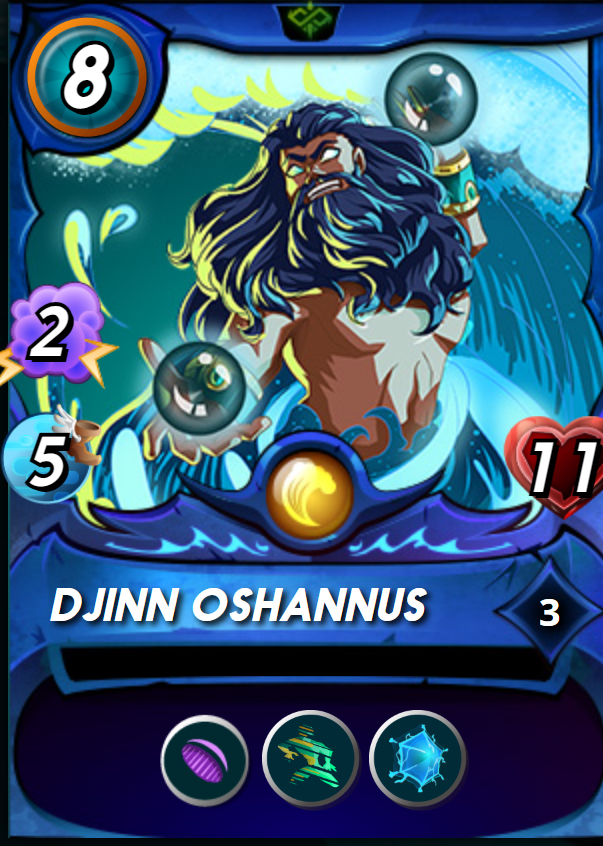 ---
This time not in first place as
you know it from me, but in this fight I put him in 2nd place.
In case Diemonshark does not hold out as long as I had hoped.
Then I still have a super card at the front, because he deflects many hits by his also very high speed and his abilities or if he is hit, he loses 1 life per attack.
In addition, he also from the 2 position always brings his attacks to the opponent.
Diesmal nicht an erster Stelle so wie ihr es von mir kennt, sondern in diesem Kampf habe ich ihn an 2 Stelle gestellt. Falls Diemonshark doch nicht so lange aushält, wie erhofft. Den dann habe ich noch immer eine Superkarte an der Front, da er durch seine ebenfalls sehr hohe Geschwindigkeit und seinen Fähigkeiten viele Treffer abwehrt oder wenn dann getroffen wird, pro Angriff 1 Leben verliert. Dazu kommt das er auch von der 2 Position aus seine Angriffe immer an den Gegner anbringt.

Card 3 - Karte 3
DEEPLURKER Level 6 Gold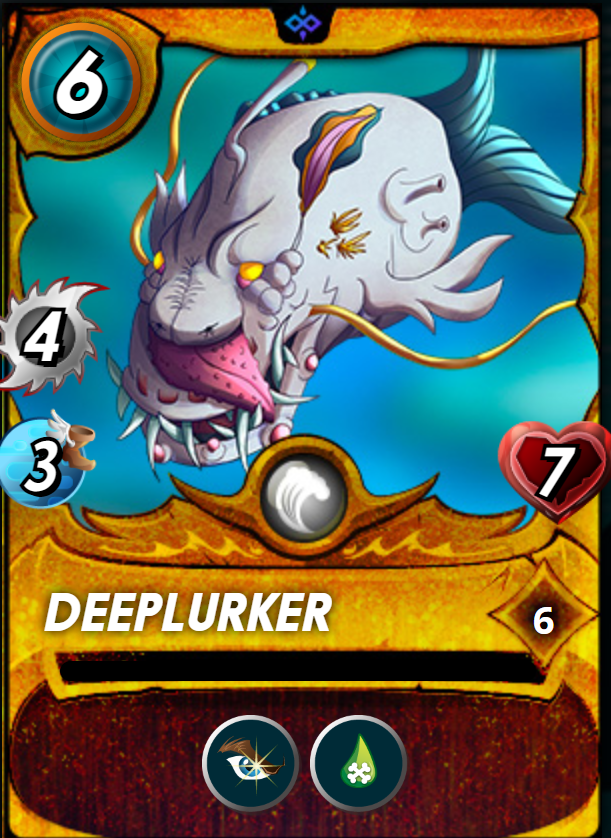 ---
I also play him very, very much.
For this reason, I have already leveled him up to level 6.
So I get another ability and with him it was the poison which is a really good weapon to do additional damage.
In addition, the ability opportunity which leads to the fact that he can attack from any position and always aims at the monster of the opponent which has the least health.
Also, with 4 melee attacks, he has a lot of punching power himself.
Ihn spiele ich auch sehr, sehr gerne. Aus diesem Grund habe ich ihn auch schon auf Stufe 6 aufgelevelt. Damit ich eine weitere Fähigkeit bekomme und bei ihm war es das Gift welches eine richtig gute Waffe ist um zusätzlichen Schaden zu machen. Dazu kommt noch die Fähigkeit Gelegenheit welches dazu führt, dass er das er von jeder Position aus angreifen kann und immer auf das Monster vom Gegner ziehlt welches die wenigstens Gesundheit hat.
Außerdem hat er mit 4 Nahkampfangriffen auch noch selbst sehr viel Schlagkraft.

Card 4 - Karte 4
RIVERBOAT CAPTAIN 4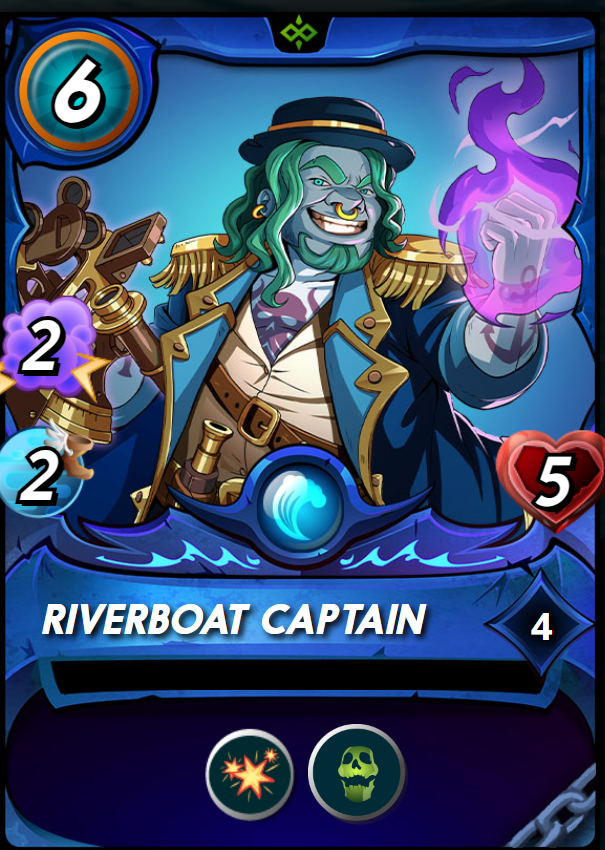 ---
With Riverboat Captain I decided to use magic again, because he also has the ability to blast. Through which he adds the monsters standing next to the same with damage.
However, he has a low speed with 2 and also his lives are manageable with 5. But he attacks with 2 magic attacks.
At level 4 he gets an additional ability, namely Affliction.
Even if this is unimportant in the fight, because anyway can not be healed.
Mit Riverboat Captain habe ich mich wieder für Magie entschieden, da er ja auch die Fähigkeit des sprengen hat. Wodurch er den neben stehenden Monster gleich mit schaden zu fügt. Jedoch hat er mit 2 eine niedrige Geschwindigkeit und auch seine Leben sind mit 5 überschaubar. Dafür greift er mit 2 magischen Angriffen an. Auf Stufe 4 bekommt er noch ein Zusatz Fähigkeit dazu, und zwar Gebrechen dazu. Auch wenn diese bei dem Kampf unwichtig ist, da eh nicht geheilt werden kann.

Card 5 - Karte 5
SEA STALKER 3 Gold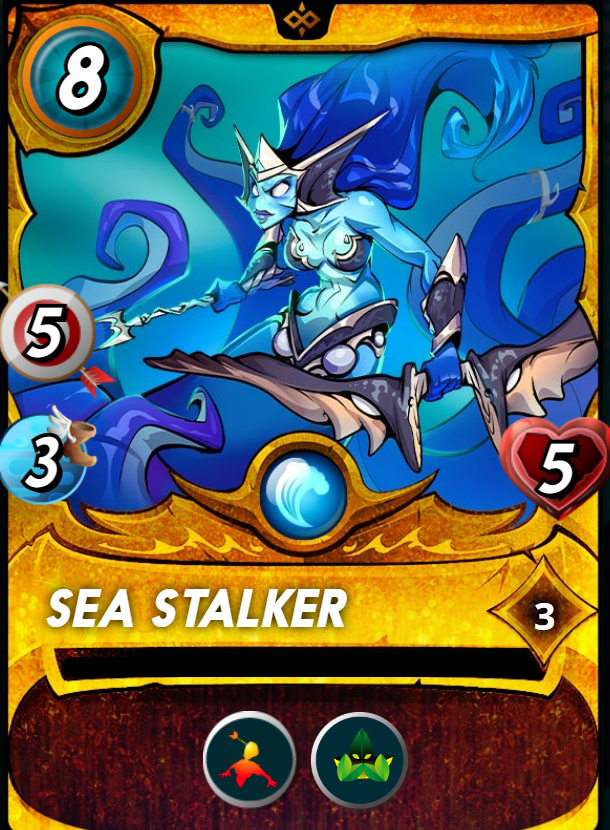 ---
Sea Stalker is also a powerful card due to its 5 ranged
attack hits and its ability snipe it does not attack my opponent's starting monster.
By doing this, I was hoping that it would be cleared from multiple sides onto my opponent's deck. And because of the stealth, it is attacked by my opponent only at first position.
Normally, I put it in the last position.
Sea Stalker ist auch eine mächtige Karte durch ihre 5 Fernkampfangriffstreffer und ihre Fähigkeit Schnepfe greift sie nicht das Startmonster meines Gegners an. Dadurch erhoffte ich mir, dass von mehreren Seiten auf das Deck meines Gegners geräumt wird. Und durch die Tarnung wird es von meinem Gegner erst an erster Position attackiert. Normal setze ich ihn an die letzte Stelle.

Card 6 - Karte 6
HARDY STONEFISH Level 4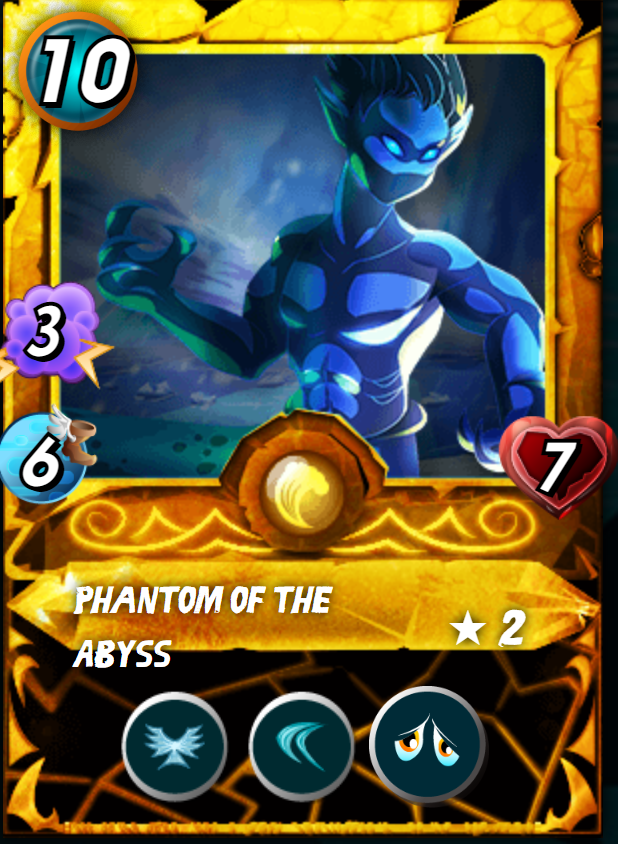 ---
But in the last place I have decided in this fight for him, since I had rented him at the time, I played him of course.
He is incredibly strong, due to his extremely high speed attacks from the opponent on him often miss their target.
He himself causes a lot of damage with 3 magic attacks.
In addition, his ability to fly and dodge makes him even less likely to be hit, especially by low-speed monsters.
Demoralize detects one attack point from each of my opponent's melee monsters, which is very helpful.
Doch an letzter Stelle habe ich mich in diesem Kampf für ihn entschieden, da ich ihn mir zu dem Zeitpunkt gemietet hatte, habe ich ihn selbstverständlich auch gespielt. Er ist unfassbar stark, durch seine extrem hohe Schnelligkeit verfehlen Angriffe vom Gegner auf ihn oft ihr Ziel. Er selbst verursacht mit 3 magischen Angriffe sehr viel Schaden. Dazu kommen seine Fähigkeit des Fliegens und Ausweichen wird er noch seltener getroffen, grade von Monstern mit niedriger Geschwindigkeit. Durch Demoralisieren werden jedem Nahkampfmonster meines Gegners ein Angriffspunkt ab erkannt, was sehr hilfreich ist.

Opposing Team - Gegnerisches Team
Summoners - Beschwörer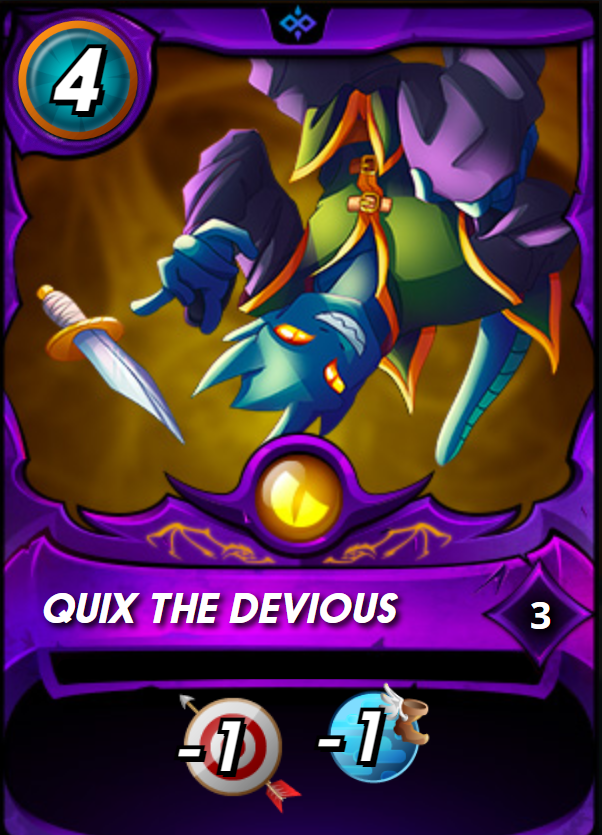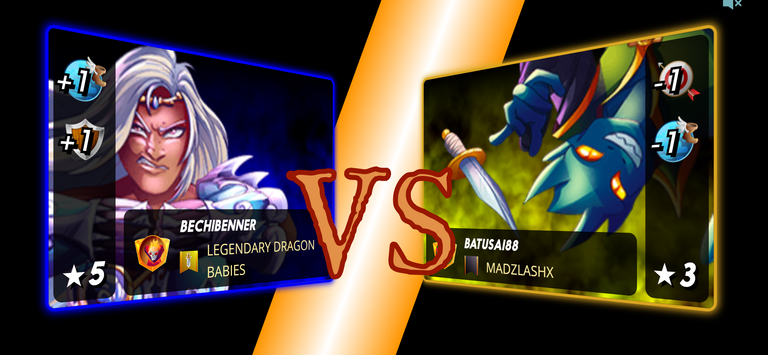 ⚔️ WATCH BATTLE ⚔️

Round 1 - Runde 1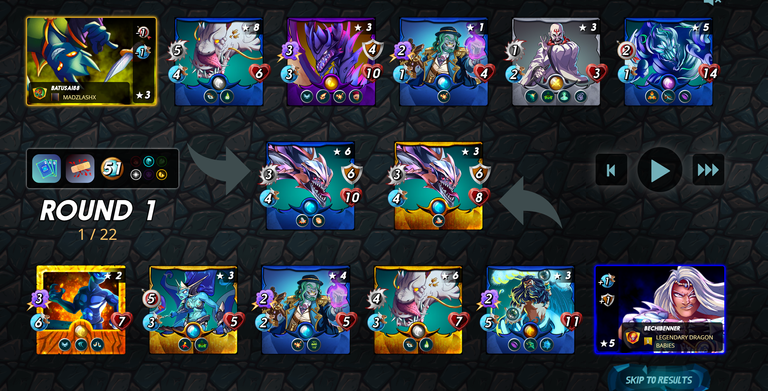 Round 2 - Runde 2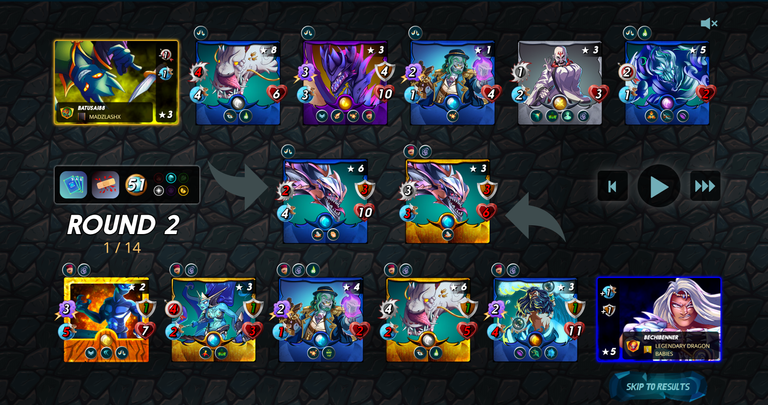 Round 3 - Runde 3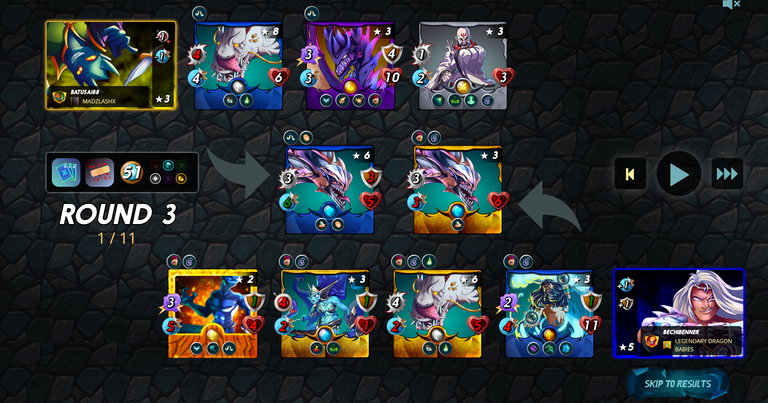 Round 4 - Runde 4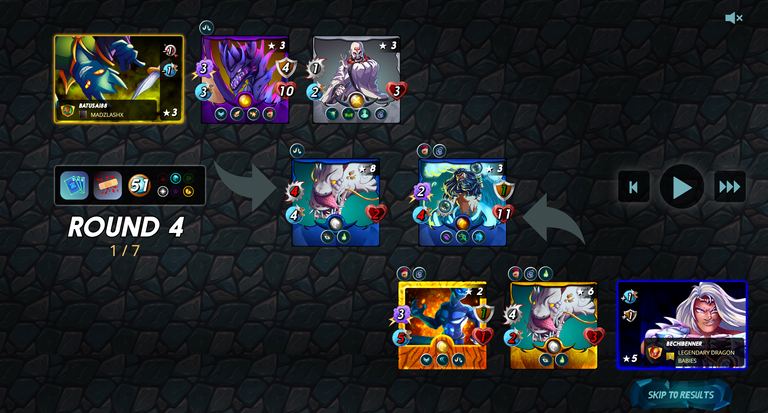 Round 5 - Runde 5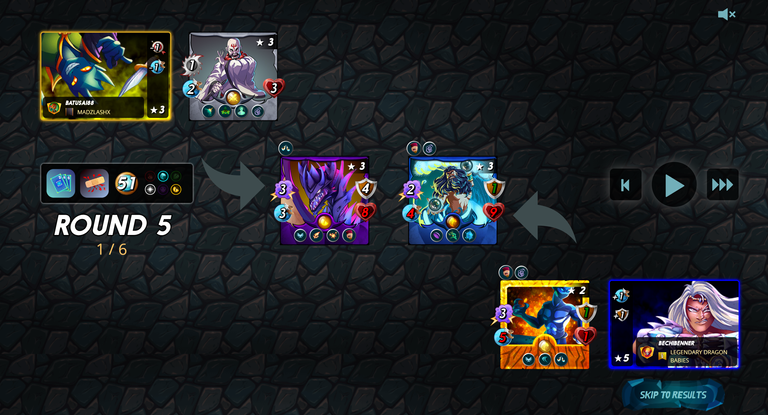 Round 6 - Runde 6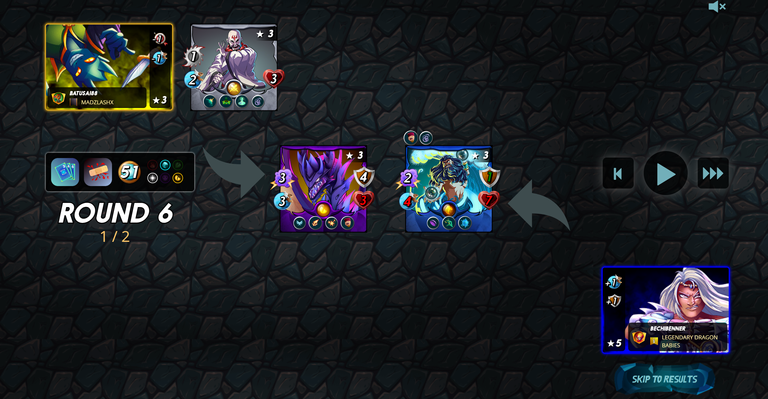 Round 7 - Runde 7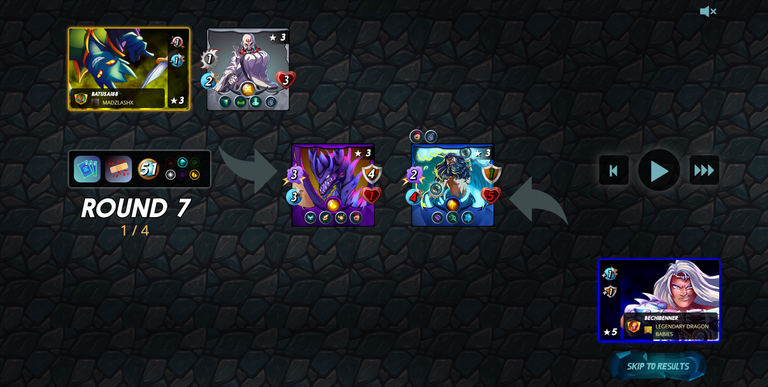 Round 8 - Runde 8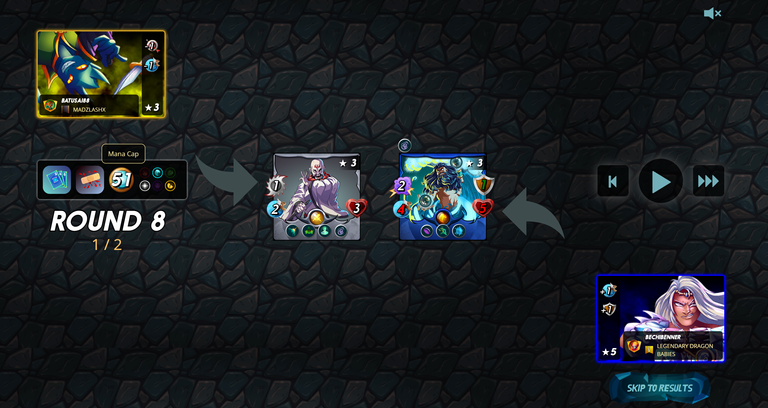 Round 9 - Runde 9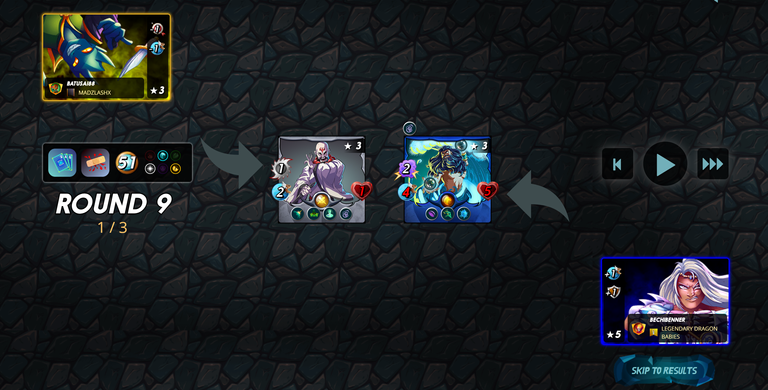 Finish - Ende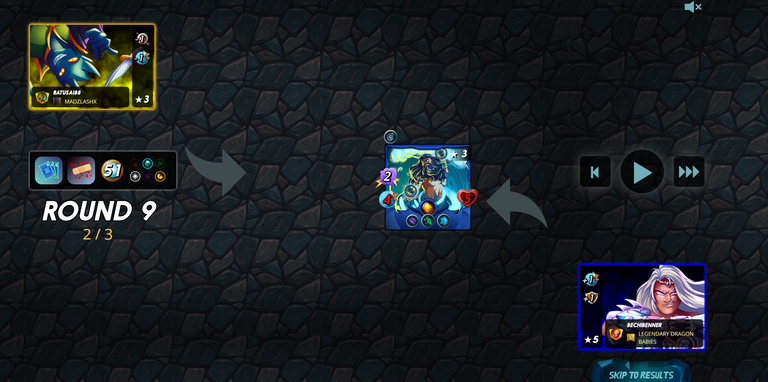 Rewards - Belohnung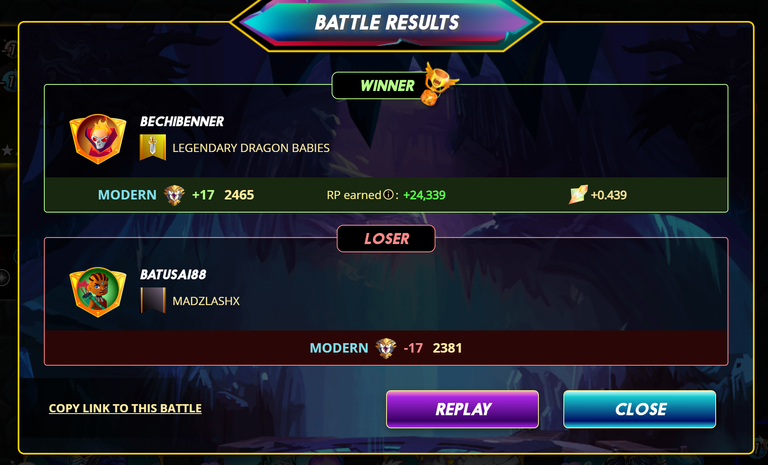 Even though my opponent had several cards set up like me,
the others made the difference. I managed very well, even though his Quix weakened my Sea stralker a bit I was able to downgrade some of my opponent's monsters in terms of attack power through Phantom.
With Diemonshark and Deep Luker 2 strong cards. Especially the aforementioned phantom did a lot of damage as I had hoped and fended off some without damage.
In the end I could be happy about a clear victory again.
Auch wenn mein Gegner mehrere Karten so aufgestellt hat wie ich, haben die anderen den Unterschied ausgemacht. Ich bin sehr gut klargekommen, auch wenn sein Quix mein Sea Stalker ein wenig geschwächt hat konnte ich durch Phantom auch einige Monster meines Gegners runterstufen von der Angriffskraft her. Mit Diemonshark und Deep Luker gleich 2 starke Karten. Grade der eben besagte Phantom hat wie erhofft viele Schäden angerichtet und einigen ohne Schaden abgewehrt. Am Ende konnte ich mich wieder über einen klaren Sieg freuen.

Today I show you again instead of packs times my last 3 Focus yields, which were also quite good I found but decide for yourself.
Could not play so much, therefore only so few chests.
Heute zeige ich euch nochmal statt Packs mal meine 3 letzten Focus Ausbeuten, auch die waren recht gut fand ich aber entscheidet selbst. Konnte nicht soviel spielen, daher nur so wenig Truhen.



And again I could draw 2 gold cards my gold deck is getting better and better which I am very happy about I hope I will soon have my first card on Max
Und wieder konnte ich 2 goldene Karten zeihen, mein Gold deck, wird immer besser. Worüber ich mich sehr freue, ich hoffe, ich habe bald meine erste Karte auf Max


Also feel free to check out my Gold Quiz, here's the link to it, just submit a hint -
Schaut auch gerne bei meinem Gold Quiz vorbei, hier der Link dazu, einfach einen Tipp abgeben.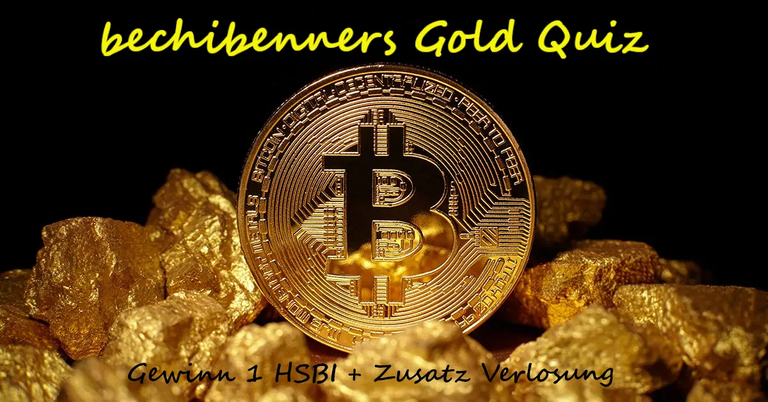 ---
---