BATTLE MAGE SECRETS Weekly Challenge! Explosive Weaponry // BATTLE MAGE SECRETS Wöchentliche Herausforderung! Explosive Waffen (ENG/DEU)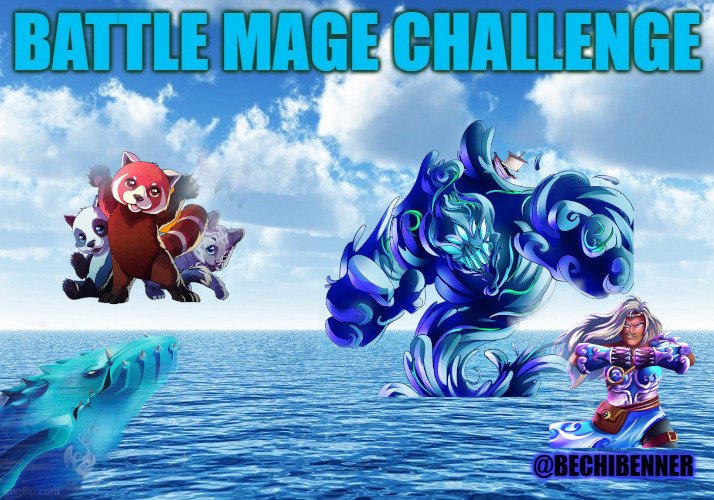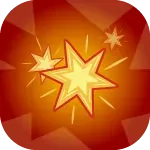 BATTLE MAGE SECRETS Weekly Challenge- Explosive Weaponry
Hello Splinterlands Friends - Hallo Splinterlands Freunde
---
Today starts a Battle Mage Secrets Challenge, where I would like to participate again.
Today's challenge is all about the ruleset explosive weapons.
Normally I like to use this ruleset/ability in combination with Yodin
but it was useless in this battle because my opponent also had explosive
weapons at his disposal. With this ruleset, attacks on the adjacent monsters
are fired as well so that they also take damage in most cases.
Heute startet eine Battle Mage Secrets Challenge, wo ich selbstverständlich auch gerne wieder dran teilnehmen möchte. In der heutigen Challengen dreht sich alles um das Regelwerk explosive Waffen. Normalerweise nutze ich dieses Ruleset/Fähigkeit gerne in Kombination mit Yodin doch dieser war in diesem Kampf ja zwecklos, da auch meine Gegner explosive Waffen zur Verfügung stand. Bei diesem Regelwerk werden Angriffe auf die Nebenstehen-Monster mit angefeuert sodass sie auch Schaden nehmen in den meisten Fällen.
---
Rulesets in Combat - Regelwerke im Kampf
Rulesets in Combat:
Back to Basics , Explosive Weaponry.
Regelwerke im Kampf:
Zurück zu den Grundlagen , Explosive Waffen.

Description of the ruleset of Splintercards.
---> Source quotes ---
Monsters lose all abilities.
Back row monsters are safe
from enemy's Sneak, Snipe and Opportunity attacks.
The ruleset places importance on Magic and Ranged attacks
as melee attacks loose their ability to hit outside of the first position.
Select monsters with high speed and choose a summoner that increases damage or defense against Magic or Ranged attacks.
Lining up monsters in ascending order of their health is the way to go.
All Monsters have the Blast ability.
The best strategy is to have fast monsters with Snipe, Sneak, Opportunity.
For defense, Shield and Void will
come in handy.
Mana 48
Team selection options:
Water, Earth, Dragon*
Beschreibung des Regelwerk von Splintercards
---> Source quotes ---
Monster verlieren alle Fähigkeiten.
Monster in der hinteren Reihe sind vor den Sneak-, Snipe- und Opportunity-Angriffen des Feindes sicher. Der Regelsatz legt Wert auf Magie- und Fernkampfangriffe, da Nahkampfangriffe ihre Fähigkeit verlieren, außerhalb der ersten Position zu treffen. Wählen Sie Monster mit hoher Geschwindigkeit aus und wählen Sie einen Beschwörer, der den Schaden oder die Verteidigung gegen Magie- oder Fernkampfangriffe erhöht. Der richtige Weg besteht darin, die Monster in aufsteigender Reihenfolge ihrer Gesundheit anzuordnen.
Alle Monster haben die Fähigkeit "Explosion".
Die beste Strategie besteht darin, schnelle Monster mit Snipe, Sneak, Opportunity zu haben. Zur Verteidigung werden sich Shield und Void als nützlich erweisen.
Mana 48
Teamauswahl-Optionen:
Wasser, Erde, Drache

As summoner I have once again chosen Kelya Frendul.
Als Beschwörer habe ich mal wieder für Kelya Frendul entschieden.
---
KELYA FRENDUL Level 5 Gold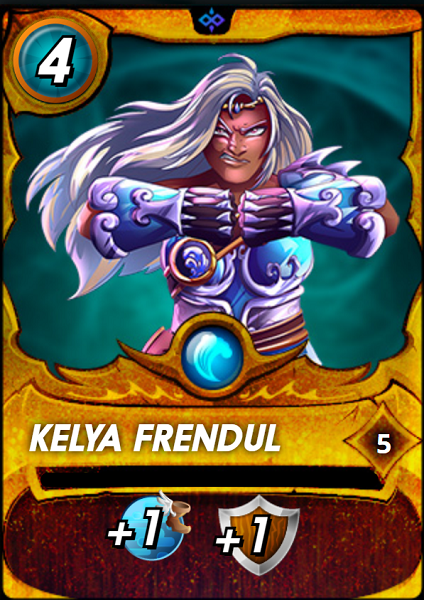 I thought to myself in this fight
that I have made a good choice with Keyla, because he gives all monsters 1 armor each and also increases the speed of the respective monsters in my team.
In addition, at level 5, some abilities are added by the level he other cards.
Ich dachte mir bei diesem Kampf, dass ich mit Keyla doch eine gute Wahl getroffen habe, da er allen Monstern je 1 Rüstung verpasst und auch die Geschwindigkeit der jeweiligen Monster in meinem Team erhöht. Dazu kommt, dass auf Stufe 5 sind einige Fähigkeiten durch das Level er anderen Karten dazugekommen.

Startcard - Startkarte
WAVE BROOD Level 2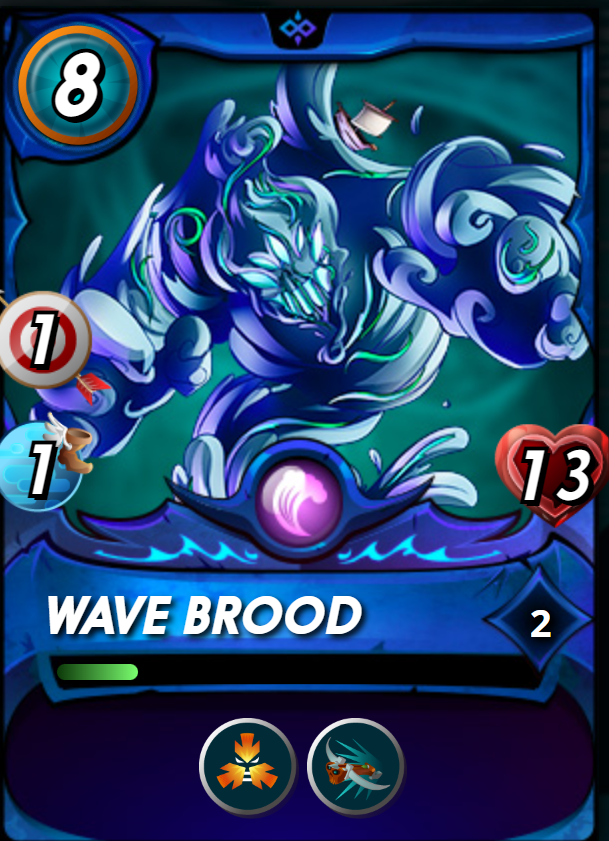 ---
I took him because of his 13 life and the ability taunt, because this first directs all attacks from my opponent on this e cards.
In addition, due to his short range, he may fire his attacks from the first position despite ranged attack.
From this I hoped that he survives a little longer and my other monsters can perform their attacks without much damage.
Ihn habe ich wegen seiner 13 Leben und der Fähigkeit Spott genommen, da dieses erstmal alle Angriffe von meinem Gegner auf dies e Karten lenkt. Dazu kommt durch seine kurze Reichweite, darf er trotz Fernkampffangriff von der ersten Position aus seine Angriffe abfeuern. Daraus erhoffte ich mir, dass er ein wenig länger überlebt und meine anderen Monster ihre Angriffe ohne großen Schaden ausüben können.

Card 2 - Karte 2
DJINN OSHANNUS Level 3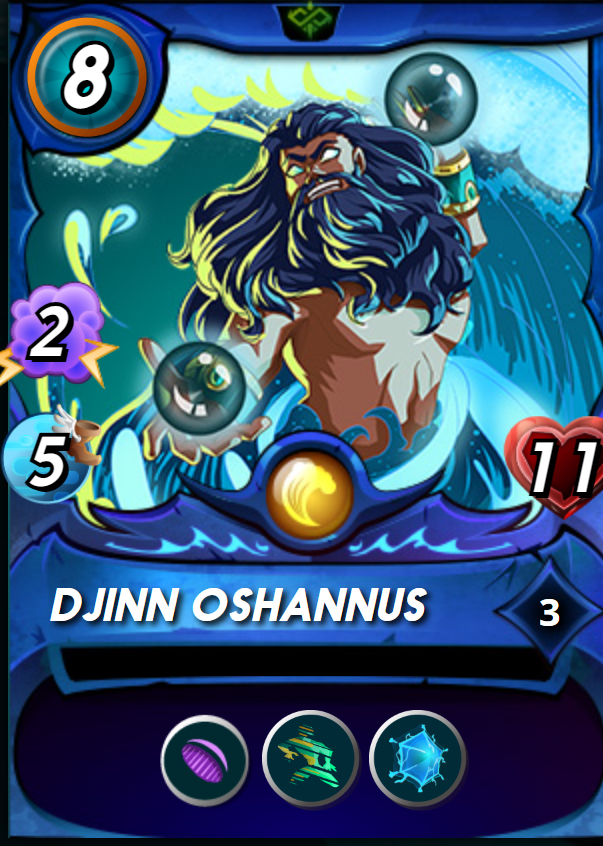 ---
This time not in first place as you know it from me, but in this fight
I put him in 2nd place.
In case Wave Brood does not last as long as I had hoped.
Then I still have a super card at the front, because he deflects many hits by his also very high speed and his abilities or if he is hit then, he mostly loses only 1 life per attack.
In addition, he also from the 2 position always attaches his attacks to the opponent.
Diesmal nicht an erster Stelle so wie ihr es von mir kennt, sondern in diesem Kampf habe ich ihn an 2 Stelle gestellt. Falls Wave Brood doch nicht so lange aushält, wie erhofft. Den dann habe ich noch immer eine Superkarte an der Front, da er durch seine ebenfalls sehr hohe Geschwindigkeit und seinen Fähigkeiten viele Treffer abwehrt oder wenn er dann getroffen wird, pro Angriff meistens nur 1 Leben verliert. Dazu kommt das er auch von der 2 Position aus seine Angriffe immer an den Gegner anbringt.

Card 3 - Karte 3
NERISSA TRIDAWN Level 3 Gold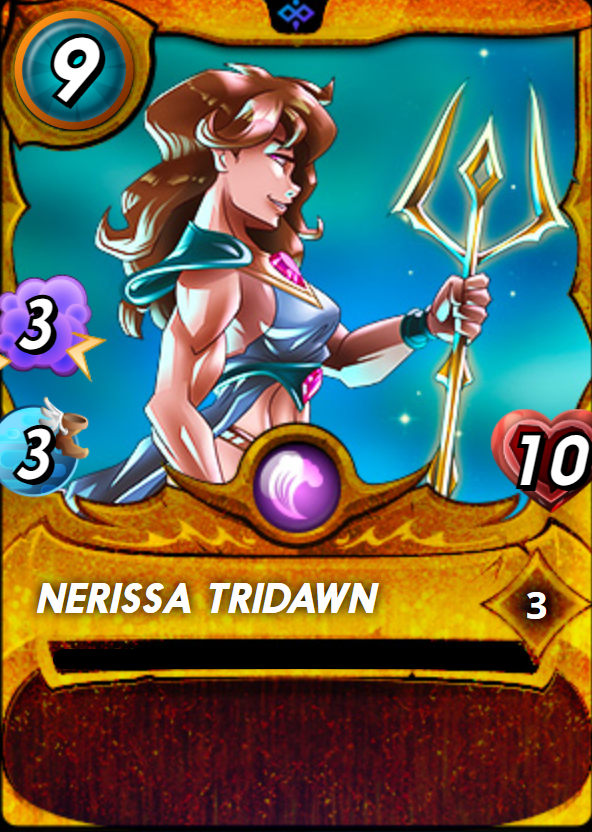 ---
Also with her I still have a very strong card, because she can
do a lot of damage with her 3 magic attacks and if no counterspell is in play also always directly on the lives.
With her 10 lives, she can also withstand many a counterattack. With a speed of 3, she doesn't have the best speed.
But my focus was on the magic attack hits.
Auch mit ihr habe ich noch eine sehr starke Karte, da sie mit ihren 3 magischen Angriffen sehr viel Schaden anrichten kann und wenn kein Gegenzauber im Spiel ist auch immer direkt auf die Leben zielt. Mit ihren 10 Leben hält sie auch so manchen Gegenschlag aus. Zwar hat sie mit einer Geschwindigkeit von 3 da jetzt nicht die allerbeste. Doch mein Augenmerk lag auf den magischen Angriff Treffern.

Card 4 - Karte 4
RUNEMANCER KYE 2 Gold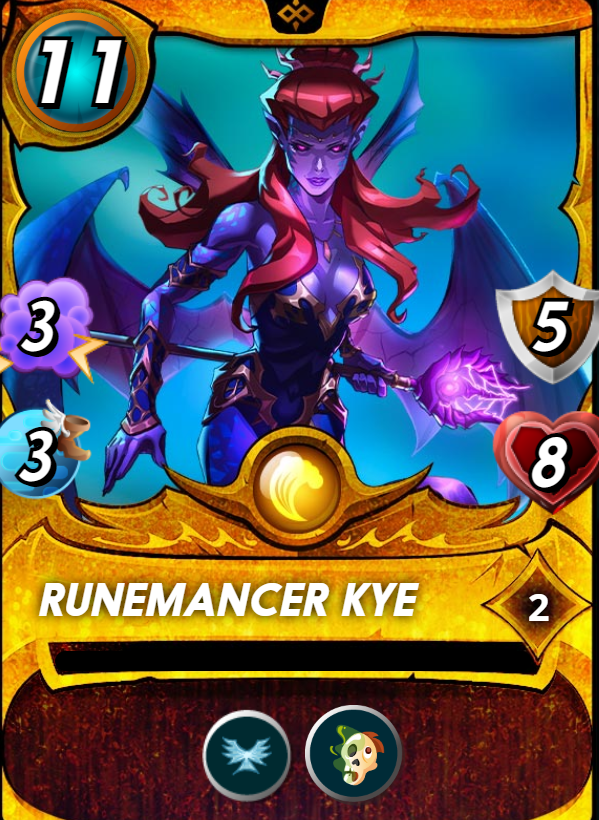 ---
In the 4th place I took another legendary card with magic attacks.
Kye is very strong, not only because of his 2 magic attacks.
With 5 armor and 8 life he
is a real weapon! Add to that his abilities of flying, which gives him a chance to dodge attacks, and life sails, which gives him life every time he takes some.
The ruleset adds explosive weapons, which makes you even more dangerous.
Still, I really wanted him in last place, because he can take a lot.
An 4 Stelle habe ich dann noch mal eine legendäre Karte mit magischen Angriffen genommen. Kye ist sehr stark, nicht nur durch seine 2 magischen Angriffen. Mit 5 Rüstung und 8 Leben ist er eine richtige Waffe! Dazu kommen seine Fähigkeiten des Fliegens, wodurch die Chance besteht, dass er Angriffen ausweichen kann und Lebensegel, was ihm jedes Mal leben schenkt, wenn er welche nimmt. Durch das Regelwerk kommt explosive Waffen dazu, was ihr noch gefährlicher macht.
Trotzdem wollte ich ihn unbedingt an letzter Stelle haben, da er sehr viel einstecken kann.

Card 5 - Karte 5
RIVERBOAT CAPTAIN 4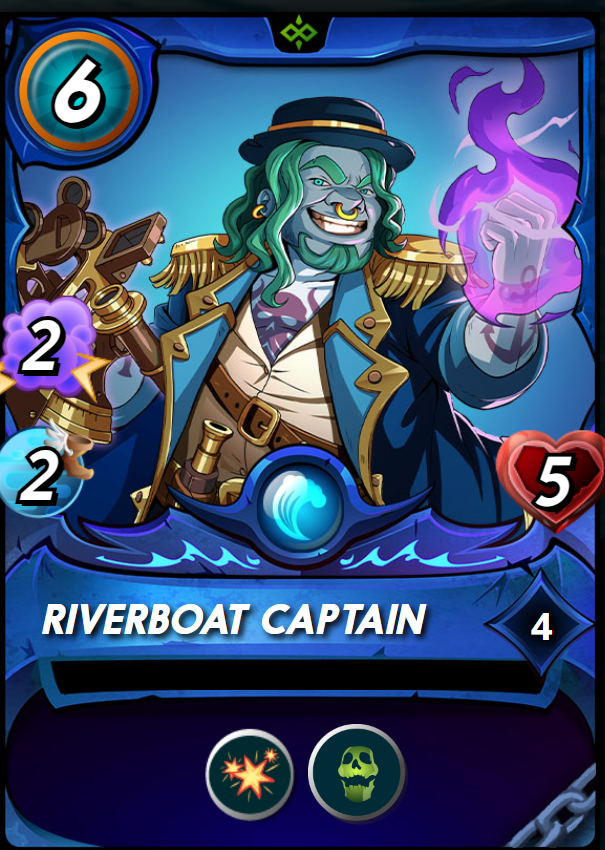 ---
With Riverboat Captain I decided
to use magic again, since he has the ability to blast anyway.
However, he has a low speed with 2 and also his lives are manageable with 5.
But he attacks with 2 magic attacks.
At level 4 he gets an additional ability, namely affliction.
Which can also be very important, because hit monsters can no longer be healed
Mit Riverboat Captain habe ich mich wieder für Magie entschieden, da er ja eh die Fähigkeit des Sprengens hat. Jedoch hat er mit 2 eine niedrige Geschwindigkeit und auch seine Leben sind mit 5 überschaubar. Dafür greift er mit 2 magischen Angriffen an. Auf Stufe 4 bekommt er noch ein Zusatz Fähigkeit dazu, und zwar Gebrechen dazu. Was auch sehr wichtig werden kann, da getroffenen Monster sich nicht mehr heilen lassen.

Card 6 - Karte 6
OGOR DARKSPEAR Level 2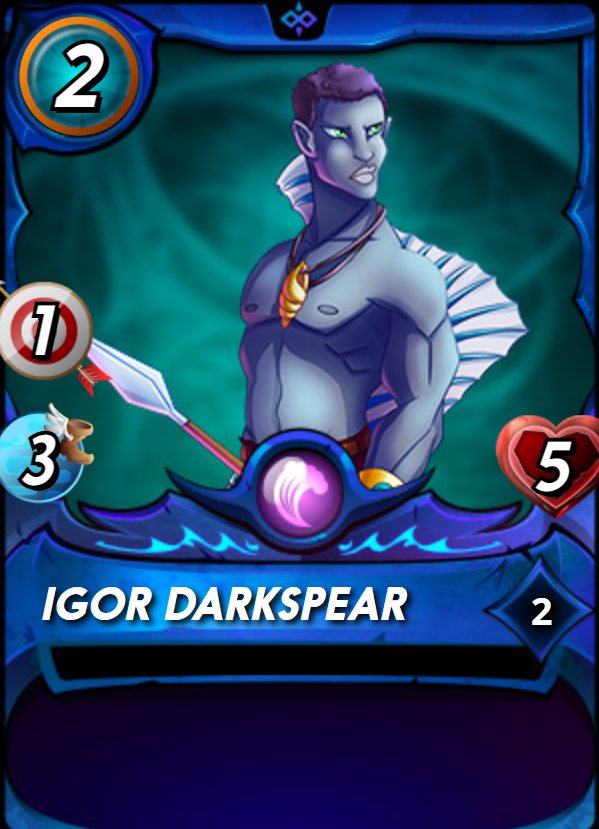 ---
As the last card I decided to use Igor, because I only had 2 men left.
Despite his low cost he has 5 life and he can attack with a ranged attack.
But for me he is more protection from attacks that come from behind,
so Riverboat is not hit directly, but rather from blasting.
Als letzte Karte habe ich dann da ich nur noch 2 Mann übrig hatte mich für Igor entschieden da er trotz seiner geringen Kosten mit guten 5 Leben daherkommt und selbst kann er mit einem Fernkampf angreifen. Doch für mich ist er eher Schutz vor Angriffen, die von hinten kommen, damit Riverboat nicht direkt getroffen wird, sondern eher vom Sprengen.

Opposing Team - Gegnerisches Team
Summoners - Beschwörer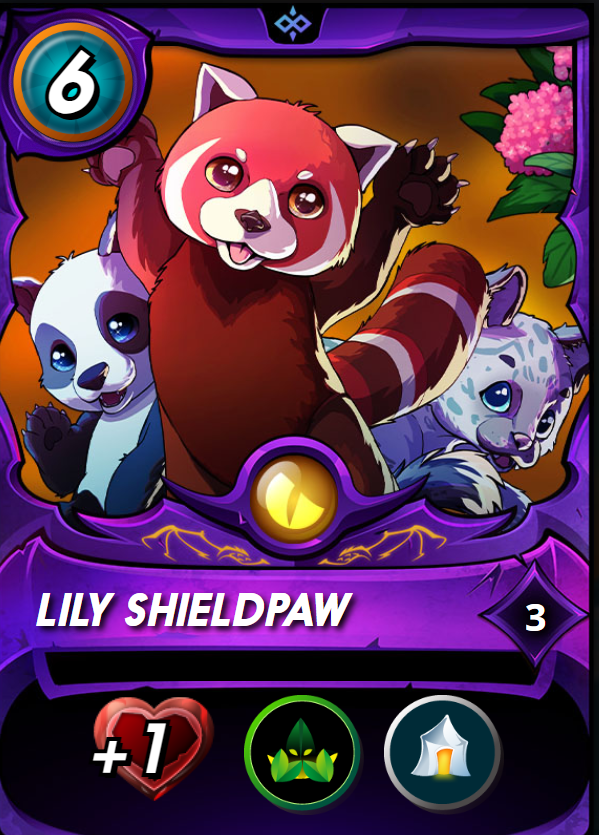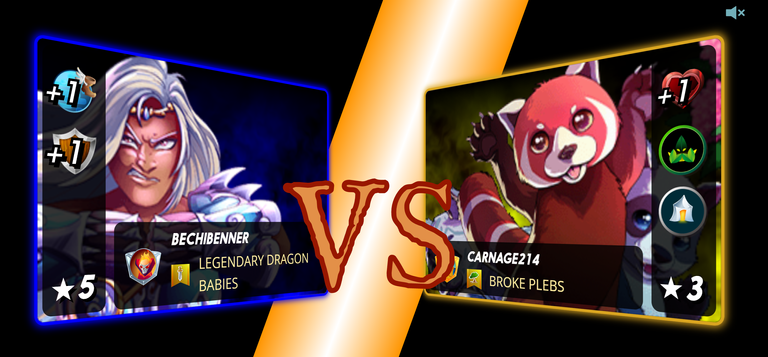 ⚔️ WATCH BATTLE ⚔️

Round 1 - Runde 1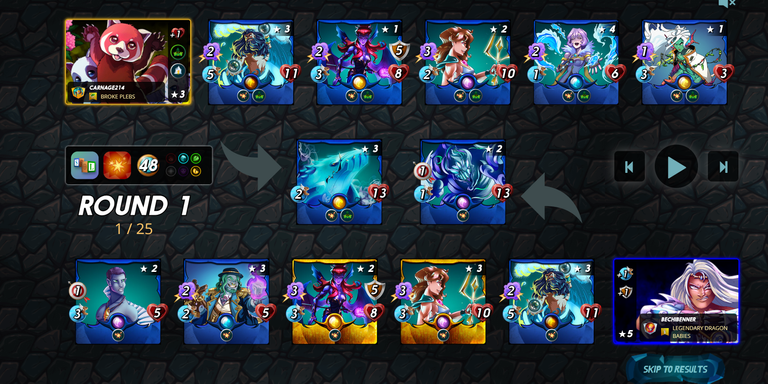 Round 2 - Runde 2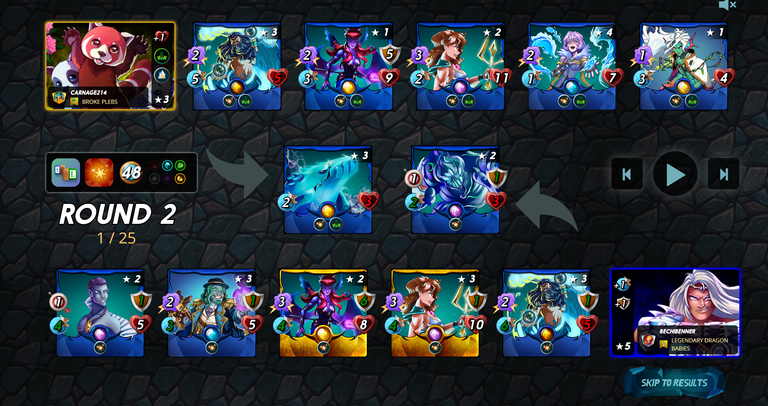 Round 3 - Runde 3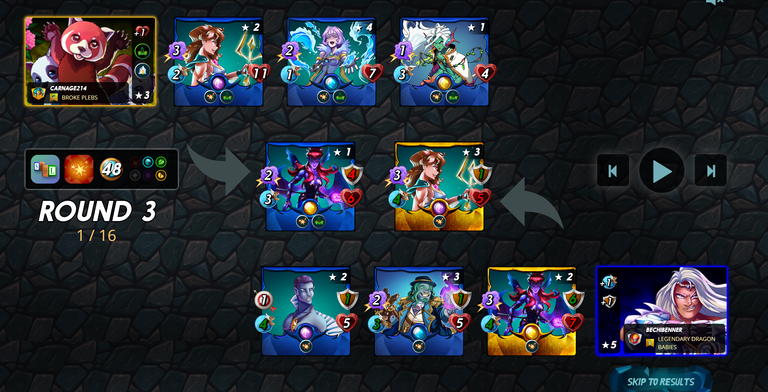 Round 4 - Runde 4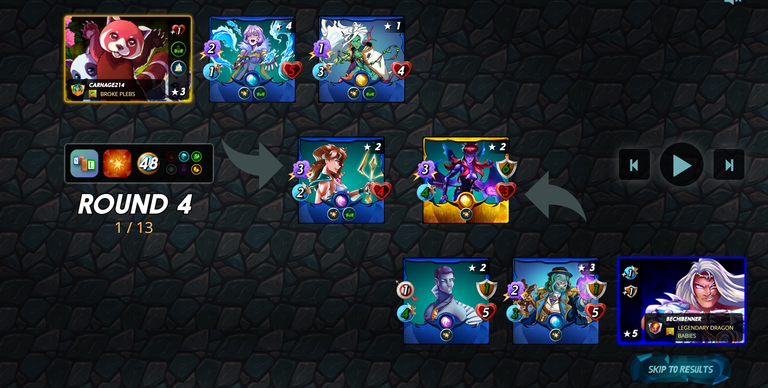 Round 5 - Runde 5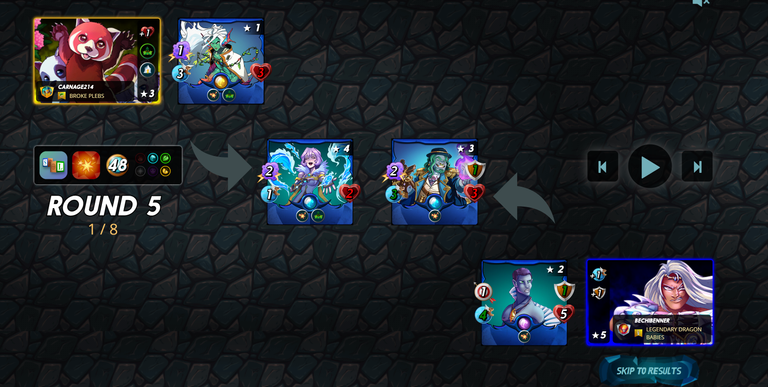 Round 6 - Runde 6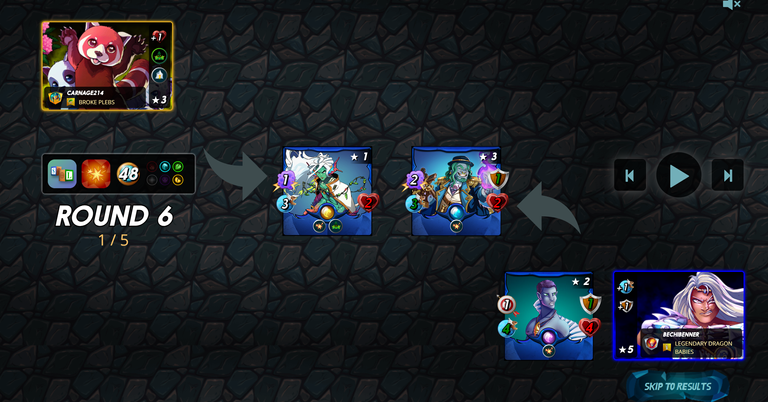 Finish - Ende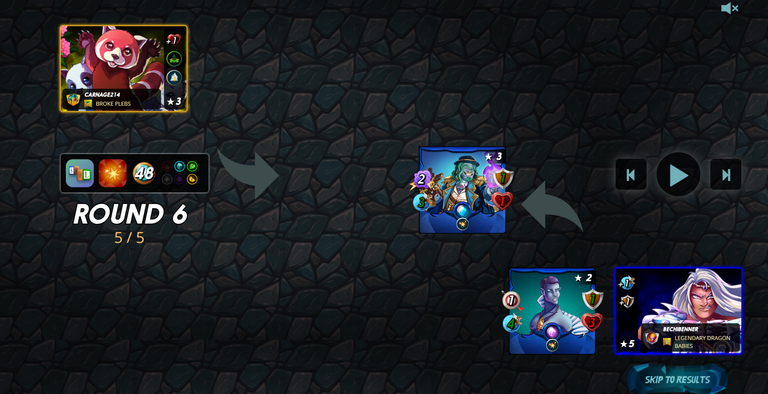 Rewards - Belohnung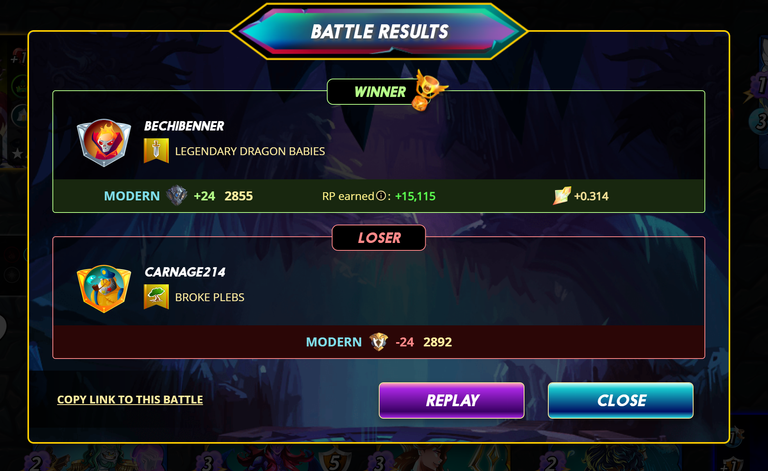 And again, my opponent thought
similarly to me.
And again I decided for some cards that
were simply better for this set of rules.
Even though it was very close and I won happily in the end.
I'm glad I decided to go with this lineup.
Wave Brood and Oshannus were
a good choice and Kye was able to collect some
life as intended, so that I left the field as the winner in the end.
Und wieder hat mein Gegner ähnlich gedacht wie ich. Und wieder habe ich mich doch für einige Karten entschieden, die für dieses Regelwerk einfach besser waren. Auch wenn es sehr knapp war und ich am Ende doch glücklich gewonnen habe. Bin ich froh, dass ich mich für diese Aufstellung entschieden haben. Grade Wave Brood und Oshannus waren eine gute Wahl und Kye konnte wie gewollt einige Leben sammeln, sodass ich am Ende als Sieger vom Feld ging.

Today I show you again instead of packs, my 4 last Focus yields,
by the fact that I fell this time further down, I had to play myself up in the first days first again.
*Heute zeige ich euch nochmal statt Packs, meine 4 letzten Focus Ausbeuten, dadurch das ich diesmal weiter heruntergefallen bin, musste ich mich in den ersten Tagen erstmal wieder hochspielen.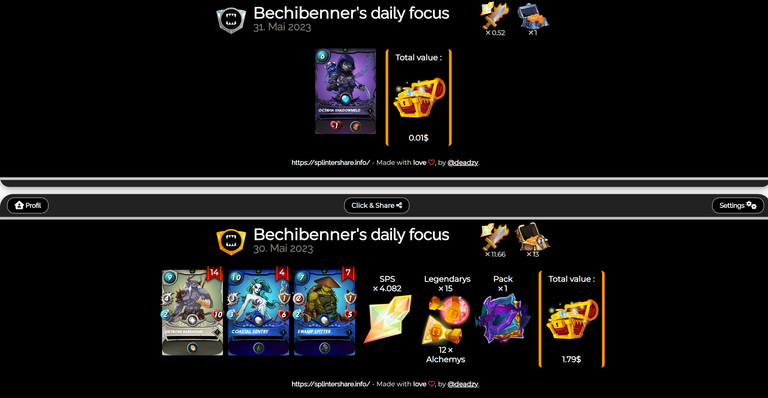 The first one was still ok after the end of the season ,
but now I had to get back there to earn gold chests. Since I unfortunately fell too far and started in silver 1 and it was troublesome to get out of there
Der erste war noch ok nach Ende der Saison , doch jetzt musste ich erstmal wieder dahin kommen, um Goldtruhen zu erspielen. Da ich leider zu weit abgefallen bin und in Silber 1 angefangen habe und es mühsam war dort herauszukommen.


Also feel free to check out my Gold Quiz, here's the link to it, just submit a hint -
Schaut auch gerne bei meinem Gold Quiz vorbei, hier der Link dazu, einfach einen Tipp abgeben.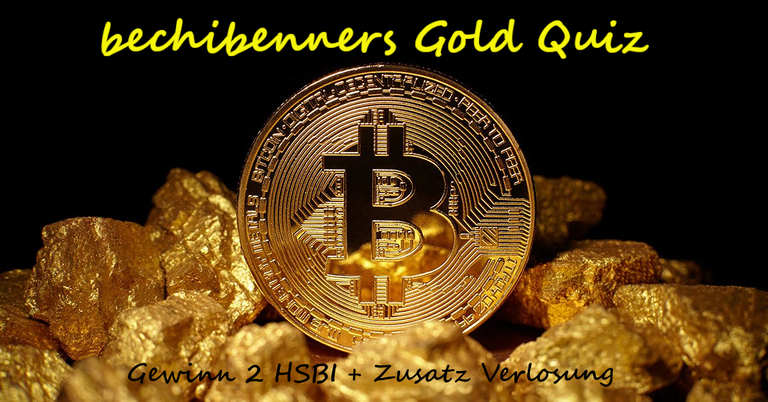 ---
---