Buying packs with DEC is an absolute steal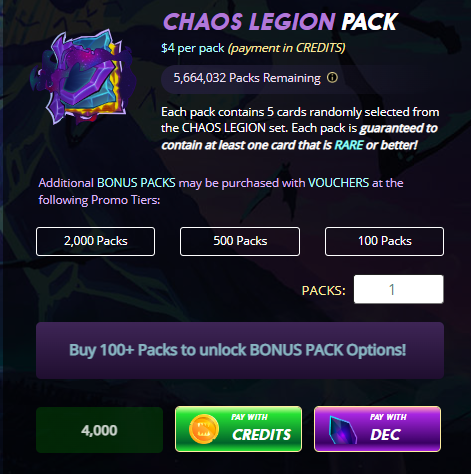 At the time of writing, minting chaos legion packs on Splinterlands costs 4k Splinterlands credits or 4k Dark Energy Crystals. As you know, credits are pegged but DEC varies with the market. This variation in the price of DEC presents a massive opportunity that many Splinterlands investors have been taking advantage of.
After buying around 1013 packs in the past, I decided that I was done buying packs but the appearance of this massive opportunity was too much to ignore. It is safe to say that I fomoed as hard as I possibly could into it and ended up adding 152 more packs to my collection.
Normally, 148 packs would cost around $592 at the initial market price of each pack but all things considered, I spent a bit over $300 instead, which is marginally higher than the $268 I would have spent if I bought them from Hive-engine but those don't contribute towards the incoming airdrop.
The fact that I already held over 1k packs makes me eligible for pretty much all the incoming airdrops but I figured there's no harm in further boosting my chances. I also felt like this was my opportunity to hold even more Chaos Legion packs in the process.
FOMO at your own risk
The way I see it, Splinterlands is constantly changing and while this discount is awesome and all, I don't think it will always be this way. I'm a strike it while it's hot type of dude, so I decided to fomo as hard as I could.
My route of fomoing involved converting a number of assets into DEC through Hive internal market, tribal dex and Hive engine.
Recall that on the day of the HBD pump, I pulled out all my HBD from savings, hoping that the pump would persist. THings didn't wok out the way I had hoped, so I most of it back into savings.
I kept back a little over 120 HBD liquid, and converted that to Hive through the internal market. Then, of course, moved the hive to swap.hive through Hive-engine.
After converting hive, I proceeded to sell a couple of tokens in my collection, including LVL, SPS, CTP and Oneup. It was a tough decision but I thought it necessary to take this decision. I'll eventually buy everything I sold back.
Opening packs
At the time of writing, I hold 433 Chaos Legion packs and am on the road to 500. However, I will be opening at least 30 packs in the coming days to squeeze out some profit through card sales that will then be reinvested into the tokens I sold to buy the aforementioned 152 packs.
I have a good feeling about my luck, as I finally got my hands on a gold foil legendary monster from my chaos Legion packs. However, at just $50, there's no way I'm going to sell at that market price.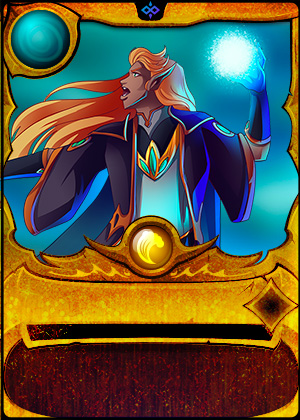 If I manage to get in like 4 gold foil legendary from the packs I open, that would cover for pretty much all my expenditure. I seriously doubt that is even possible but dreaming is free.

Posted Using LeoFinance Beta
---
---