Splinterlands Art Contest Week 175--PIXEL ART FIRE BEETLE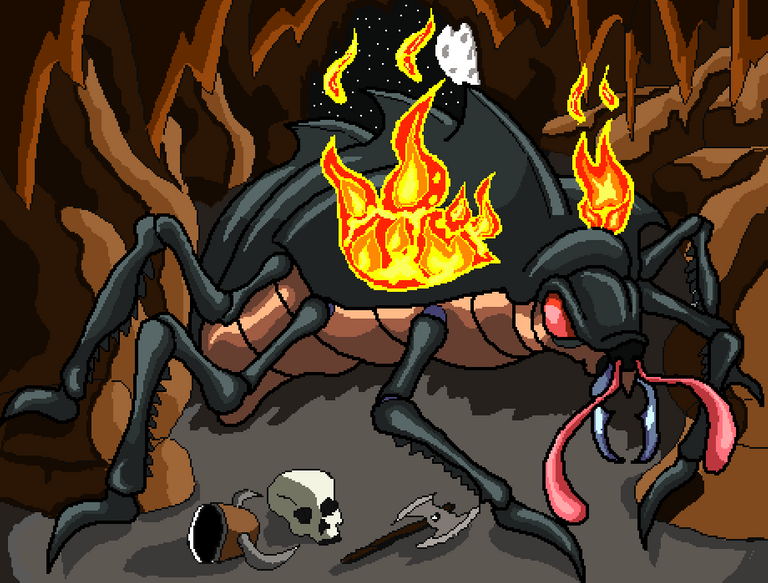 Hello friends of the splinterlands community, this time I come to share with you this week's drawing for the art contest 175, this time I decided to draw in pixel art style a fire beetle because I liked the idea that it is an insect that can produce its own fire which gave me the idea to draw a background of a cave simulating the habitat where they live, a dark place where they can use their flames to see inside the caves.
Hola amigos de la comunidad de splinterlands en esta ocasión vengo a compartir con ustedes el dibujo de esta semana para el art contest 175 , esta vez decidí dibujar en estilo pixel art a fire beetle ya que me gusto la idea de que sea un insecto que pueda producir su propio fuego lo que me dio la idea de dibujarle un fondo de una cueva simulando el habitad donde viven, un lugar oscuro donde puedan usar sus llamas para ver dentro de las cuevas.
The following are the steps of the drawing :
A continuación los pasos del dibujo :
Step 1 : In this layer we develop the lineart of our drawing to start shaping it and start coloring it.
Paso 1 : En esta capa desarrollamos el lineart de nuestro dibujo para empezar a darle forma y empezar a dar color.

Step 2:
This layer is for the color and start giving the details completely as this layer includes the details without separating them into others, apply the dark colors first to then apply the highlights and shadows.
Paso 2:
Esta capa es para el color y empezar a dar los detalles por completo ya que esta capa incluye los detalles sin separarlos en otras, aplique los colores oscuros en primer lugar para luego aplicar las luces y sombras.

Step 3:
In this layer I decided to include the background of the cave and apply the details of lucen and shadows to our fire beetle, I also drew a skull and a helmet and axe simulating a battle and that this is the lair of the fire beetle.
Paso 3:
En esta capa decidí incluir el fondo de la cueva y aplicar los detalles de lucen y sombras a nuestro fire beetle, además dibuje una calavera y un casco y hacha simulando una batalla y que esta es la guarida de el fire beetle.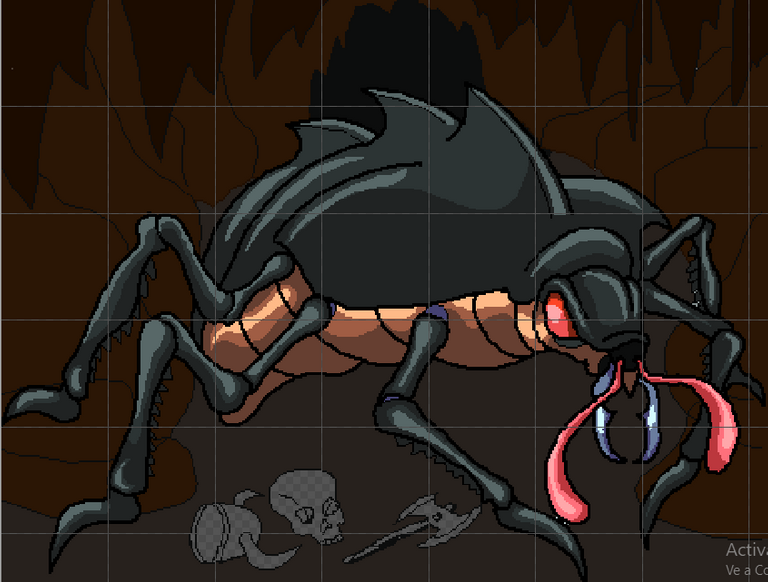 Step 4:
On this layer apply more detail to the background and place a moon since at night is when the fire beetle uses its flame control to see in the darkness of the cave or when it feels threatened.
Paso 4:
En esta capa aplique mas detalles al fondo y coloque una luna ya que de noche es que el fire beetle utiliza su control de llamas para ver en la oscuridad de la cueva o cuando se siente amenazado.

Step 5 :
Apply the fire beetle flames to give more context to the lights and shadows inside the cave , we join all the layers and this is the final result.
Paso 5 :
Aplique las llamas del fire beetle para dar mas contexto a las luces y sombras dentro de la cueva , unimos todas las capas y este es el resultado final.

That's all for this post folks I hope you like the drawing made for the 175th splinterlands contest.
Esto es todo por este post amigos espero les guste el dibujo realizado para el concurso 175 de splinterlands.
The images are screenshots taken from my screen at the time of the drawing.
Las imágenes son capturas realizadas desde mi pantalla al momento de realizar el dibujo.
---
---