Starting From Scratch : My Reintroduction to Splinterlands.
I am back playing Splinterlands since November. I sold all my cards in 2019 when I sold all my Steem during the fork. My head was wrecked with the politics so I just sold up. I had a diamond deck and I think I made champions league for a few seasons. Back then everytime you played more than one battle the computer's fan started whizzing frantically. At least this doesn't happen anymore since the games engine got much slicker. I was amazed at the prices everything was going for. I never put the cards down as NFT's really. I just enjoyed the game. My diamond league card had many maxed cards and I remember I had a Level 4 Spirit of The Forest and I would have to pay a couple of grand to get her back. All I had left was a level 4 Rex and a Level 4 Skeleton thing from the Dark Splinter. I had one summoner left from Earth but she was only level one so I had work to do. But by god I picked my timing at the exact time with the Chaos legion coming. Most of you are probably cursing Chaos legion for depreciating your cards but for people starting out I felt it gave them a chance to buy back in and for every payout I got on Hive, I started buying these cards. I could not have really done it without my past connections from old in the community. @penderis was kind enough to delegate me a whooping 49 levelled up cards so I could get to silver and start competing for Dec. The season rewards would be higher as well and it really gave me a chance to get back into the game and accumulating cards again. The cards he gave me were right up my street. I am an Earth Splinter fan, I always have been so when I saw a level 3 Flesh Golem come my way with a Mushroom Ser and a Magical Mage, I knew the band was back together.

I know my time is limited with these cards so I am buying up and levelling up the stack that has been delegated to me so when @penderis takes back his cards, I can continue on as is and have a few tricks up my sleeve. I will repay @penderis in $DRIP for his kind gesture in due course. He didn't have to give me any cards and when someone helps me out I return the favour tenfold down the road. Thanks mate.
So once I got the delegation I set out first of all levelling up some summoners. The problem with Splinterlands is your team is only as strong as your summoner level so I had to quickly save up and buy those. When Chaos legion came out I was delighted because I could buy these at a fraction of the cost. I quickly levelled up Obsidean and Keyla Freundl. I had to have at least 2 Splinters to start strong in. No use spreading the love to all splinters yet. Once I had these summoners to level 4, I needed a tank. Flesh Golem was the dream so I started saving for him. He was about 60 quid for a level 3 so I saved my rewards until I had enough for him. Once he was out of the way I went down the road of acquiring the magic Earth Chaos Legion cards. Some were even stronger than the original Beta cards so this helped. Once I had Earth on a Silver Level I focused on Water Splinter. I managed to pull Djinn Oshannus in a reward and I levelled up Diemon Shark. @penderis delegated me a level 3 Water Elemental which is still one of the strongest cards in the game. I levelled up Deeplurker and some other Octopus to have a fairly solid attack deck.
In one of @slobberchops posts a cards he recommended I purchased a Scavo Hireling. His ability is to re-armour the old tank after it is lost. He works amazing with the Earth Summoner Keyla Freundel which makes quests so easy with the Water Splinter.
That's the thing about @splinterlands. Gone are the days where sheer strength got you a win. The game is all about strategy now and I find Scavo Hireling is so underrated it is unbelievable. @slobberchops also recommended a levelled up Hill Giant as well who is great for the under 4 mana games. Again by looking at this lump of a thing you would think he has no real purpose but he does a great job as what I described him as. A lump. A Frank Bruno. Takes alot of punishment before he hits the deck.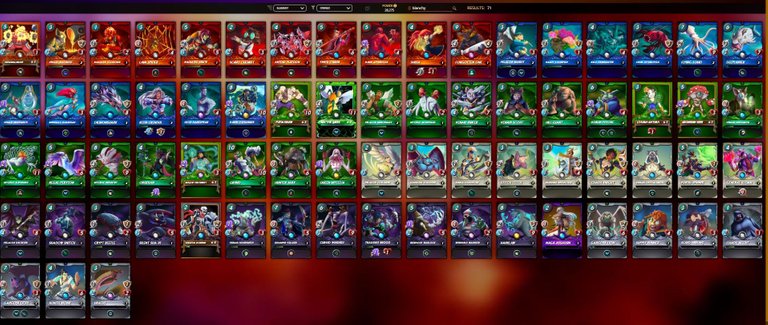 My problem now is to increase my power rating which I am finding difficult unless I just buy a shit load of packs. Does anyone have any links around power ratings. I cannot seem to find one. If anyone has any tips let me know. I have 26,000 power rating and stuck in Silver II. I need 42,000 to get to Silver II. This is my next goal. As a little reward for doing the quests every night for the past 2 months, I treated myself to a mushroom Ser, Magical Mage and a Queen Marcella. This was the first money I spent on Splinterlands and Hive since I came back so I said why not. If I am playing the bloody game day in and day out I might as well make it that little bit easier.
I do like the strategy posts on Splinterlands as regards SPS and cards that are underrated. I am aware that higher up in the game the cards that I am using now may not be used there but it is like I am learning my craft all over again which will make me a stronger player. My aim is Gold as soon as I can so I can finally take on my buddy @captainquack22 who does really interesting analysis of the SPS token. You better be ready Quackman. I'm coming for you :-D.
So there you have it. What started as an an impossibility became possible with some help and saving rewards. I do think I would have given up and played another game if I was not lucky enough to get some breaks off the community and I feel sorry for anyone starting out in the game. There needs to be more emphasis on the Novice and Bronze League players in the game. The higher leagues have plenty of rewards from Dec and card values. The game needs to focus on the newcomers or they will lose them. This is someone that was at the top and is now at the bottom. Not criticising. Just like to give the newbies some hope that they can get on in the game.
Anyway that's it. I will keep tipping away until I get gold.
---
---