Days of Our Hive.PIZZA Lives: Choose Your Own Adventure 🚀🐳⚔️🐉🚀 A Crashed Ship - An Intergalactic War between Space Whales and Dragons 🚀🐳⚔️🐉🚀
---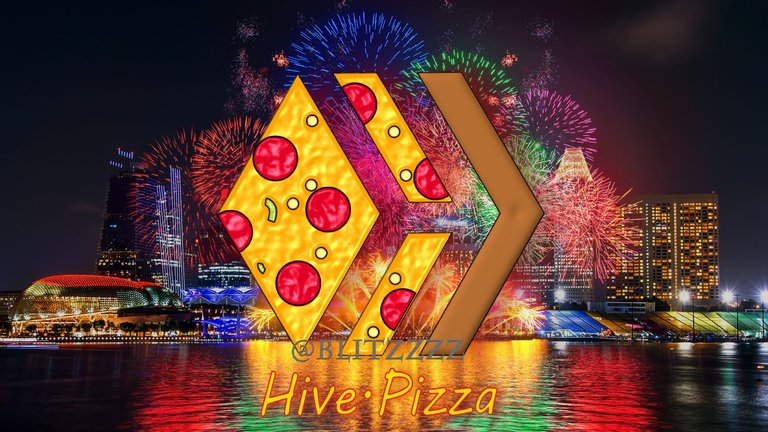 ---
Happy TGIF to all my PIZZA readers! Finally, after a long week, the weekend is soon to be upon us again 🥳🎉🍕. PIZZA is a place which welcomes creatives- and that means writers too! Today in PIZZA Discord, we see what happens when we've got a whole bunch of writers attempting to write together 😜. Expect lots of twists and turns and general all round fun and chaos! 📝📝📝
---
Never fear! Catch up on what you've missed with my brief (and hopefully entertaining) updates on the ins and outs of the PIZZA DISCORD🎉🥳🎊
As a BIG FAN of 🍕PIZZA🍕, I always suggest joining PIZZA DISCORD if you need a quick pickmeup. 👍 It's a friendly and helpful community with regular EVENTS, AIRDROPS of various crypto tokens, discussions of several GAMES on HIVE (Splinterlands, Rising Star, HashKings, Exode...), MUSIC, and even bits of FINANCE ... well I think you get the idea 😄

✍🏻📝What's this? Live Writing?✍🏻📝

---
Let me preface it all by first linking this post. https://peakd.com/hive-199275/@dibblers.dabs/lets-write-together-experiment Please feel free to read it in order to make out what became of the ideas that were thrown out at random.
---
Woke up today to a Live event going on in the PIZZA Discord. I expected music, or a gaming stream, well, the usual. But I was greeted with a screen of words being typed out instead- not quite what I'd expected. 🤯✍🏻🔤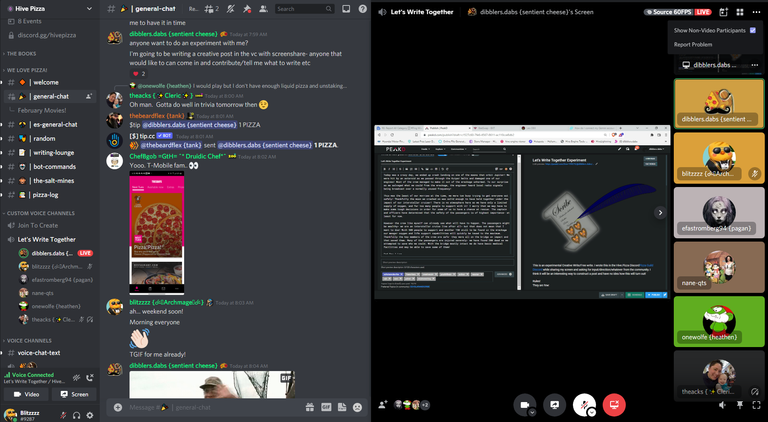 @dibblers.dabs had started streaming his freewriting with @onewolfe giving input on the direction of his story, and he was inviting everyone to join in too!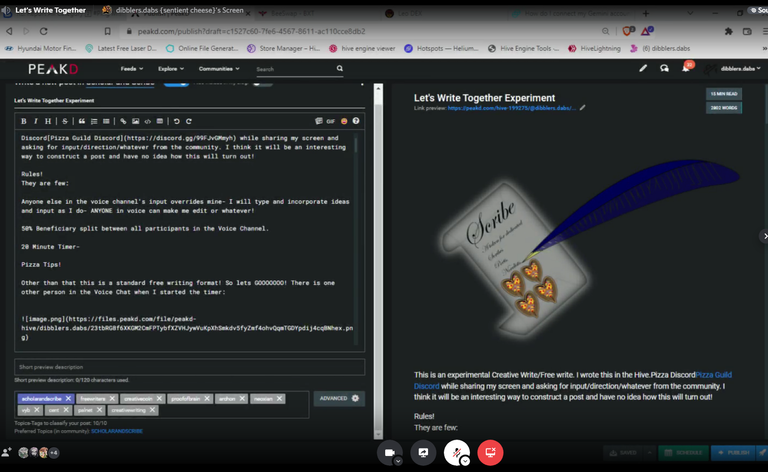 Basically, the writing would take on the ideas/direction of whoever was listening in and decided to give some input.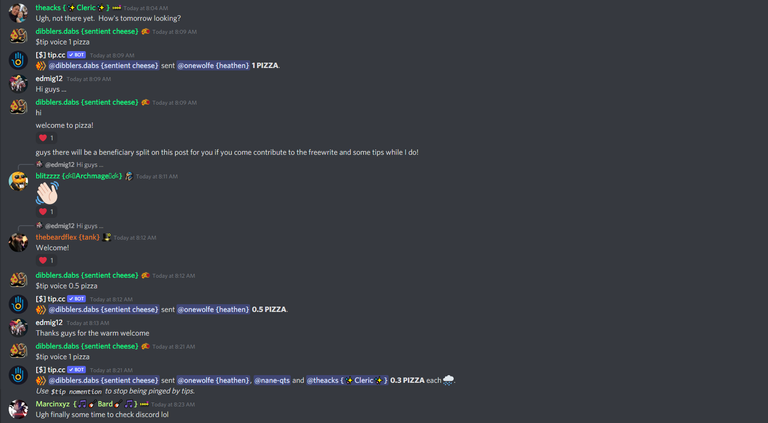 🍲📝Too Many Cooks = A Weird Broth🍲📝

Well, I didn't quite get what was going on at first- having just entered voice channel and going off to get my morning coffee ☕☕☕. But once @theacks brought me up to speed... boy oh boy was I going to join in on the fun!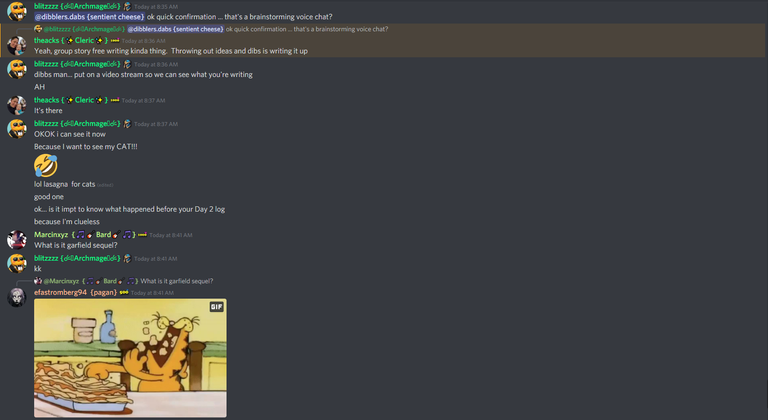 My conversation in Discord might seem pretty much like a monologue, but that's because the majority of the people were chatting in the channel instead of typing like me. (which is why I'd recommend reading @dibblers.dabs 's completed story in the link I posted right at the start)

As you can see, any random ideas that I suggested (or anyone for that matter) were incorporated into the storyline.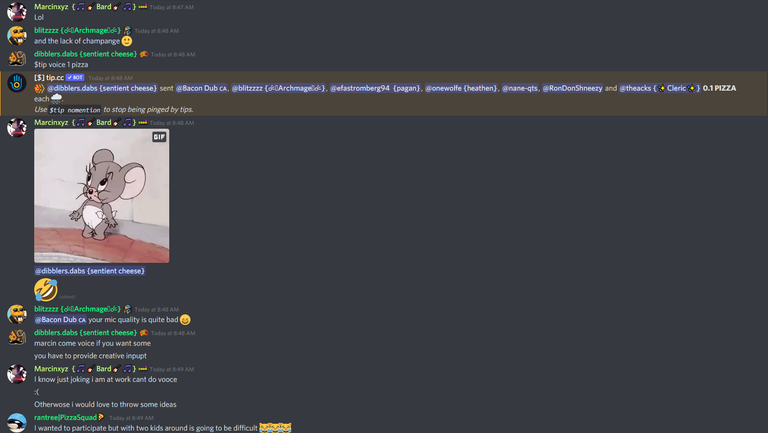 Well, a lot more people (@efastromberg94 @newenx @wanderingmoon @nane-qts) have joined in by now and are leaving their suggestions in the chat.
@bacon-dub entertained us for a good 15 minutes or so with muffled noises and random unintelligible sounds.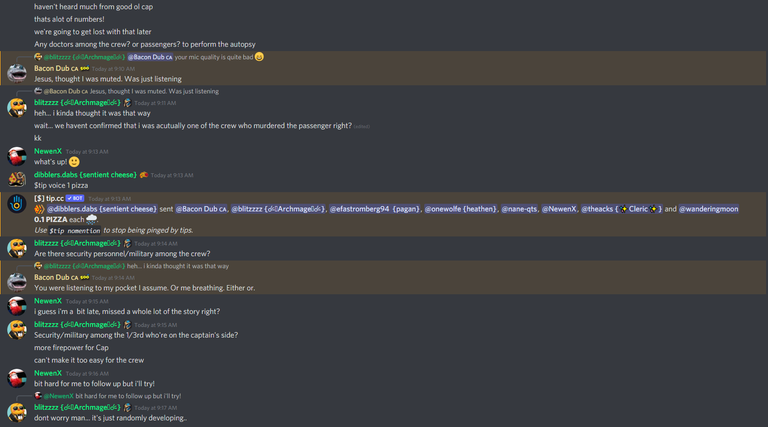 The story suddenly took a weird turn. SPACE WHALES 🐳🐳🐳 and SPACE DRAGONS 🐉🐉🐉

How did it get here? We were investigating "Murder by Doorknob"! 🤯🤣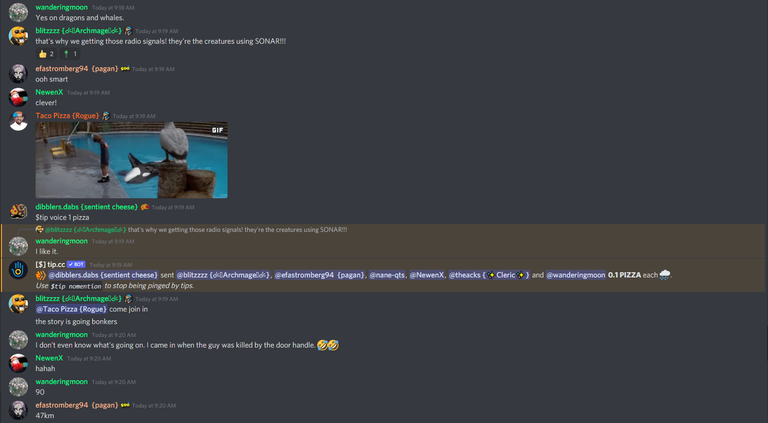 A pity @thebeardflex didn't join us in this madcap chaos. 😜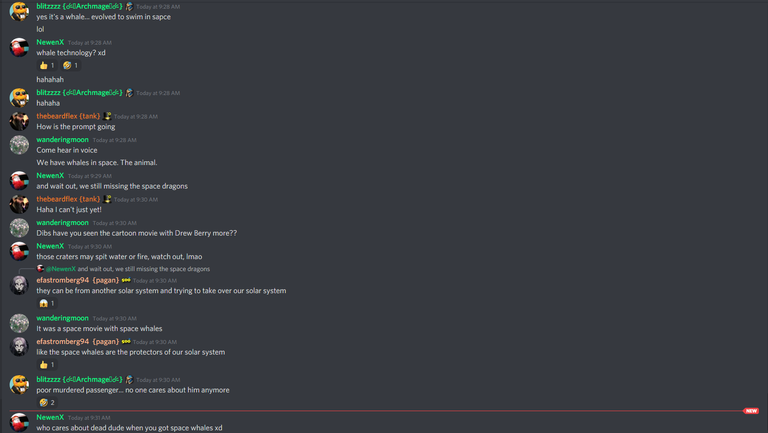 No one cares about the murdered passenger and the rest of the crew and passengers anymore because they're all dead! 🤯🤯🤯 Killed by SPACE DRAGONS 🐉🐉🐉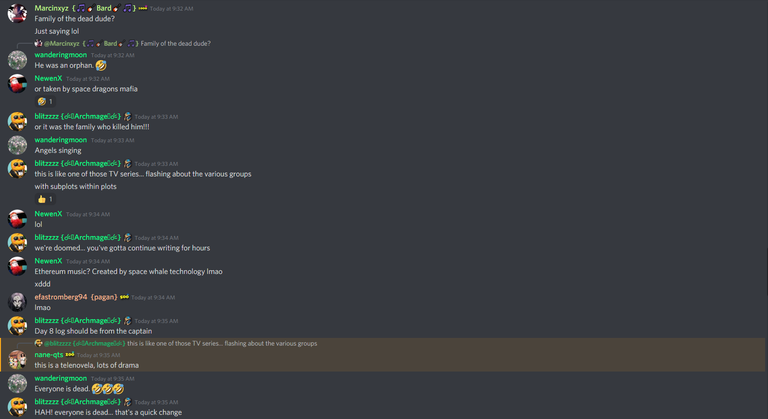 While the Captain (who was the only survivor in that group) was soaking in the tub. (yes- on a crashed spaceship! on a moon! in the middle of space!) 🛀🏻🛀🏻🛀🏻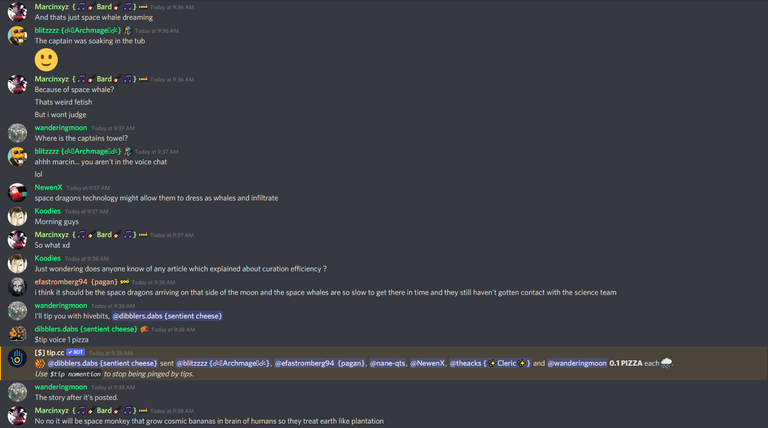 Of course, any normal Pizza member who came in now would be lost in the utter chaos. Sorry @koodies 😅. We're in the middle of an inter-galactic Space Whales and Dragons standoff.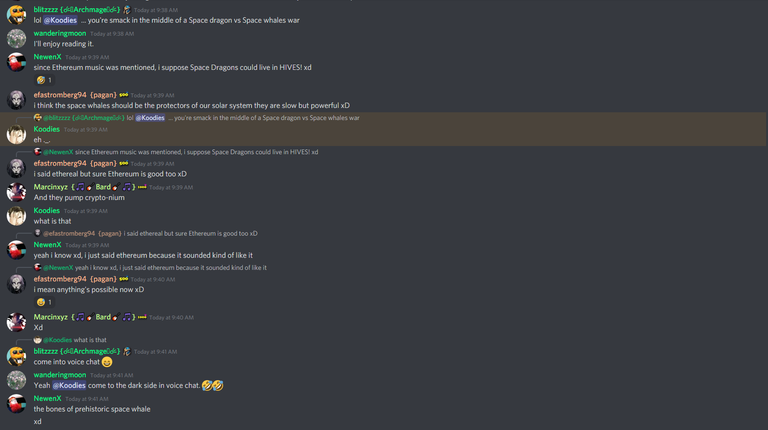 🔚🏁How do we even end this???🔚🏁

What was initially planned to be a 20 minute creative free write has now turned into a full 2 HOURS. Poor @dibblers.dabs needs to sleep! 🛌😴
Everyone decided it was best not to continue on this old story for the next event. It's better to start afresh for any newcomers to hop in easily. So we had to end this one way or another!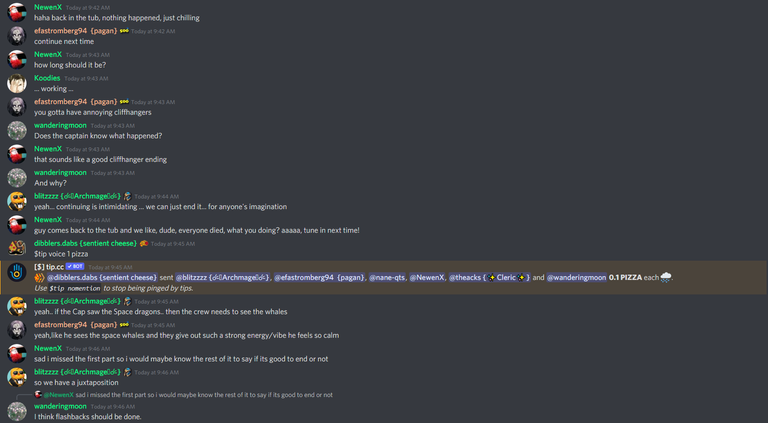 @cryptoniusrex has entered the (VOICE) chat. Well now, that just added almost another HOUR to the writing session 😂.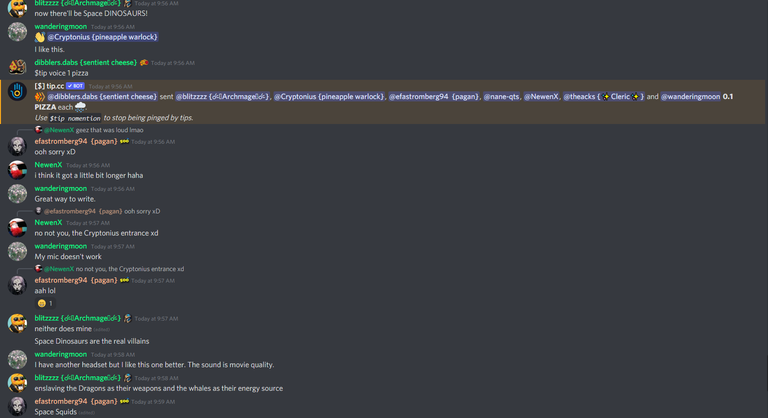 Well, long story short, almost everyone in the Exploration team died from SPACE WHALE POOP 🐳💩🐳💩🐳💩.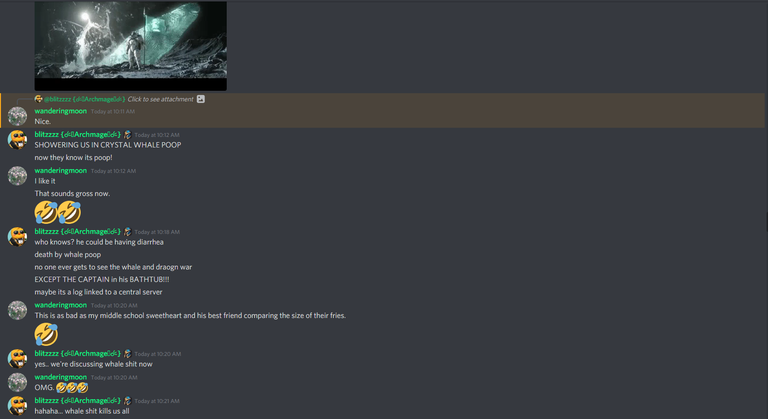 🌈🏰🌈And They All Lived Happily Ever After🌈🏰🌈

Yeah, not quite the fairytale ending. Clearly PIZZA members have a morbid sense of humor when it comes to Science fiction 😉.
My coverage of this event seriously doesn't do it justice since this was an interactive LIVE event. I'd encourage everyone to go to this link https://peakd.com/hive-199275/@dibblers.dabs/lets-write-together-experiment and gave it a read to see how wildly the story developed.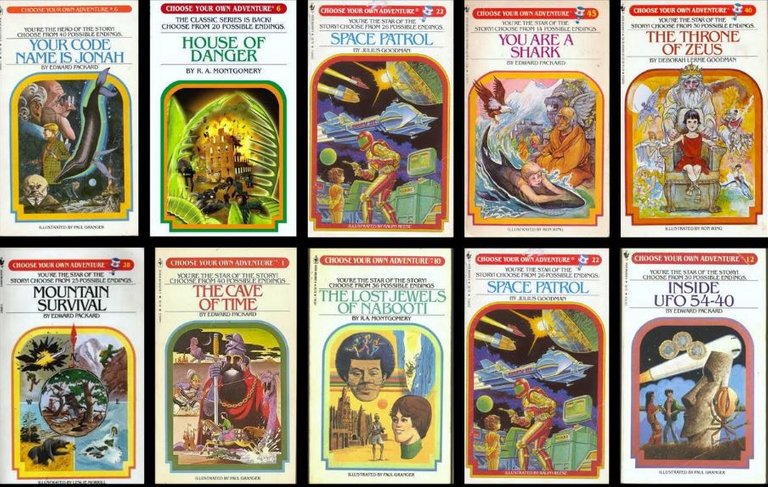 I'd also really encourage more people to join in next time. I guarantee you, even listening in and not giving any input will provide loads of entertainment. I wasn't expecting much in the beginning. After all, what fun is there in the writing process? Readers want to read the completed article. But it turned out to be more of a "Choose You Own Adventure" (the famous 80s series of gamebooks) rather than a boring planning of a story. 🚀🐳⚔️🐉🚀

✨✨✨Upcoming Events✨✨✨

Over at PIZZA DISCORD, there are always loads of planned Events lined up (and even impromptu ones). As always, for the absolute latest updates, please check in Pizza Discord.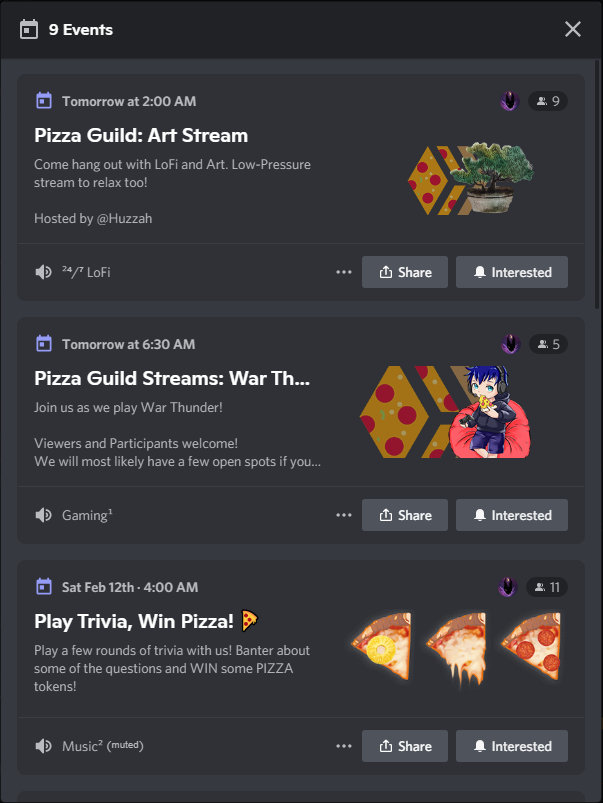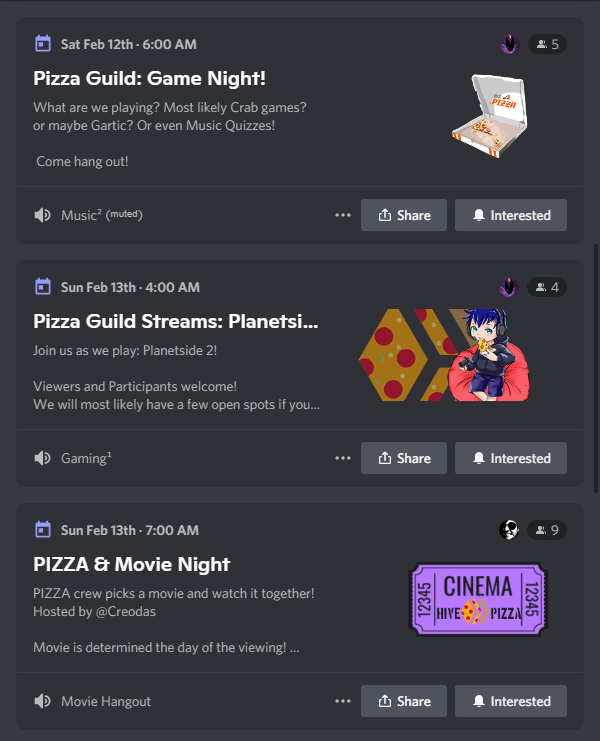 🎁🎁🎁Current Contests & Giveaways🎁🎁🎁

Alot of FREE prizes up for grabs at the moment too! Don't miss out! 🎁🎁🎁💰💰💰 What are you waiting for? It's all here in the PIZZA DISCORD.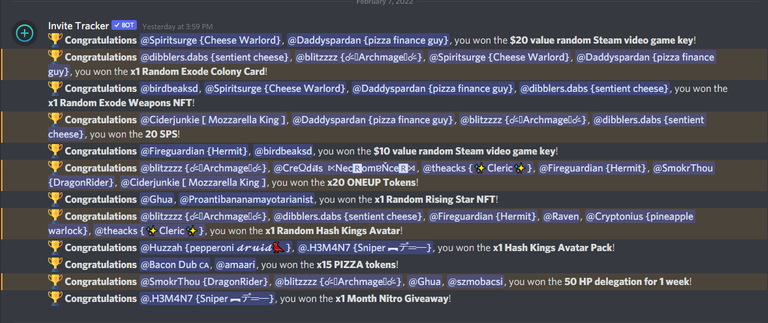 🏁🍕That Rounds It Up🍕🏁

PIZZA is an active gaming and creative arts crypto community on the HIVE blockchain. Popular games on HIVE like SPLINTERLANDS, RISING STAR, EXODE, HASHKINGS have their own PIZZA communities here.

Don't miss out more events that are always being organised. Join the PIZZA DISCORD. Even if you aren't interested in the 💰🍕🎁GIVEAWAYS & AIRDROPS💰🍕🎁, there is a vibrant and friendly community there awaiting you.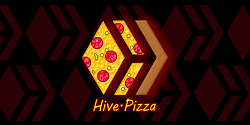 CLICK THIS LINK TO JOIN PIZZA DISCORD!!!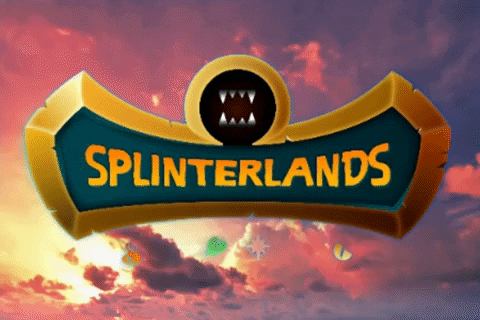 Here's to wishing everyone all the best for the upcoming week 🎉🍀.
To any new players who wish to explore the world of Splinterlands, do feel free to sign up with my REFERRAL LINK 😊.

---
---