Splinterlands & PIZZA Brawl Report : My 24th Brawl Report with 🍕PIZZA 2 The Deep Dish Guild🍕 ⚔️🛡⚔️🛡⚔️🛡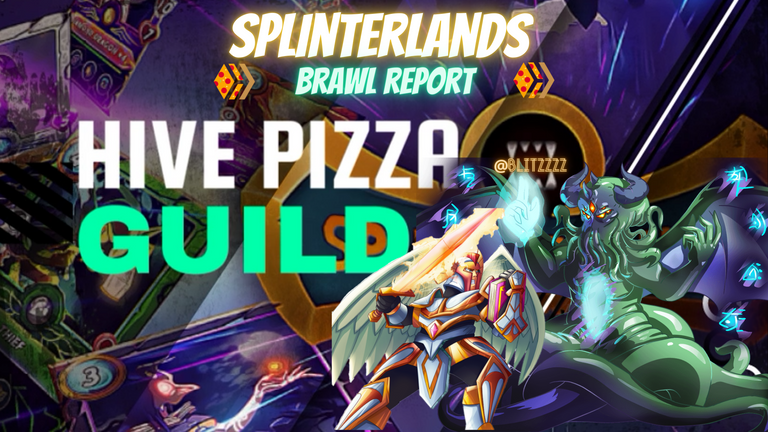 Here's my 24th Splinterlands Guild Brawl Report for PIZZA 2 The Deep Dish.
It's the ✨🏅✨Gold Foil Chaos Legion Fray no.12✨🏅✨ for the 7th week in a row for me.
Instead of listing out the results since week 1, I shall just tally up the total wins/losses from now on, as seen in the table below 😁. 📊📊📊
| Current Tally for the past 6 brawls | | | |
| --- | --- | --- | --- |
| Number of Battles⚔️ | Wins✅ | Losses❌ | Overall Win % ⚖️ |
| 20 | 10 | 10 | 50% |
It seems that the odds are still firmly balanced out with last week's 2 wins and 2 losses. 🤣
Personally, I find it slightly flattering to me. The teams I field are definitely not the absolute strongest, but more of what is available to me.
It also doesn't account for HOW I win some of the fights though. I've realised that a fair number of them are from opponents who just gave up and did not even face me in battle. ⚔️⚔️⚔️
With that said, lets get down to a review of my battles, or in some cases where my opponent fled 🏃🏻💨 - non battles 😨.
---
I've joined the Pizza 2 Guild over at the PIZZA DISCORD and was introduced to the world of Guild Brawls in Splinterlands. It has been an interesting experience to say the least. 🎉🥳🎊
Guild Brawls are generally the same as Battles, but with some minor tweaks (of which I'll save for another day). Lets get right down to business as I analyze my brawls. 🧐⚔️🛡️
My choice of picking up the Gold Foil frays is to simply give the Guild a better chance at accumulating more wins, seeing especially that NONE of the Gold frays have been filled in the past few weeks (months?). Even if I were to lose everything and win just 1 match, it would definitely help in securing a better finishing position overall.
---

⚔️🛡Let the Battles Commence⚔️🛡

---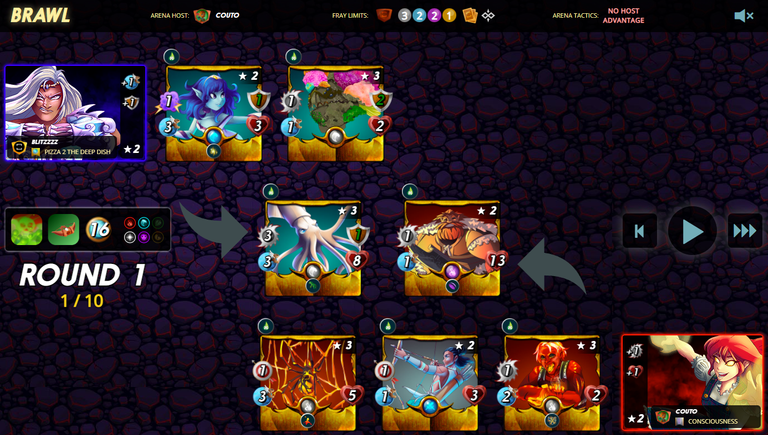 WON.
I won this because I had the River Nymph to cleanse the poison debuff from my Flying Squid for the Noxious Fumes ruleset. It was simply a matter of outlasting the opponent as the poison dealt damage to everyone except the Flying Squid. ☠️☠️☠️
---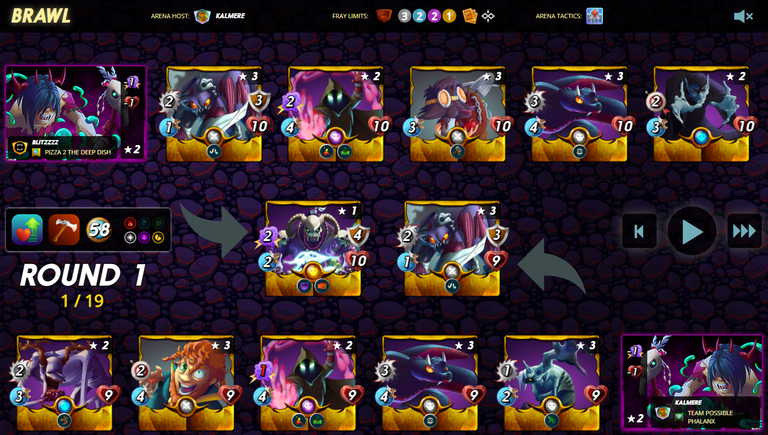 WON.
This was an EXTREMELY long drawn out battle taking place over 12 rounds in total. The MVP of the game had to be my Scavo Hireling. It's repair was responsible for keeping my Djinn Muirat tank alive on the frontlines for the entire battle. ⚒️🛡️
---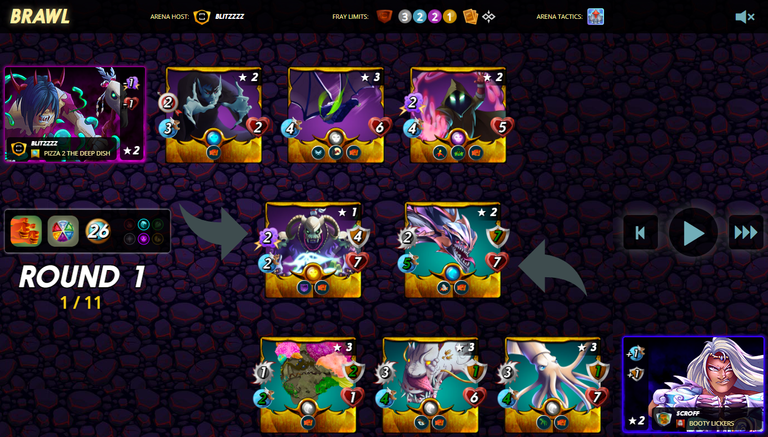 LOST.
The opponent's Deeplurker took out 1/3rd of my DPS before I even got the chance to attack. It went downhill from that moment on as I was completely outmatched in terms of firepower.
---
WON.
The opponent FLED! 🏃🏻🏃🏻🏃🏻 Yay? I guess. A win is a win - no matter how it comes about.
---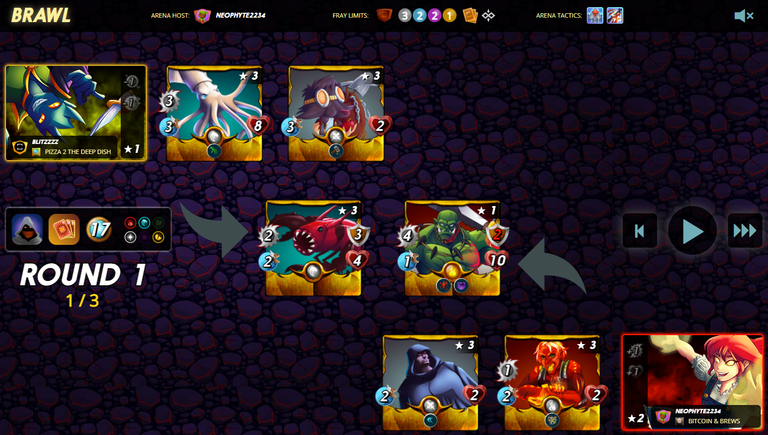 WON.
The MVP is once again the Scavo Hireling. Without which, the opponent's Grum Flameblade would have made mincemeat of my Cruel Sethropod. As it was though, the constant armour repairs completely negated the fearsome Grum as he blindly smashed into a solid shield again and again, until it got brought down eventually. ⚒️🛡️
---

📊📈📉My Overall Results📊📈📉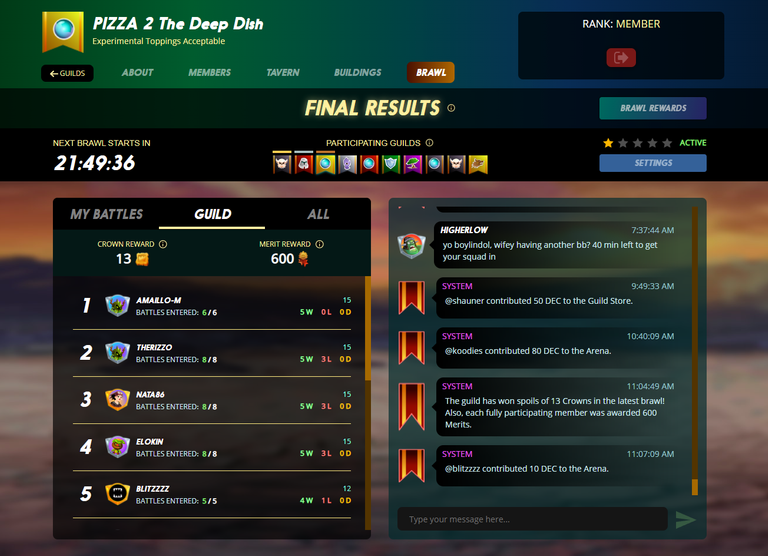 I finished with a win-loss ratio of 4 wins and 1 loss. 😱🥳🥇
I'm definitely very pleased with my results. Of course, some luck is involved too. If I had faced really strong opponents with all Gold Foil legendaries, I'd be doomed. Likewise, if RNG conspired against me with rulesets that took out my small selection of Gold Foil cards for battle, I'd be hard pressed to field much of any team at all.
This was one of my best weeks, and out of the 5 battles, only 1 was a walkover with the opponent fleeing.
This is one of the reasons I feel it's important that Guilds are able to fill out all the frays - even the significantly "harder" Gold ones. It is very likely that most guilds (at our level) skip the Gold frays completely, or are unable to even field a team if they've got no Gold Foil Summoners. This therefore leads to a better overall score.

🥇🥈🥉Final Standings🥇🥈🥉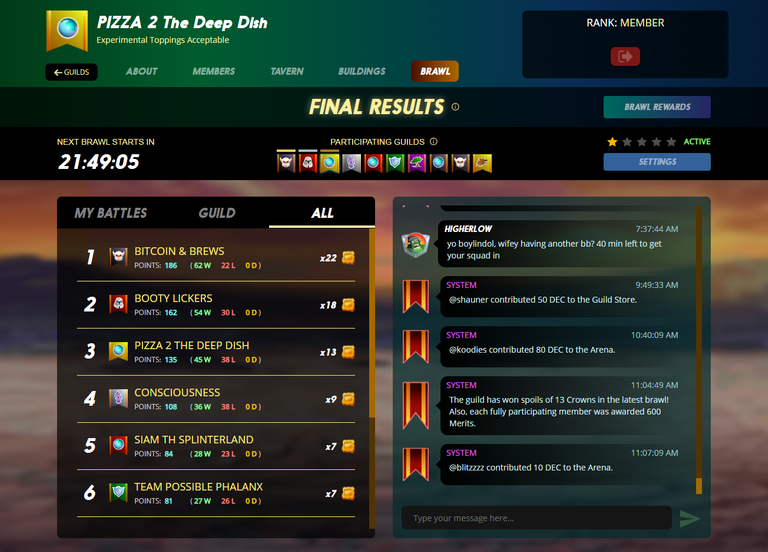 PIZZA 2 Guild managed to finish in 3rd place! 🏆🏆🏆
We finished on the podium again! 🥳🥳🥳 It was definitely a good result overall. The top 2 were way ahead of us, making it almost impossible to catch up to them, but we were well ahead of the rest of the pack too.
We had a decent win-loss rate and were pretty much the best of the rest 😜. What matters is that we all took part and had a competitive shot at it.
Great Job from everyone who took part in the Guild Brawls! I'm proud of you all! 👍🏻👍🏻👍🏻

✨✨✨This Week's Events✨✨✨


Over at PIZZA DISCORD, there are always loads of planned Events lined up (and even impromptu ones). The events listed here are localized to my Time Zone GMT +8. For the absolute latest updates, please check in the Pizza Discord.

---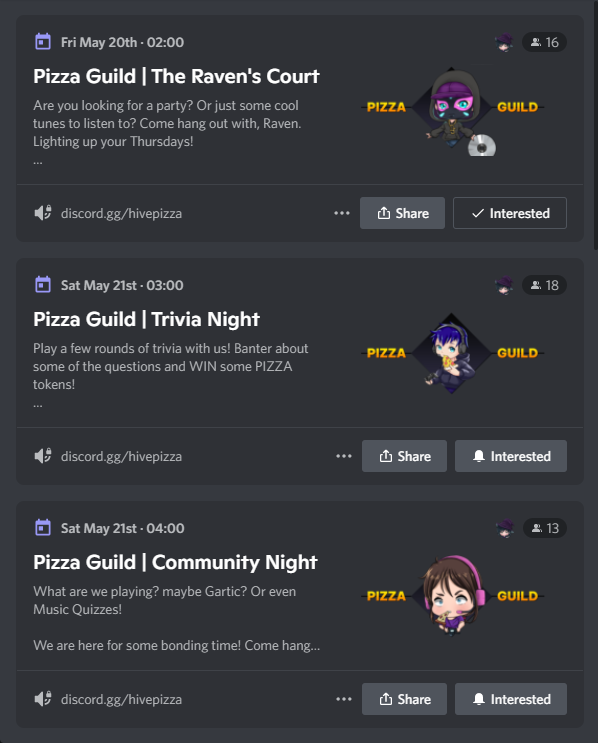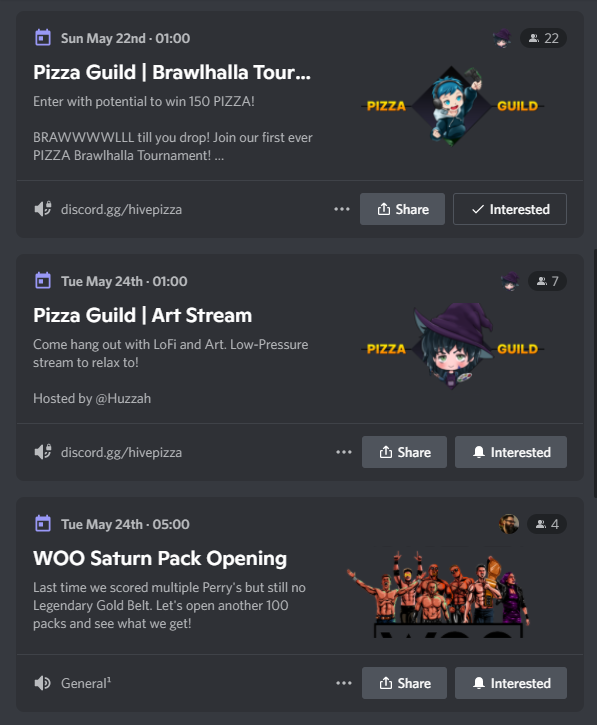 ---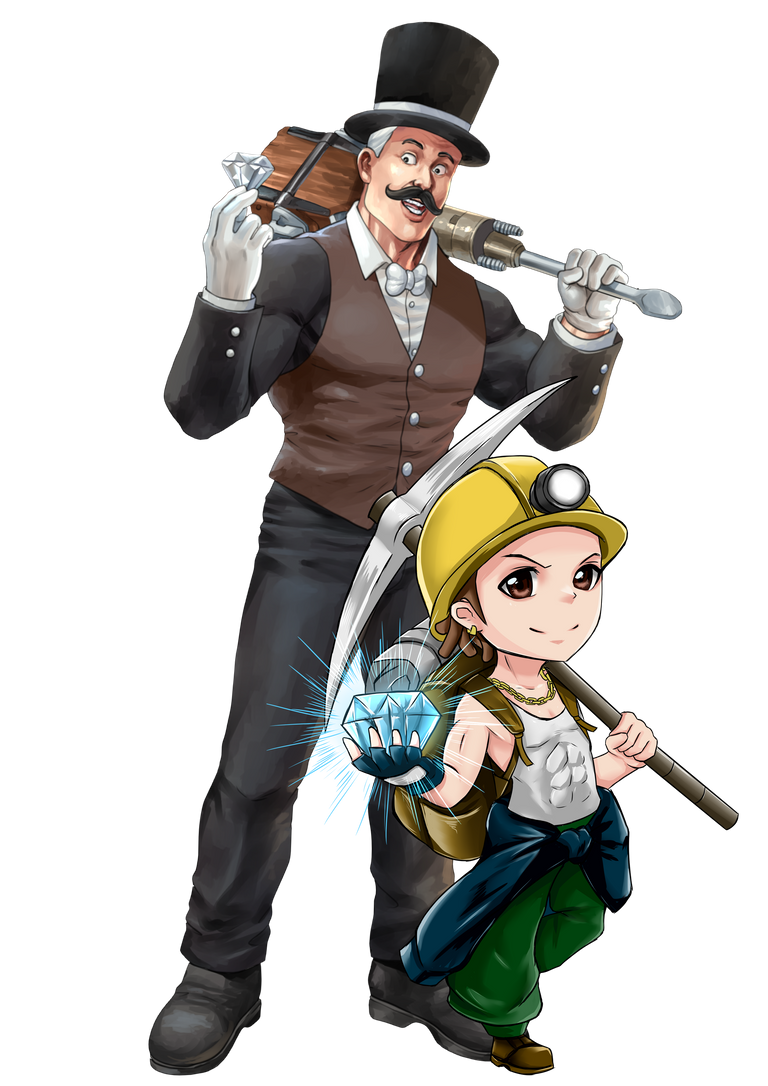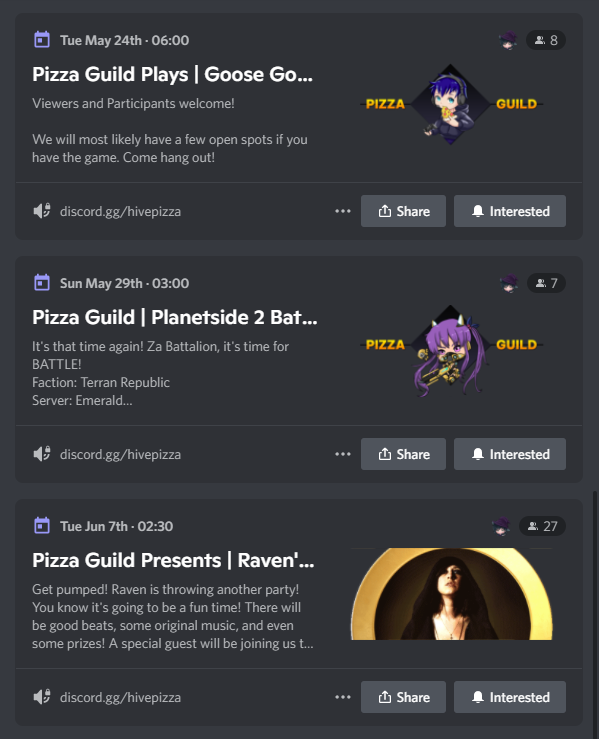 ---

🎁🎁🎁This Week's Contests & Giveaways🎁🎁🎁


A lot of FREE prizes up for grabs at the moment too! Don't miss out! 🎁🎁🎁💰💰💰 What are you waiting for? It's all here in the PIZZA DISCORD.
🤑💰🍕Added Bonus of PIZZA Token🤑💰🍕
-I will use my staked 🍕PIZZA🍕 to share a slice of 🍕PIZZA🍕 with anyone in the comments who also FOLLOWS & REBLOGS my post in the interests of spreading the Word of Pizza 🤣🤣🤣
-Just let me know if you've done that so I can double check and ensure I set aside some Resource Credits to reply back on your comments 👍
-Any fellow 🍕PIZZA🍕 connoisseurs who !PIZZA me will also receive 🍕PIZZA🍕 back from me. 😊

---
🎁🎁🎁List Prizes up for Grabs🎁🎁🎁
x1 Random $30 value Steam game key
x1 Random $15 value Steam game key
x2 Random WOO NFT
x1 Random Exode Syndicate NFT (Must have Exode Account)
x1 Random RARE Hash Kings Avatar
300 DEC
200 ONEUP Tokens
1300 BUDS tokens
1300 BUDS tokens
x2 Random Hash Kings Avatars
15 SPS
x1 Random Exode Weapon NFT (Must have Exode Account)
x1 Random Hash Kings Avatar
x1 Random Exode Colony NFT (Must have Exode Account)
x1 Random Hash Kings Seed
25 ONEUP Tokens (Sponsored by ONEUP-CARTEL)
100 HP Delegation for 1 week
20 PIZZA tokens
800 STARBITS Tokens
x1 Random Rising Star NFT
x1 UTOPIS Token


PIZZA is an active gaming and creative arts crypto community on the HIVE blockchain. Popular games on HIVE like SPLINTERLANDS, RISING STAR, EXODE, HASHKINGS, WOO, BANG!DEFENSE have their own PIZZA communities here.



Don't miss out more events that are always being organised. Join the PIZZA DISCORD. Even if you aren't interested in the 💰🍕🎁GIVEAWAYS & AIRDROPS💰🍕🎁, there is a vibrant and friendly community there awaiting you.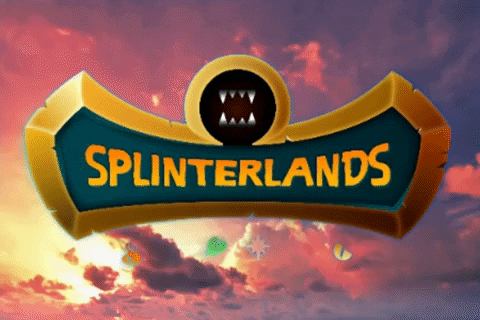 Here's to wishing everyone all the best for the upcoming week 🎉🍀.
To any new players who wish to explore the world of Splinterlands, do feel free to sign up with my REFERRAL LINK 😊.


---
---