Splinterlands & PIZZA Brawl Report : My 29th Brawl Report with 🍕PIZZA 2 The Deep Dish Guild🍕 ⚔️🛡⚔️🛡⚔️🛡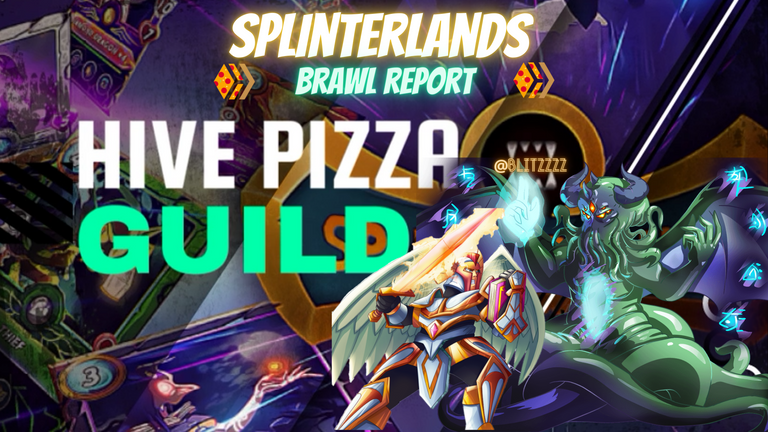 Here's my 29th Splinterlands Guild Brawl Report for PIZZA 2 The Deep Dish.
It's the ✨🏅✨Gold Foil Chaos Legion Fray no.12✨🏅✨ for the 12th week in a row for me.
Instead of listing out the results since week 1, I shall just tally up the total wins/losses from now on, as seen in the table below 😁. 📊📊📊
| Current Tally for the past 11 brawls | | | | |
| --- | --- | --- | --- | --- |
| Number of Battles⚔️ | Wins✅ | Losses❌ | Draw➖ | Overall Win % ⚖️ |
| 40 | 20 | 19 | 1 | 50.0% |
The past few weeks of losses 😭 has removed all positive gains and dragged down my win percentage to leave it finely poised at 50%. Hanging on a razor's edge here now 😅. What changes will this week bring?
As always, to console myself, I don't expect my win rates to be that high in the first place. I know my Gold Foil deck is definitely quite bare as compared to any seriously invested player. I have, at best, managed to accumulate a set of Chaos Legion Gold Foil Commons with a few Rares and Epics.
Should the opponent decide to show up with a really fleshed out deck, I'll be in deep trouble... "chuckles nervously" 😅
I feel like I'm winning because my opponent has even less Gold Foil cards available to him than I do. Personally, I find it slightly flattering to me. The teams I field are definitely not the absolute strongest, but more of what is available to me.
It also doesn't account for HOW I win some of the fights though. I've realised that a fair number of them are from opponents who just gave up and did not even face me in battle. ⚔️⚔️⚔️
---
With that said, lets get down to a review of my battles, or in some cases where my opponent fled 🏃🏻💨 - non battles 😨.
---
I've joined the Pizza 2 Guild over at the PIZZA DISCORD and was introduced to the world of Guild Brawls in Splinterlands. It has been an interesting experience to say the least. 🎉🥳🎊
Guild Brawls are generally the same as Battles, but with some minor tweaks (of which I'll save for another day). Lets get right down to business as I analyze my brawls. 🧐⚔️🛡️
My choice of picking up the Gold Foil frays is to simply give the Guild a better chance at accumulating more wins, seeing especially that NONE of the Gold frays have been filled in the past few weeks (months?). Even if I were to lose everything and win just 1 match, it would definitely help in securing a better finishing position overall.
---

⚔️🛡Let the Battles Commence⚔️🛡

---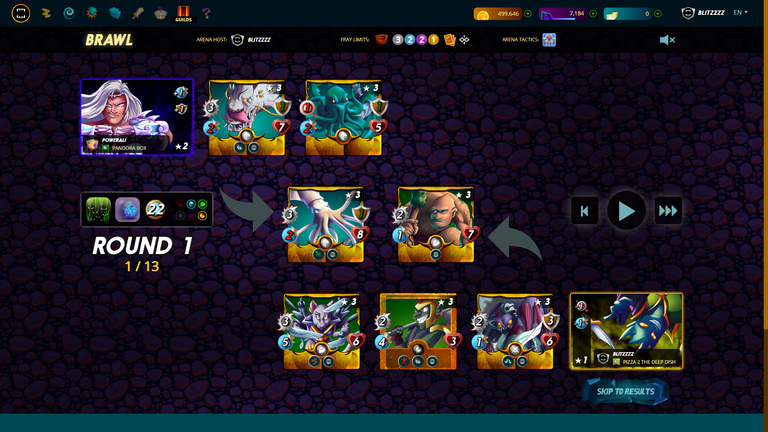 WON.
I would say the key to my win was in the Disintegrator. In a SUPER SNEAK ruleset, I rightly expected the opponent to be fielding mainly melee units. Disintegrator reduced both the opponent's damage dealers, which originally had 3 attack, by a third of their damage. This proved to be too great an advantage for the opponent to come back from.
An easy win here for me. I was never in any danger of losing.
---

WON.
The opponent FLED! 🏃🏻🏃🏻🏃🏻 Yay? I guess. A win is a win - no matter how it comes about.
---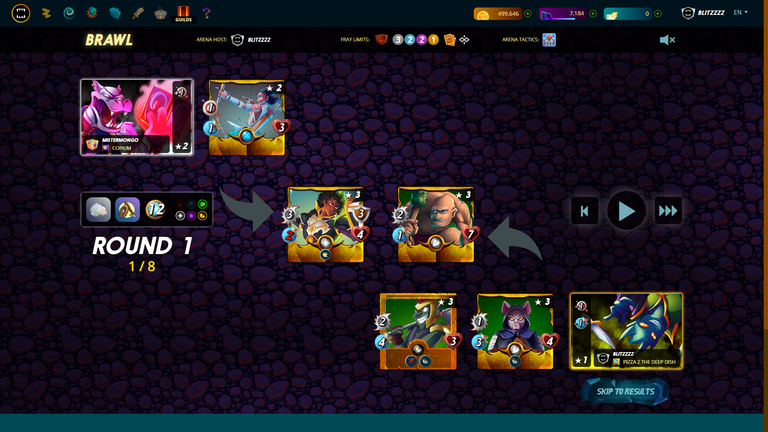 WON.
This was a close one. My opponent fielded a Chaos Knight which had the SHIELD ability, thus greatly reducing all melee damage done to it. My Venari Scout, with 1 damage, was completely useless throughout the entire battle as it did ZERO damage with all it's attacks. It did block 2 attacks though, which provided enough time for my Bertrol Gobson to take it down.
Had the opponent lasted 1 more round, I would have lost instead. 😱
---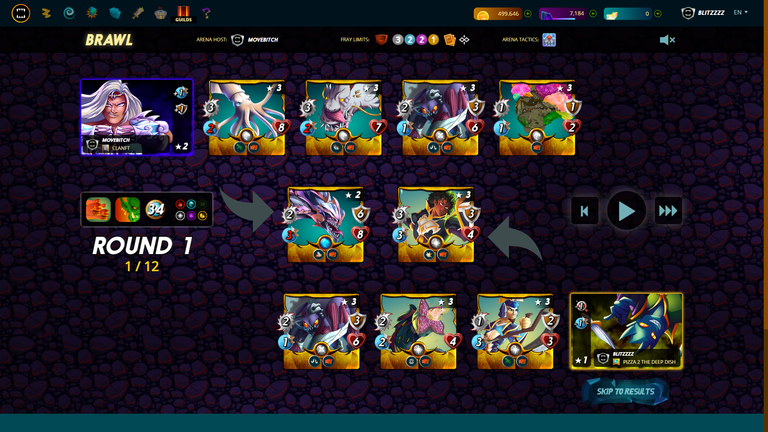 LOST.
The "MELEE ONLY" restriction resulted in my available pool of cards dropping drastically. Even though the ruleset allowed for up to 34 mana worth of cards, I was unable to field anything past 2/3rds of it across ALL my splinters.
No surprise when I lost against any opponent who could fill out his deck. This shows one of the shortcomings of my playing Gold Foil frays. Any restriction of cards will reduce my options considerably. 😭
---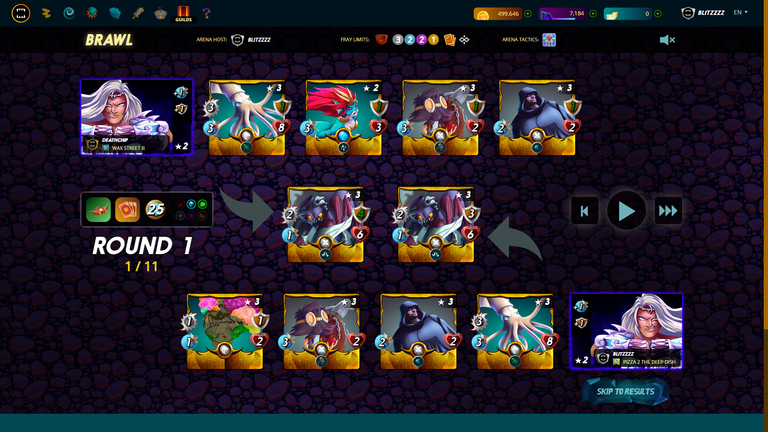 LOST.
The opponent and I fielded almost identical decks with similar positioning of units. The one difference was him using a Merdaali Guardian VS my Hardy Stonefish. Once again, this was a shortcoming on my part as I did not own a Gold Foil version of this card. Something I shall take note to correct in the future. This Rare Chaos Legion healer is a very essential card in all Water Decks.
I lost by a very fine margin here all thanks to ONE card.
---

📊📈📉My Overall Results📊📈📉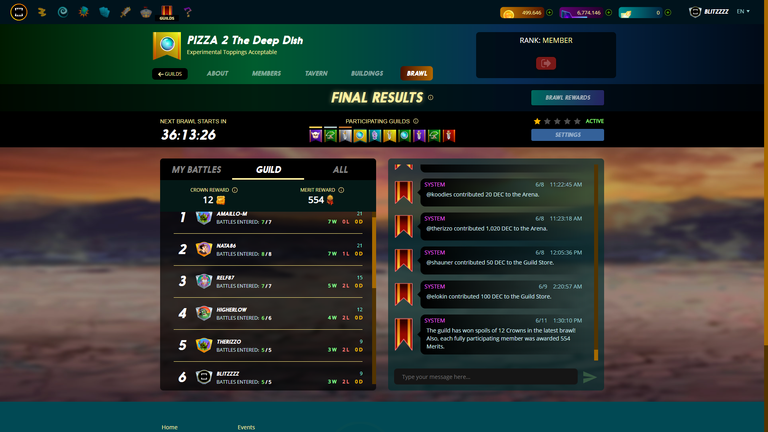 I finished with a win-loss ratio of 3 wins and 2 losses. 😱🥳🥇
I FINALLY had a positive win ratio after so many weeks! My 2 losses were also more due to me lacking the required Gold Foil cards, rather than any strategic mistakes made on my part.
I do think I put up a good fight even in those battles which I lost though. They definitely weren't a cakewalk for the opponent, so I can take heart in that. I just have to patiently build up my deck, and hope for some luck in more Gold Foils whenever I open packs (especially Gladius packs). 🤞🏻🍀🤞🏻🍀🤞🏻🍀
This is one of the reasons I feel it's important that Guilds are able to fill out all the frays - even the significantly "harder" Gold ones. It is very likely that most guilds (at our level) skip the Gold frays completely, or are unable to even field a team if they've got no Gold Foil Summoners. This therefore leads to a better overall score.

🥇🥈🥉Final Standings🥇🥈🥉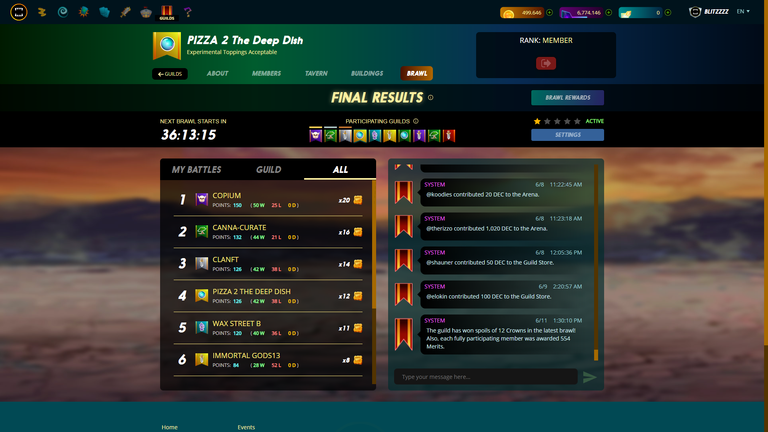 PIZZA 2 Guild managed to finish in 4th place! 🏆🏆🏆
For the first time in weeks, we were knocked off the podium standings. We actually had the same amount of wins and losses AND even points as the 3rd placed guild though. Did we actually get knocked down a spot because of the alphabetical order of our Guild names?!?!?! 😨😰😱
This was an exceptionally tough week it seems. It was really competitive with 2 wins separating the 2nd place from 3rd/4th and another 2 wins separating 3rd/4th from the 5th position.
All things considered, we really performed quite well. I'm assuming it was just bad luck that we're in 4th place.
Great Job from everyone who took part in the Guild Brawls! I'm proud of you all! 👍🏻👍🏻👍🏻

✨✨✨This Week's Events✨✨✨


Over at PIZZA DISCORD, there are always loads of planned Events lined up (and even impromptu ones). The events listed here are localized to my Time Zone GMT +8. For the absolute latest updates, please check in the Pizza Discord.

---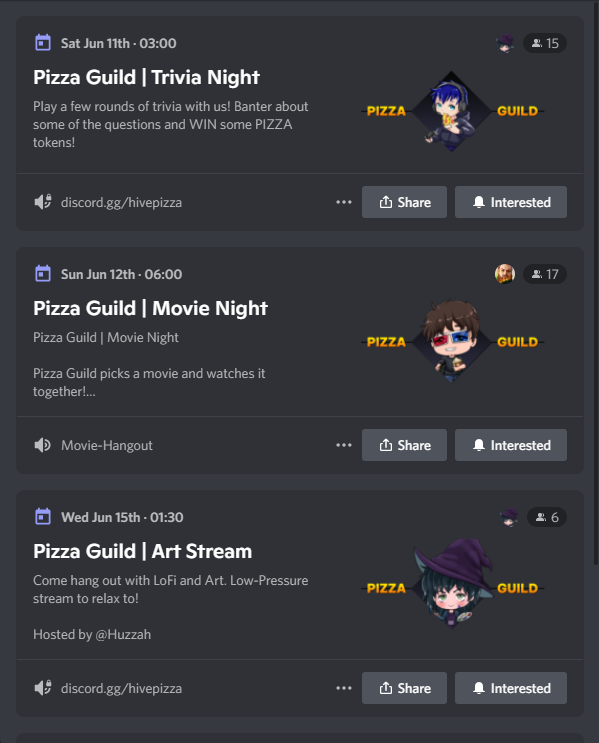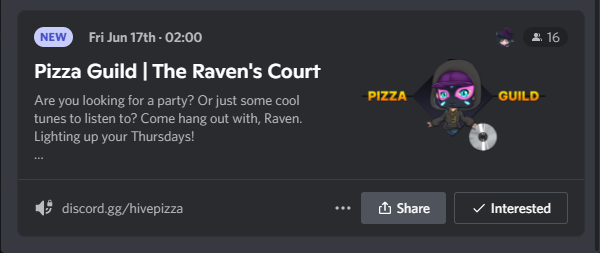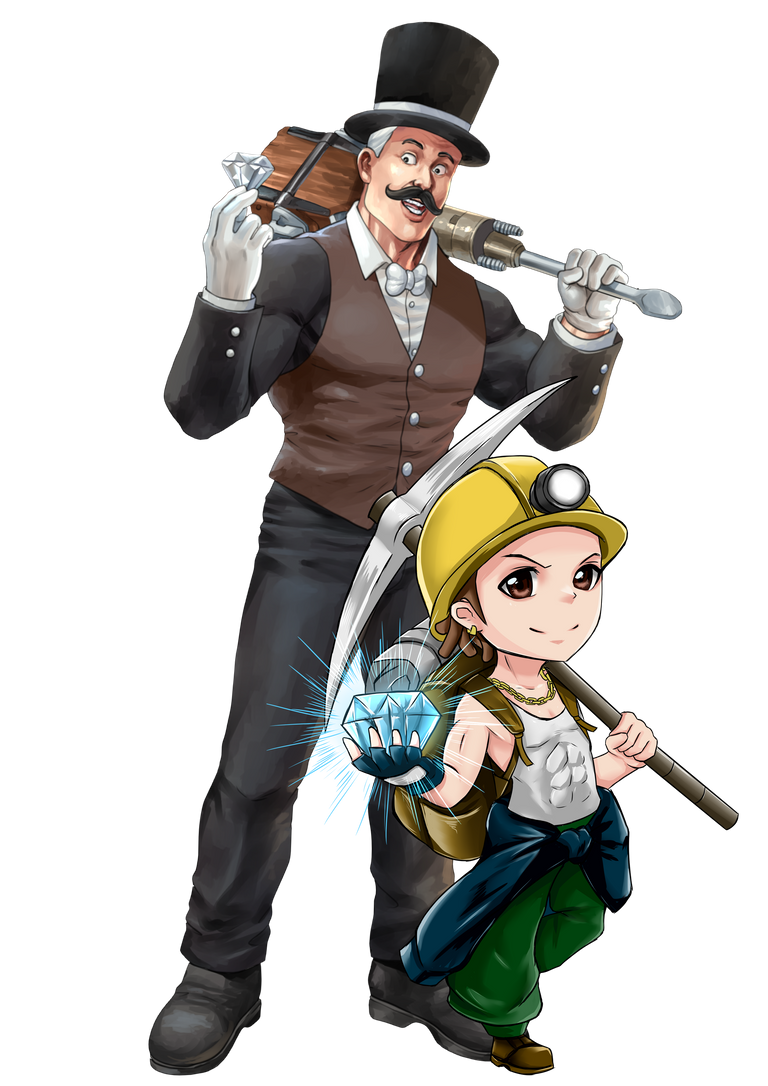 ---

🎁🎁🎁This Week's Contests & Giveaways🎁🎁🎁


A lot of FREE prizes up for grabs at the moment too! Don't miss out! 🎁🎁🎁💰💰💰 What are you waiting for? It's all here in the PIZZA DISCORD.
🤑💰🍕Added Bonus of PIZZA Token🤑💰🍕
-I will use my staked 🍕PIZZA🍕 to share a slice of 🍕PIZZA🍕 with anyone in the comments who also FOLLOWS & REBLOGS my post in the interests of spreading the Word of Pizza 🤣🤣🤣
-Just let me know if you've done that so I can double check and ensure I set aside some Resource Credits to reply back on your comments 👍
-Any fellow 🍕PIZZA🍕 connoisseurs who !PIZZA me will also receive 🍕PIZZA🍕 back from me. 😊

---
🍕🍕🍕🎁🎁🎁💰💰💰 PIZZA has weekly giveaways of NFTs from Rising Star, Exode, Hash Kings, WOO, not to mention several different types tokens, including PIZZA itself of course, and Oneup, DEC, Starbits, Buds, Utopis, AND several Steam game keys with values of up to $60!!! There's seriously so many prizes up for grabs EVERY WEEK that I can't keep listing it all down 😜 so go check out our Discord channel under #pizza-giveaways 🍕🍕🍕🎁🎁🎁💰💰💰

---

PIZZA is an active gaming and creative arts crypto community on the HIVE blockchain. Popular games on HIVE like SPLINTERLANDS, RISING STAR, EXODE, HASHKINGS, WOO, BANG!DEFENSE have their own PIZZA communities here.



Don't miss out more events that are always being organised. Join the PIZZA DISCORD. Even if you aren't interested in the 💰🍕🎁GIVEAWAYS & AIRDROPS💰🍕🎁, there is a vibrant and friendly community there awaiting you.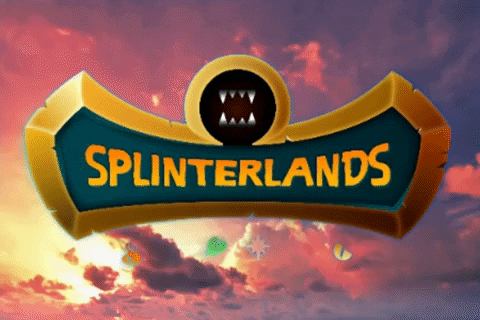 Here's to wishing everyone all the best for the upcoming week 🎉🍀.
To any new players who wish to explore the world of Splinterlands, do feel free to sign up with my REFERRAL LINK 😊.


---
---