Splinterlands & PIZZA Brawl Report : My 31st Brawl Report with 🍕PIZZA 2 The Deep Dish Guild🍕 ⚔️🛡⚔️🛡⚔️🛡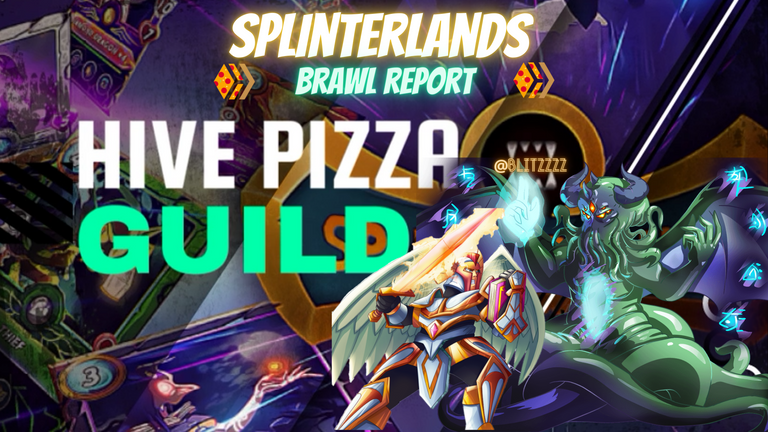 Here's my 31st Splinterlands Guild Brawl Report for PIZZA 2 The Deep Dish. 🍕⚔️🛡️
---
It's the ✨🏅✨Gold Foil Chaos Legion Fray no.12✨🏅✨ for the 14th week in a row for me.
Instead of listing out the results since week 1, I shall just tally up the total wins/losses from now on, as seen in the table below 😁. 📊📊📊
---
| Current Tally for the past 13 brawls | | | | |
| --- | --- | --- | --- | --- |
| Number of Battles⚔️ | Wins✅ | Losses❌ | Draw➖ | Overall Win % ⚖️ |
| 49 | 27 | 21 | 1 | 55% |
It looks like the multitude of loss streaks from the past few weeks are now behind me. The previous brawl gave me a 100% win rate with 4 wins in a perfect run! 🥳💯💪🏻 This pushed my win rate back up to a decent 55%. Hopefully Lady Luck continues to shine on me 🍀🍀🍀 and I don't get too many weird ruleset combinations which will completely screw up my limited Gold Foil selection of cards. (🤣 yeah, that's how terrible I am, to have to rely on luck for my wins)
---
Some thoughts I have about my exploits in the Gold Frays. 💭🤔
I feel like I'm winning because my opponent has even less Gold Foil cards available to him than I do. Personally, I find it slightly flattering to me. The teams I field are definitely not the absolute strongest, but more of what is available to me.
It also doesn't account for HOW I win some of the fights though. I've realised that a fair number of them are from opponents who just gave up and did not even face me in battle. ⚔️⚔️⚔️
My choice of picking up the Gold Foil frays is to simply give the Guild a better chance at accumulating more wins, seeing especially that IN THE PAST, many Gold Frays were left empty. Even if I were to lose everything and win just 1 match, it would definitely help in securing a better finishing position overall. 🥇🥈🥉
---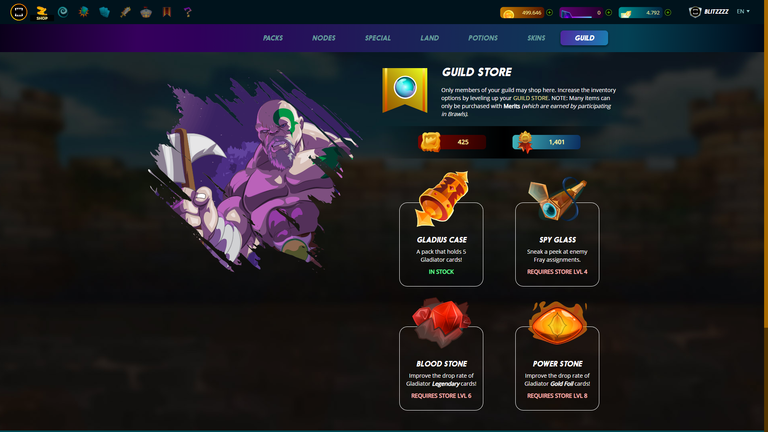 Current accumulated number of MERITS is at 1401. Hopefully we will do well enough in the next guild brawl. That should provide me with enough for another Gladius pack.
🤞🏻🍀🤞🏻🍀🤞🏻🍀 Fingers crossed for a Gold Foil (Legendary!!!) I hope 🤣🤑.
---
I've joined the Pizza 2 Guild over at the PIZZA DISCORD and was introduced to the world of Guild Brawls in Splinterlands. It has been an interesting experience to say the least. 🎉🥳🎊
Guild Brawls are generally the same as Battles, but with some minor tweaks (of which I'll save for another day). Lets get right down to business as I analyze my brawls. 🧐⚔️🛡️
---
With all that said, lets FINALLY get down to a review of my battles 😁, or in some cases where my opponent fled 🏃🏻💨 - non battles 😨.
---

⚔️🛡Let the Battles Commence⚔️🛡

---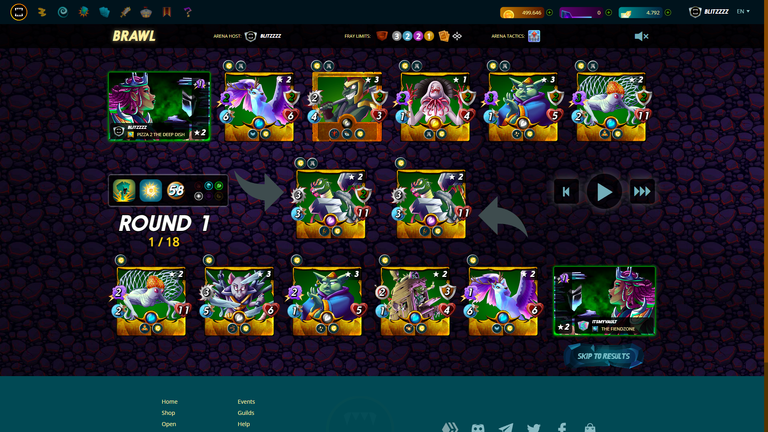 WON.
Both my opponent and I came up with really similar lineups. Both of us lead with Grund in the front and Mycelia Slipspawn at the back. Our Regal Perytons were both in the 2nd position and we both utilized the Goblin Psychic.
What gave me the edge was probably Queen Mycelia. That 2 extra armor for the entire team gave me that extra bit of protection to win a war of attrition. It also goes to show how fitting of a legendary card status Queen Mycelia deserves. She can be absolutely game changing.
---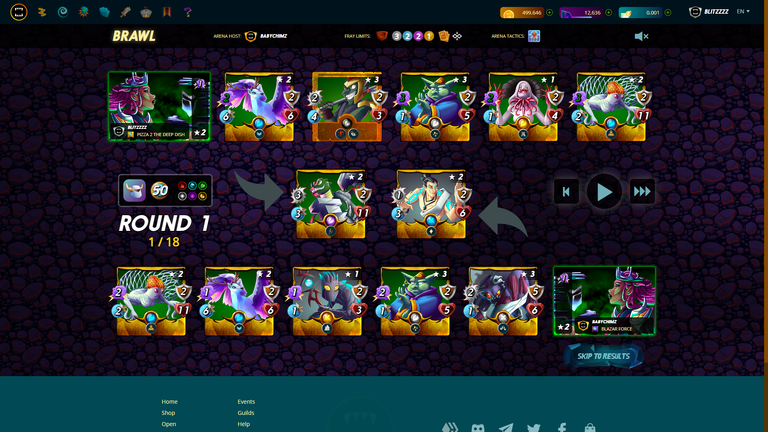 WON.
Hi @babychimpz 😁, fellow #metafrens!
This was an extremely close fight. It went down to our last 2 units duking it out. In this game, I think it was Grund which gave me the edge, and perhaps Queen Mycelia too. I had slightly more damage output and that bit of extra armor to once again push me over the finish line first.
---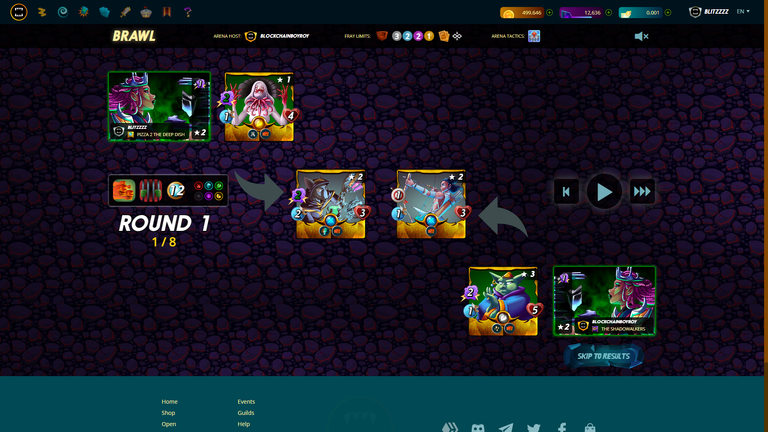 LOST.
I was outmaneuvered here and rightly lost. Expecting a more physical lineup, I opted for Queen Mycelia in this very lower mana match. The appearance of a self healing Goblin Psychic completely trashed my team as I simply couldn't out dps the heals.
---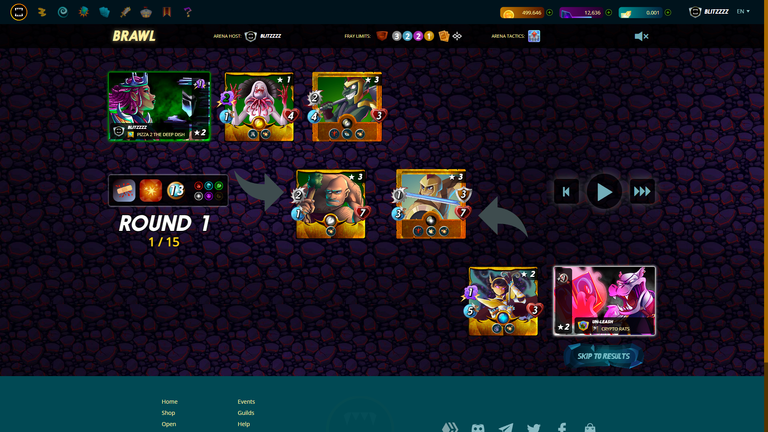 WON.
This was a clear and dominant victory, courtesy of Queen Mycelia once again. She really is proving to be the MVP for this week's brawls 😜. Correctly expecting a physical damage team this time round, and with a low mana ruleset, this would prove to be an easy win.
---

WON.
The opponent FLED! 🏃🏻🏃🏻🏃🏻 Yay? I guess. A win is a win - no matter how it comes about.
---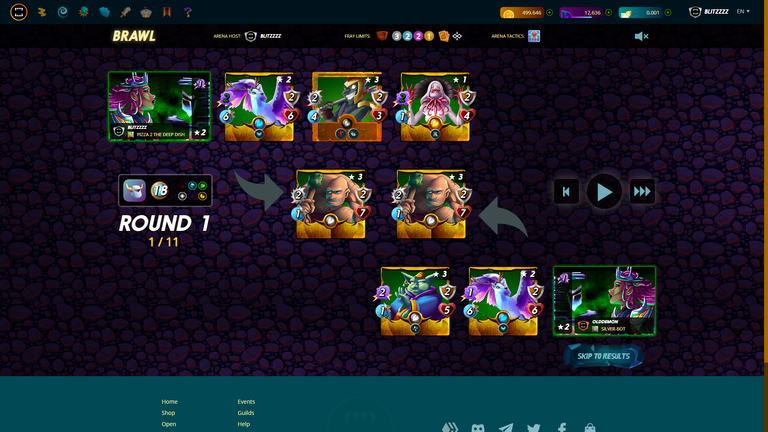 LOST.
Another low mana matchup in which I expected a physical damage team but instead faced a magic damage opponent. Queen Mycelia then loses her effectiveness against the Goblin Psychic in such a situation. Similar to the previous time where I lost today yet again. 😅
---

📊📈📉My Overall Results📊📈📉

---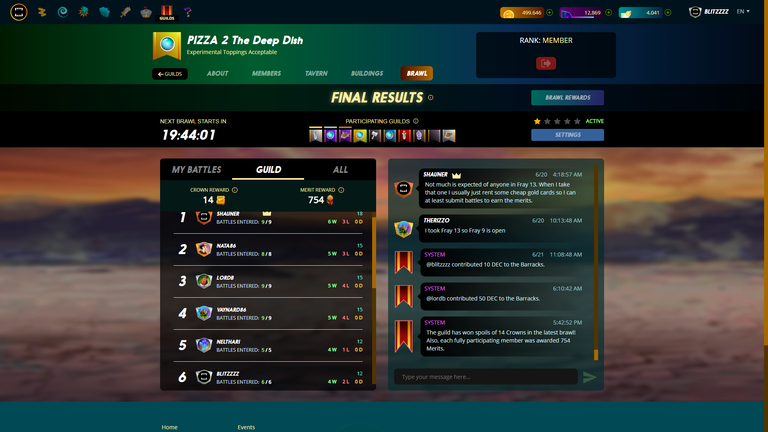 I finished with a win-loss ratio of 4 wins and 2 losses. 😱🥳🥇 It was a good score for myself overall. Unfortunately, both my losses came about in the same way. Lesson learnt next time. I shall place more faith in the Goblin Psychic's healing abilities instead 🤣.
Once again, I managed to achieve a positive win rate. It wasn't the perfect run like in the previous brawl, but I'm satisfied. My 2 losses weren't crushing, but simply a case of anticipating the wrong team. So 4 wins from 3 actual battles and 1 walkover in total. Not too bad I'll say! 😁
This is one of the reasons I feel it's important that Guilds are able to fill out all the frays - even the significantly "harder" Gold ones. It is very likely that most guilds (at our level) skip the Gold frays completely, or are unable to even field a team if they've got no Gold Foil Summoners. This therefore leads to a better overall score.
---

🥇🥈🥉Final Standings🥇🥈🥉

---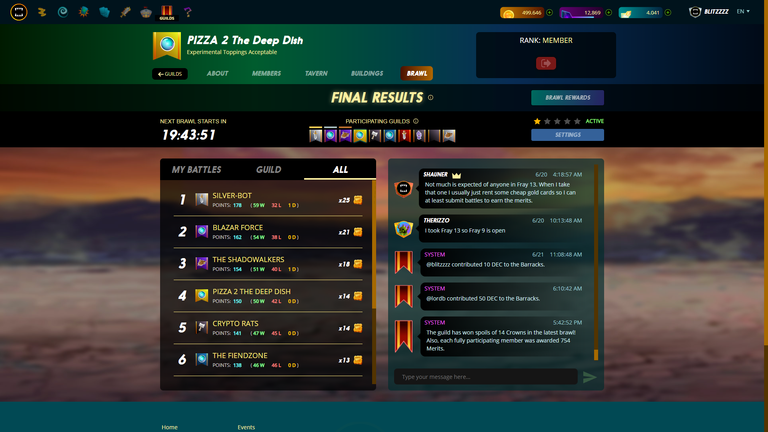 PIZZA 2 Guild managed to finish in 4th place! 🏆🏆🏆
I was rather surprised at not placing on the podium to be honest. I thought everyone had a pretty good win rate overall. However, it seems like the competition is really tough for this brawl. Just 1 win separated us from the 3rd position.
Great Job from everyone who took part in the Guild Brawls! I'm proud of you all! 👍🏻👍🏻👍🏻
---

✨✨✨This Week's Events✨✨✨


Over at PIZZA DISCORD, there are always loads of planned Events lined up (and even impromptu ones). The events listed here are localized to my Time Zone GMT +8. For the absolute latest updates, please check in the Pizza Discord.

---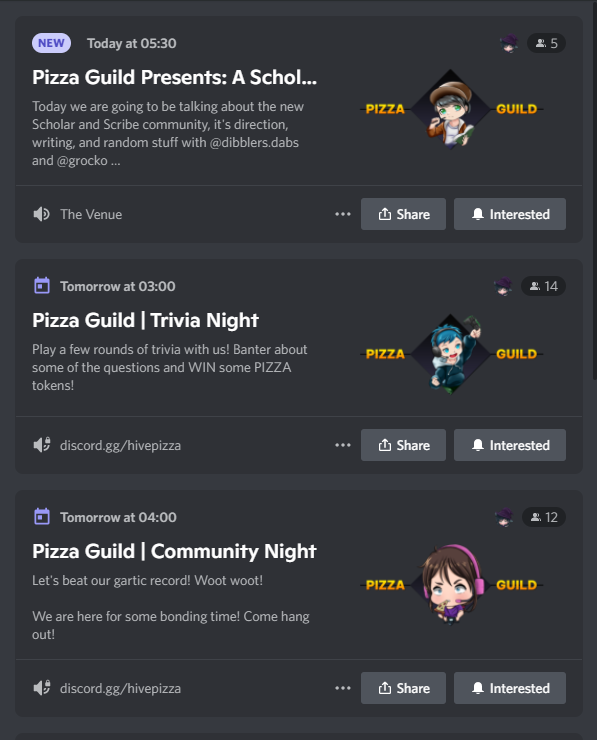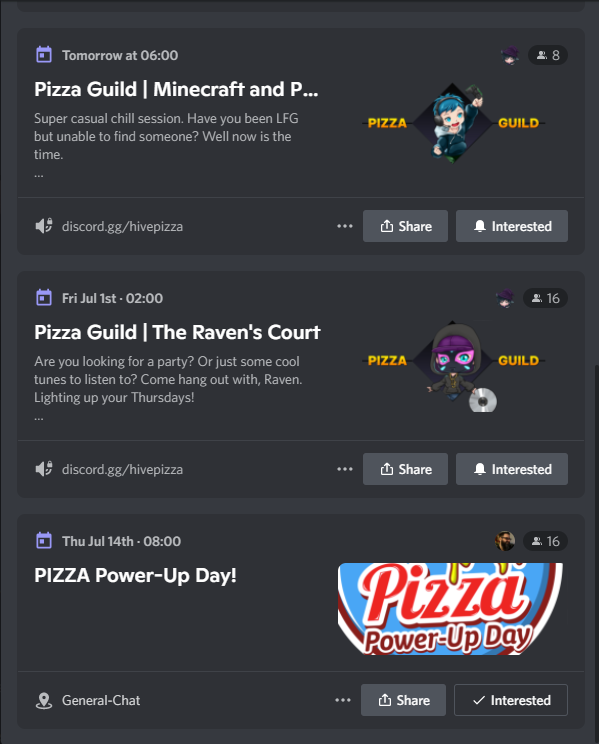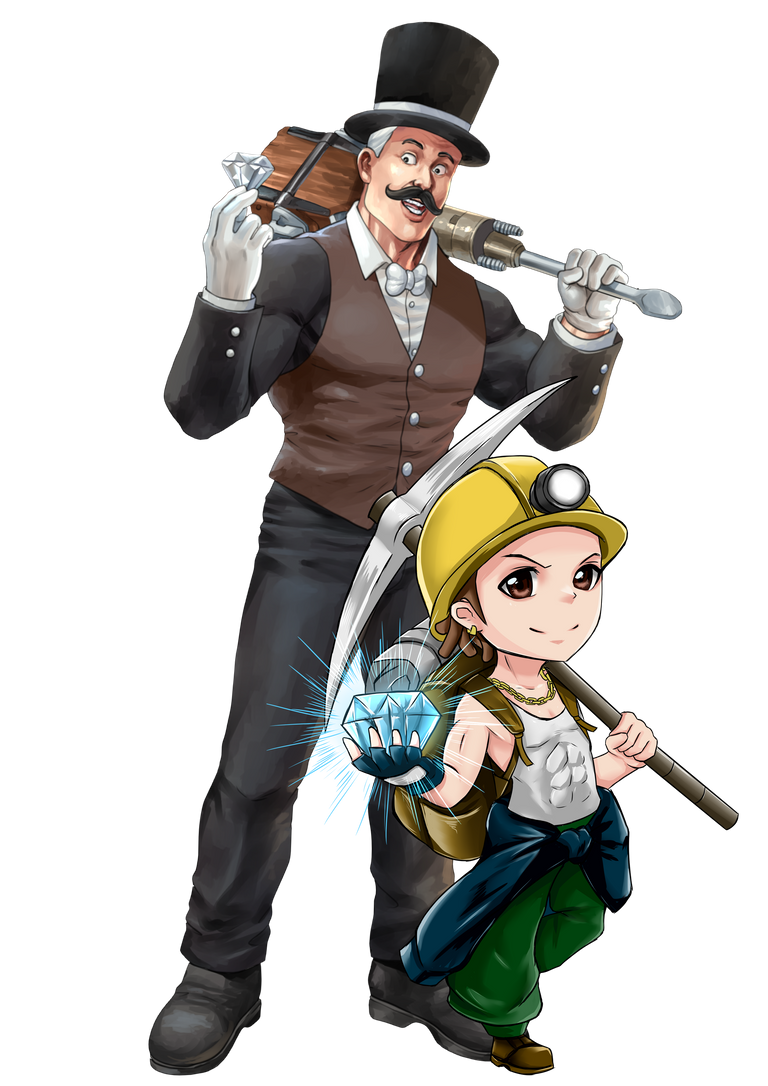 ---

🎁🎁🎁This Week's Contests & Giveaways🎁🎁🎁


A lot of FREE prizes up for grabs at the moment too! Don't miss out! 🎁🎁🎁💰💰💰 What are you waiting for? It's all here in the PIZZA DISCORD.
🤑💰🍕Added Bonus of PIZZA Token🤑💰🍕
-I will use my staked 🍕PIZZA🍕 to share a slice of 🍕PIZZA🍕 with anyone in the comments who also FOLLOWS & REBLOGS my post in the interests of spreading the Word of Pizza 🤣🤣🤣
-Just let me know if you've done that so I can double check and ensure I set aside some Resource Credits to reply back on your comments 👍
-Any fellow 🍕PIZZA🍕 connoisseurs who !PIZZA me will also receive 🍕PIZZA🍕 back from me. 😊

---
🍕🍕🍕🎁🎁🎁💰💰💰 PIZZA has weekly giveaways of NFTs from Rising Star, Exode, Hash Kings, WOO, not to mention several different types tokens, including PIZZA itself of course, and Oneup, DEC, Starbits, Buds, Utopis, AND several Steam game keys with values of up to $60!!! There's seriously so many prizes up for grabs EVERY WEEK that I can't keep listing it all down 😜 so go check out our Discord channel under #pizza-giveaways 🍕🍕🍕🎁🎁🎁💰💰💰

---

PIZZA is an active gaming and creative arts crypto community on the HIVE blockchain. Popular games on HIVE like SPLINTERLANDS, RISING STAR, EXODE, HASHKINGS, WOO, BANG!DEFENSE have their own PIZZA communities here.



Don't miss out more events that are always being organised. Join the PIZZA DISCORD. Even if you aren't interested in the 💰🍕🎁GIVEAWAYS & AIRDROPS💰🍕🎁, there is a vibrant and friendly community there awaiting you.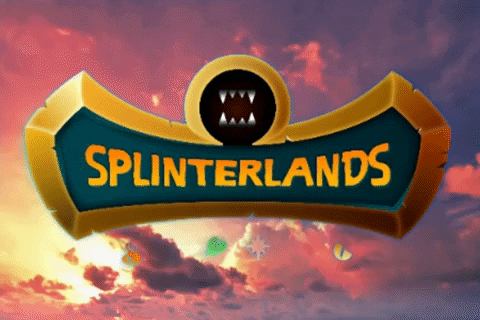 Here's to wishing everyone all the best for the upcoming week 🎉🍀.
To any new players who wish to explore the world of Splinterlands, do feel free to sign up with my REFERRAL LINK 😊.


---
---