Splinterlands & PIZZA Brawl Report : My 48th Brawl Report with 🍕PIZZA 2 The Deep Dish Guild🍕 ⚔️🛡⚔️🛡⚔️🛡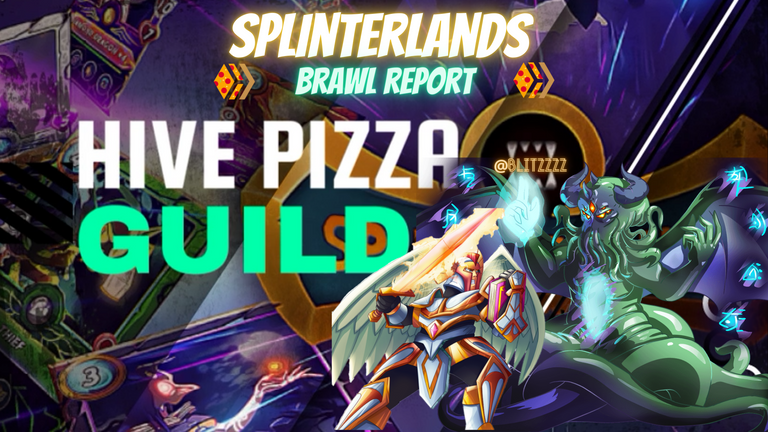 Here's my 48th Splinterlands Guild Brawl Report for PIZZA 2 The Deep Dish. 🍕⚔️🛡️
---
It's the ✨🏅✨Gold Foil Chaos Legion Fray no.12✨🏅✨ for the 31st week in a row for me.
The table below shows my accumulated tally of battles in Fray 12 since I first took it up 😁. 📊📊📊
---
| Current Tally for the past 31 brawls | | | | |
| --- | --- | --- | --- | --- |
| Number of Battles⚔️ | Wins✅ | Losses❌ | Draw➖ | Overall Win % ⚖️ |
| 107 | 64 | 38 | 5 | 59.8% |
---
Oops! I dropped under 60% for the 1st time in the past month 😱🤣. Courtesy of that 100% losing streak of just ONE match in the previous brawl. Ah well. Nothing much I could have done back then to redeem myself with no more opponents to fight. 😰
After 2 consecutive weeks of just ONE match for my guild brawls, I sure hope this current one is different. Fray 12 Gold Foil Chaos Legion is starting to become very lonely 😜.
---
I did not manage to accumulate enough for any Gladius packs this week, although I'm just about 200 Merits away from my next pack. Guess I'll have to wait till after the next brawl to try my luck again. Either that or if the RNG Gods suddenly throw a whole bunch of Merits my way in my daily focus chests (I hope NOT - I'd much rather have my rewards in the form of cards/SPS 😉).
🤞🏻🍀🤞🏻🍀🤞🏻🍀 Fingers crossed for a Gold Foil (Legendary!!!) I hope 🤣🤑 for my future Gladius packs. (or any packs/rewards chest for that matter 😉)
---
As usual, I make an extra effort to rent ✨Gold Foil Chaos Legion✨ cards that align with my daily focus during Guild Brawl days.
Hopefully Lady Luck continues to shine on me 🍀🍀🍀 and I don't get too many weird ruleset combinations which will completely screw up my limited Gold Foil selection of cards. (🤣 yeah, that's how terrible I am, to have to rely on luck for my wins)
Some thoughts I have about my exploits in the Gold Frays. 💭🤔
I feel like I'm winning because my opponent has even less Gold Foil cards available to him than I do. Personally, I find it slightly flattering to me. The teams I field are definitely not the absolute strongest, but more of what is available to me.
It also doesn't account for HOW I win some of the fights though. I've realised that a fair number of them are from opponents who just gave up and did not even face me in battle. ⚔️⚔️⚔️
My choice of picking up the Gold Foil frays is to simply give the Guild a better chance at accumulating more wins, seeing especially that IN THE PAST, many Gold Frays were left empty. Even if I were to lose everything and win just 1 match, it would definitely help in securing a better finishing position overall. 🥇🥈🥉
---
I've joined the Pizza 2 Guild over at the PIZZA DISCORD and was introduced to the world of Guild Brawls in Splinterlands. It has been an interesting experience to say the least. 🎉🥳🎊
Guild Brawls are generally the same as Battles, but with some minor tweaks (of which I'll save for another day). Lets get right down to business as I analyze my brawls. 🧐⚔️🛡️
---
With all that said, lets FINALLY get down to a review of my battles 😁, or in some cases where my opponent fled 🏃🏻💨 - non battles 😨.
---

⚔️🛡Let the Battles Commence⚔️🛡

---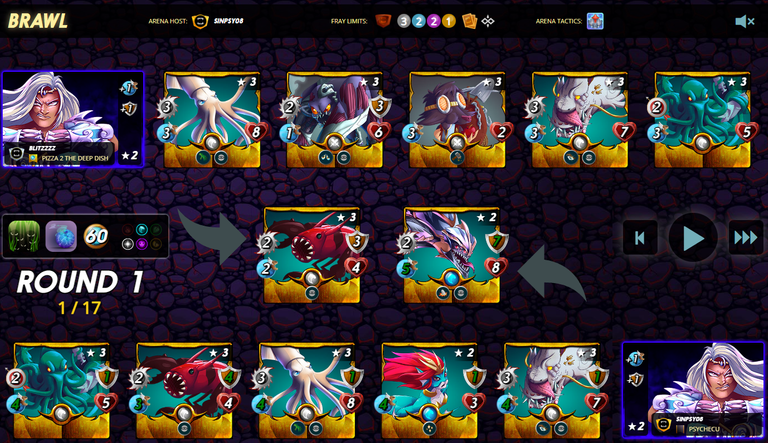 WON.
Both my opponent and I had really similar unit choices and lineups. It was a pretty close fight too. In the end I prevailed mostly thanks to the Disintegrator and Scavo Hireling. The repairs that the Hireling got in before it went down and the reduction of melee damage by the Disintegrator tipped the scales in my favour. 🎉
---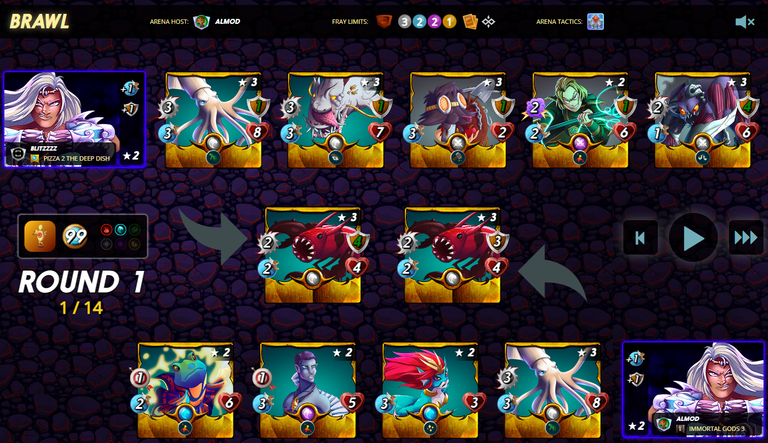 WON.
This was a dominant victory for me, suffering only 1 casualty in the form of the Scavo Hireling. The opponent was at a complete disadvantage against me being unable to field a full team at all. My superior forces easily mowed him down. 🎉
---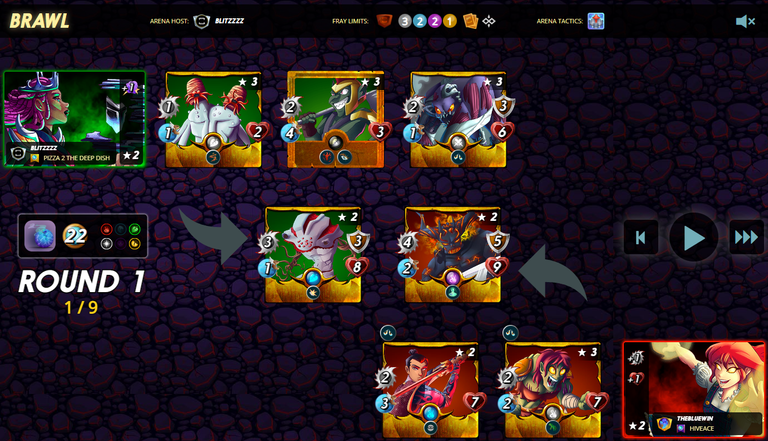 LOST.
I probably shouldn't have gone with the Earth splinter for this matchup. My summoner's abilities were completely wasted in a no magic ruleset. I was at a distinct disadvantage against a Tarsa led melee focused team and I was completely annihilated 😭.
---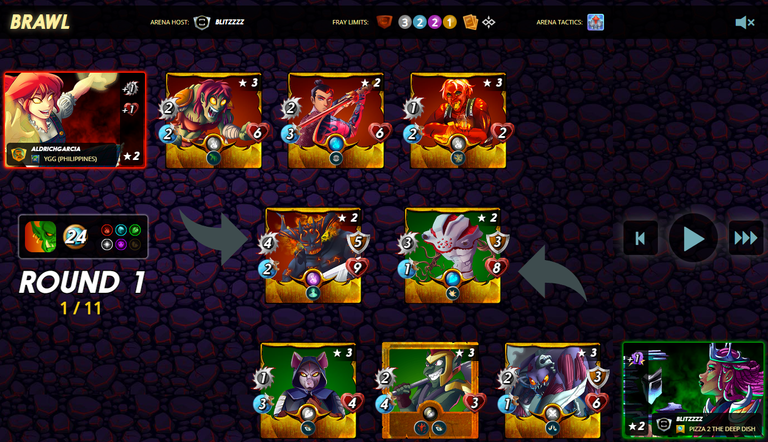 LOST.
In an almost eerily similar lineup VS my previous opponent, I once again made the mistake of using Obsidian as my summoner choice in an all melee ruleset. With just about the same unit choices being picked again versus an opponent who also utilised a lineup which I had just lost to, I had no chance at all. Lesson learnt for my future brawls 😨.
---

WON.
A free win for me!
The opponent FLED! 🏃🏻🏃🏻🏃🏻 Yay? I guess. A win is a win - no matter how it comes about.
---

📊📈📉My Overall Results📊📈📉

---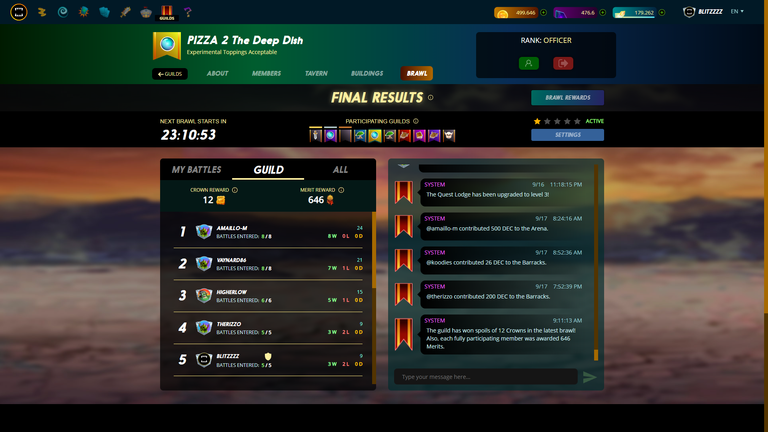 3 WINS 2 LOSSES. It's a decent win rate. 60% is acceptable by most standards (I hope 😅).
Well, I got my wish of no longer meeting a single opponent. It was definitely a lot more fun to take part in more battles. Unfortunately, I was punished twice in almost exactly the same way for making such a lousy tactical choice. That's a lesson I'll learn and hopefully not repeat again in the future. 😡
---
I feel it's important that Guilds are able to fill out all the frays - even the significantly "harder" Gold ones. It is very likely that most guilds (at our level) skip the Gold frays completely, or are unable to even field a team if they've got no Gold Foil Summoners. This therefore leads to a better overall score.
---

🥇🥈🥉Final Standings🥇🥈🥉

---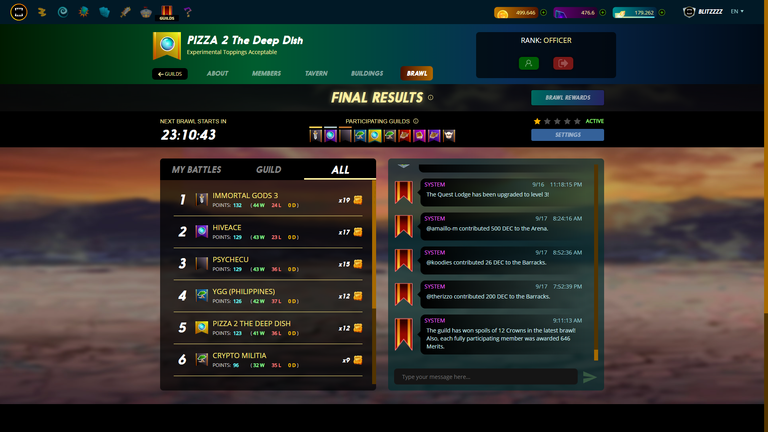 PIZZA 2 Guild managed to finish in 5th place! 🏆🏆🏆
This came as quite a shock to me. Looking at everyone's results, it was pretty decent and yet we finished 5th?! 😱 Upon closer examination, it was a really close fight among the 1st to 5th positions. Just 4 wins separated the 1st and 5th guild. Well, these things happen and there's nothing much we can do about it. It does show the importance of every single win though. We'll just have to try harder next time, and hope for some luck in our favour too 😜🍀.
Great Job from everyone who took part in the Guild Brawls! I'm proud of you all! 👍🏻👍🏻👍🏻
---

✨✨✨This Week's Events✨✨✨


Over at PIZZA DISCORD, there are always loads of planned Events lined up (and even impromptu ones). The events listed here are localized to my Time Zone GMT +8. For the absolute latest updates, please check in the Pizza Discord.

---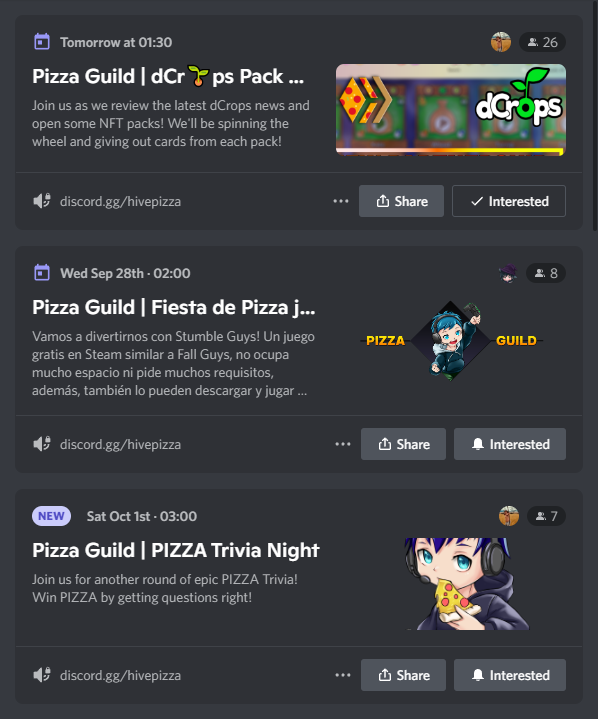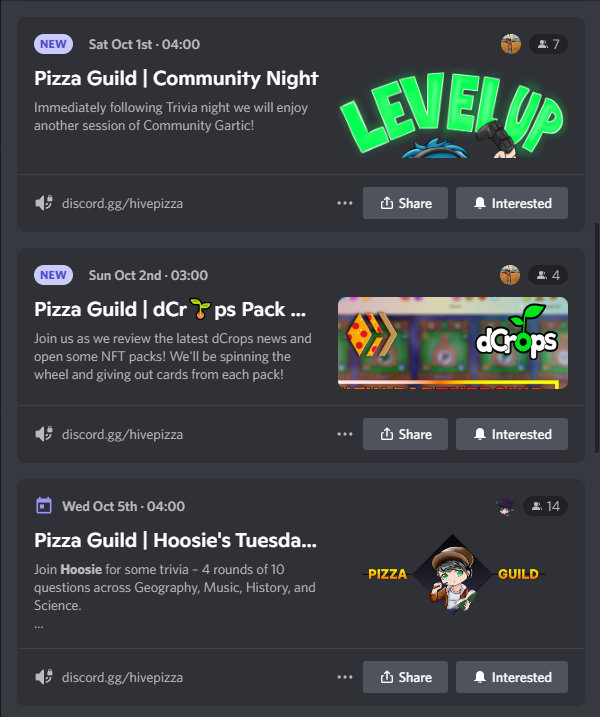 ---

🎁🎁🎁Contests & Giveaways🎁🎁🎁


A lot of FREE prizes up for grabs at the moment too! Don't miss out! 🎁🎁🎁💰💰💰 What are you waiting for? It's all here in the PIZZA DISCORD.
🤑💰🍕Added Bonus of PIZZA Token🤑💰🍕
-I will use my staked 🍕PIZZA🍕 to share a slice of 🍕PIZZA🍕 with anyone in the comments who also FOLLOWS & REBLOGS my post in the interests of spreading the Word of Pizza.
-Just let me know if you've done that so I can easily keep track. 👍
-Any fellow 🍕PIZZA🍕 connoisseurs who !PIZZA me will also receive 🍕PIZZA🍕 back from me. 😊
🍕🎁💰 PIZZA has weekly giveaways of NFTs from Rising Star, Exode, Hash Kings, WOO, not to mention several different types tokens, including PIZZA itself of course, and Oneup, DEC, Starbits, Buds, Utopis, AND several Steam game keys with values of up to $60!!! There's seriously so many prizes up for grabs EVERY WEEK that I can't keep listing it all down 😜 so go check out our Discord channel under #pizza-giveaways 🍕🎁💰

---

PIZZA is an active gaming and creative arts crypto community on the HIVE blockchain. Popular games on HIVE like SPLINTERLANDS, RISING STAR, EXODE, HASHKINGS, WOO, BANG!DEFENSE have their own PIZZA communities here.
---

Don't miss out more events that are always being organised. Join the PIZZA DISCORD. Even if you aren't interested in the 💰🍕🎁GIVEAWAYS & AIRDROPS💰🍕🎁, there is a vibrant and friendly community there awaiting you.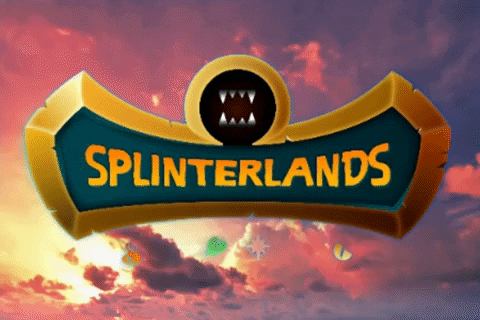 Here's to wishing everyone all the best for the upcoming week 🎉🍀.
To any new players who wish to explore the world of Splinterlands, do feel free to sign up with my REFERRAL LINK😊.

---
---