Splinterlands & PIZZA Brawl Report : My 81st Brawl Report with 🍕 PIZZA 2 The Deep Dish Guild ⚜️⚔️🛡️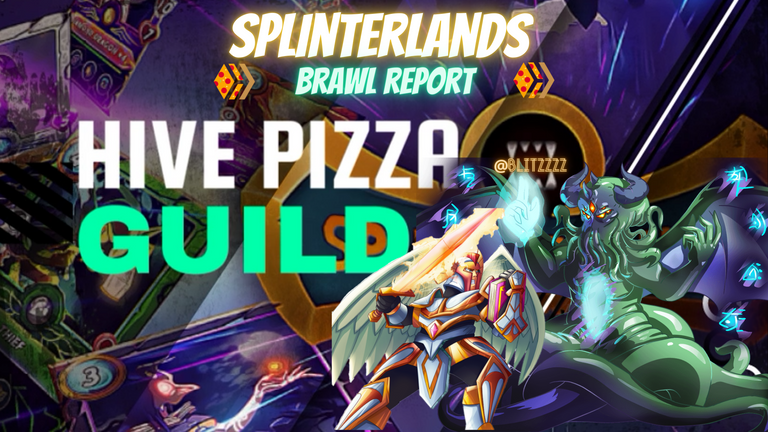 Here's my 81st Splinterlands Guild Brawl Report for PIZZA 2 The Deep Dish. 🍕⚔️🛡️
Today's conclusion of the brawls also coincided with the End of Season. I wouldn't say my rewards were good, but since I did get 1 Chaos Legion pack, I guess I can't call it a complete loss either. I doubt CL pack prices will appreciate significantly anytime in the near future even though they've sold out. We're still pretty deep in Bear territory after all. But I'm happy to hold on to them for an extended period of time, so I'll keep all those packs unopened in expectation of a better ROI. 🤑
---
It's the ✨🏅✨Gold Foil Chaos Legion Fray no.12✨🏅✨ for the 64th week in a row for me.
The table below shows my accumulated tally of battles in Fray 12 since I first took it up 😁. 📊📊📊
---
| Current Tally for the past 63 brawls | | | | |
| --- | --- | --- | --- | --- |
| Number of Battles⚔️ | Wins✅ | Losses❌ | Draw➖ | Overall Win % ⚖️ |
| 183 | 116 | 62 | 5 | 63.3% |
---
It is yet another uptick in my win percentages again. Going past the 63% mark now (thanks to my 4-0 win last week) means this is yet another new benchmark for my guild brawls. I fully expect to eventually crash back down again. I'm under no illusions as to the strength of my deck. I've just been pretty lucky so far with the pairing of opponents that have been sent my way. 🍀😅
---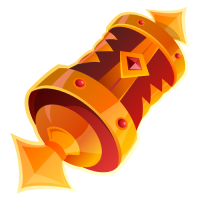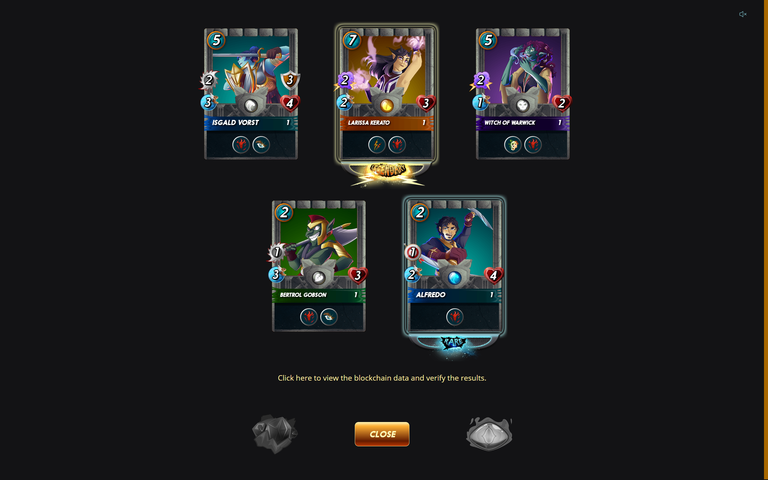 My FIRST Gladius Legendary?! 😱 BUT "UNFORTUNATELY", this was on my alt account. 😭 This is definitely the definition of bittersweet for me. On one hand, I'd finally scored a legendary, and it does seem like a pretty strong one at that. But on the other hand, sigh... it is on an alt account that's supposed to use only the leftovers of cards from my main account. 🤣
No Gladius scrolls for my main this week. It will require one more round of brawls before I accumulate enough MERITS.
🤞🏻🍀🤞🏻🍀🤞🏻🍀 Fingers crossed for a Gold Foil (Legendary!!!) I hope 🤣🤑 for my future Gladius packs. (or any packs/rewards chest for that matter 😉)
---
As usual, I make an extra effort to rent ✨Gold Foil Chaos Legion✨ cards that align with my daily focus during Guild Brawl days.
Hopefully Lady Luck continues to shine on me 🍀🍀🍀 and I don't get too many weird ruleset combinations which will completely screw up my limited Gold Foil selection of cards. (🤣 yeah, that's how terrible I am, to have to rely on luck for my wins)
Some thoughts I have about my exploits in the Gold Frays. 💭🤔
I feel like I'm winning because my opponent has even less Gold Foil cards available to him than I do. Personally, I find it slightly flattering to me. The teams I field are definitely not the absolute strongest, but more of what is available to me.
It also doesn't account for HOW I win some of the fights though. I've realised that a fair number of them are from opponents who just gave up and did not even face me in battle. ⚔️⚔️⚔️
My choice of picking up the Gold Foil frays is to simply give the Guild a better chance at accumulating more wins, seeing especially that IN THE PAST, many Gold Frays were left empty. Even if I were to lose everything and win just 1 match, it would definitely help in securing a better finishing position overall. 🥇🥈🥉
---

⚔️🛡️Let the Battles Commence⚔️🛡️

With all that said, lets FINALLY get down to a review and quick analysis of my battles 🧐⚔️🛡️, or in some cases where my opponent fled 🏃🏻💨 - non battles 😨.
---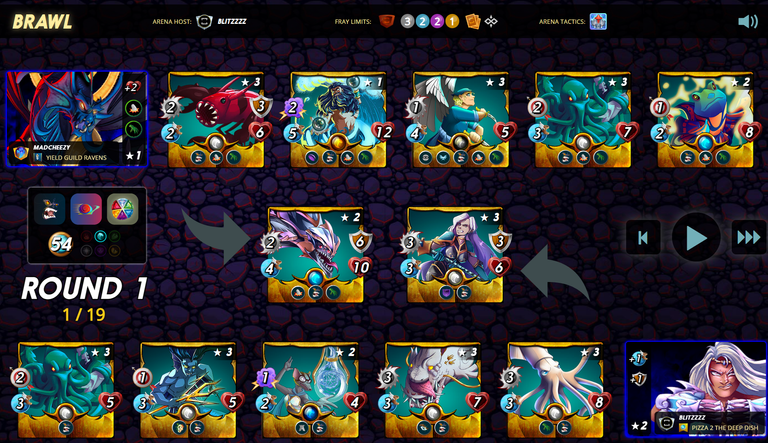 LOST.
This was a close fight. I must say that the opponent was definitely HUGELY stronger than me. 2 gold foil legendaries while I couldn't even fill out the maximum mana requirements? Sigh. This was one of those cases of bad RNG finally hitting me. With such restrictive requirements of only ONE splinter and NO NEUTRALS, it was always an uphill task to climb.
In the end though, I pushed the vastly superior opponent much closer than I'd expected. If not for that blasted RNG wrecking havoc with me once again, I might have just pulled off a win here. His team pull off numerous dodges with the pelacor bandit itself dodging 3 times at the most crucial moments! Right at the end, had it not been of the pelacor dodging twice in a row, I would have brought his ranged units down to the front where they would not have been able to attack any longer.
Terrible RNG all around. 💔🍀
---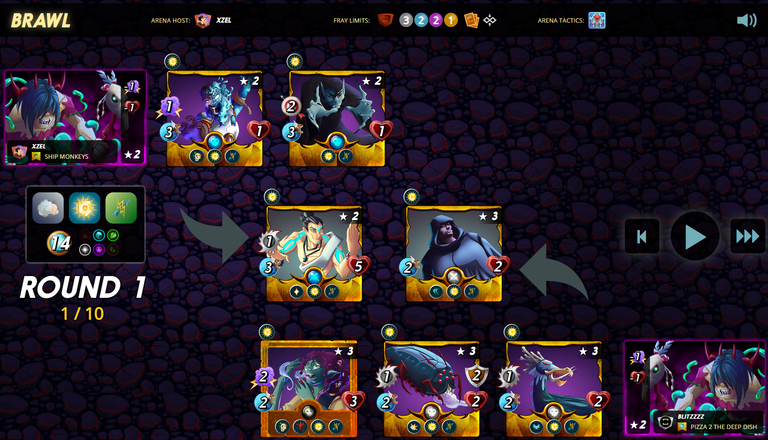 WON.
This was a close fight. In the end, I simply lacked that extra bit of DPS to bring down his self healing Xenith Monk.
---
WON.
A free win for me!
The opponent FLED! 🏃🏻🏃🏻🏃🏻 Yay? I guess. A win is a win - no matter how it comes about.
---

📊📈📉My Overall Results📊📈📉

---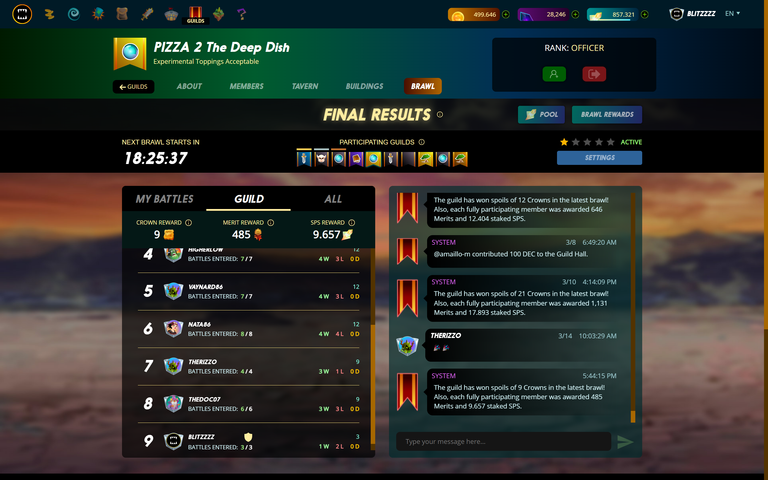 1 WIN 2 LOSSES.
It looks like my winning streak is finally over. Call it bad luck or strong opponents, I fell short and was unable to beat them. If it was any consolation, those battles were really close. Unfortunately, a loss is a loss. History only remembers the victors. I have to thank the 3rd opponent for surrendering though, at least I managed to get 1 free win out of that. 😜
This looks like a week for my alt. That account managed to get a respectable 6-3 score for the brawls. 😅
---
I feel it's important that Guilds are able to fill out all the frays - even the significantly "harder" Gold ones. It is very likely that most guilds (at our level) skip the Gold frays completely, or are unable to even field a team if they've got no Gold Foil Summoners. This therefore leads to a better overall score.
---

🥇🥈🥉Final Standings🥇🥈🥉

---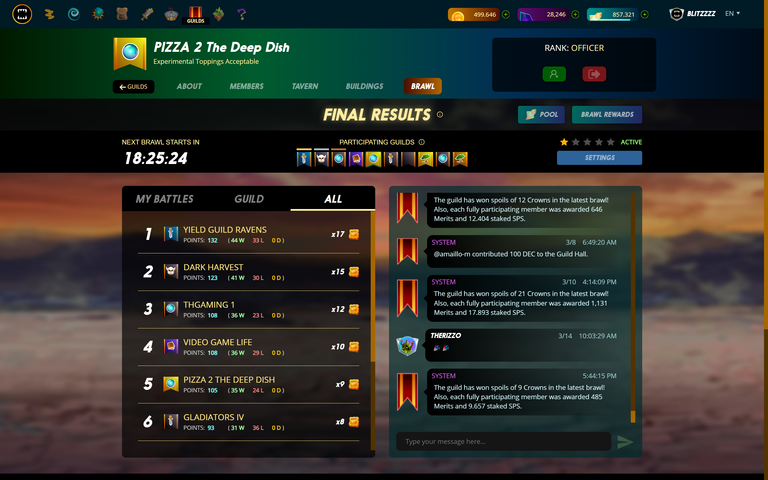 PIZZA 2 Guild managed to finish in 5th place! 🏆🏆🏆
I think this has got to be a new low for the guild too. Not making the podium is pretty rare as it is already, and being even further off is something totally new to me. Unfortunately, we only filled 9 frays out of 13 this time round. I would assume that was the major cause of our poor showing. We were simply outnumbered.
---
On a sidenote, we've still got some unfilled frays too so...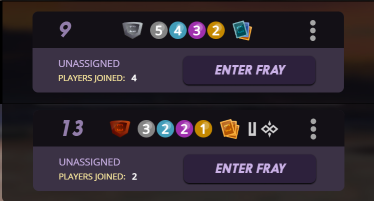 BTW, PIZZA 2 is recruiting 😜 and looking for active players who can commit to attending every single guild brawl. Do hop into the PIZZA DISCORD if anyone is interested (or knows someone who is).
---
Great Job from everyone who took part in the Guild Brawls! I'm proud of you all! 👍🏻👍🏻👍🏻
---

✨✨✨This Week's Events✨✨✨


Over at PIZZA DISCORD, there are always loads of planned Events lined up (and even impromptu ones). The events listed here are localized to my Time Zone GMT +8. For the absolute latest updates, please check in the Pizza Discord.

---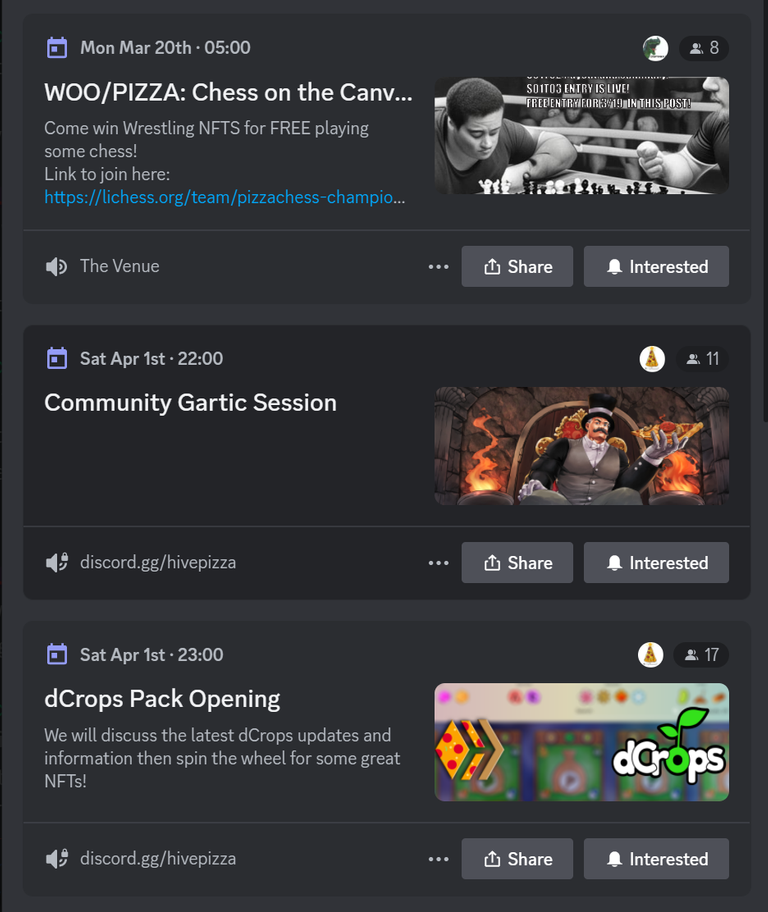 ---

🎁🎁🎁Contests & Giveaways🎁🎁🎁


A lot of FREE prizes up for grabs at the moment too! Don't miss out! 🎁🎁🎁💰💰💰 What are you waiting for? It's all here in the PIZZA DISCORD.
🤑💰🍕Added Bonus of PIZZA Token🤑💰🍕
-I will use my staked 🍕PIZZA🍕 to share a slice of 🍕PIZZA🍕 with anyone in the comments who also FOLLOWS & REBLOGS my post in the interests of spreading the Word of Pizza.
-Just let me know if you've done that so I can easily keep track. 👍
-Any fellow 🍕PIZZA🍕 connoisseurs who !PIZZA me will also receive 🍕PIZZA🍕 back from me. 😊
🍕🎁💰 PIZZA has weekly giveaways of NFTs from Rising Star, Exode, Hash Kings, WOO, not to mention several different types tokens, including PIZZA itself of course, and Oneup, DEC, Starbits, Buds, Utopis, AND several Steam game keys with values of up to $60!!! There's seriously so many prizes up for grabs EVERY WEEK that I can't keep listing it all down 😜 so go check out our Discord channel under #pizza-giveaways 🍕🎁💰

---

PIZZA is an active gaming and creative arts crypto community on the HIVE blockchain. Popular games on HIVE like SPLINTERLANDS, RISING STAR, EXODE, HASHKINGS, WOO, BANG!DEFENSE have their own PIZZA communities here.
---

Don't miss out more events that are always being organised. Join the PIZZA DISCORD. Even if you aren't interested in the 💰🍕🎁GIVEAWAYS & AIRDROPS💰🍕🎁, there is a vibrant and friendly community there awaiting you.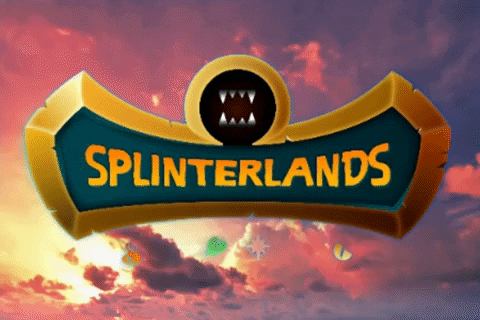 Here's to wishing everyone all the best for the upcoming week 🎉🍀.
To any new players who wish to explore the world of Splinterlands, do feel free to sign up with my REFERRAL LINK😊.

---
---