Splinterlands & PIZZA Brawl Report : My 82nd Brawl Report with 🍕 PIZZA 2 The Deep Dish Guild ⚜️⚔️🛡️— "Back to winning ways with a perfect 5-0 win streak" 💯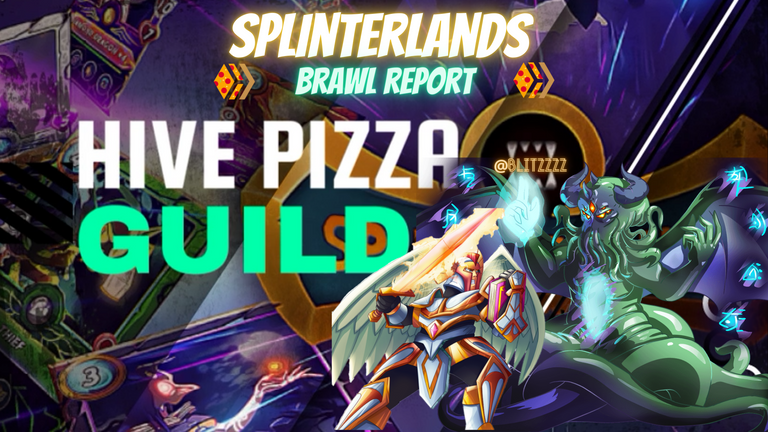 Here's my 82nd Splinterlands Guild Brawl Report for PIZZA 2 The Deep Dish. 🍕⚔️🛡️
It seems like this brawl's conclusion also happened on the day HIVE itself underwent it's semi regular "Korean Pump". 🤣 HIVE reached a high of about $0.53 just yesterday, before eventually settling back to it's pre pump levels of about $0.41 today. Hopefully, many of you managed to ride the wave and earn some easy HIVE profits. 🤑🚀📈
---
It's the ✨🏅✨Gold Foil Chaos Legion Fray no.12✨🏅✨ for the 65th week in a row for me.
The table below shows my accumulated tally of battles in Fray 12 since I first took it up 😁. 📊📊📊
---
| Current Tally for the past 64 brawls | | | | |
| --- | --- | --- | --- | --- |
| Number of Battles⚔️ | Wins✅ | Losses❌ | Draw➖ | Overall Win % ⚖️ |
| 186 | 117 | 64 | 5 | 62.9% |
---
My fortunes seemed to have finally turned when it comes to Guild Brawls. I did not manage to continue with my winning streak but slumped to an overall negative results of 1W2L last week. That hit my overall percentage by quite a bit as I fell back under 63%. 😭 If it was any consolation, all my losses went down to the wire, so I'm not that far off.
Hopefully those results were the exception rather than the norm and I'll be back to my best in the latest brawl? 😜 We shall see after reviewing all the battles later on.
---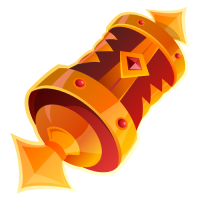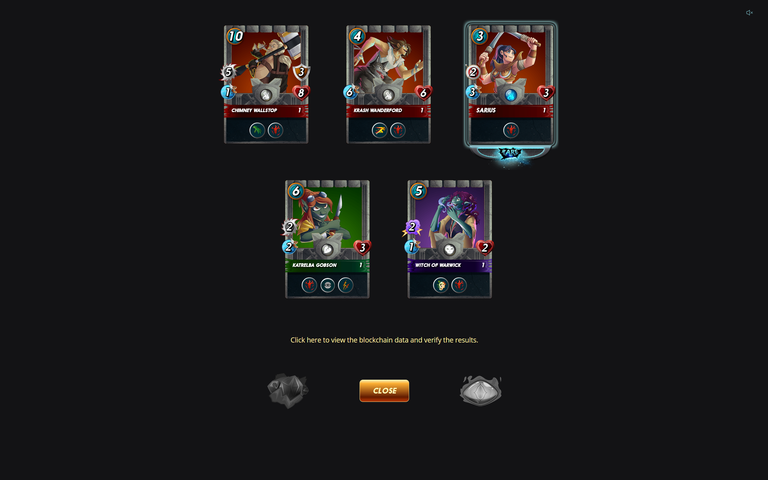 I managed to gather enough MERITS for another Gladius Scroll at last! However, the contents within were disappointing to stay the least. My alt is definitely the luckier of the 2 accounts. If only that legendary Dragon Gladius card was in my main account instead. 😭💔
Well, it's back to grind for another 2k MERITS. That will probably take me about 2 weeks? 🤔
🤞🏻🍀🤞🏻🍀🤞🏻🍀 Fingers crossed for a Gold Foil (Legendary!!!) I hope 🤣🤑 for my future Gladius packs. (or any packs/rewards chest for that matter 😉)
---
As usual, I make an extra effort to rent ✨Gold Foil Chaos Legion✨ cards that align with my daily focus during Guild Brawl days.
Hopefully Lady Luck continues to shine on me 🍀🍀🍀 and I don't get too many weird ruleset combinations which will completely screw up my limited Gold Foil selection of cards. (🤣 yeah, that's how terrible I am, to have to rely on luck for my wins)
Some thoughts I have about my exploits in the Gold Frays. 💭🤔
I feel like I'm winning because my opponent has even less Gold Foil cards available to him than I do. Personally, I find it slightly flattering to me. The teams I field are definitely not the absolute strongest, but more of what is available to me.
It also doesn't account for HOW I win some of the fights though. I've realised that a fair number of them are from opponents who just gave up and did not even face me in battle. ⚔️⚔️⚔️
My choice of picking up the Gold Foil frays is to simply give the Guild a better chance at accumulating more wins, seeing especially that IN THE PAST, many Gold Frays were left empty. Even if I were to lose everything and win just 1 match, it would definitely help in securing a better finishing position overall. 🥇🥈🥉
---

⚔️🛡️Let the Battles Commence⚔️🛡️

With all that said, lets FINALLY get down to a review and quick analysis of my battles 🧐⚔️🛡️, or in some cases where my opponent fled 🏃🏻💨 - non battles 😨.
---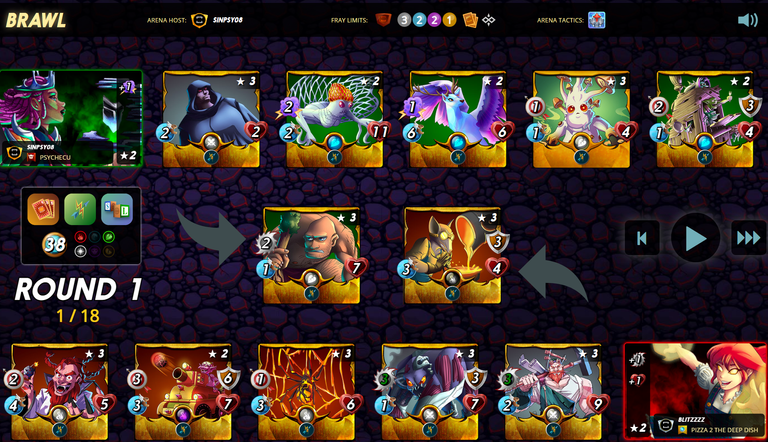 WON.
This went much better than I had expected. I must admit I was really lucky. I had actually completely forgot that the ruleset had ranged reflection. Considering that half my team consisted of ranged units, this could have gone terribly wrong.
Fortunately, the firepower of my ranged units managed to bring down the opponent much quicker than the damage being self inflicted on myself. It ended up being a pretty convincing victory. 🎉
---

WON.
A free win for me!
The opponent FLED! 🏃🏻🏃🏻🏃🏻 Yay? I guess. A win is a win - no matter how it comes about.
---

WON.
A free win for me!
The opponent FLED! 🏃🏻🏃🏻🏃🏻 Yay? I guess. A win is a win - no matter how it comes about.
---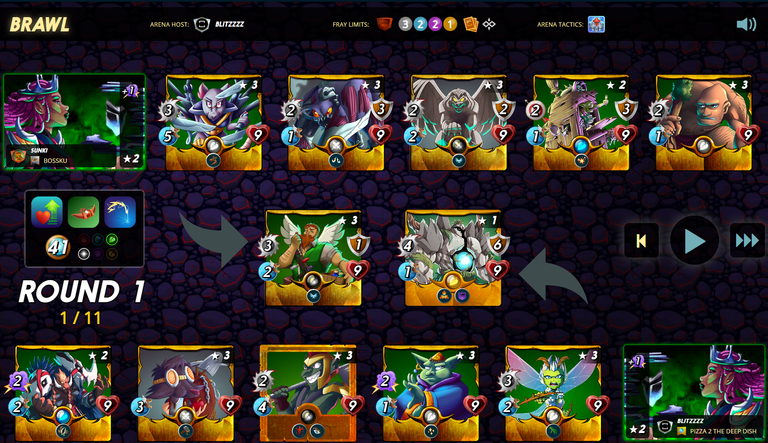 WON.
My newly acquired Terraceous Hulk was the star in this matchup. With it's TAUNT, VOID ARMOR, and amazing stats, nothing my opponent did could bring it down. Especially when it was backed by a healer and repairer.
In the end, I simply outclassed what the opponent could field and had an easy victory. 🎉
---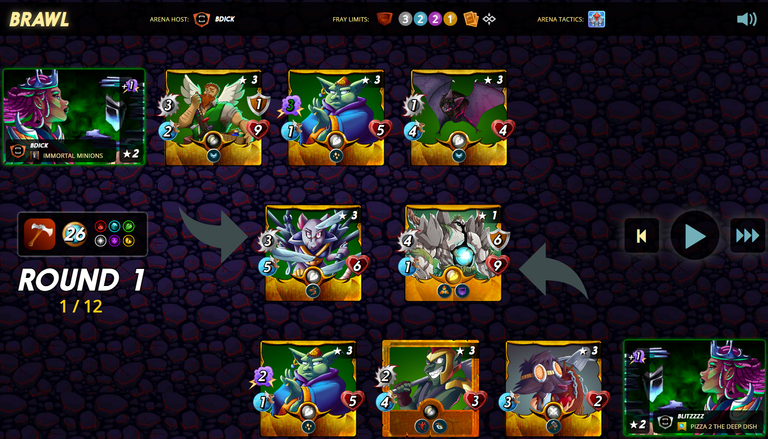 WON.
Another match with Terraceous Hulk as the MVP Star of the show! 😱 This time though, the opponent came a lot closer to bringing my Hulk of a Tank down. At one point, he was barely hanging on with just 1 HP left.
Battles are won by the finest margins and sometimes, that 1 HP is the difference between victory and defeat.
Another satisfying victory! 🎉
---

📊📈📉My Overall Results📊📈📉

---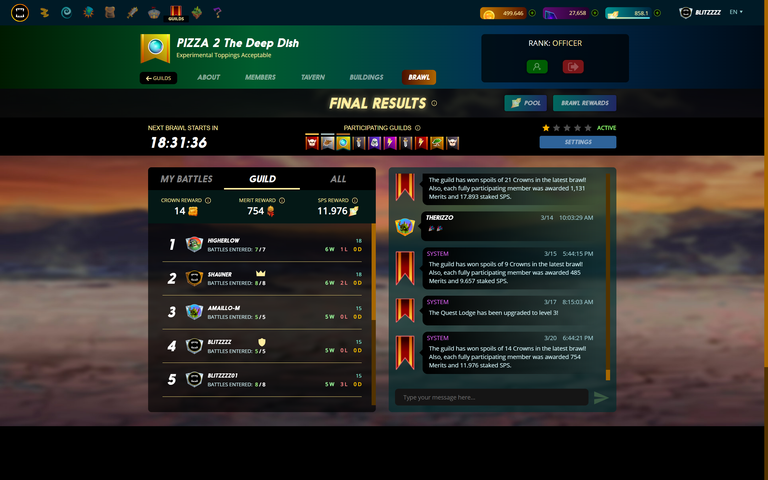 5 WINS, 0 LOSSES.
It seems like my less than stellar results in the previous brawl are all but forgotten. With a perfect 5-0 winning streak, my fortunes have been reversed! 💯
My alt didn't do too bad on it's own too with a decent 5-3 overall score.
---
I feel it's important that Guilds are able to fill out all the frays - even the significantly "harder" Gold ones. It is very likely that most guilds (at our level) skip the Gold frays completely, or are unable to even field a team if they've got no Gold Foil Summoners. This therefore leads to a better overall score.
---

🥇🥈🥉Final Standings🥇🥈🥉

---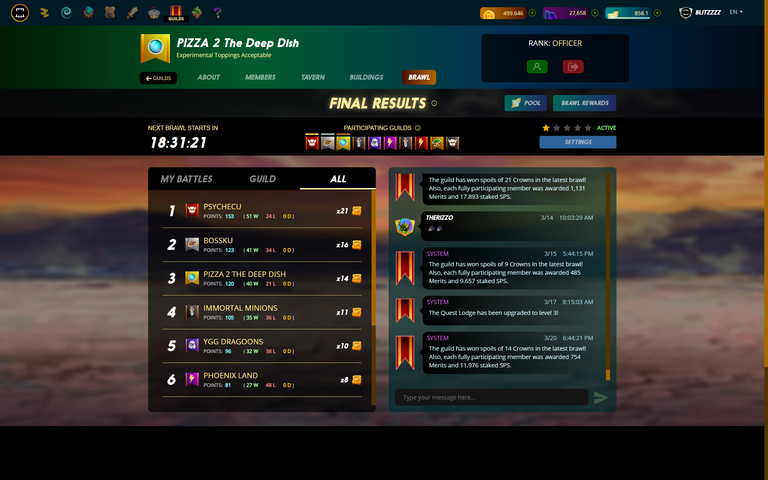 PIZZA 2 Guild managed to finish in 3rd place! 🏆🏆🏆
This is a significant improvement from the previous week in which we finished in 5th. However, I am still rather disappointed overall though. We missed out on the 2nd place by just 1 win. To make it worse, we had some matches which were completely surrendered. 😡
Guild brawls are a team effort and as much as we need frays to be filled, the bare minimum when joining a fray is to at least participate in all the battles.
---
On a sidenote, we've still got some unfilled frays too so...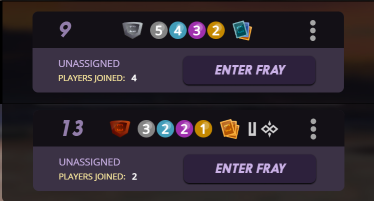 BTW, PIZZA 2 is recruiting 😜 and looking for active players who can commit to attending every single guild brawl. Do hop into the PIZZA DISCORD if anyone is interested (or knows someone who is).
---
Great Job from everyone who took part in the Guild Brawls! I'm proud of you all! 👍🏻👍🏻👍🏻
---

✨✨✨This Week's Events✨✨✨


Over at PIZZA DISCORD, there are always loads of planned Events lined up (and even impromptu ones). The events listed here are localized to my Time Zone GMT +8. For the absolute latest updates, please check in the Pizza Discord.

---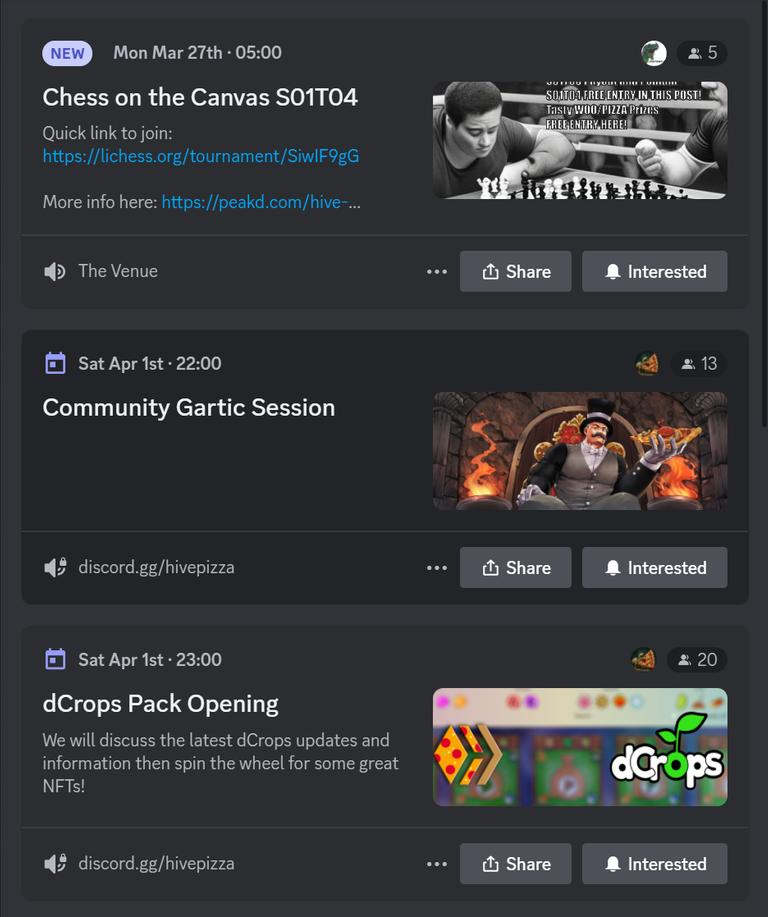 ---

🎁🎁🎁Contests & Giveaways🎁🎁🎁


A lot of FREE prizes up for grabs at the moment too! Don't miss out! 🎁🎁🎁💰💰💰 What are you waiting for? It's all here in the PIZZA DISCORD.
🤑💰🍕Added Bonus of PIZZA Token🤑💰🍕
-I will use my staked 🍕PIZZA🍕 to share a slice of 🍕PIZZA🍕 with anyone in the comments who also FOLLOWS & REBLOGS my post in the interests of spreading the Word of Pizza.
-Just let me know if you've done that so I can easily keep track. 👍
-Any fellow 🍕PIZZA🍕 connoisseurs who !PIZZA me will also receive 🍕PIZZA🍕 back from me. 😊
🍕🎁💰 PIZZA has weekly giveaways of NFTs from Rising Star, Exode, Hash Kings, WOO, not to mention several different types tokens, including PIZZA itself of course, and Oneup, DEC, Starbits, Buds, Utopis, AND several Steam game keys with values of up to $60!!! There's seriously so many prizes up for grabs EVERY WEEK that I can't keep listing it all down 😜 so go check out our Discord channel under #pizza-giveaways 🍕🎁💰

---

PIZZA is an active gaming and creative arts crypto community on the HIVE blockchain. Popular games on HIVE like SPLINTERLANDS, RISING STAR, EXODE, HASHKINGS, WOO, BANG!DEFENSE have their own PIZZA communities here.
---

Don't miss out more events that are always being organised. Join the PIZZA DISCORD. Even if you aren't interested in the 💰🍕🎁GIVEAWAYS & AIRDROPS💰🍕🎁, there is a vibrant and friendly community there awaiting you.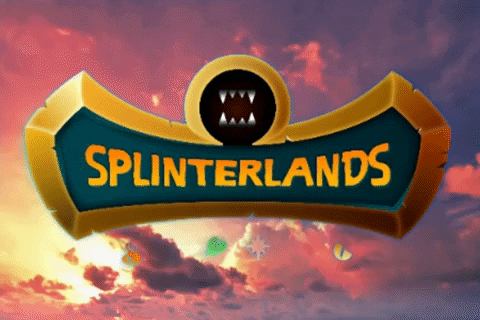 Here's to wishing everyone all the best for the upcoming week 🎉🍀.
To any new players who wish to explore the world of Splinterlands, do feel free to sign up with my REFERRAL LINK😊.

---
---