Splinterlands BATTLE MAGE SECRETS Weekly Challenge — 🏹🎯AIMLESS🏹🎯 "Don't aim. Just shoot and hit something — anything at all." 😎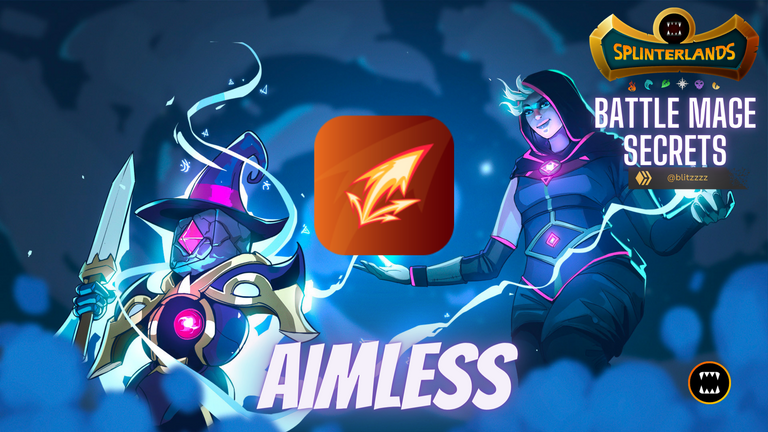 HELLO to all Splinterlands readers of my humble blog.👋🏻👋🏻👋🏻
Welcome to the second week of the new iteration of the Splinterlands Weekly Challenges. It is no longer "Share Your Battles" but "Battle Mage Secrets". Even with the name and format tweaks however, right at it's core, battles are still the foundation of these posts. The main difference would be that the focus is now shifted to rulesets instead of individual units. It's not quite the same, yet I must say it is still pretty much similar. Sorry for the confusion if there was any. 🤣
In this week's edition of Battle Mage Secrets, we explore a ruleset that is the antithesis of a sniper. If you aren't good enough to aim at your target, just fire around randomly into the mass of troops and you're bound to hit something right? 🤣 I present to you the ruleset — AIMLESS 🏹🎯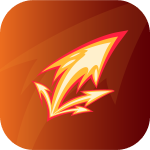 The game's description of AIMLESS is as follows: "All monsters have the Scattershot ability."
First off, what is SCATTERSHOT? The game description says "This monster's attacks hit a random enemy target". So simply put, the ruleset AIMLESS confers this ability to every single Ranged/Magic unit in the team.
SCATTERSHOT might seem like a terrible ability. Why would I want my units to be haphazardly shooting all over the place instead of being able to focus fire on a single target? However, what is often overlooked is that SCATTERSHOT also completely bypasses the TAUNT ability of many tanks AND the CAMOUFLAGE ability that protects units from being targeted at all. This means no unit is safe from Ranged/Magic attacks no matter which position they're placed at on the battlefield.
---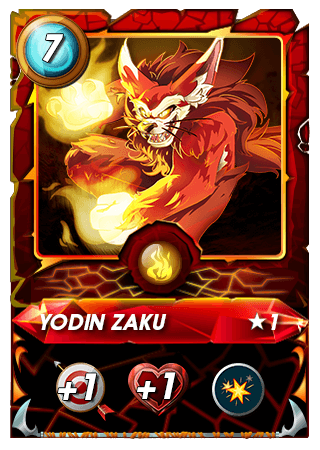 ---
I will take advantage of this ruleset in my battle showcase today to show how one of my units in particular becomes a lot stronger than one would expect with AIMLESS. Introducing YODIN ZAKU.
---
Yodin Zaku was a War Demon of the times before the Splintering so long ago. He was a hybrid child born of two warring races, the Efreet and the Bulludae, the Demons of War. But he never perished. His being was imprisoned in an ancient artifact that preserved his life, and now, nearly a thousand years after the Splintering, Yodin has opened his eyes and risen from his bondage.
☄️💥🔥From Splinterlands Lore on YODIN ZAKU☄️💥🔥
---
Yodin Zaku is a Legendary card released during the Untamed expansion. It has definitely found it's place in many Fire decks given its availability and usefulness. It's effects on the battlefield are 🏹+1 RANGED ATTACK🏹, ❤️+1 HEALTH❤️ and the 💥BLAST💥 ability to all your units. It's summoning cost is, like all other Untamed Legendary Summoners, 7 🧪MANA🧪.
The stat buffs it gives are nothing out of the ordinary, so at first glance, he might look pretty bland. However, it is the BLAST ability that makes this Summoner one of the strongest in the game!
Blast allows any unit which attacks to also deal half it's damage to adjacent units. You can see then how Yodin has the ability to multiply your unit's damage 😱. The battle will very quickly turn against the opponent after a round of attacks wears down his backline.
Now, I hope my description of Yodin's abilities have made it glaringly obvious what the ruleset AIMLESS does to further enhance his already ridiculously strong abilities. 😉 One weakness of Yodin is that a strong front tank or a TAUNT tank can easily limit his BLAST damage or even negate it entirely with the REFLECTION SHIELD ability. 😭 Now with AIMLESS conferring SCATTERSHOT to every single Ranged/Magic unit, there is no stopping the monstrous Yodin from devastating the entire battlefield! 🔥
This could make all the difference if the battle comes down to the wire where the slightest advantage is the fine line between victory or defeat! 👍🏻👍🏻👍🏻 This is definitely what I'd consider game changing! 😱😱😱
---
⚔️🛡️My Battle Showcase🛡️⚔️
---
Let me present a battle I fought recently in which the ruleset AIMLESS was in effect. My opponent used the Chaos Legion Summoner Obsidian from the EARTH splinter as his main pick, while I used the FIRE splinter. 🌱 VS 🔥
At first glance, it would seem like I was at a distinct disadvantage.
His summoner choice and team was mostly magic based whilst mine was ranged.

My armoured main tank lost half it's effectiveness against an all magic team. 😭

To make things worse, he even had the Mycelic Queen to grant all his units additional armour which my physical attacks would have to burn through. 😭
I was honestly expecting this to be a really bad matchup for me 😜🤣. This was a magic team whose damage would completely bypass all my units armour and rip them to shreds? Would I be able to turn the tide of battle against such an opponent then? Victory or defeat would lie in the small details.
I would say that the ruleset AIMLESS was DEFINITELY the MVP of this match, having played it's role in turning the tide of battle. The advantage it gave my team resulted in me outlasting my opponent in this battle. It definitely provided the edge that I needed to overcome my opponent.
This ensured that the other units could eventually wear down the opponent until victory was achieved! 🏆🏆🏆
---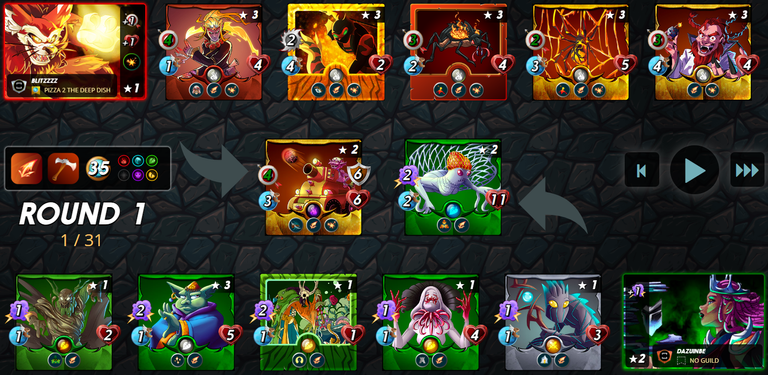 ---
👯‍♀️👯👯‍♂️LINEUP CHOICES👯‍♀️👯👯‍♂️
---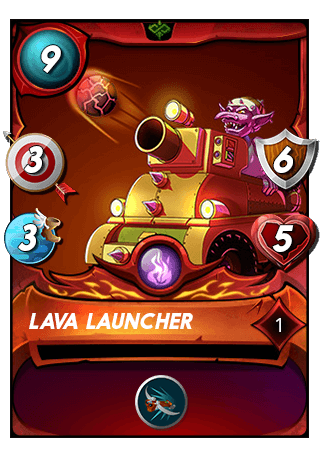 1st CARD SLOT
The Lava Launcher is chosen for this slot. He plays the role of the Main tank perfectly with his great stats. This allows all other units to be kept safe until he is taken down.
---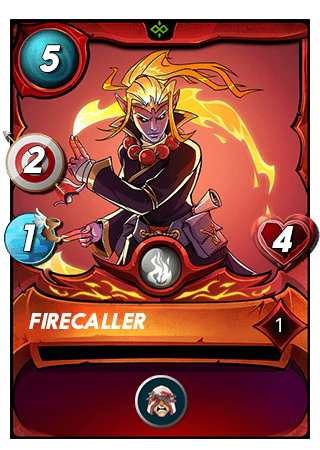 2nd CARD SLOT
The Firecaller takes up the second slot. With his MARTYR ability, he is able to boost any units next to him in the event of his untimely death. He will also take the place of the main tank as a backup tank too.
---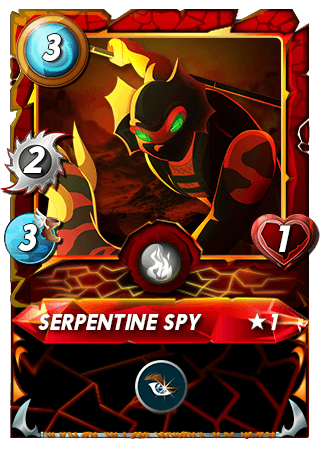 3rd CARD SLOT
The Serpentine Spy occupies this slot. It's main role here be as an assassin DPS unit taking out the weakest units with it's OPPORTUNITY ability.
---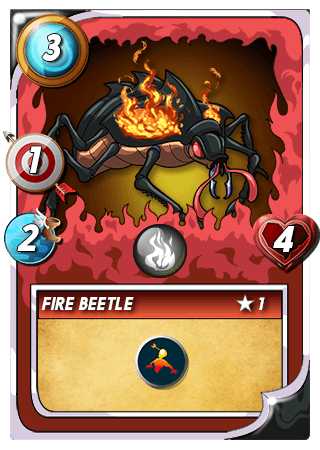 4th CARD SLOT
The Fire Beetle occupies the 4th slot here. It's role is as a low cost ranged DPS unit that works well in tandem with Yodin.
---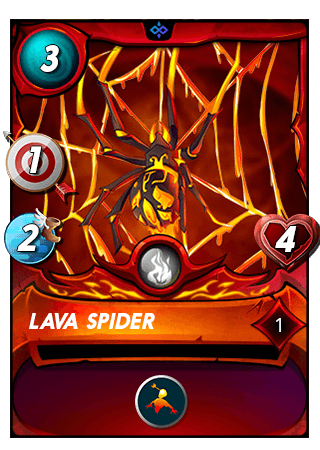 5th CARD SLOT
The Lava Spider occupies this slot. Once again, like the unit before, it's role is as a low cost ranged DPS unit that works well in tandem with Yodin.
---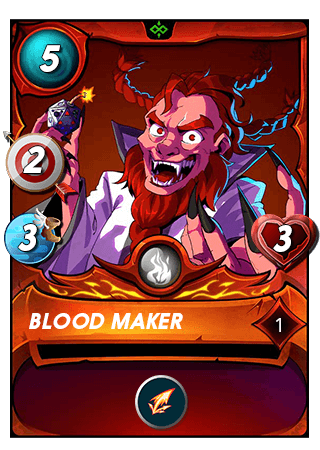 6th CARD SLOT
The Blood Maker takes the last slot. This is the card that is, in my opinion, perfect with Yodin because of his SCATTERSHOT ability. However, in this particular ruleset, it is redundant. However, his mana cost and ranged damage still makes him an extremely cost efficient unit.
---
⚔️🛡️Battle Action Report🛡️⚔️
---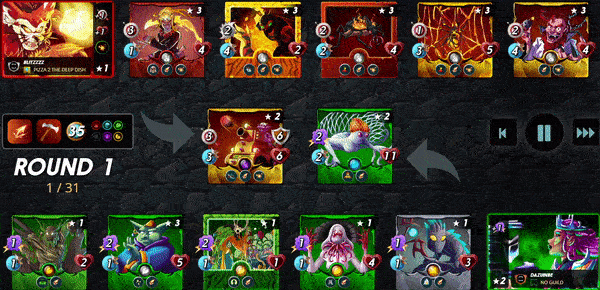 As you can see, both of us fielded very different units in our matchup. I went for an all physical DPS team (with an armoured main tank) as my focus in my summoner choice. My opponent went the opposite way with a magic based team with his accompanying summoner choice reinforcing that too. 😱
🔥FIRE🔥 VS 🌱EARTH🌱
---
My opponent used the Mycelic Slipspawn as his tank in the 1st slot which was a VERY good choice. With his great tanking stats and the TAUNT ability, he makes a perfect tank that will draw attacks to it, thus protecting the entire team even more effectively.
The Spirit Hoarder occupied his 2nd slot. With it's TRIAGE ability allowing it to heal his entire backline, this is another good choice.
In his 3rd slot was Queen Mycelia! The legendary Chaos Legion unit whose PROTECT ability instantly gives all magic based teams an amazing amount of defense.
This was followed by the Spirit Druid Grog in his 4th slot which would resurrect the first unit killed.
His 5th slot was yet another healer in the form of the Goblin Psychic, whom in itself is also a hard hitting magic dps unit.
The rest of his team was rounded off with Djinn Biljka who would in normal circumstances be completely un-targetable thanks to it's CAMOUFLAGE ability.
All in all, I would say that the opponent picked a really strong team.
---
My choice of the Main Tank was the Lava Launcher who is perfect for this task. He has great tanking stats to ensure that all the other units are protected.
In my 2nd slot, the Firecaller is there to either deal damage or be the backup tank. If it dies, it will buff the other units around him. Either way, it's a win-win situation for me.
My next 3 slots were filled with my ranged DPS units to complement Yodin.
---
The battle started out with all our units just duking it out pound for pound. It was a mid ranged mana game with 35 mana as the limit. The rulesets were AIMLESS and MELEE MAYHAM.
The first round saw both our sides launch a flurry of attacks. I managed to take out his Spirit Hoarder within the first few attacks but his Spirit Druid resurrected him immediately.

My own main tank barely hung on for it's dear life because of the array of magic DPS against which his armour was powerless. However, thanks to the SCATTERSHOT ability bestowed on all my units and Yodin's BLAST, I managed to take out both his Spirit Druid and Queen Mycelia by the end of the first round! 💪

The game was wildly in my favour by now as the opponent had taken far too much battle losses to be able to launch any response against me. 😈

Round 2 saw his Djinn Biljka and Spirit Hoarder similarly taken out with 1 hit thanks to the randomness of SCATTERSHOT and the splash damage from BLAST!

Continuing with this theme, my Lava Launcher (who was hanging on precariously at just 2 HP) finished off the game with another double kill!

It was all over for the opponent now as I eventually mopped up his remaining units. 💀💀💀
Talk about doing WAY MORE than it was supposed to!!! 😱🤯🥳 All I expected was for the AIMLESS ruleset to possibly give my team a slight advantage. However it ended up being the entire reason for my win! The opponent was simply unable to cope with the randomness of SCATTERSHOT bypassing all his tanks and killing his fragile backline. 🤣
Well as you can see here in this GIF of my battle, the results were pretty good! 👍🏻👍🏻👍🏻
This was truly an eye opener! 😁🏆
Slowly, but surely, I wore down the opponent's team and the match ended up with me inflicting a crushing defeat. My team selection proved to be the edge I needed to eventually overpower my opponent. 💪🏻
---
🔮🔮🔮Hindsight is 20/20🔮🔮🔮
---
Would I have done anything differently? 🤔 This might have seemed like a disadvantage at the start but I ended up winning handily. IF I had to use the same cards again, there would be no better lineup than what I had already used for the match. Any other combination MIGHT have resulted in a loss for me. I'm really satisfied with the results against such a worthy opponent. 🏆🥇
---
💭🧐💭Ending Thoughts💭🧐💭
---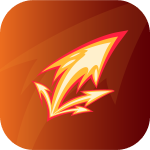 ---
I definitely can appreciate the ruleset AIMLESS and how it changes the dynamics of usual gameplay. This is one of those rulesets which can be turned into a huge advantage if surrounded with the proper team. The role it brings to the battlefield will give a player the edge in squeezing out every tiny advantage to get the win. 👍🏻
I hope this article has given you some insight into its potential. 😉
---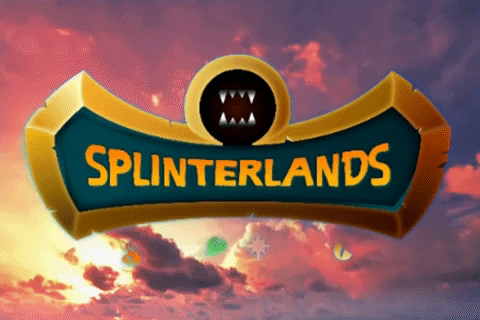 To any new players who wish to explore the world of Splinterlands, do feel free to sign up with my REFERRAL LINK 😊.
---

I am also a member of the SPLINTERLANDS PIZZA guild and the PIZZA community.
PIZZA is an active gaming and creative arts crypto community on the HIVE blockchain. Popular games on HIVE like SPLINTERLANDS, RISING STAR, EXODE, HASHKINGS, WOO, BANG!DEFENSE have their own PIZZA communities here.
Don't miss out more events that are always being organised. Join the PIZZA DISCORD. Even if you aren't interested in the 💰🍕🎁GIVEAWAYS & AIRDROPS💰🍕🎁, there is a vibrant and friendly community there awaiting you.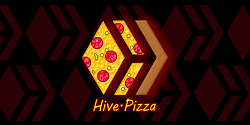 CLICK THIS LINK TO JOIN PIZZA DISCORD!!!
---
---