Splinterlands BATTLE MAGE SECRETS Weekly Challenge — 📈🚀 RISE OF THE COMMONS 📈🚀 "Double Kill & Triple Kill wins the game!"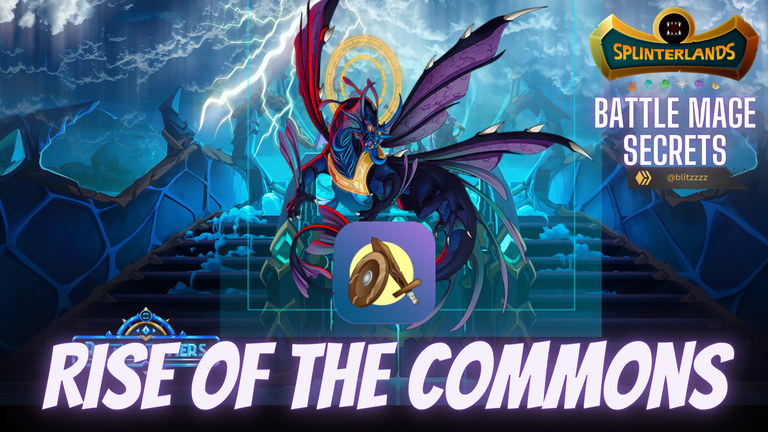 HELLO to all Splinterlands readers of my humble blog.👋🏻👋🏻👋🏻
Welcome to week 28 of the new iteration of the Splinterlands Weekly Challenges (at least, if I haven't miscounted so far, yet. 😜). For any old Hivers/Splinterland players who've just come back and are confused, fret not! Even with the name and format tweaks, right at it's core, battles are still the foundation of these posts.
In this week's edition of Battle Mage Secrets, revolution is here! Viva La Splinterlands! No more will the commoners be oppressed by the Epics and Legends!
No matter! I present to you the ruleset — RISE OF THE COMMONS 📈🚀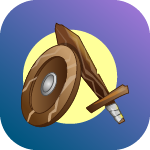 The game's description of RISE OF THE COMMONS is as follows: "Only Common and Rare Monsters may be used in battle."
This is a ruleset in which all your powerful Epics and Legendaries are now rendered useless. The word Commons alone isn't indicative of the true story though, since they still let you use your Rares. However, if you were banking on your shiny overpowered expensive card, you will be in for a world of shock! 🤣

I will take advantage of this ruleset in my battle showcase today to show how 1 of my units in particular becomes a lot stronger than one would expect with RISE OF THE COMMONS. Introducing the Summoner, POSSIBILUS THE WISE.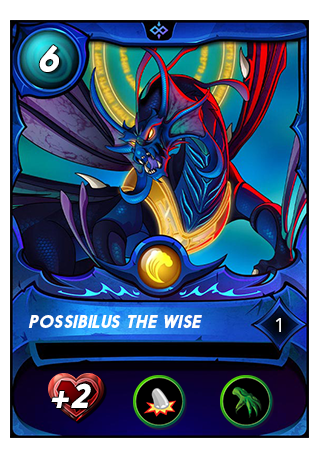 Possibilus the Wise is a leviathan from the future that has adapted to rule on both land and sea. His mission is to find and secure the lost sacred rune tablets of his race that were shattered into pieces and strewn across time and space by the entity known only as Desolation. In his present time, a war rages on his home world of Nyuuldus, but Possibilus was tasked with traveling into the past and the future to find these runestone fragments and return with them to defeat Desolation.
From Splinterlands Lore on POSSIBILUS THE WISE
---
Possibilus The Wise is a Legendary card released during the Chaos Legion expansion. It has definitely found it's place in many Water decks given its availability and usefulness. It's effects on the battlefield are ❤️+2 HEALTH❤️ and it grants the TRAMPLE & REACH ability to all your units. It's summoning cost is, like all other Chaos Legion Legendary Summoners, 6 🧪MANA🧪.

The stat buffs it gives are nothing out of the ordinary, so at first glance, he might look pretty bland. However, all of it combined makes this Summoner one of the strongest in the game!
Reach allows any melee unit on the 2nd spot of your lineup to also attack. While Trample allows your units to launch another attack if it manages to land the killing blow. You can see then how Possibilus has the ability to multiply your army's damage 😱. The battle will very quickly turn against the opponent with a few well placed attacks.
I would venture to say that with the RISE OF THE COMMONS ruleset in play, we need all the extra abilities that we can get from our Summoners. Add one and one together and I hope it's glaringly obvious by now that Possibilus is a match made in heaven for this situation. Possibilus gives that extra bit of additional health for your units to survive a hit that might kill most units. Furthermore, his Reach and Trample abilities have the potential to punish teams even further if a unit gets killed! There is no stopping the monstrous Possibilus from devastating the entire battlefield! 🔥
This could make all the difference if the battle comes down to the wire where the slightest advantage is the fine line between victory or defeat! 👍🏻👍🏻👍🏻 This is definitely what I'd consider game changing! 😱😱😱

⚔️🛡️My Battle Showcase🛡️⚔️

Let me present a battle I fought recently in which the ruleset RISE OF THE COMMONS was in effect. My opponent used the Chaos Legion edition Summoner Obsidian from the EARTH splinter as his main pick, while I used the Chaos Legion edition Summoner Possibilus from the WATER splinter. 💀 VS 💧
At first glance, it would seem like I was at a distinct disadvantage.
First off, the secondary ruleset in this battle was that of OPPORTUNITY!

All my units were MELEE units!

My opponent had an ALL MAGIC team which bypassed my armour completely. 😭

That meant my own units would easily be targeted and killed off by his devastating magic attacks! 😱
I was honestly expecting this to be a really bad matchup for me 😜🤣. This was a team who had an innate advantage in this ruleset. Magic units can easily shred through a physical team which depends on Armour to keep them alive. Would I be able to turn the tide of battle against such an opponent then? Victory or defeat would lie in the small details.
I would say that the ruleset RISE OF THE COMMONS was DEFINITELY the MVP of this match, having played it's role in turning the tide of battle. The advantage it gave my team resulted in me outlasting my opponent in this battle. It definitely provided the edge that I needed to overcome my opponent.
This ensured that the other units could eventually wear down the opponent until victory was achieved! 🏆🏆🏆
---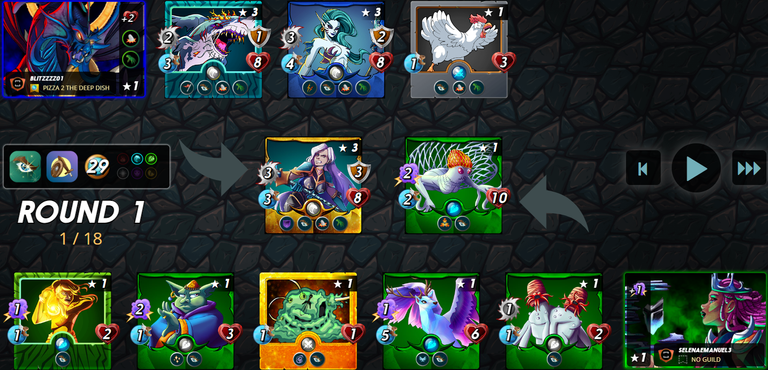 👯‍♀️👯👯‍♂️LINEUP CHOICES👯‍♀️👯👯‍♂️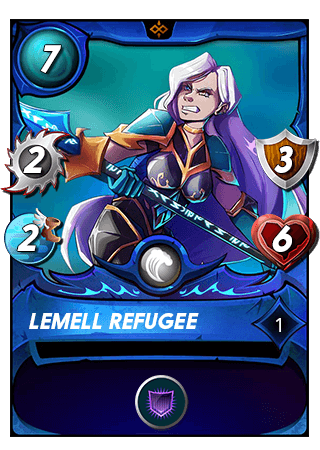 1st CARD SLOT
The Lemell Refugee is chosen for this slot. He plays the role of the Main tank perfectly with his great stats. His high Armor stat and VOID ARMOUR will also allow him to have much longer staying power on the battlefield. This allows all other units to be kept safe until he is taken down.
---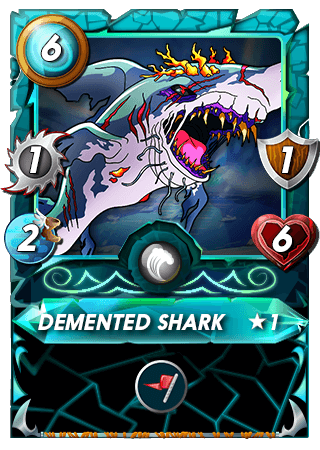 2nd CARD SLOT
The Demented Shark occupies this slot. It's main role here to be a MELEE BUFF for the team with it's INSPIRE ability.
---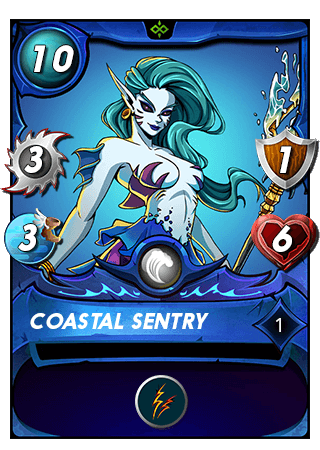 3rd CARD SLOT
The Coastal Sentry takes up the 3rd slot. With his amazing attack damage and the DOUBLESTRIKE ability, he will be able to mow down the opponents quickly. He will also take the place of the main tank as a sacrificial one hit backup tank.
---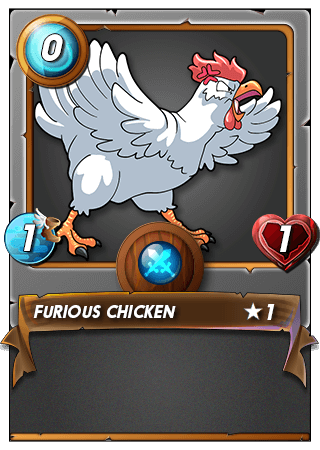 4th CARD SLOT
The Furious Chicken occupies the 4th slot here. It's role is simply to be a sacrificial unit to take a hit from SNEAK or OPPORTUNITY attacks.
---
5th CARD SLOT
NIL
---
6th CARD SLOT
NIL
I hope you're starting to see the pattern here in my team setup. 😉

⚔️🛡️Battle Action Report🛡️⚔️

As you can see, both of us fielded very different units in our matchup. The opponent went for almost all MAGIC units while my own units were all MELEE. 😱
💧WATER💧 VS 🌱EARTH🌱
---
My opponent used the Mycelic Slipspawn as his tank in the 1st slot which was a VERY good choice. With his TAUNT allowing him to attract all damage until it dies, his other weaker units are very well protected.
The Mycelic Mophoid occupied his 2nd slot. This unit is a cheap unit meant to be a sacrificial unit to take that one extra hit.
In his 3rd slot was the Regal Peryton. It's high speed and FLYING ability ensures it will be a very tough unit for physical units to take down.
His 4th slot was a Creeping Ooze which was a cheap sacrificial unit which could also SLOW my entire team.
This was followed by a Goblin Psychic who could HEAL his tank.
It was rounded off with a Khmer Princess.
All in all, I would say that the opponent picked a really strong team.
---
My choice of the Main Tank was the Lemell Refugee who is perfect for this task. He has really high ARMOR stats and the VOID ARMOR ability in order to take extra hits to ensure that all the other units are protected.
The Demented Shark is next in the 2nd slot, where it's role is mainly to buff the melee DPS-ers via it's INSPIRE ability with +1 dmg.
The Coastal Sentry occupies my next slot. With it's high DPS and DOUBLESTRIKE, it will slaughter any units it comes into contact with. It makes a great backup tank and will be able to soak up quite a bit of damage too.
This is followed by the Furious Chicken in the 4th slot. It is there to absorb 1 hit from any SNEAK or OPPORTUNITY attacks.
---
The battle started out with all our units just duking it out pound for pound. It was a mid ranged mana game with 29 mana as the limit. The rulesets were EQUAL OPPORTUNITY & RISE OF THE COMMONS.
The first round saw both our sides launch a flurry of attacks. Both sides suffered a casualty but I was surprised by the results. 🤣

After dust settled from the first round of attacks, the opponent's Mycelic Slipspawn and Mycelic Morpoid had been taken out thanks to the combined fire power of my units. What I had lost was just my Furious Chicken which was meant to be sacrificed.

The 2nd round was even more devastating as my Coastal Sentry killed 3 of his units thanks to DOUBLESTRIKE and TRAMPLE.

His Regal Peryton was the only helpless unit left standing after that.

It was all over for the opponent now as I eventually mopped up his remaining units. 💀💀💀
Talk about doing WAY MORE than it was supposed to!!! 😱🤯🥳 All I expected was for the RISE OF THE COMMONS ruleset to give me a slight advantage. I had expected his magic units to shred my armoured units by targeting the weakest ones first. However it ended up being the entire reason for my win! By capitalizing on the ruleset, I was able to chain multiple kills in the first 2 rounds! The opponent simply could not handle all that DPS at all.
Well as you can see here in this video recording of my battle, the results were pretty good! 👍🏻👍🏻👍🏻
This was truly an eye opener! 😁🏆
Slowly, but surely, I wore down the opponent's team and the match ended up with me inflicting a crushing defeat. My team selection proved to be the edge I needed to eventually overpower my opponent. 💪🏻

🔮🔮🔮Hindsight is 20/20🔮🔮🔮

Would I have done anything differently? 🤔 This might have seemed like a disadvantage at the start but I ended up winning handily. IF I had to use the same cards again, there would be no better lineup than what I had already used for the match. Any other combination MIGHT have resulted in a loss for me. I'm really satisfied with the results against such a worthy opponent. 🏆🥇

💭🧐💭Ending Thoughts💭🧐💭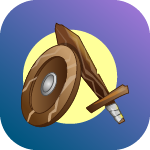 ---
I definitely can appreciate the ruleset RISE OF THE COMMONS and how it changes the dynamics of usual gameplay. This is one of those rulesets which can be turned into a huge advantage if surrounded with the proper team. The role it brings to the battlefield will give a player the edge in squeezing out every tiny advantage to get the win. 👍🏻
I hope this article has given you some insight into its potential. 😉
---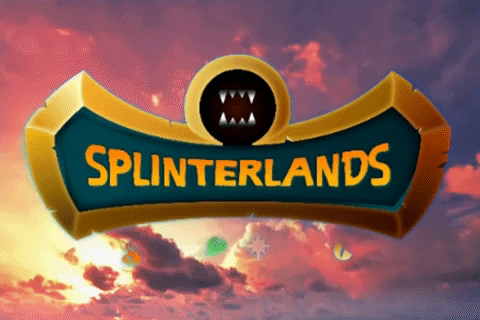 To any new players who wish to explore the world of Splinterlands, do feel free to sign up with my REFERRAL LINK 😊.
---

I am also a member of the SPLINTERLANDS PIZZA guild and the PIZZA community.
PIZZA is an active gaming and creative arts crypto community on the HIVE blockchain. Popular games on HIVE like SPLINTERLANDS, RISING STAR, EXODE, HASHKINGS, WOO, BANG!DEFENSE have their own PIZZA communities here.
Don't miss out more events that are always being organised. Join the PIZZA DISCORD. Even if you aren't interested in the 💰🍕🎁GIVEAWAYS & AIRDROPS💰🍕🎁, there is a vibrant and friendly community there awaiting you.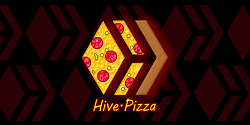 CLICK THIS LINK TO JOIN PIZZA DISCORD!!!
---
---