Splinterlands SHARE YOUR BATTLE Weekly Challenge - ✨❤️‍🩹✨Goblin Psychic✨❤️‍🩹✨ "This Chubby Gobby will Heal you to Death!"
---
This theme for this week's challenge is a Green Goblin 😉. No, it isn't Spiderman's nemesis The Green Goblin, but a chubbier and far more helpful version instead. I give you the GOBLIN PSYCHIC!
The Magi Tower is where Goblins go to learn how to use psychic abilities. It isn't just a gift Goblins can learn, but due to the proximity of Gobson, Goblins tend to show up more frequently. The Magi who calls the tower home, enjoys teaching the art of using one's mind to move objects and read thoughts. Goblin Psychics use their abilities to perform work in Gobson or become adventurers and practice to become a full fledged Summoner.
✨✨✨❤️‍🩹❤️‍🩹❤️‍🩹From Splinterlands Lore on Goblin Psychic✨✨✨❤️‍🩹❤️‍🩹❤️‍🩹
---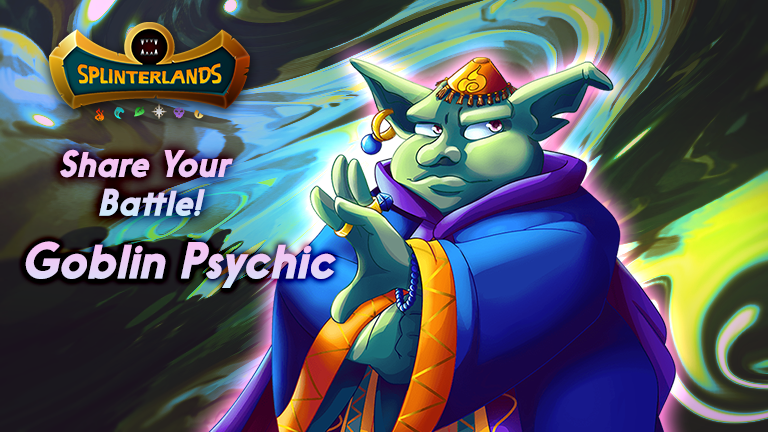 ---
The Goblin Psychic is a Common card released during the Chaos Legion expansion. I'd daresay he's the mainstay of MANY Earth decks. At level 1, he has 2 MAGIC ATTACK and 1 SPEED, with NO ARMOR and 3 HEALTH. He also has the TANK HEAL ability.
These stats alone make the Goblin Psychic a rather fragile unit which will need some protection. With only 3 HP, it is very likely that 1 or 2 hits is enough to finish him off.
The Golbin Psychic's true strength lies in his TANK HEAL ability, which allows him to constantly keep the frontlines in good health! At 6 MANA cost, he is quite an expensive card to use, but all his stats and abilities make it well worth the cost! I would consider this card to be VERY STRONG and is definitely a TOP TIER support card! 👍🏻👍🏻👍🏻
---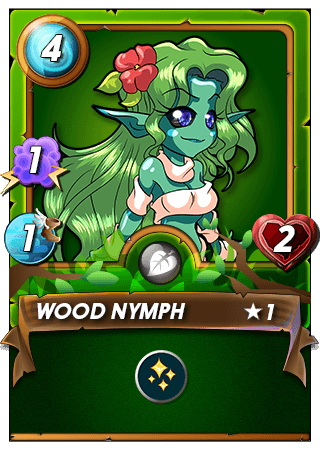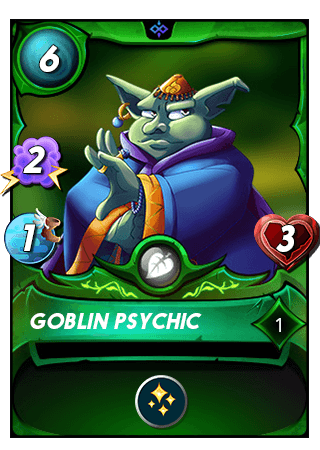 ---
The release of Chaos Legion gave the Earth splinter another healer in the form of the Goblin Psychic. His direct competitor, the Wood Nymph, whilst having less firepower and health, costs 2 less MANA. However, both of them remain a staple among Earth Decks, where they complement each other instead of compete. After all, twice the healing means Earth decks have an unmatchable self sustainability that no other splinter can keep up with.
---
📊Card Stats by Level📊
---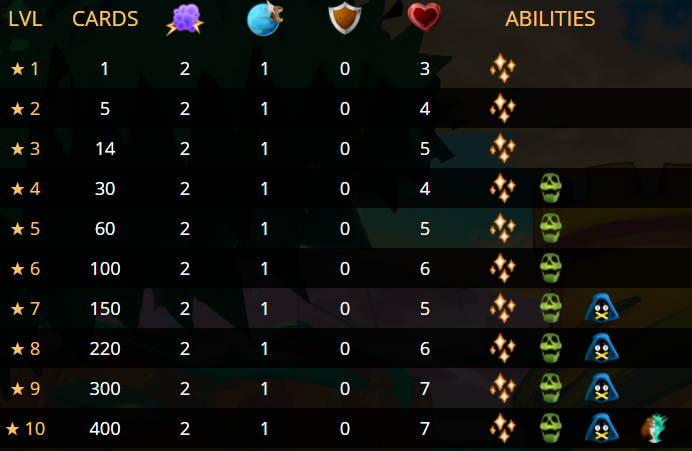 As we can see here, the main purpose of the Goblin Psychic is to support the team with his heals. Stats wise, his attack and speed remains the same at higher levels, while his health gets quite a significant bump, thus increasing his ability to stay alive. At his maximum level, he gains the AFFLICTION, SILENCE and DISPEL abilities, making him a deadly support unit who shuts down the enemy's team.
---
📝Important Rulesets Rundown📝
---
Here, I detail the list of combat rulesets that may affect the Goblin Psychic.
---
Shadow Snitch
N.A to Magic attacks
👍🏻 Gives itself more protection. Always good, especially for such a fragile unit. It's magic attacks ignore opponent's armor too.
👎🏻 Loses it's Heal
N.A
N.A
👎🏻 No flying, will die in 2 rounds
👍🏻 with its low hp, this is almost definitely an increase in hp
👎🏻 makes it easier for the enemy to target him
👍🏻 Even summoning cost
👎🏻 Very likely to get killed off even more easily
N.A
👎🏻 Loses it's main HEAL ability
Situational. Could add more damage if the opponent's front unit is stunned
👍🏻 Improve it's own survivability
👍🏻 It's a magic unit
👎🏻 Costs 6 mana
👍🏻 It's a common card
👎🏻 Magic units cannot be used
👎🏻 Gives melee the positional attack advantage enjoyed by ranged/magic
👎🏻 Will die in 2 roundsp
👎🏻 Even summoning cost
👍🏻 It's slow speed makes it fast
👍🏻 It's a common
👍🏻 Doesn't really depend on Summoner abilities
👎🏻 Enrage will make it harder to keep the tanks healed fully as they units deal more damage to each other
N.A
👍🏻 All it's abilities stay intact
👎🏻 Makes the backline vulnerable
N.A
N.A
👎🏻 no way to use armor enhancing abilities to improve it's survivability
👎🏻 Only Melee units can be used
👎🏻 Magic attacks hit armor instead of bypassing it usually
---
---
⚔️🛡My Battle Showcase🛡⚔️
---
Let me present a battle I fought recently in which I used the Goblin Psychic. My opponent used the DEATH splinter. At first glance, upon seeing a FULL GOLD FOIL team with higher levels than me, I thought I was doomed. What chance did I have against someone who clearly out levelled me completely? 😱
I would say that the Goblin Psychic was DEFINITELY one of the MVPs of this match, having played a big role in turning the tide of battle. It's TANK HEAL allowed it to keep the main tank handily topped up as the enemy pounded at the tank in vain, being unable to make a dent in its constantly healed up health pool! 🏆🏆🏆
---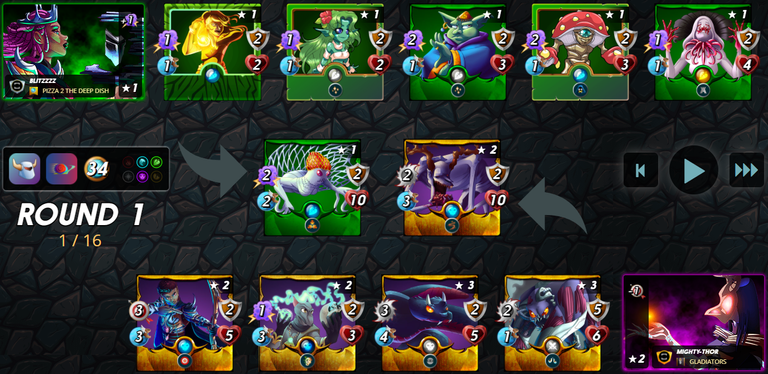 LINK TO FIGHT WITH MY GOBLIN PSYCHIC
---
👯‍♀️👯👯‍♂️LINEUP CHOICES👯‍♀️👯👯‍♂️
---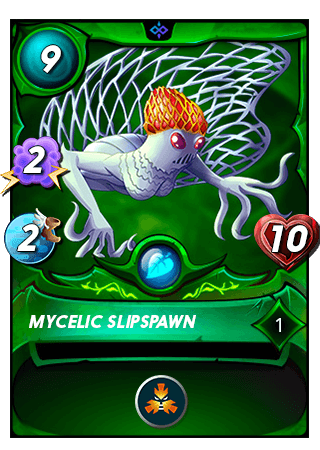 1st CARD SLOT
MYCELIC SLIPSPAWN was chosen to be the main tank. It's High HP and Taunt ability makes it the ideal tank.
---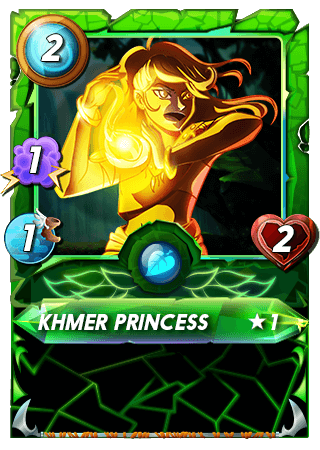 2nd CARD SLOT
KHMER PRINCESS chosen to fill this slot as a 2 mana filler. It's Magic attack synergizes with the team and it can be sacrificed to take 1 hit of any SNIPE/OPPORTUNITY attacks or to take a hit if/when the 1st unit goes down.
---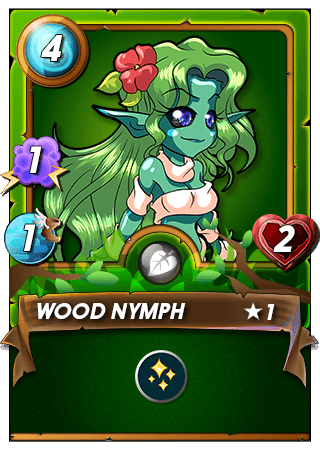 3rd CARD SLOT
WOOD NYMPH chosen to fill this slot as it'll be protected somewhat whilst doing it's part to heal the tank.
---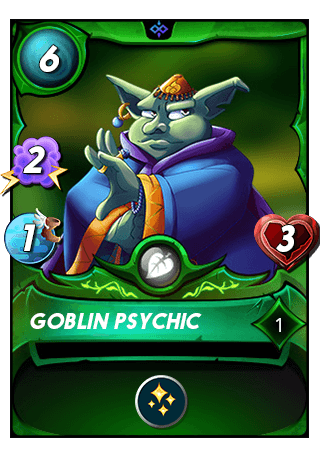 4th CARD SLOT
GOBLIN PSYCHIC is chosen to fill this slot. Being right in the middle protects it from both frontal and sneak attacks.
---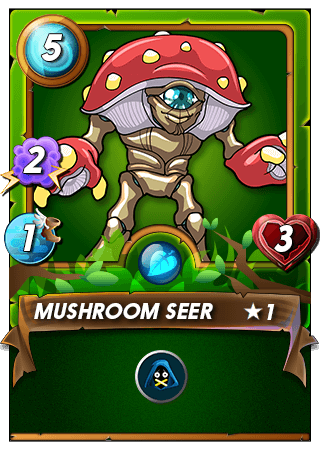 5th CARD SLOT
MUSHROOM SEER sits here to be protected at the back. It has a dual role as a support unit and a damage dealer.
---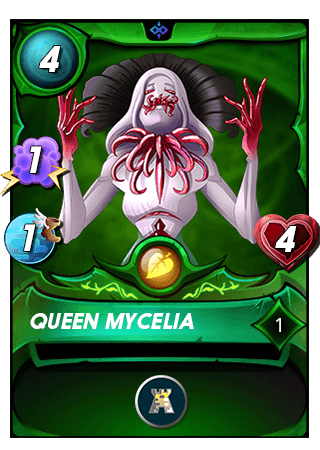 6th CARD SLOT
QUEEN MYCELIA occupies the last slot. Her main purpose is to beef up all units with additional armor. Having a little bit more HP than the other units means it is the ideal card to place in the last slot to defend against sneak attacks too.
---
⚔️🛡Battle Action Report🛡⚔️
---
As you can see, my opponent used the Cursed Windeku as his tank, which was a VERY good choice, being a tanky unit with the Thorns ability. His Disintegrator was the secondary tank, with the demoralize ability pairing well with the main tank to make a very effective anti melee team. The Silent Shav-vi was his sneak DPS to take out any vulnerable units at the back, whilst the Venari Bonesmith and Dhampir Stalker rounded off the rest of his DPS units.
The battle started out very amazingly well for me. My units took out the Crused Windeku before the opponent could even get a hit off. 😱 What was usually a slow team with everyone at 1 or 2 speed, became a lightning fast blitzkrieg with the Reverse Speed ruleset in play. All the units were further protected with the +2 armor provided by Queen Mycelia and the Taunt ability from Mycelic Slipspawn. Any damage taken by the tank was easily negated by the dual healers of Goblin Psychic and Wood Nymph.
Well as you can see here in this GIF of my battle, the results were pretty good!
This was truly an eye opener!
Slowly, but surely, the heals wore down the opponent's team and the battle was won handily! Even though I had a huge scare at the start at the sight of my opponent's team, with his high levels and all Gold Foils, my superior team selection proved to be the edge I needed to eventually overpower my opponent. 💪🏻
---
🔮🔮🔮Hindsight is 20/20🔮🔮🔮
---
Would I have done anything differently? 🤔 Given the situation, where I just had a perfect victory with zero casualties, I think I did field a correct team. I do not think that I would have altered my lineup at all even if I knew it beforehand. 🏆🥇
---
💭🧐💭Ending Thoughts💭🧐💭
---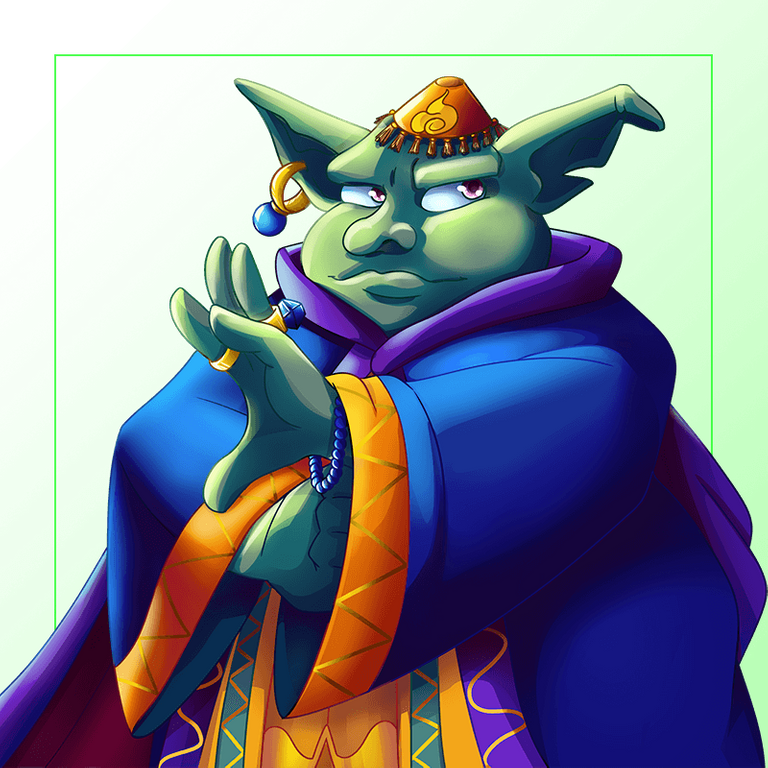 ---
I definitely can appreciate the Goblin Psychic and it's strengths. This is one of those cards which are very strong if surrounded with the proper team. The role it brings to the battlefield will give a player the edge in squeezing out every tiny advantage to get the win. 👍🏻
For any players looking to try out the Goblin Psychic, I hope this article has given you some insight into its potential. 😉
---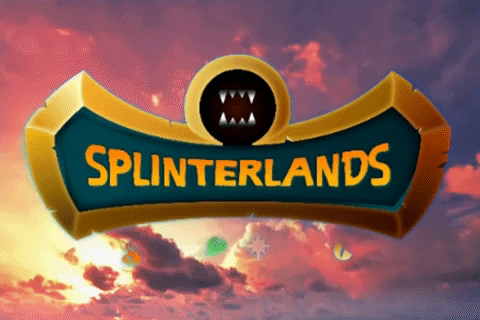 To any new players who wish to explore the world of Splinterlands, do feel free to sign up with my REFERRAL LINK 😊.
---

I am also a member of the SPLINTERLANDS PIZZA guild and the PIZZA community.
PIZZA is an active gaming and creative arts crypto community on the HIVE blockchain. Popular games on HIVE like SPLINTERLANDS, RISING STAR, EXODE, HASHKINGS have their own PIZZA communities here.
Don't miss out more events that are always being organised. Join the PIZZA DISCORD. Even if you aren't interested in the 💰🍕🎁GIVEAWAYS & AIRDROPS💰🍕🎁, there is a vibrant and friendly community there awaiting you.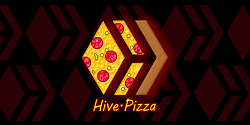 CLICK THIS LINK TO JOIN PIZZA DISCORD!!!
---
---