Splinterlands SHARE YOUR BATTLE Weekly Challenge - 🪄🛡️🪞GRANDMASTER RATHE🪄🛡️🪞 "Your Magic Shall NOT Pass!"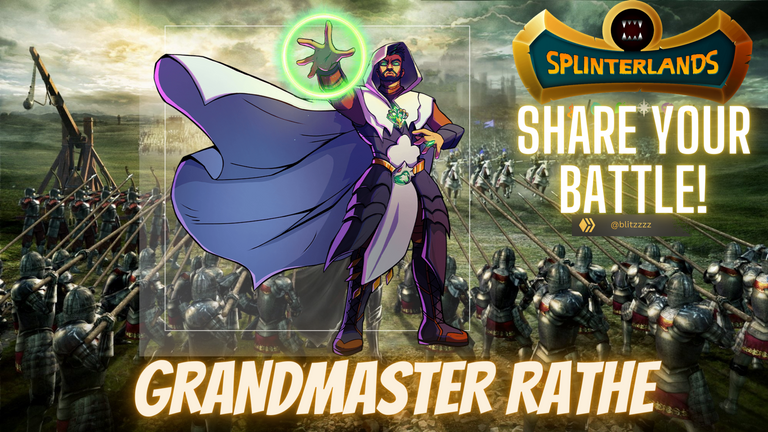 A person with the power to grant protection to your armies from both the physical and magical realm. Not only that, he can also amplify the effects of any reflective damage against you. This person is indeed a dangerous opponent. 😱
This summoner is known to be one of the strongest and most overpowered cards in the game. Many a player have had their armies torn apart just by virtue of him making the difference in battle. I present to you - GRANDMASTER RATHE 🪄🛡️🪞
(I've decided to write about Grandmaster Rathe instead of Legionnaire Alvar for this week's Share Your Battle Challenge. Ironically, I defeated an opponent using Alvar and this battle was simply too amazing not to share it 😉.)
---
Rathe continues to operate from the shadows. If he wants someone killed or taken care of, he will find the right person to handle it for him. In the rare instance when someone doesn't take him seriously, the fight ends very quickly. He is a master forgesmith with skills that far surpassed his father's years ago. He wears inconspicuous weaponry and armor: hidden blades and reinforced clothes; even his cloak turned out to be impenetrable when a goblin tried to put an arrow in his back.
When the Chaos Legion came, Rathe knew he had to take a side… and he chose his own. Regardless of who wins this war, he plans to grow more powerful than ever from it.
🪄🛡️🪞From Splinterlands Lore on GRANDMASTER RATHE🪄🛡️🪞
---
Grandmaster Rathe is a Legendary card released during the Chaos Legion expansion. It has definitely found it's place in many Life decks given its availability and usefulness. It's effects on the battlefield are 🛡️+1 Armor🛡️, 🪄VOID ARMOR🪄, and the 🪞AMPLIFY🪞 ability to all your units. It's summoning cost is, like all other Chaos Legion Legendary Summoners, 6 🧪MANA🧪.
All your units are buffed with an additional +1 Armor, and if that wasn't enough, it is even "upgraded" into the enhanced VOID ARMOR! That makes every unit even tougher than ever against any magic damage. Not only that, all units also deal even more damage from the Reflect Magic and Thorns ability thanks to AMPLIFY.
This could make all the difference if the battle comes down to the wire where the slightest advantage is the fine line between victory or defeat! 👍🏻👍🏻👍🏻
---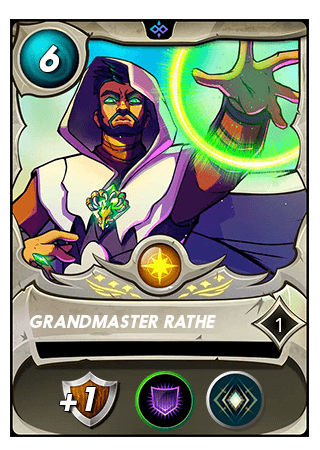 ---
The release of the Chaos Legion gave the Life splinter what is probably one of the most iconic cards in the game! With Grandmaster Rathe's unique ability among summoners to grant so many defensive buffs on your army, he adds an unmatched level of battlefield control in the game. This is definitely what I'd consider game changing! 😱😱😱
---
📊Card Stats by Level📊
---

As a summoner, his stat growth is pretty much as standard as they come along. The higher the level of your summoner, the higher the level of Common, Rare, Epic and Legendary cards can be fielded. Of course, this is also subject to the limits of the League you play in. At the Diamond and Champions League levels, the full power of a maxed level Summoner can be unleashed with no limits! 😱
---
📝Important Rulesets Rundown📝
---
Here, I detail the list of combat rulesets that may affect my choice of team when I use Grandmaster Rathe as my Summoner choice.
---
🤔💭✅❌🤔💭❓❓❓
👍🏻 Attacks will never miss
👍🏻 Gives units more protection.
👍🏻 Units lose all their abilities. But that doesn't really affect the summoner's abilities on the battlefield.
N.A Ranged units can't be used.
N.A. Ranged units can attack from the front.
👎🏻 Units with no flying will die.
N.A
👍🏻 Units can attack from anywhere
N.A. Even summoning cost
N.A. Blast damage
N.A
N.A
Situational. Could add more damage if the opponent's front unit is stunned
👍🏻 Improve units survivability
N.A. Melee units are affected.
👎🏻 Costs 4 or less mana
👍🏻 Doesn't affect summoners
👎🏻 Magic units cannot be used
👍🏻 Gives melee the positional attack advantage enjoyed by ranged/magic
👎🏻 Will die to poison.
N.A. Odd summoning cost
N.A. Slow units become fast
👍🏻 Doesn't affect Summoners
👎🏻 Strips all Summoner abilities
N.A.
N.A
👍🏻 All abilities stay intact
👍🏻 Allows melee to attack even if it's not in the first slot.
👍🏻 It is NOT a Neutral unit.
N.A. All ranged/magic units have the Snipe ability.
👎🏻 Loses all armor.
👎🏻 Only Melee units can be used.
N.A.
---
⚔️🛡️My Battle Showcase🛡️⚔️
---
Let me present a battle I fought recently in which I used Grandmaster Rathe. My opponent used the Chaos Legion Summoner Thaddius Brood from the DEATH splinter as his main pick, while I used the LIFE splinter. 💀 VS 👼🏻
At first glance, it would seem like both of us were pretty evenly matched.
We were both similarly levelled summoners.

our unit levels were likewise similar.

Our unit type choices differed though, with the opponent utilising a mix of melee, ranged and magic units while I went purely for an all melee team. 🤯🤯

Talk about a a fair fight. This battle would be determined on really fine margins indeed 🤣.
I was honestly expecting this to be a really even battle with losses on both sides 😜🤣. Who on earth would expect me to even inflict a total crushing defeat? Would I be able to turn the tide of battle against such an opponent then? Victory or defeat would lie in the small details.
I would say that Grandmaster Rathe was DEFINITELY the MVP of this match, having played it's role in turning the tide of battle.
The amount of defensive buffs it gave my team resulted in me outlasting my opponent in this battle. It definitely provided the edge that I needed to overcome my opponent.
This ensured that the other units could eventually wear down the opponent until victory was achieved! 🏆🏆🏆
---
LINK TO MY FIGHT USING GRANDMASTER RATHE
---
👯‍♀️👯👯‍♂️LINEUP CHOICES👯‍♀️👯👯‍♂️
---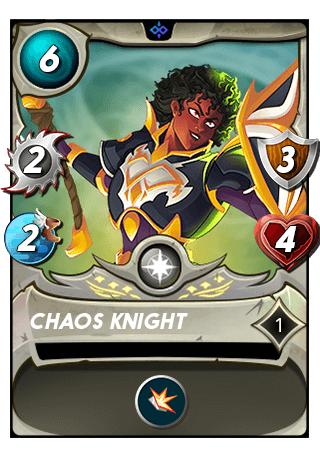 1st CARD SLOT
The Chaos Knight is chosen for this slot. He plays the role of the Main tank perfectly with his great stats and the SHIELD ability allowing him to take a real beating.
---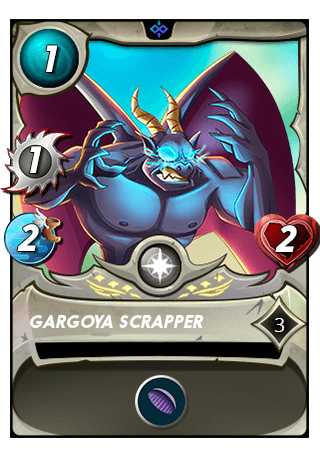 2nd CARD SLOT
The Gargoya Scrapepr takes up the second slot. At 1 mana cost, he is simply cannon fodder to take 1 hit to give all other units 1 more round of attacks if needed.
---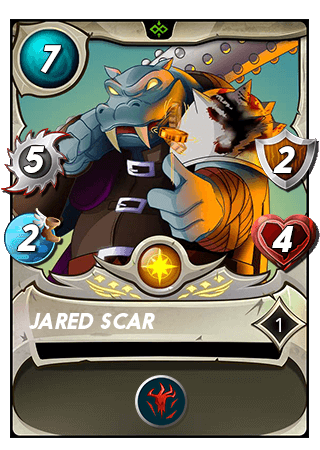 )
3rd CARD SLOT
Jared Scar occupies this slot. With his amazing damage and BLOODLUST ability, this will be the main DPS of my team.
---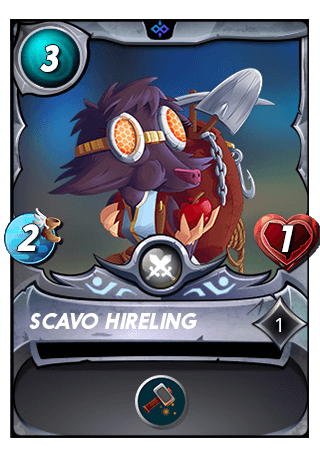 4th CARD SLOT
The Scavo Hireling takes the 4th slot. This frail unit is a is able to REPAIR anyone's armour thus giving the team unmatched lasting power in the field.
---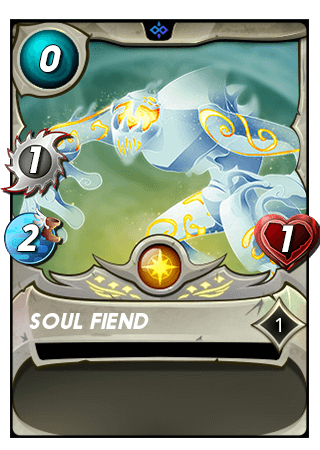 5th CARD SLOT
The Soul Fiend occupies this slot right behind the team. As a 0 mana "free" unit, it's job is to take one hit for the team. Putting it behind protects the backline from SNEAK attacks.
---
6th CARD SLOT
NIL
---
⚔️🛡️Battle Action Report🛡️⚔️
---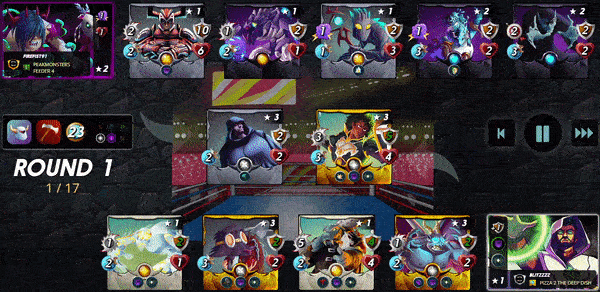 As you can see, both of us fielded very different units in our matchup. The opponent basically went for a mix of Melee, Magic and Ranged based attacks with his Death team, while I went a pure melee team with my Life splinter! 🤣
💀DEATH💀 VS 👼🏻LIFE👼🏻
My opponent used a Chaos Agent as his tank in the 1st slot which was just a decoy sacrificial unit to absorb an attack.
His REAL main tank was the Legionnaire Alvar in the 2nd slot, which was a VERY good choice. given it's high Armour. Not to mention, it also has the VOID ARMOR ability, which ensures it will block off even magic attacks.
This was followed by yet another sacrificial unit in the form of the Corpse Fiend and then a backline healer, the Spirit Hoarder.
The rest of his team was rounded off with 2 ranged/magic DPS-ers.
My choice of the Main Tank was the Chaos Knight who is perfect for this task. He has great tanking stats and the SHIELD ability to ensure he takes less damage from physical attacks.
Just like my opponent, I also used the Gargoya Scrapper and Soul Fiend as sacrificial units in my 2nd and 5th slots.
My main DPS was Jared Scar with his Bloodlust in the 3rd slot. Normally he would be completely ineffective there, but thanks to the ruleset, that is not a problem.
The battle started out with all our units just duking it out pound for pound. It was a pretty low mana game with 23 mana as the limit. The rulesets were ARMORED UP and MELEE MAYHAM.
The first round went as I expected with my Chaos Knight only taking a scratch on it's armour thanks to all the defensive buffs. What was even better was tha tmy Jared Scar scored a kill to get his BLOODLUST rolling!

Round 2 was pretty much a stalemate although his Legionnaire Alvar got whittled down pretty badly whilst my Chaos Knight was barely touched thanks to the REPAIR.

Round 3 saw his Alvar finally fall. The opponent was pretty much doomed by now. His fragile DPS units were all exposed now and they still couldn't make a dent in my tank's armour.

The game was wildly in my favour by now as I mopped up the remaining units with a VERY BLOODLUSTED Jared Scar. 😈

It was all over for the opponent now I eventually scored a perfect victory. 💀💀💀
Talk about doing WAY MORE than it was supposed to!!! 😱🤯🥳 All i expected was for Grandmaster Rathe to possibly provide some buffs to give my team a slight advantage. However it ended up being the entire reason for my PERFECT win! The opponent was simply unable to even deal enough damage to take out my tank with the amount of BUFFS placed on my units thanks to Grandmaster Rathe. 🤣
Well as you can see here in this GIF of my battle, the results were pretty good! 👍🏻👍🏻👍🏻
This was truly an eye opener! 😁🏆
Slowly, but surely, I wore down the opponent's team and the match ended up inflicting a crushing defeat. My team selection proved to be the edge I needed to eventually overpower my opponent. 💪🏻
---
🔮🔮🔮Hindsight is 20/20🔮🔮🔮
---
Would I have done anything differently? 🤔 This might have seemed like a disadvantage at the start but I ended up winning handily. IF I had to use the same cards again, there would be no better lineup than what I had already used for the match. Any other combination MIGHT have resulted in a loss for me. I'm really satisfied with the results against such a worthy opponent. 🏆🥇
---
💭🧐💭Ending Thoughts💭🧐💭
---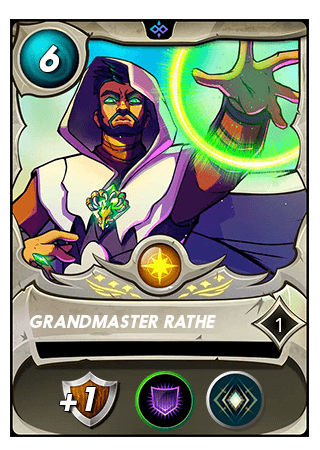 ---
I definitely can appreciate Grandmaster Rathe and it's strengths. This is one of those cards which are very strong if surrounded with the proper team. The role it brings to the battlefield will give a player the edge in squeezing out every tiny advantage to get the win. 👍🏻
For any players looking to try out Grandmaster Rathe, I hope this article has given you some insight into its potential. 😉
---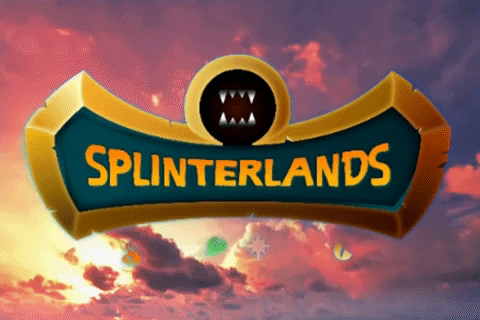 To any new players who wish to explore the world of Splinterlands, do feel free to sign up with my REFERRAL LINK 😊.
---

I am also a member of the SPLINTERLANDS PIZZA guild and the PIZZA community.
PIZZA is an active gaming and creative arts crypto community on the HIVE blockchain. Popular games on HIVE like SPLINTERLANDS, RISING STAR, EXODE, HASHKINGS, WOO, BANG!DEFENSE have their own PIZZA communities here.
Don't miss out more events that are always being organised. Join the PIZZA DISCORD. Even if you aren't interested in the 💰🍕🎁GIVEAWAYS & AIRDROPS💰🍕🎁, there is a vibrant and friendly community there awaiting you.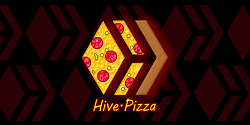 CLICK THIS LINK TO JOIN PIZZA DISCORD!!!
---
---