Splinterlands SHARE YOUR BATTLE Weekly Challenge - ✨🛡️👼🏻PELACOR CONJURER*✨🛡️👼🏻 "Divine light reflecting opponents to death"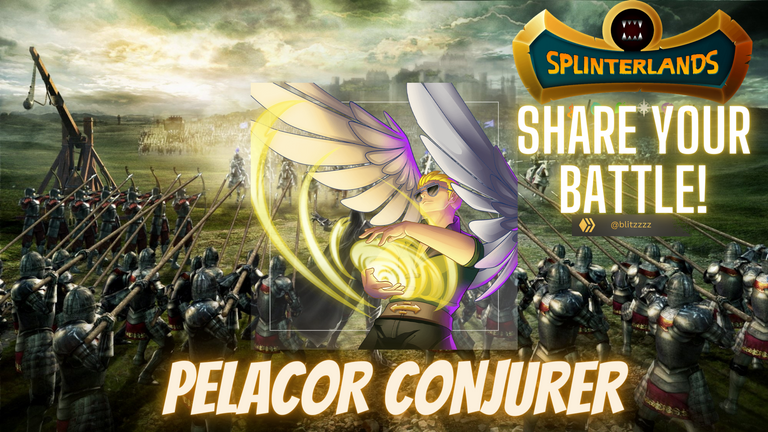 An angel of light in the sky, deflecting all magic thrown against them with their holy aura. ✨🛡️👼🏻
Instead of the Flying Squid, I've decided to review another unit, which actually has the FLYING ability! 😂
Humans have read about angelic beings since the beginning of time. Often time, they're most usually described as beings of bright light with wings that give them flight. As beings of pure holiness, it is only natural that any foul magics will easily be negated by them.
The theme of this week's Share Your Battle Challenge - I give you the PELACOR CONJURER! ✨🛡️👼🏻
---
Pelacor Descent 4 of 4 - The pelacor grew to be highly intelligent and creative beings. They could imagine incredible things, and many of them were not satisfied with their soldierly lives on Solaki. From their home in the sky, they can also plainly see the disturbance in the rift in the stars. Because of their upbringing and education in Angel traditions, the pelacor are fully aware of the implications of the rift's opening. Feeling an overwhelming need to defend the Planet of their ancestors, a large group of pelacor organized an escape from military service. Nearly a thousand pelacor stole army grade plumton ventilators and left for the ground. Most of them didn't make it.
✨🛡️👼🏻From Splinterlands Lore on PELACOR CONJURER✨🛡️👼🏻
---
The Pelacor Conjurer is a Common Reward card that is currently in the Rewards pool. It has definitely found it's place in many Life decks given its availability and usefulness. At LEVEL 1, it has 0 ⚔️ATTACK⚔️ and 3 🏃🏻SPEED🏃🏻, with 0 🛡️ARMOR🛡️ and 4 ❤️HEALTH❤️. It has the FLYING ability at this level. It has a very low summoning cost of just 2 🧪MANA🧪.
The Pelacor Conjurer may have pretty low stats, but we must realise it is a very low cost card. One could easily slot this into any deck even in low mana rulesets. It even has the extremely powerful anti-physical ability FLYING which makes it a lot tougher than it's low stats make it seem. Flying gives a 25% chance to evade physical attacks against all non-flying units.
The true power of the Pelacor Conjurer is achieved when it reaches level 4. That is when it gains the ability MAGIC REFLECT. Suddenly, this humble unit costing only 2 mana becomes more than just a cheap physical tank. It gains the ability to damage all magic units who attack it! 😱
This could make all the difference if the battle comes down to the wire where the slightest advantage is the fine line between victory or defeat! 👍🏻👍🏻👍🏻
---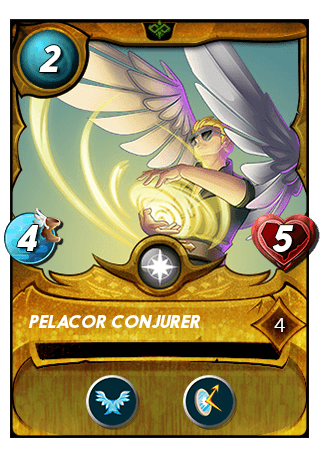 ---
The current batch of Rewards has given the Life splinter a really unique card in the Pelacor Conjurer. There might be other cards with the MAGIC REFLECT ability, but none of them cost as little as the Pelacor Conjurer, nor does any of them have the FLYING ability too 😱! This means the Pelacor Conjurer is both a physical and magic tank of sorts, and for the mere cost of 2 mana!
This ensures that the Antoid Platoon will definitely have it's own place here in all Fire decks. This is definitely what I'd consider game changing! 😱😱😱
P.S: I recommend buying 2 Gold Foils of this card to make it into level 4 where it gains the MAGIC REFLECT ability. Each of these cards only cost about 20+ cents, so you'll be able to acquire a level 4 Conjurer for less than 50 cents! This makes it a really cheap and cost effective card. 🤑🤑🤑
---
📊Card Stats by Level📊
---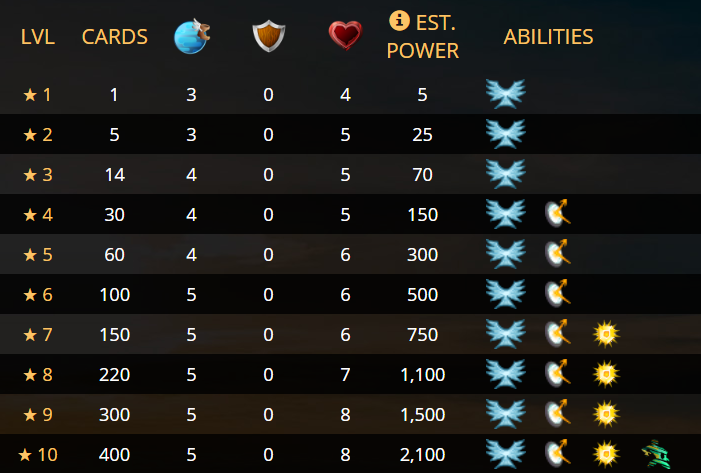 As we can see here, the main purpose of the Pelacor Conjurer is to be a low cost Tank. Every level improves it's tanking stats all the way to level 10. At level 4, it even gets the MAGIC REFLECT ability which will cause it to reflect damage against all magic units who damage it, At level 7, it gains DIVINE SHIELD and finally at level 10, it gains PHASE, thus improving it's tanking ability even further!
---
📝Important Rulesets Rundown📝
---
Here, I detail the list of combat rulesets that may affect the Pelacor Conjurer.
---
🤔💭✅❌🤔💭❓❓❓
N.A. Melee/Ranged attacks will never miss.
👍🏻 Gives itself more protection. Always good, especially for a unit whose purpose is to take hits.
👎🏻 Loses all it's abilities.
👍🏻 Ranged units can't be used.
N.A. Ranged units can attack from the front.
👍🏻 Flying protects it from Earthquake.
👎🏻 It has decent HP, which means it may or may not benefit.
N.A. Able to lend it's attack from any slot.
👍🏻 Even summoning cost
👎🏻 It might evade some damage with it's high speed and flying, but with no attacks of it's own, it is at a disadvantage.
N.A
N.A
Situational. Could add more damage if the opponent's front unit is stunned
👍🏻 Improve it's own survivability
👍🏻 Melee units are affected.
👍🏻 Only units which cost 4 or less mana can be used.
👍🏻 No Legendary cards can be used.
👍🏻 Magic units cannot be used
N.A. Gives melee the positional attack advantage enjoyed by ranged/magic
👎🏻 Will die to poison.
👎🏻 Only odd summoning cost units can be used.
👎🏻 Slow units become fast and fast units become slow.
👍🏻 Only common/rare cards can be used.
👍🏻 Doesn't really depend on Summoner abilities
👍🏻 Enrage works out well for units who can take a few hits
N.A
👍🏻 All units abilities stay intact
👎🏻 Allows melee to attack even if it's not in the first slot.
👍🏻 It is NOT a Neutral unit.
N.A. All ranged/magic units have the Snipe ability.
👍🏻 Units lose all their armor.
👎🏻 Only Melee units can be used
N.A.
---
⚔️🛡My Battle Showcase🛡⚔️
---
Let me present a battle I fought recently in which I used the Pelacor Conjurer. My opponent used the WATER splinter, while I went for the LIFE splinter. 🌊👼🏻
At first glance, it would seem like my opponent had quite an advantage over me.
His Summoner was Magic Based, while mine was a mix. 😱😱😱. This would result in all my physical armor being completely negated because of the magic attacks.

He was also using the out of print legendary reward card, Ruler of the Seas! This is one of the all time powerful Water cards with the BLAST ability, the only one of it's kind in the Water splinter too! A single copy of this card now goes for a minimum of $50. 🤑
Clearly, in terms of card rarity and card strength, I was completely out matched 😜🤣. Would I be able to turn the tide of battle against such an opponent then? Victory or defeat would lie in the small details.
I would say that the Pelacor Conjurer was DEFINITELY the MVP of this match, having played it's role in turning the tide of battle. It did what it was supposed to do by tanking and holding it's ground (as impossible as that might have seemed, having to face such firepower).
All the while, it was chipping off at the opponent bit by bit. This ensured that the other units could eventually wear down the opponent until victory was achieved! 🏆🏆🏆
---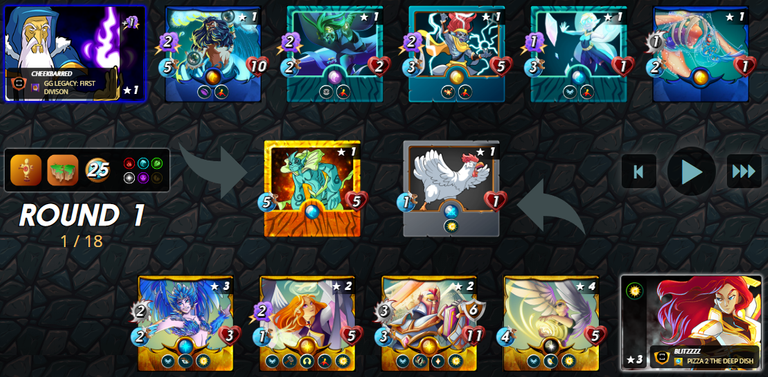 LINK TO FIGHT WITH MY PELACOR CONJURER
---
👯‍♀️👯👯‍♂️LINEUP CHOICES👯‍♀️👯👯‍♂️
---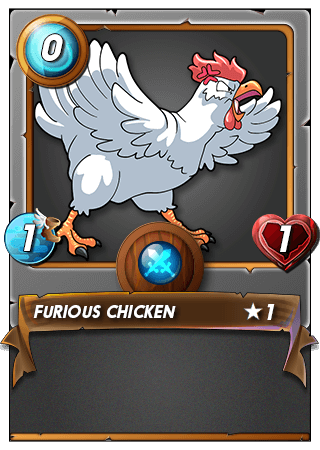 1st CARD SLOT
The Furious Chicken is here as a 0 mana filler sacrificial unit. It's job is to take one hit before dying.
---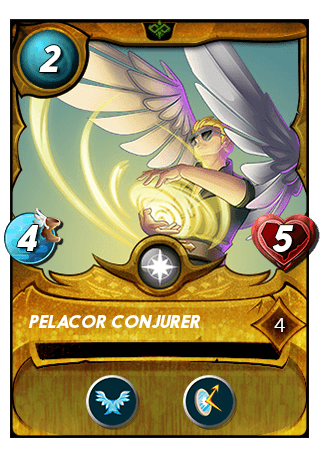 2nd CARD SLOT
The Pelacor Conjurer takes the role of the Main Tank in the SECOND slot here. It has the FLYING and MAGIC REFLECT ability to assist in tanking. It will be the most important role since the backline will fall if the Main Tank goes.
---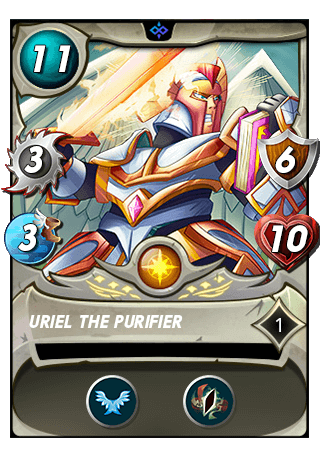 3rd CARD SLOT
Uriel the Purifier fills this 3rd slot for my team. It's job is be yet another tank and also become a source of huge DPS should it move to the frontline.
---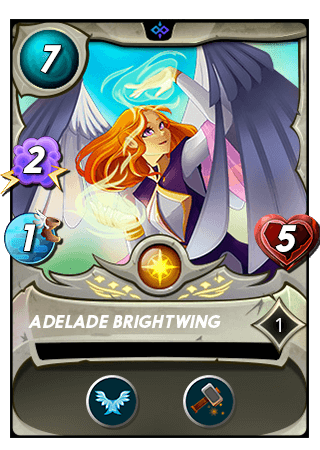 4th CARD SLOT
Adelade Brightwing occupies the 4th slot. It's job is to Repair the armor of any damaged unit. Putting it in the middle here also keeps it safe.
---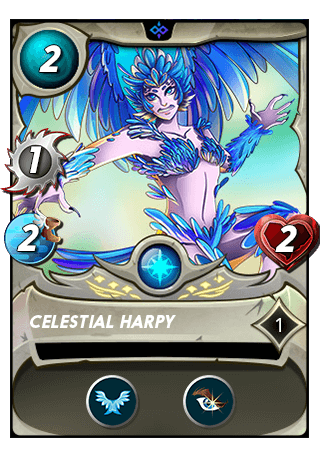 5th CARD SLOT
The Celestial Harpy occupies slot 5. It's Opportunity ability will allow it to attack even from behind here. It's job is to pick off the weakest units in the opponent's team.
---
6th CARD SLOT
NIL.
---
⚔️🛡Battle Action Report🛡⚔️
---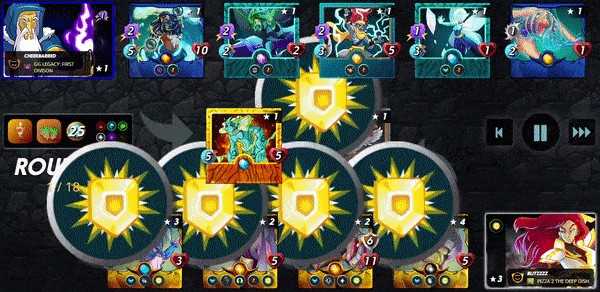 As you can see, both of us fielded very different decks from different splinters.
🌊 WATER 🌊 VS 👼🏻 LIFE 👼🏻
My opponent used Kelp Initiate as his main tank in the first slot which is an AMAZING choice, given how suitable he is as a tank. It has high speed and and good HP, and costs only 2 mana. Although it doesn't do any damage on it's own, it is likely to take more than a few hits with it's stats. His Djinn Oshannus sat behind as the backup tank whilst also being able to attack with it's Magic damage. His Magic DPS trio of the Coral Wraith, Ruler of the Seas and Ice Pixie followed next, safely protected in the middle. The final slot was filled by his Torrent Fiend whose role is most likely to be an anti sneak tank.
My choice of the Main Tank was the Pelacor Conjurer in the 2nd slot, the Furious Chicken in the 1st slot was simply a sacrificial 1 hit unit. Uriel the Purifier occupied the 3rd slot as yet another backup tank with huge dps should he move to the forefront of battle. Adelade Brightwing is safely protected in the 4th slot where her role is to repair the armor of my units. Celestial Harpy rounds it off right at the back, with it's OPPORTUNITY ability to pick off any units.
The battle started out with all our units just duking it out pound for pound. It was a rather low mana ruleset with 25 mana as the limit. Both of us managed to fill out our teams hitting the limit or at least being really close to it.
The first wave ended with my Pelacor Conjurer being the target of all the magic attacks because of the TARGET PRACTICE ruleset. As a result, it died after taking a barrage of hits 😰. Of course, it did not die in vain as it reflected all the damage it took back at it's victims. The Ice Pixie died as a result.

But surprise! Adelade Brightwing resurrected the Pelacor Conjurer and it was back on the battlefield again.

Because this was an EARTHQUAKE ruleset too, the end of the round saw all the NON-FLYING units taking 2 damage. This resulted in the opponent's Coral Wraith dying off too. As all my units save the Chicken were FLYING, I escaped the Earthquake almost completely intact.

Subsequent rounds saw my Adelade Brightwing die, but the Celestial Harpy took out his weakened units too.

The opponent was doomed at this point and the Djinn Oshannus was all he had left on the battlefield.

Face to face with my Pelacor Conjurer (with both of them at 1HP 🤣) the Djinn Oshannus gave his final blast of magic and killed the Pelacor Conjurer, BUT the Pelacor Conjurer then had the last laugh as it reflected the damage and dealt the finishing blow and winning the battle.
Talk about doing WAY MORE than it was supposed to!!! 😱🤯🥳 All I expected from the Pelacor Conjurer was for it to hopefully take some damage for a few rounds before dying. Yet, it did more than that, and lasted through the entire battle AND even reflecting lots of damage back at the opponent. This definitely turned the tide of the battle and tipped the scales in my favour! Surely that made it the Man of the Match for this battle, punching way above it's weight!
Well as you can see here in this GIF of my battle, the results were pretty good! 👍🏻👍🏻👍🏻
This was truly an eye opener! 😁🏆
Slowly, but surely, I wore down the opponent's team and the match was won handily with MOST of my units still left standing. It was a GREAT VICTORY! My team selection proved to be the edge I needed to eventually overpower my opponent. 💪🏻
---
🔮🔮🔮Hindsight is 20/20🔮🔮🔮
---
Would I have done anything differently? 🤔 This might have seemed like a match that would prove to be a challenge at the start because of the opponent's superior cards as compared to my team. However, with such an amazing way of winning with a unit that DOES NO DAMAGE AT ALL ON ITS OWN, IF I had to use the same cards again, there would be no better lineup than what I had already used for the match. Any other combination MIGHT have resulted in a loss for me. I'm really satisfied with the results against such a worthy opponent. 🏆🥇
---
💭🧐💭Ending Thoughts💭🧐💭
---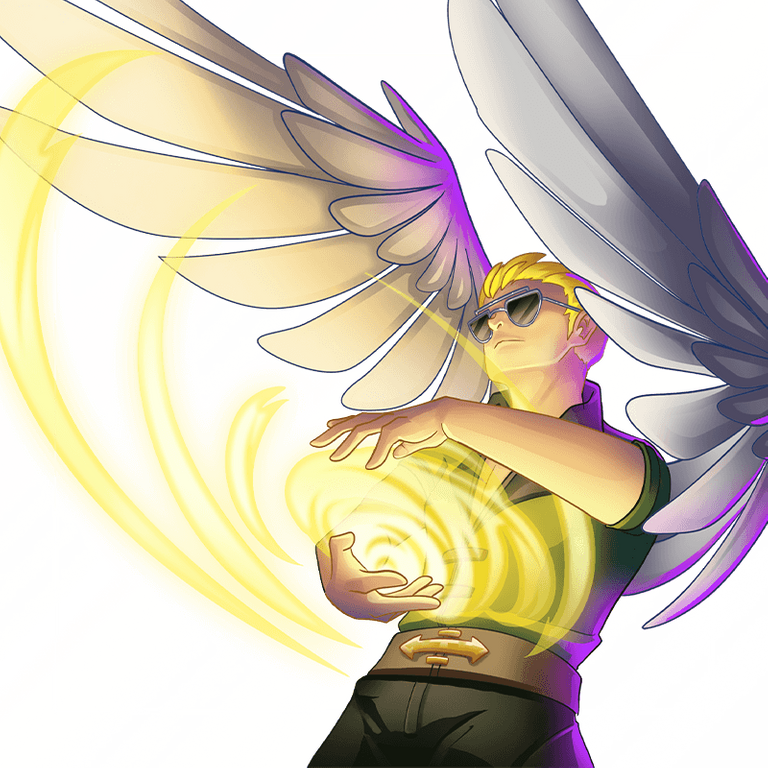 ---
I definitely can appreciate the Pelacor Conjurer and it's strengths. This is one of those cards which are very strong if surrounded with the proper team. The role it brings to the battlefield will give a player the edge in squeezing out every tiny advantage to get the win. 👍🏻
For any players looking to try out the Pelacor Conjurer, I hope this article has given you some insight into its potential. 😉
---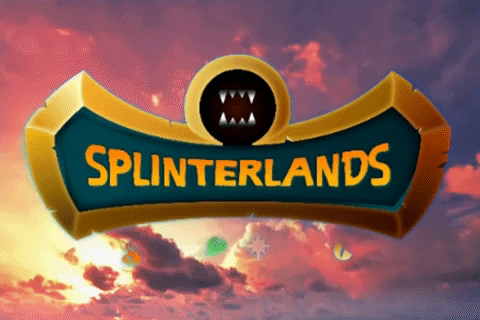 To any new players who wish to explore the world of Splinterlands, do feel free to sign up with my REFERRAL LINK 😊.
---

I am also a member of the SPLINTERLANDS PIZZA guild and the PIZZA community.
PIZZA is an active gaming and creative arts crypto community on the HIVE blockchain. Popular games on HIVE like SPLINTERLANDS, RISING STAR, EXODE, HASHKINGS, WOO, BANG!DEFENSE have their own PIZZA communities here.
Don't miss out more events that are always being organised. Join the PIZZA DISCORD. Even if you aren't interested in the 💰🍕🎁GIVEAWAYS & AIRDROPS💰🍕🎁, there is a vibrant and friendly community there awaiting you.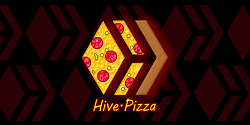 CLICK THIS LINK TO JOIN PIZZA DISCORD!!!
---
---