Splinterlands SHARE YOUR BATTLE Weekly Challenge - 🏜️🐛SAND WORM🏜️🐛 "Shai-Hulud Reborn? He who controls the spice, controls the universe."
---
Bless the Maker and His water.
Bless the coming and going of Him.
May His passage cleanse the world.
May He keep the world for His people.
- Fremen Prayer to Shai-Hulud
For fans of Dune, this phrase should be familiar to you. This Splinterlands creature definitely reminds me of the titanic worms of Arrakis aka Shai-Hulud.
For today's Share your Battle Challenge, I give you the SAND WORM! 🏜️🐛
(Instead of writing about Nerissa Tridawn, I've decided to write about the Sand Worm instead. I've had a battle which showcases his powerful sneak attack ability and it would be a waste not to share this instead. 😱)
Huge Sand Worms have always lived in the desert of Draykh-Nahka, but with the recent uncovering of the various Untamed Prophecies, they have mysteriously grown even larger. They have also become more wild and free, somehow discovering how to escape from the Sands of the Dragon Splinter. Although it has never been witnessed, biologists believe that the Worms have learned how to swim. If they have indeed learned to burrow through water like sand, the Splinterlands will suffer greatly from their proliferation. In Mount Mox battle, Sand Worms can swallow monsters of nearly any size with no need to chew. They can even snatch fliers directly from the air, extending out of the ground even higher than the arena walls.
🏜️🐛From Splinterlands Lore on the Sand Worm🏜️🐛
---
The Sandworm is a Common Neutral Reward card released back in the day. I'd daresay it's the mainstay of MANY decks. At LEVEL 1, it has 5 ⚔️ATTACK⚔️ and 1 🏃🏻SPEED🏃🏻, with 0 🛡️ARMOR🛡️ and 5 ❤️HEALTH❤️. It has the SNEAK ability. It's summoning cost is very high at 9 🧪MANA🧪.
These stats alone make the Sandworm an EXTREMELY hard hitting unit with his massive attack power!
The Sandworm's true strength lies in it's SNEAK ability which allows him to completely destroy the backline of an opponent's army. I would consider this card to be in the HIGHEST TIER of cards for the Neutral splinter! 👍🏻👍🏻👍🏻
---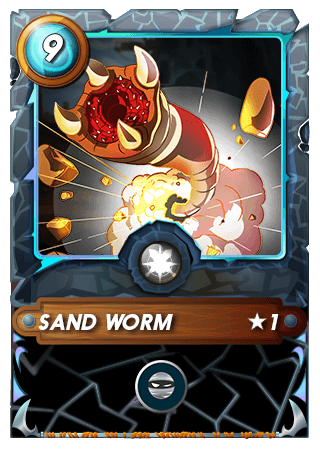 ---
The release of this already out of print Reward edition card has given the Neutral splinter one of the best sneak units aroud. If you're looking for a something to outright destroy anything which is supposed to be safely protected behind, the Sandworm is your go-to guy.
---
📊Card Stats by Level📊
---
As we can see here, the main purpose of the Sandworm is to really hit things hard. Stats wise, his attack and hp gets higher at higher levels, reinforcing it's ability to do what it does best! At levels 6 and above, he gains SNARE AND PIERCING, turning him into an even more dangerous opponent than ever! Almost no one is safe from this monstrosity which can strike from anywhere on the battlefield! 😱
---
📝Important Rulesets Rundown📝
---
Here, I detail the list of combat rulesets that may affect the Sandworm.
---
🤔💭✅❌🤔💭❓❓❓
👍🏻 his attack will never miss
👍🏻 Gives itself more protection. Always good, especially for a melee unit
👎🏻 Loses it's abilities
N.A
N.A
👎🏻 No flying, although with his stats, should last slightly longer.
👍🏻👎🏻? with its hp somewhere in the middle, this depends.
👍🏻 Allows him to target the weakest units.
👎🏻 Only Even cost units allowed.
👍🏻 Will do even more damage.
👎🏻 Units lose their SNEAK and SNIPE abilities.
N.A
Situational. Could add more damage if the opponent's front unit is stunned
👍🏻 Improve it's own survivability
👎🏻 It's a melee unit
👎🏻 Units more than 4 mana cannot be used.
👍🏻 No Legendary units allowed.
👍🏻 Magic units cannot be used
👍🏻 Gives melee the positional attack advantage enjoyed by ranged/magic
👎🏻 Will die in eventually even though it's high HP will allow it to outlast most units.
👍🏻 Only Odd cost units allowed.
👍🏻 Slow and fast units attack speeds are reversed.
👍🏻 Only Common cards allowed.
👍🏻 Doesn't really depend on Summoner abilities
👍🏻 Enrage always works out well for DPS units
N.A
👍🏻 All it's abilities stay intact
👍🏻 Allows him to attack the backline.
N.A
N.A
👍🏻 All units lose their armour.
👍🏻 Only Melee units can be used
👍🏻 Magic attacks hit armor instead of bypassing it usually
---
---
⚔️🛡️My Battle Showcase🛡️⚔️
---
Let me present a battle I fought recently in which I used the Sandworm. My opponent used the WATER splinter against my FIRE splinter! 😱
This was a battle between two opposing factions! Polar opposites pitting Fire against Water! Who would come out victorious at the end of this struggle? 💧 VS 🔥
At first glance, it would seem like my opponent had a HUGE ADVANTAGE over me. In fact, I was ludicrously and completely outmatched! 😭
My Summoner was a level 2 Tarsa while my opponent used a level 4 Bortus! That's 2 complete levels over me!

As if that wasn't enough, ALL his units were maxed out for their level with level 2 Legendaries, level 3 Epics and level 4/5 Rares/Commons.

As for my forces? They were all at a measly level 1, except for a single level 3 Common Rune Crafter.

In effect, it was basically a level 1 VS level 4 Summoner battle.

Given this completely lopsided difference in power, would I still be able to win?
I would say that the Sandworm was DEFINITELY the MVP of this match, having played a big role in turning the tide of battle. It's SNEAK ability allowed it to take just about destroy the enemy from behind which allowed my units to turn the tide of battle. 😱
This ensured that the other units could eventually wear down the opponent until victory was achieved! 🏆🏆🏆
---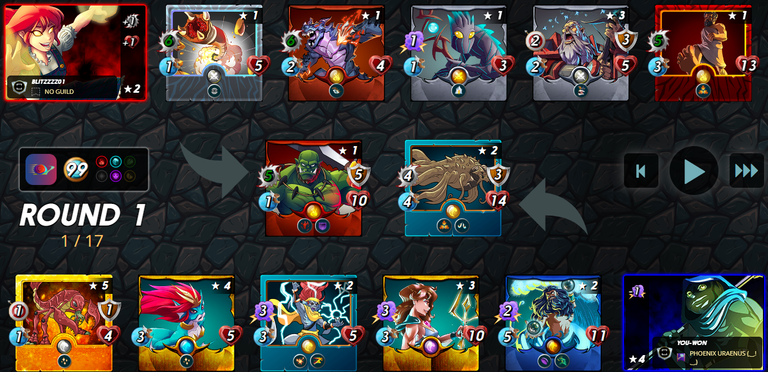 LINK TO FIGHT WITH MY SAND WORM
---
👯‍♀️👯👯‍♂️LINEUP CHOICES👯‍♀️👯👯‍♂️
---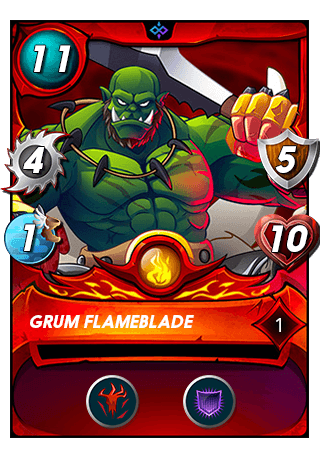 1st CARD SLOT
Grum Flameblade takes the role of the Main Tank in the first slot here. It will be the most important role since the backline will fall if the Main Tank goes.
---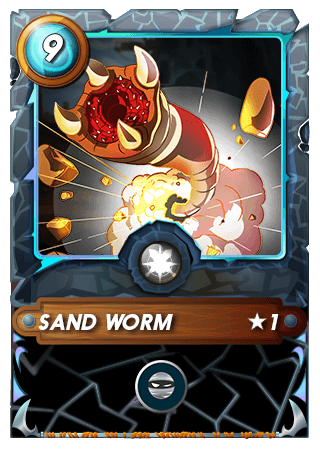 2nd CARD SLOT
The Sandworm occupies this slot. His main role is to be the Sneak DPS and backup tank. Should the Main Tank fall, he will step up to take over the tanking duties.
---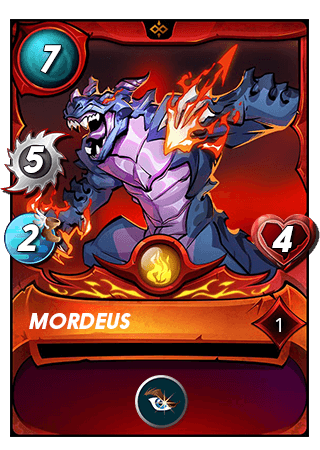 3rd CARD SLOT
Mordeus occupies the 3rd slot. It is a hard hitting OPPORTUNITY attack unit which can easily decimate an opponent's weakest units.
---
4th CARD SLOT
The Spirit Hoarder occupies this slot. It Triage ability allows it to heal my backline units from any Snipe/Sneak/Opportunity damage.
---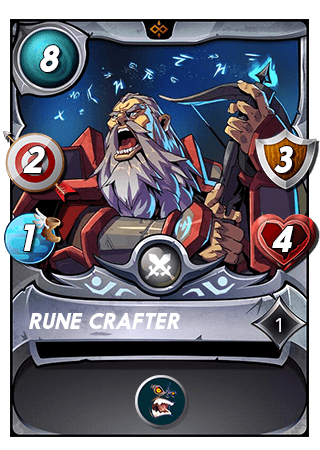 5th CARD SLOT
The Rune Crafter occupies the 5th slot. Safely protected in the backline, it's task is to deal DPS with a bonus against any TAUNT unit thanks to it's FURY ability.
---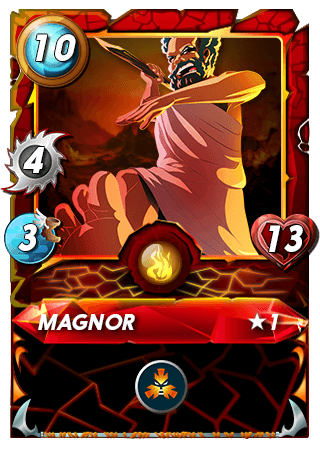 6th CARD SLOT
Magnor occupies the final slot. Even though he has an amazing attack, his only job this time round is to draw damage to himself thanks to his TAUNT ability.
---
⚔️🛡️Battle Action Report🛡️⚔️
---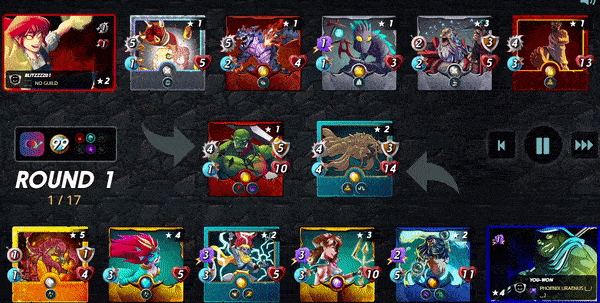 As you can see, both of us fielded VERY DIFFERENT decks! We used opposing splinters and our choice of units were night and day. My opponent went for a magic DPS team while I went for an physical DPS team.
💧WATER💧 VS 🔥FIRE🔥
My opponent used the Kraken as his main tank in the first slot. This is as good a choice as any for a tank. The sKraken has great defensive stats and the TAUNT ability too. This ensures it will draw all damage to it and protect it's teammates.
His next 3 slots were all occupied by Magic DPS-ers with the intention to swarm me with a barrage of attacks.
The final 2 slots were filled with the healers, Crustacean King and Merdaali Guardian. Their role was to keep the beefy Kraken alive.
Overall, I would say this was a pretty decent lineup.
My choice of the Main Tank was Grum Flameblade. He is a perfect candidate for such a task, having a massive amount of Armour and HP. Together with the VOID ARMOR ability and his huge amount of damage, he will also double as DPS for my team. 💪
Next, I had the Sandworm and Mordeus in my 2nd and 3rd slot as my main "attack anywhere" DPS. The 2 of them would be tasked with taking out all the vulnerable units in my opponent's team.
My next 2 slots were filled with my backline healer and a random ranged DPS unit which I picked solely to fill up the slot whilst being able to deal damage from that position.
The LAST slot features Magnor whose job is to protect the backline with his TAUNT ability and high amount of health.
---
The battle started out with all our units just duking it out pound for pound. It was a high mana game with 99 mana as the limit. The rulesets were REVERSE SPEED.
The 1st wave was a complete and utter surprise to me. My hard hitting units basically 1 Hit KO-ed the opponent's incredibly beefy Kraken. This was something that I doubt anyone expected. 😱

The 2nd and 3rd round saw my Sandworm taking out both the backline healers who were now helpless and exposed without the Kraken's Taunt protecting them.

The 2nd round saw my Torhilo getting stunned once again. The opponent's team was almost completely decimated now as only 2 units were left standing after the round ended.

All the other hard hitting Magic DPS units basically crumbled at this point as they were hit by the onslaught of physical DPS.

It was ALL OVER at this point as the game finished with a mopping up of whatever was left.
Talk about doing WAY MORE than it was supposed to!!! 😱🤯🥳 All I expected from the Sandworm was for it to deal some damage as a DPS should. Yet it did more than that and took out all the crucial support units that could have changed the game completely!
It's SNEAK ability really shone through in such a setup against a team that had huge tanky units in the front waiting to be healed by support units from behind.
Surely that made it the Man of the Match for this battle, punching way above it's weight!
Well as you can see here in this GIF of my battle, the results were pretty good! 👍🏻👍🏻👍🏻
This was truly an eye opener! 😁🏆
Slowly, but surely, I wore down the opponent's team and the match was won handily. My team selection proved to be the edge I needed to eventually overpower my opponent. 💪🏻
---
🔮🔮🔮Hindsight is 20/20🔮🔮🔮
---
Would I have done anything differently? 🤔 This might have seemed like a match that would prove to be a challenge at the start because of how much stronger my opponent seemed to be. However, with my dominant VICTORY, IF I had to use the same cards again, there would be no better lineup than what I had already used for the match. Any other combination MIGHT have resulted in a loss for me. I'm really satisfied with the results against such a worthy opponent. 🏆🥇
---
💭🧐💭Ending Thoughts💭🧐💭
---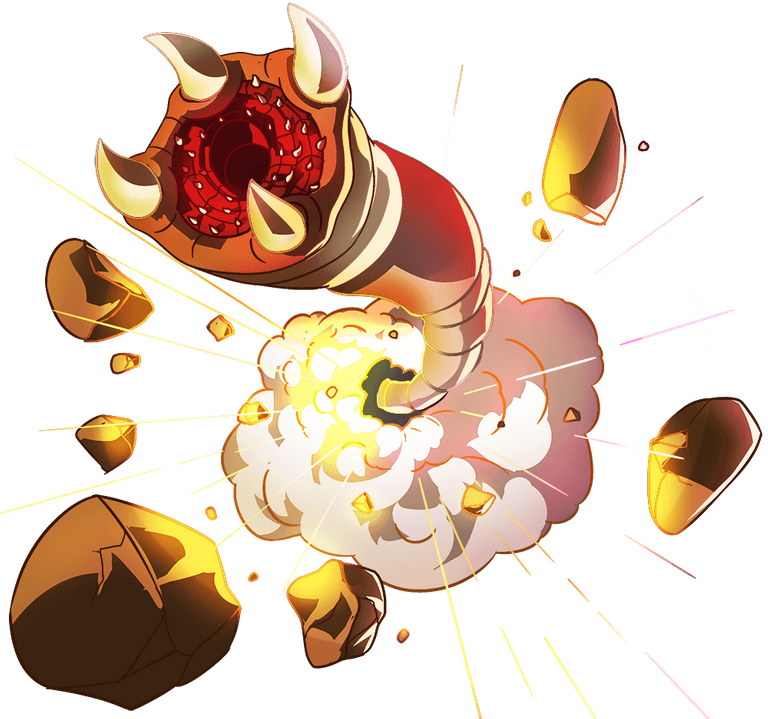 ---
I definitely can appreciate the Sand Worm and it's strengths. This is one of those cards which are very strong if surrounded with the proper team. The role it brings to the battlefield will give a player the edge in squeezing out every tiny advantage to get the win. 👍🏻
For any players looking to try out the Sand Worm, I hope this article has given you some insight into its potential. 😉
---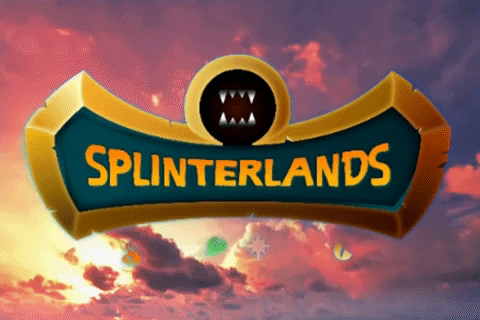 To any new players who wish to explore the world of Splinterlands, do feel free to sign up with my REFERRAL LINK 😊.
---

I am also a member of the SPLINTERLANDS PIZZA guild and the PIZZA community.
PIZZA is an active gaming and creative arts crypto community on the HIVE blockchain. Popular games on HIVE like SPLINTERLANDS, RISING STAR, EXODE, HASHKINGS, WOO, BANG!DEFENSE have their own PIZZA communities here.
Don't miss out more events that are always being organised. Join the PIZZA DISCORD. Even if you aren't interested in the 💰🍕🎁GIVEAWAYS & AIRDROPS💰🍕🎁, there is a vibrant and friendly community there awaiting you.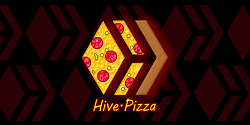 CLICK THIS LINK TO JOIN PIZZA DISCORD!!!
---
---