Buying Chaos Legion packs from the market is a bad investment.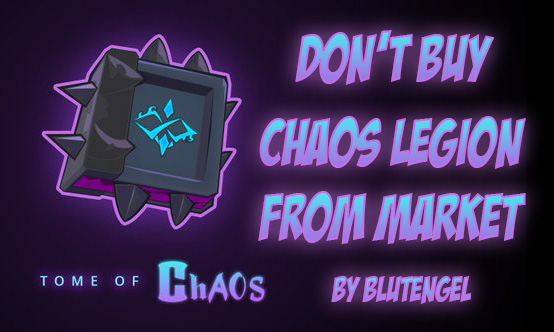 I know it's been said before but there are probably a lot of people that missed the information so I felt that I should do my part to help the people that are actually being ripped off from the secondary markets such as Hive-engine or Atomic Hub. At the moment of writing this, packs are being sold at 8$ and 9$ respectively on those two secondary market. I am going to list all the reasons why it is a bad call to buy them from these sites at the moment.


NO AIRDROPS, NO PROMO CARD, NO TITLE
That's right, you will NOT be getting any of the 14 airdrops cards from those packs.
Promo cards can't be found in any of the packs because they are sent out directly to the people that originally bought the packs
After the promo card release, there will be a total of 13 other airdrops for people that bought packs during presale. Again, you will NOT qualify for those airdrops because again, they are for the people that originally bought the packs.
Again, for the same reason, you won't be eligible for the title if you buy 1000 packs from the market for the same exact reason.

YOU WON'T BE ABLE TO OPEN THE PACKS UNTIL DECEMBER
That's right. According to the last AMA (Ask me anything), the splinterlands team is planning to release Chaos Legion early December. Which means that in the meantime, you won't be able to open the packs to see what cards you got and won't be able to buy/sell them on peakmonsters... but that brings me to my other point:
VOUCHERS WON'T BE NEEDED SOON...
After the presale, 2 million packs will still require vouchers but expect the value of vouchers to drop considerably since you won't be getting any bonuses from those packs. The other reason being that twice the amount of vouchers will be given daily.
After those 2 millions packs are sold, we will be going in the general sale and NO VOUCHER will be required to buy the packs at 4$ for the remaining 12 million packs.

| Packs bought from market 8$ | Packs bought from website 4$ |
| --- | --- |
| No promo card | No promo card |
| No airdrop | Chances of getting every airdrops after your purchase |
| No status | Maverick status if you buy 1000 packs |

WHAT THEY GET THAT YOU DON'T
Even if they sell packs for 10 dollars less than what they bought them originally, the return is still very high.
They will be getting a promo card (Dr Blight, legendary neutral card). Word around is that it might be worth around 500$. So just by getting that card, they are covering their fees, but that's not all...
Guaranteed gold foil promo card every 1000 packs. Pure speculations but might be worth 2500$
SPS Aidrop for the value of the promo cards (probably 3000cp... have to be confirmed)
Title for every 1000 packs
In the end you will be left out with a Chaos Legion pack that you bought for 8$ and that doesn't even have the bonuses that you will get with the pack at 4$. The only reason vouchers are so high in value is because of the bonuses associated with them and because people are buying packs from the secondary markets.

@bulldog1205 already made a video on the same problem a few days ago.
You might want to watch it!

If you have any more questions about Chaos Legion, feel free to leave a comment. I will keep this post updated because I want it to be as resourceful as possible to anyone that is not familiar with how things work in general on the HIVE Blockchain and particularly in Splinterlands.
While you are here, you might want to read the Chaos Legion Mega F.A.Q.
IGN: blutengel
on discord: blutengel78#4366
Cornavirus Chaos Legion pool on discord: https://discord.gg/5VGAWgqtyp
If you haven't started playing yet, don't wait and join in the fun at Splinterlands.com
---
---