Chaos Legion MEGA F.A.Q.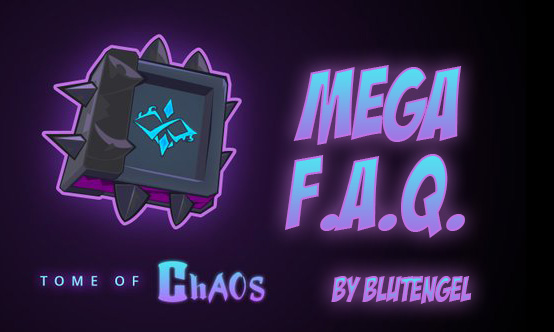 Chaos Legion MEGA F.A.Q.
This is my second post here on Splintertalk. Last time I explained How to sell vouchers easily on the market.
I've been answering a lot of questions concerning the release of Chaos Legion on discord and I have concluded that there is still a lack of information out there. Sure, if someone looks well enough, he will find the answers... But, I entirely agree that we don't necessarily have the time to look around with our crazy schedules. So, I wanted to make another helpful post and I hope that people will be able to find all the answers that they need in here. This post will be updated when I believe that it's missing crucial information. Feel free to tell me if something is missing and what you think about it.


PACKS
Are they going to sell out really quick?

No they will not. During presale, you will need a VOUCHER for each Chaos Legion pack you buy. Only 1 million vouchers will be given during presale over the course of 30 days. There is a total of 15 million packs available. After presale, vouchers will also be needed for the next 2 million packs before going to the general sale in which you won't need vouchers unless you want to get the bonuses for buying in bulk. I expect the packs to sell really fast in general sale though and wouldn't be surprised if they were all gone in a few minutes if the servers can take the load.
Will I be eligible for airdrops if I buy packs after presale?

It depends what airdrop we are talking about. You won't be eligible for the promo card airdrop because you have to buy the packs during the presale to be eligible for that airdrop card. But you will be eligible for all the future airdrops starting the moment you buy the packs.
Only packs bought on the official website are eligible for airdrops.
If you buy packs on the second market, the only bonus you get is the power of the pack (300cp) that counts towards the daily SPS airdrop.
Are the cards in the pack already determined?

No, they are not. They are chosen randomly from the pool of available cards at the moment. The promo card won't be in any of the packs because the only way to get it is through the presale airdrop bonus.
Will I have a chance to get the promo card in the packs I bought during presale?

No you won't. Promo card will only be given through airdrops.
What will be the promo card we are getting from the airdrop?

- Disclaimer: This card, abilities, and stats are still subject to change! -

VOUCHERS
Where can I find my vouchers?

You can find the amount of vouchers you own in the SHOP page on the website. It's the second icon from the top left on Splinterlands website

How do I get vouchers?

By staking SPS. At the moment of writing this F.A.Q., it takes approximately 4600 staked SPS to receive 1 VOUCHER per day. If you want to know how many vouchers you will get with your staked SPS, there is a nice tool on Splintercards website
The formula to know how many vouchers you get is:
(YOUR_TOTAL_STAKED_SPS / TOTAL SPS STAKED BY EVERYONE * 33 333)
How do I sell vouchers?

I recently made a guide on How to sell VOUCHERS easily on hive-engine.
Basically, you have to send them to the hive-engine and then you put your sell order.
How do I buy vouchers?

It's the other way around. You can buy vouchers here on Hive-Engine.com
Prices are in HIVE, not dollars. In order to be able to buy VOUCHERS, you need to buy them with HIVE.
HIVE can be bought in many different exchanges such as Binance. When you buy or sell on the hive-engine, everything is happening in HIVE. I will make a guide in a near future on how I buy HIVE from Binance and send it to my Hive wallet.
How do I send vouchers from hive-engine to my splinterlands account?

If you have VOUCHERS on the hive-engine and would like to bring them into your splinterlands account, visit the SHOP page and scroll down a little until you see the SEND button. When you click on SEND, a window will pop up from which you can either send to or from your Hive address. Select the TRANSFER TYPE to HIVE ENGINE, input how many VOUCHERS you want to bring from the hive-engine to your splinterlands account and then click on TRANSFER IN

The send button is a bit misleading because it is the same button that is used to either send or receive vouchers. It should be named more something like TRANSFER instead.
How do I buy HIVE?

HIVE can be bought on many different exchanges such as Binance. You cannot directly buy HIVE from Binance. First you have to buy BTC, USDT or BUSD and then swap this in HIVE on the exchange. After that, you can withdraw HIVE from your wallet and send it to your hive address which is your username on the HIVE Blockchain. Here's a quick guide on how to do this.
How many SPS airdrop points do I get from Chaos Legion packs?

If you check on the SPS Management page, you will see that you get 300pts for every unopened Chaos Legion pack that you own.
Why are vouchers so expensive?

For a few reasons. First one would be the FOMO (Fear of missing out). Other reason is the value that people think that they can get from the different bonuses associated with the presale. For exemple, you get a guaranteed promo card for every 50 packs you buy during presale. You get a guaranteed gold foil promo card for every 1000 packs you buy and also the title "THE LEGIONNAIRE" which is worth 100 000 airdrop points and is transferable. It's up to you to calculate and evaluate how much those bonuses are worth.
Vouchers will also be needed for the next 2 million packs after presale but people will get twice as many vouchers as they are getting now and you won't be eligible for the promo card or title, so the value of vouchers should depreciate a lot after presale.
The remaining 12 millions packs should be available to buy without any voucher for 4$ on the official website.
Should I hold vouchers for after the presale?

Certainly not. Vouchers are really valuable at the moment so, depending on your strategy, you should either use them to buy packs during the presale or sell them on the market.
Will vouchers be needed for packs after presale?

Vouchers will still be needed for the next 2 million packs following the presale.

GENERAL
Do you get referral rewards from the affiliate program if packs are bought with SPS?

According to Meo Kon Lon Ton from support, you don't.

If you have any more questions about Chaos Legion that you think should be in this FAQ, feel free to leave a comment. I will keep this post updated because I want it to be as resourceful as possible to anyone that is not familiar with how things work in general on the HIVE Blockchain and particularly in Splinterlands.
IGN: blutengel
on discord: blutengel78#4366
Cornavirus Chaos Legion pool on discord: https://discord.gg/5VGAWgqtyp
If you haven't started playing yet, don't wait and join in the fun at Splinterlands.com
---
---