Splinterlands Art Contest Week 182 - Painting Elven Cutthroat (EN/ES)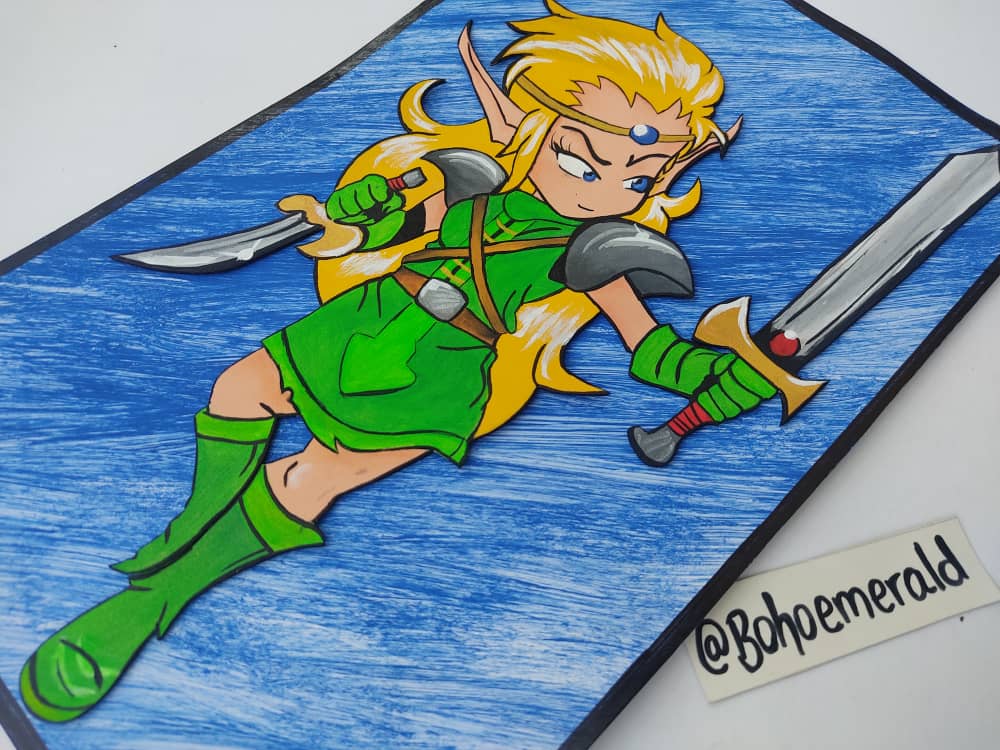 🇺🇸
Hello Splinterlands, to participate this week I have made a kind of painting inspired by Elven Cutthroat, using materials such as foamy and cardboard. I hope you can join me and enjoy my entry for this weekly contest, where I have lovingly prepared a tutorial for you to see and learn how to make this painting with these materials.
🇪🇸
Hola Splinterlands, para participar esta semana he realizado una especie de cuadro inspirado en Elven Cutthroat, apoyándome con materiales como el foamy y el cartón. Espero que puedan acompañarme y disfrutar de mi entrada para este concurso semanal, donde con mucho cariño he preparado un tutorial para que vean y aprendan como realizar este cuadro con estos materieles.
---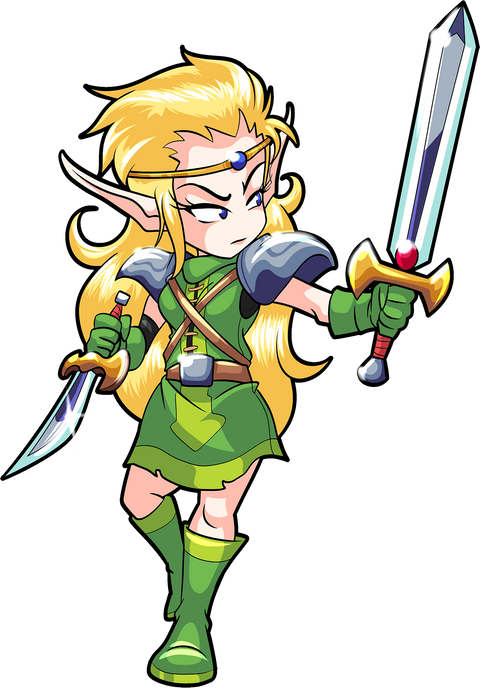 Elven Cutthroat by Splinterlands
---
Elves can be found living in many of the forests of the Splinterlands. They live in the trees, but come down often to collect resources from the forest floor. Though the elves are small and beautiful, they always have a seemingly endless supply of concealed knives, with which they are deadly accurate. Source - Splinterlands
Los elfos se pueden encontrar viviendo en muchos de los bosques de Splinterlands. Viven en los árboles, pero bajan a menudo para recolectar recursos del suelo del bosque. Aunque los elfos son pequeños y hermosos, siempre tienen un suministro aparentemente interminable de cuchillos ocultos, con los que son mortalmente precisos. Fuente - Splinterlands
---
-- Materials --
To make this portrait of Elven Cutthroat, I used a graphite pencil, black pen, highlighters, colors, markers, paints, brushes, glue, foamy, cardboard, and the reference image taken from Splinterlands card market.
-- Materiales --
Para hacer este retrato de Elven Cutthroat, utilicé un lápiz de grafito, lapicera negra, resaltadores, colores, marcadores, pinturas, pinceles, pegamento, foami, cartón, y la imagen de referencia extraida de mercado de cartas de Splinterlands.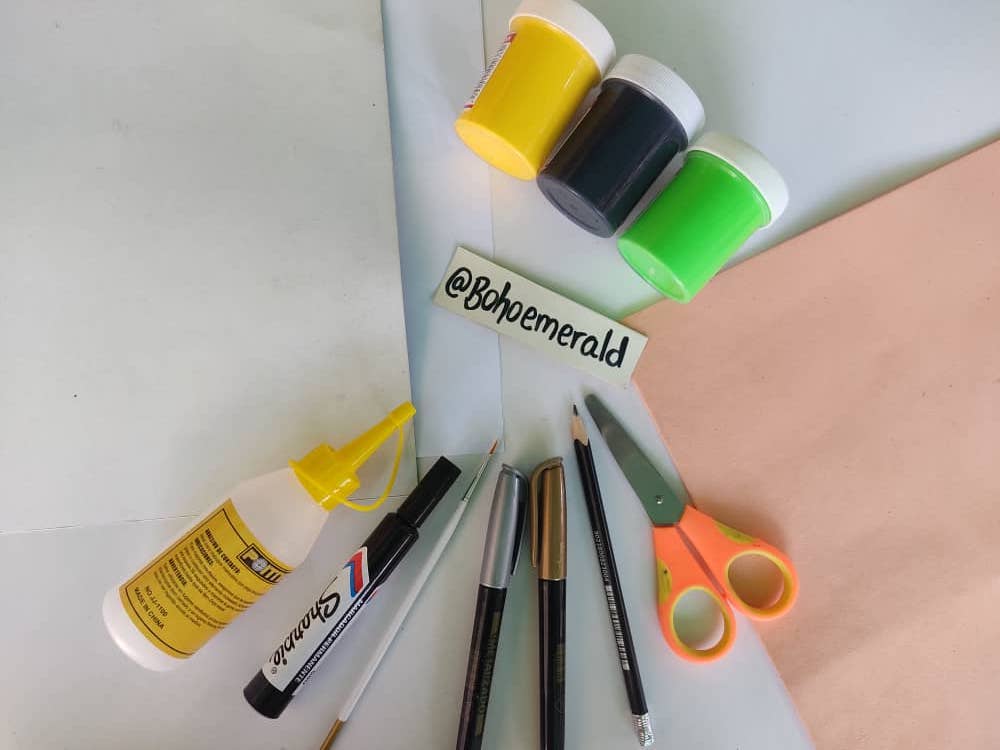 Materials-Materiales
---
-- Step by step --
Draw on a sheet of foami the silhouette of this elf and cut out the whole drawing taking care of every detail: face, body, arms, legs, swords, and armor, taking care of every detail and making it look as close as possible to the reference image.
-- Paso a paso --
Dibuja en una hoja de foami la silueta de este elfo y recorta el dibujo completo cuidando cada detalle la cara, cuerpo, brazos, piernas, espadas, y la armadura cuidando cada detalle y que se parezca en lo mas posible a la imagen de referencia.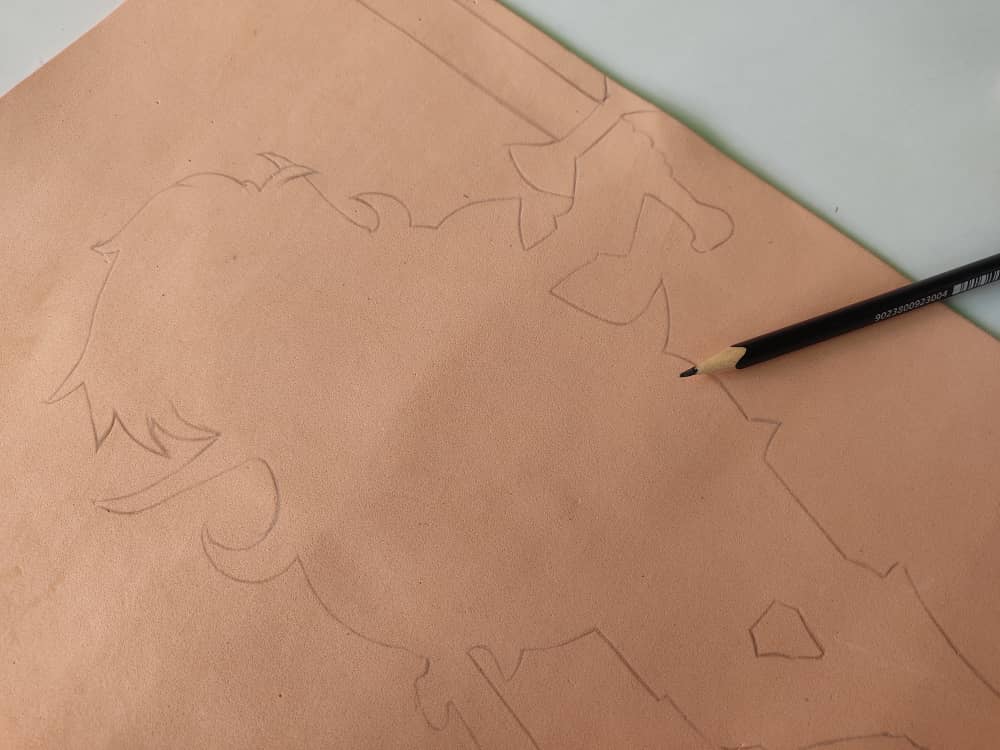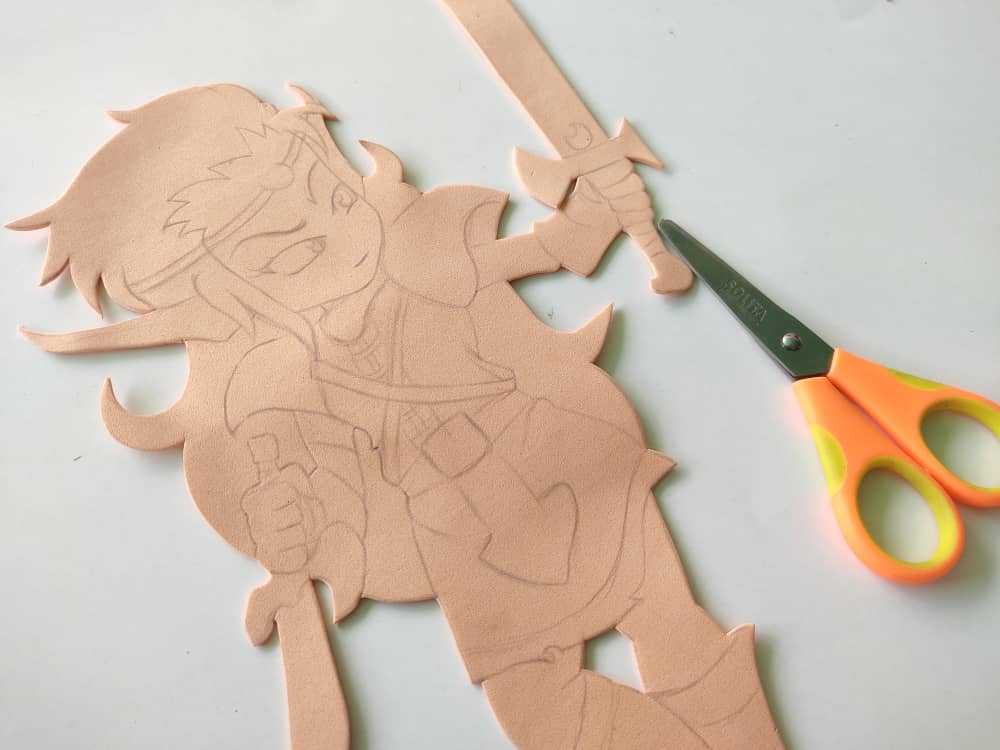 Step-Paso.1
---
Dye the elf's hair yellow, as it looks in the reference image.
Tiñe el cabello del elfo de color amarillo tal cual lo luce en la imagen de referencia.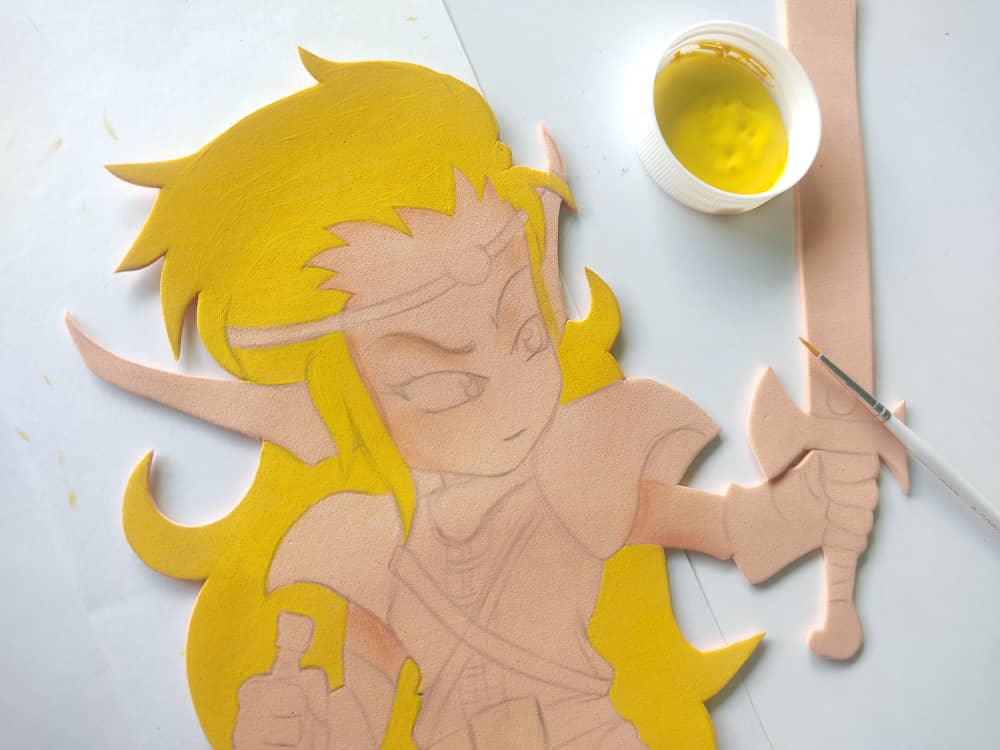 Step-Paso.2
---
Paint the details and features of the face with the finest brush you have and with a little black color, or you can also use black marker.
Pinta los detalles y rasgos del rostro con el pincel más fino que tengas y con un poco de color negro, o también se puede usar marcador negro.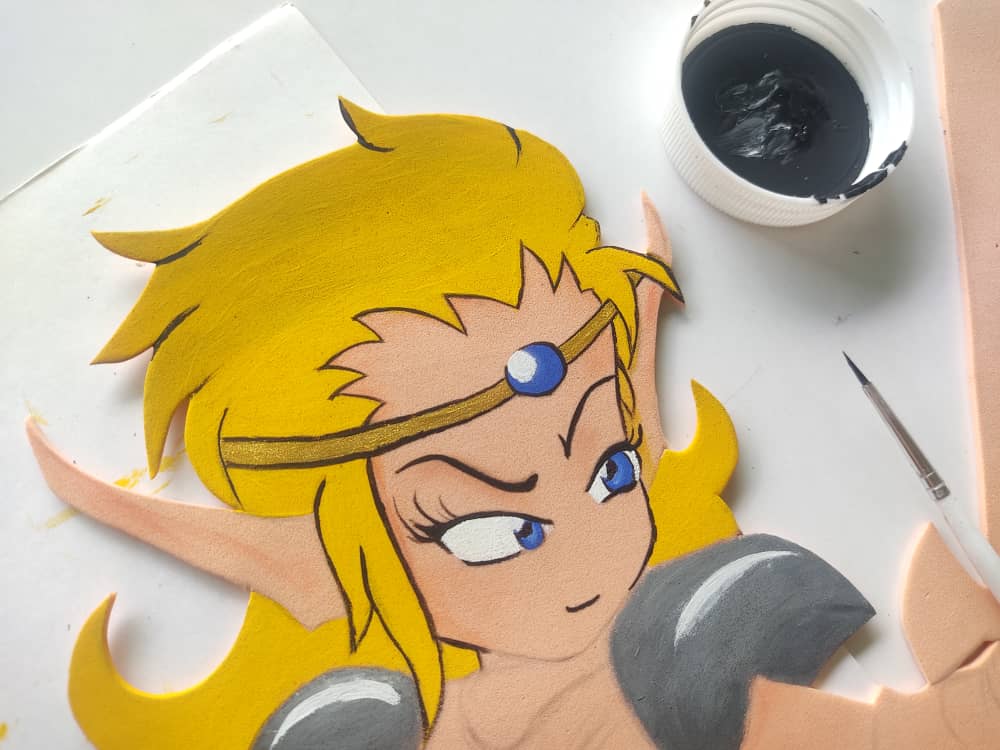 Step-Paso.3
---
Dye the elf's costume green, the swords a silver color to simulate the real color, and with the black brush refine all the details, edges, and shadows.
Tiñe el traje del elfo de color verde, las espadas de un color plateado para simular el color real, y con el pincel negro afina todos los detalles, bordes, y sombras.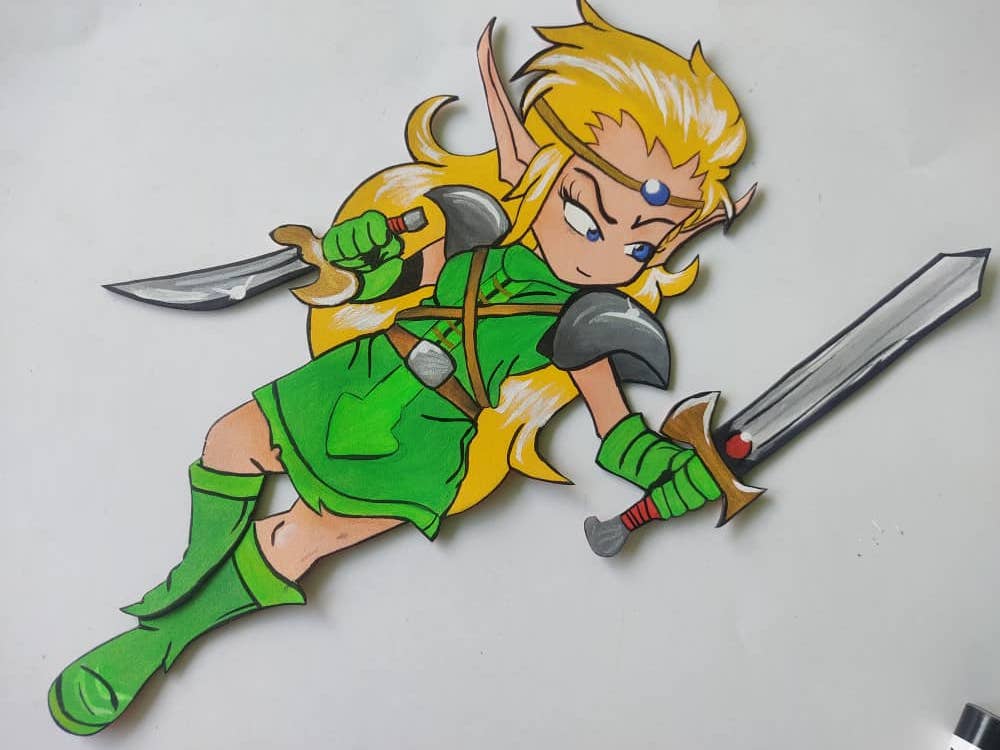 Step-Paso.4
---
Cut out a rectangle in cardboard and paint blue diagonal stripes until you get a colorful and striking background, perfect for this work. Immediately glue the elf on the base.
Recorta un rectángulo en cartulina y pinta rayas en diagonales de color azul hasta obtener un fondo colorido y llamativo, perfecto para esta obra. De inmediato pega a el elfo sobre la base.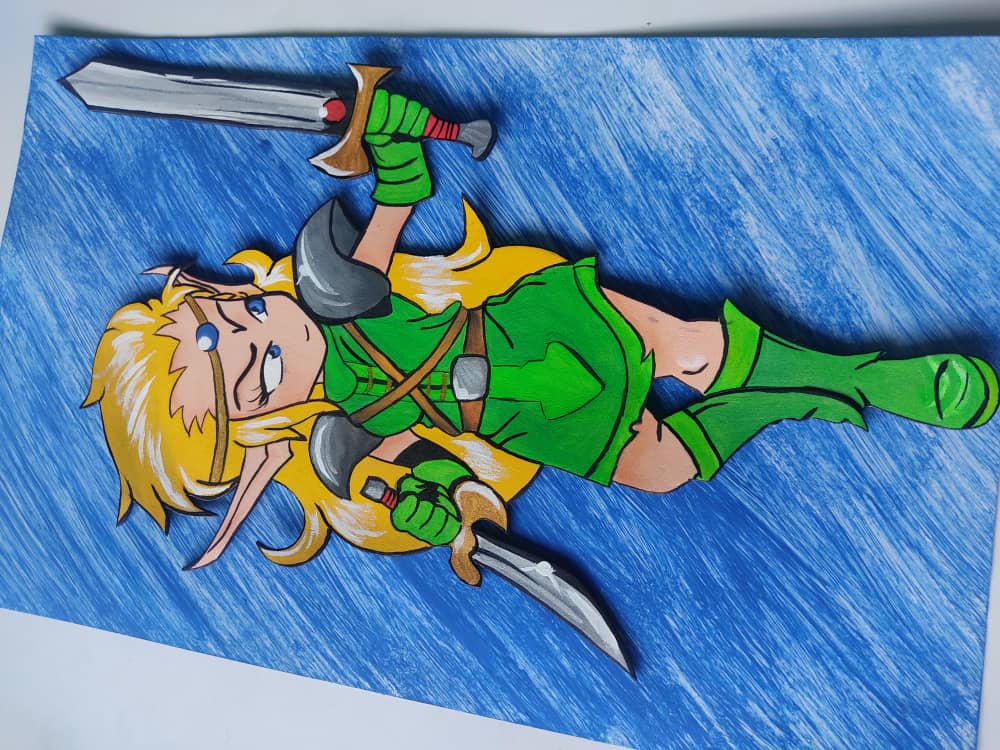 Step-Paso.5
---
Frame the painting by gluing very thin black rectangular strips all around the border. Ready!
Enmarca el cuadro pegando unas tiras rectangulares muy delgadas y de color negro por todo el borde. ¡Listo!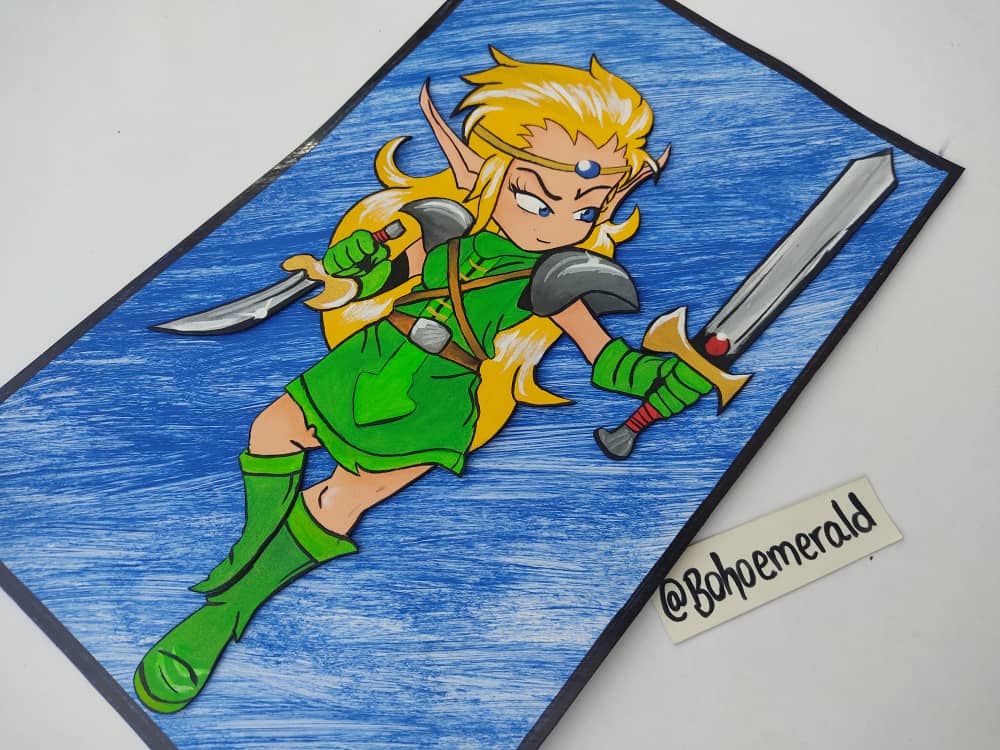 Step-Paso.6
---
. . . .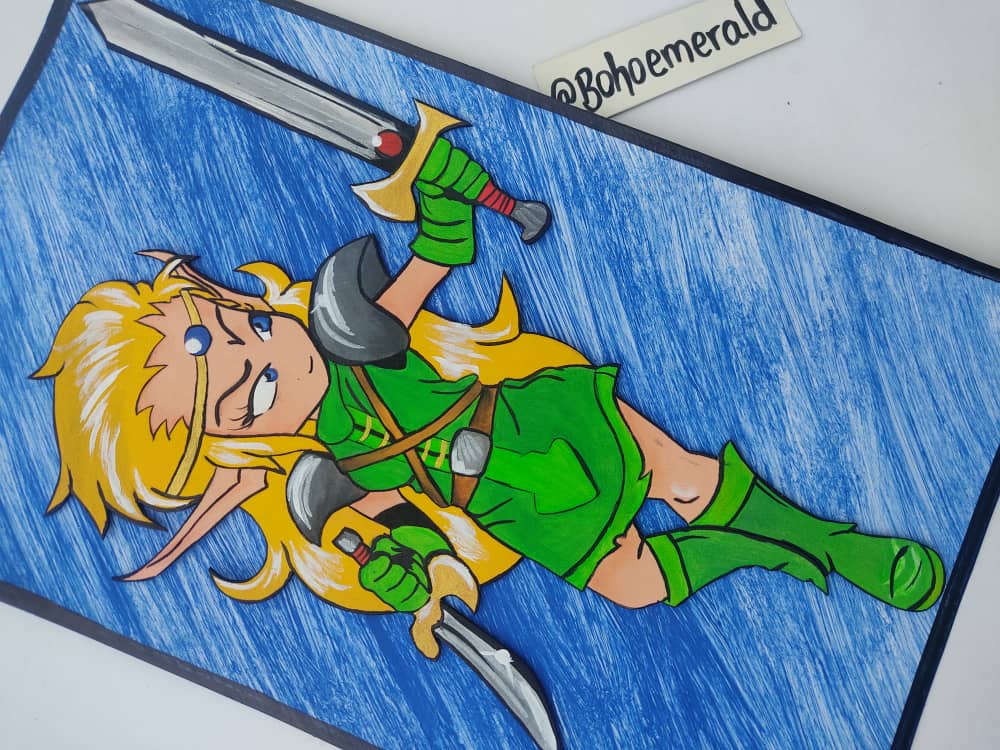 Finished - Terminado
Drawing and painting is one of my favorite activities, because it allows me to improve my concentration, relax, and above all it makes me happy to see the result of what I have been able to achieve. So it is recommended that everyone try to practice this art at home. Even better when we have a great imagination to create these original works without copying anyone. I hope you liked this beautiful elf who lives in the woods of Splinterlands....
Dibujar y pintar es una de mis actividades favoritas, ya que, me permite mejorar mi concentración, relajarme, sobre todo me hace ser feliz al ver el resultado de lo que he podido lograr. Así que es recomendable que todos intenten practicar este arte en casa. Mejor aún cuando tenemos un gran imaginación como para crear estas obras originales sin necesidad de copiar a nadie. Espero que les haya gustado este hermoso elfo quien vive en los bosques de Splinterlands..
I thank you from the bottom of my heart for all your visits and comments, especially for coming to join me in this new adventure and creative publication, I hope you can get to know me a little more, and invite me to be part of your group of friends.
Agradezco de corazón por todas sus visitas y comentarios, sobre todo por venir a acompañarme en esta nueva aventura y publicación creativa, espero que puedan conocerme un poco mas, y que me inviten a formar parte de sus grupos de amigos.
---
God bless you always🙏 bye!
---
---