Splinterlands Art Contest Week 183 - Drawing a Xander Foxwood (EN/ES)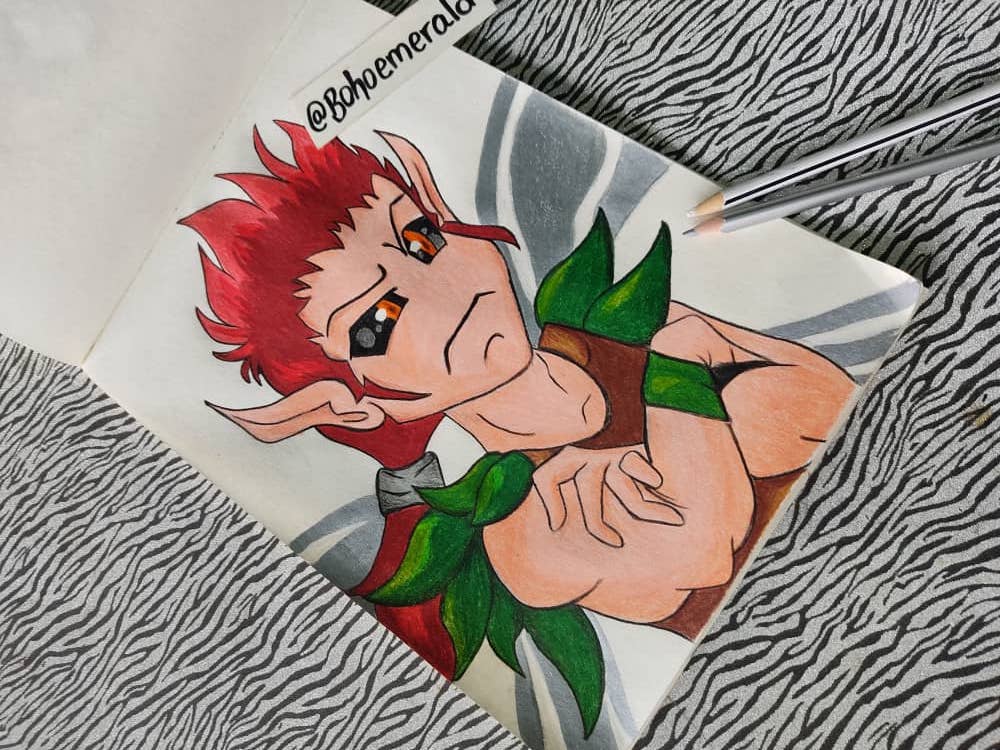 🇺🇸
Hello Splinterlands, to participate this new week I have made a drawing or a kind of portrait of Xander Foxwood, made in my personal drawing blog with the help of graphite colors. I hope you can join me and enjoy my entry for this weekly contest, where I have lovingly prepared a tutorial for you to see and learn how to make this drawing part by part.
🇪🇸
Hola Splinterlands, para participar esta nueva semana he realizado un dibujo o una especie de retrato de Xander Foxwood, hecho en mi blog personal de dibujo con ayuda de colores de grafito. Espero que puedan acompañarme y disfrutar de mi entrada para este concurso semanal, donde con mucho cariño he preparado un tutorial para que vean y aprendan como hacer este dibujo parte por parte.
---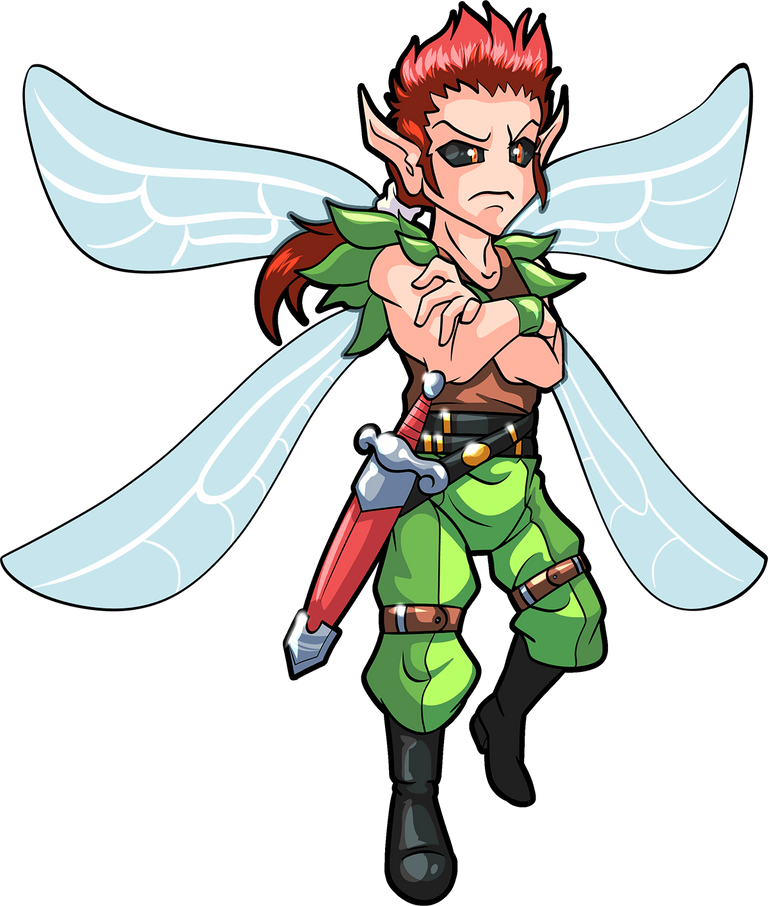 Xander Foxwood by Splinterlands
---
One spring day in Anumün, a tiny (but egotistical) Pixie named Xander Foxwood buzzed into Summoner's Green during one of the Magi's summoner classes. He insisted that in spite of his size and lack of experience, he could summon circles around anyone in the group. A few practice battles proved Xander correct, and now he is one of the leading summoners of Anumün. Source - Splinterlands
Un día de primavera en Anumün, un duendecillo diminuto (pero egoísta) llamado Xander Foxwood entró zumbando en Summoner's Green durante una de las clases de invocador de Magi. Insistió en que, a pesar de su tamaño y falta de experiencia, podía convocar círculos alrededor de cualquier miembro del grupo. Algunas batallas de práctica demostraron que Xander tenía razón, y ahora es uno de los principales invocadores de Anumün. Fuente - Splinterlands
---
-- Materials --
To make this portrait of Xander Foxwood, I used a graphite pencil, black pen, highlighters, colors, markers, paints, brushes, and the reference image taken from Splinterlands card market.
-- Materiales --
Para hacer este retrato de Xander Foxwood, utilicé un lápiz de grafito, lapicera negra, resaltadores, colores, marcadores, pinturas, pinceles, y la imagen de referencia extraida de mercado de cartas de Splinterlands.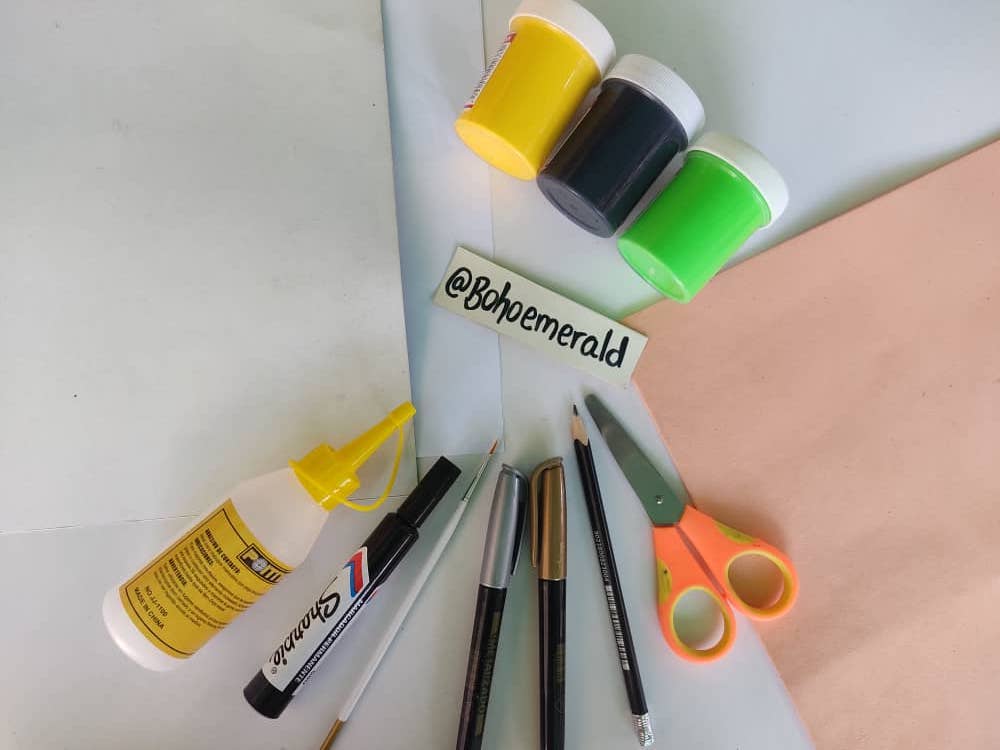 Materials-Materiales
---
-- Step by step --
Draw the grumpy goblin on a sheet of paper. Try to do it with as much love as possible to make it as close as possible to the original image, but this time we will only use from the chest up, so it will be a photo or a portrait like a passport.
-- Paso a paso --
Dibuja es duende gruñón en una hoja. Trata de hacerlo con mas amor posible para que quede lo mas parecido a la imagen original, pero en esta oportunidad solo usaremos desde el pecho hacia arriba, para que sea una foto o un retrato tipo carnet.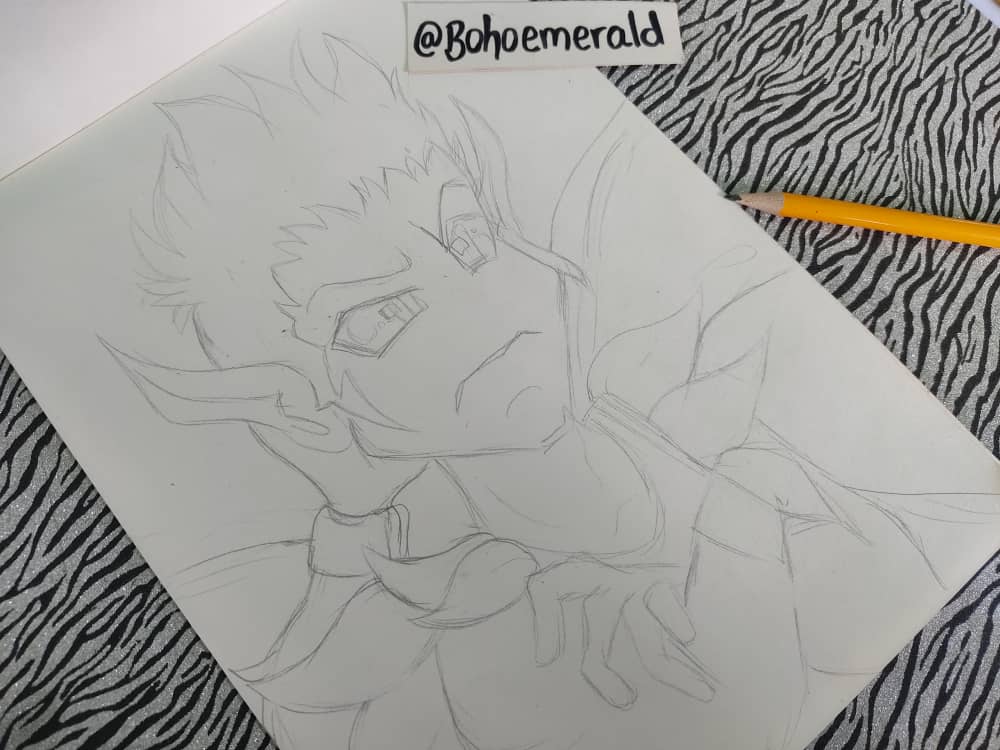 Step-Paso.1
---
Dye her beautiful hair with three shades of reddish colors and use black on the edges and other details to perfect this elf's hair.
Tiñe su hermoso cabello con tres tonos de colores rojizos y utiliza el negro en los bordes y demás detalles para perfeccionar esta cabellera de duende.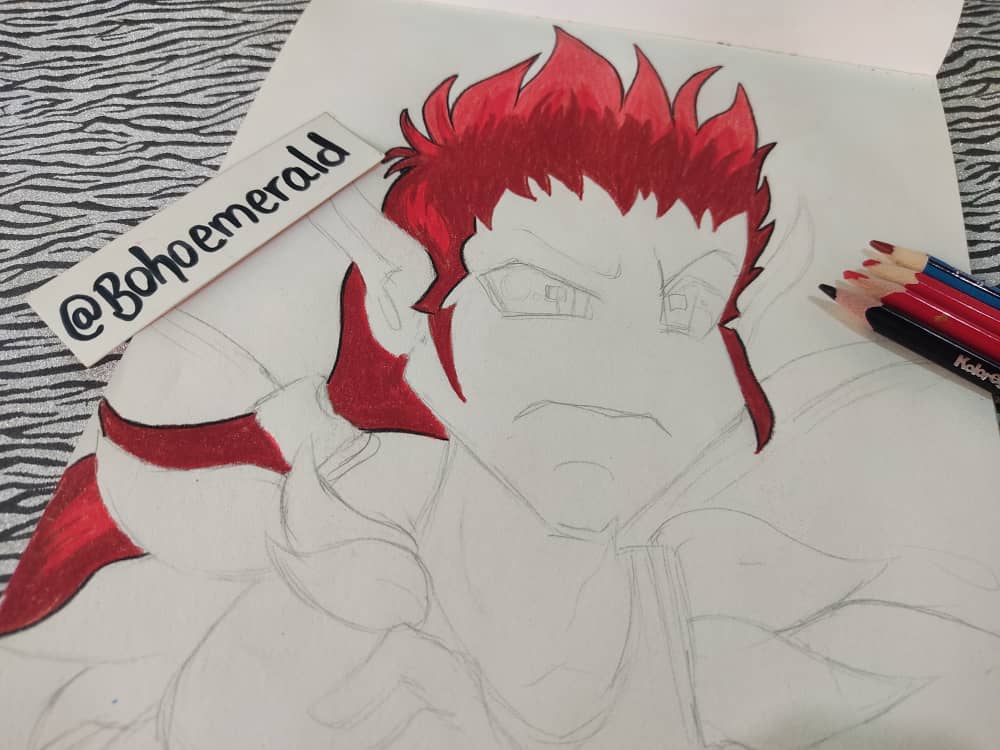 Step-Paso.2
---
Color her face with the flesh or pink color closest to real skin, and her eyes with black, orange, and gray. Highlight every gesture and detail of this grumpy goblin face.
Colorea su cara con el color carne o rosa mas parecido a la piel real, y sus ojos con colores negro, naranja, y gris. Resaltando cada gesto y detalle de esta cara de duende gruñón.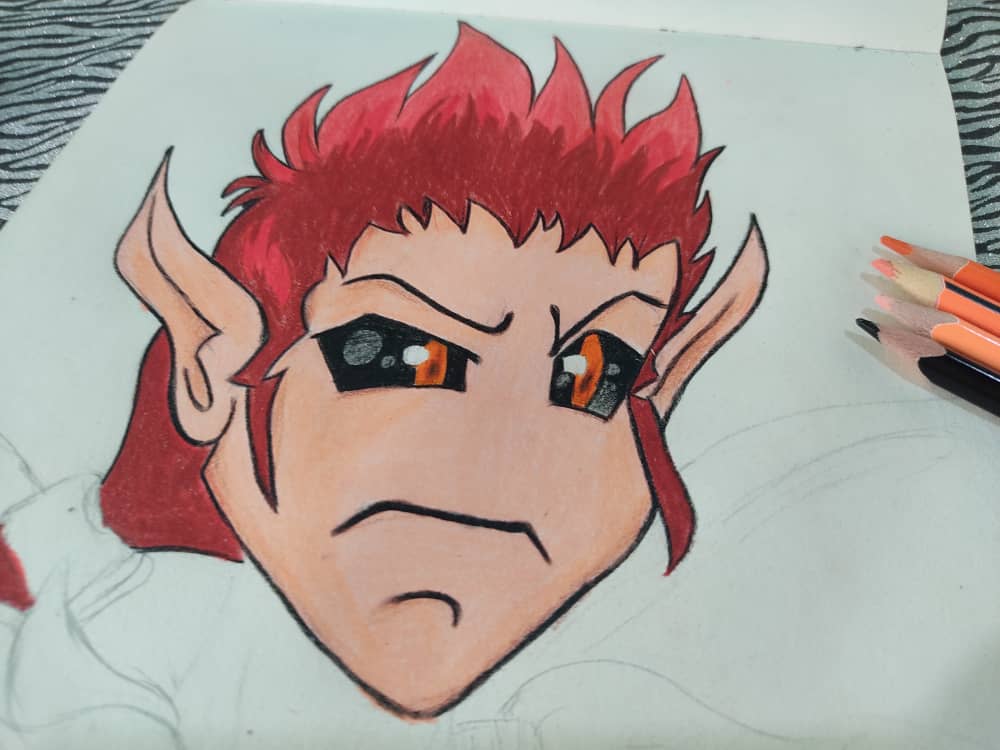 Step-Paso.3
---
Color her arms and neck with two shades of flesh color, one light and one a little darker. And of course black for the lines, shadows, and features.
Da color a sus brazos y cuello con dos tonos de color carne, uno claro y uno un poco más oscuro. Y por supuesto negro para las líneas, sombras, y rasgos.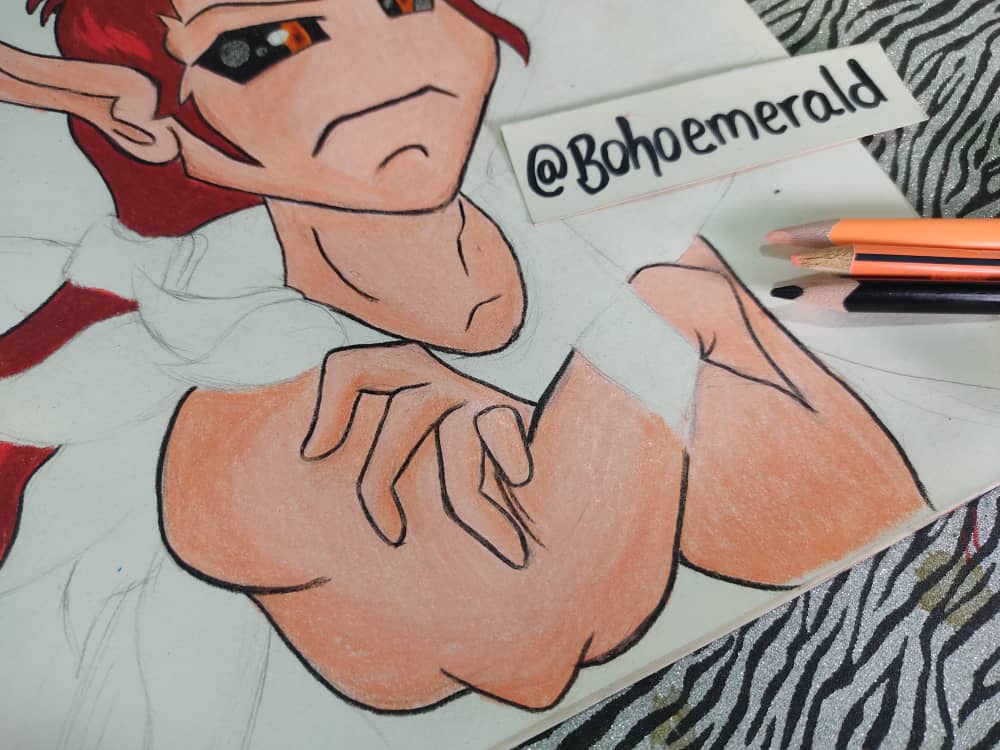 Step-Paso.4
---
He dyes his clothes green to simulate the elf's clothing, he also colors some nice leaves around his shoulders, the leather of the brown suit, and also a green bracelet like the leaves.
Tiñe su ropa de color verde para simular la vestimenta de ese duende, también da color a unas lindas hojas al rededor de sus hombros, el cuero del traje marrón, y también un brazalete verde como las hojas.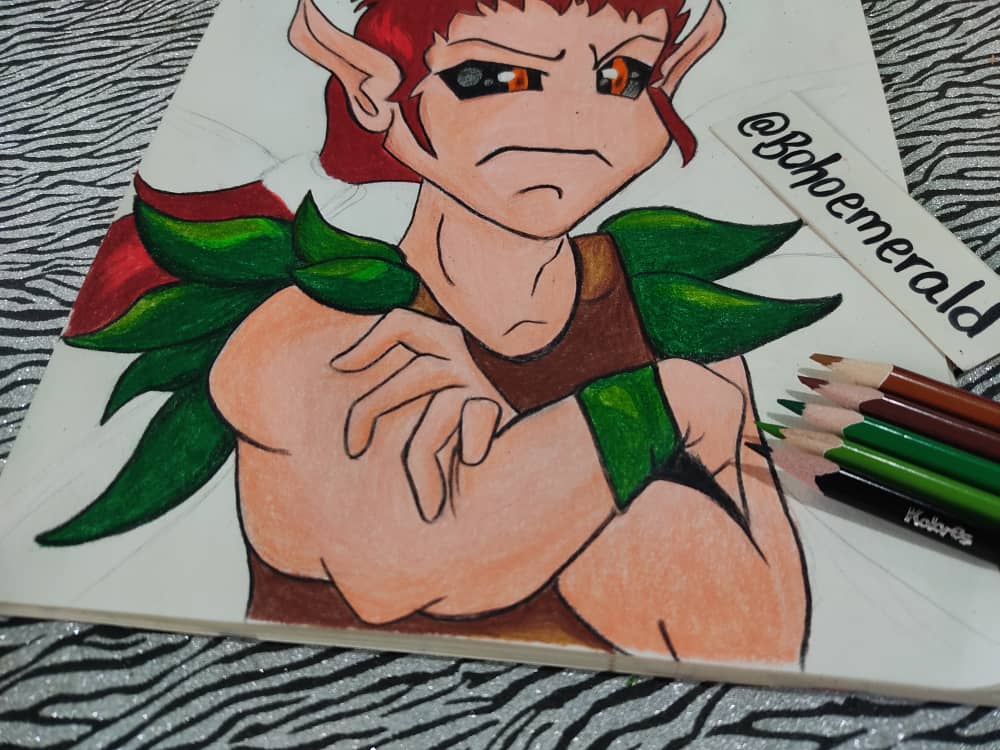 Step-Paso.5
---
Color the wings with gray tones of this elf and a kind of tail in his hair. Ready!
Colorea las alas con tonos grises de este duende y una especie de cola en su cabello. ¡Listo!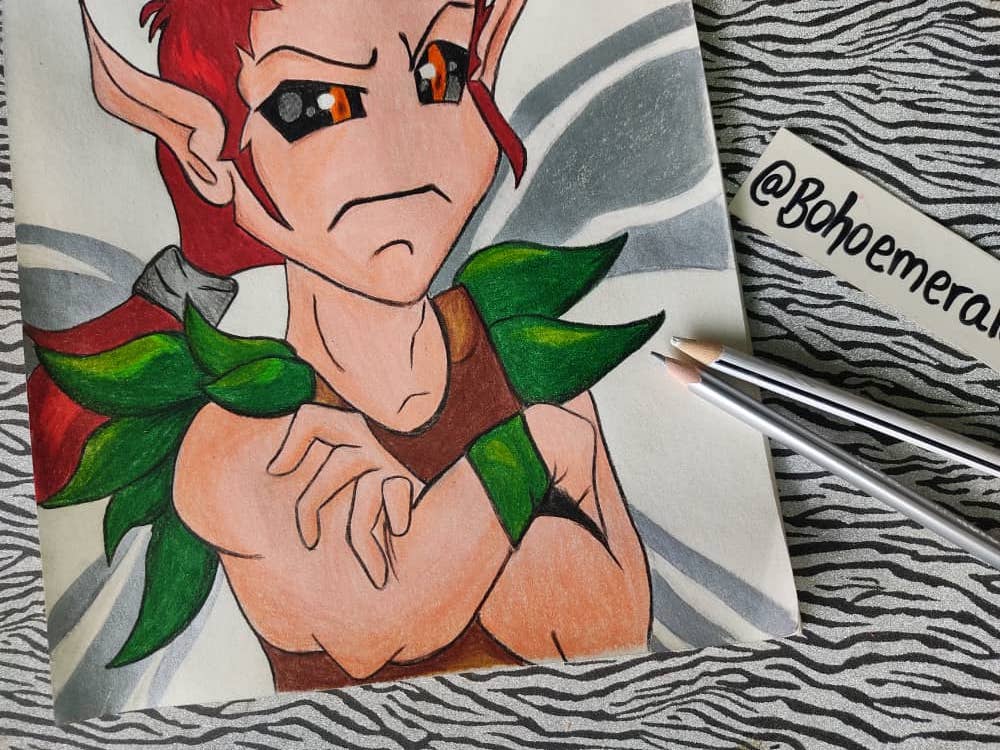 Step-Paso.6
---
. . . .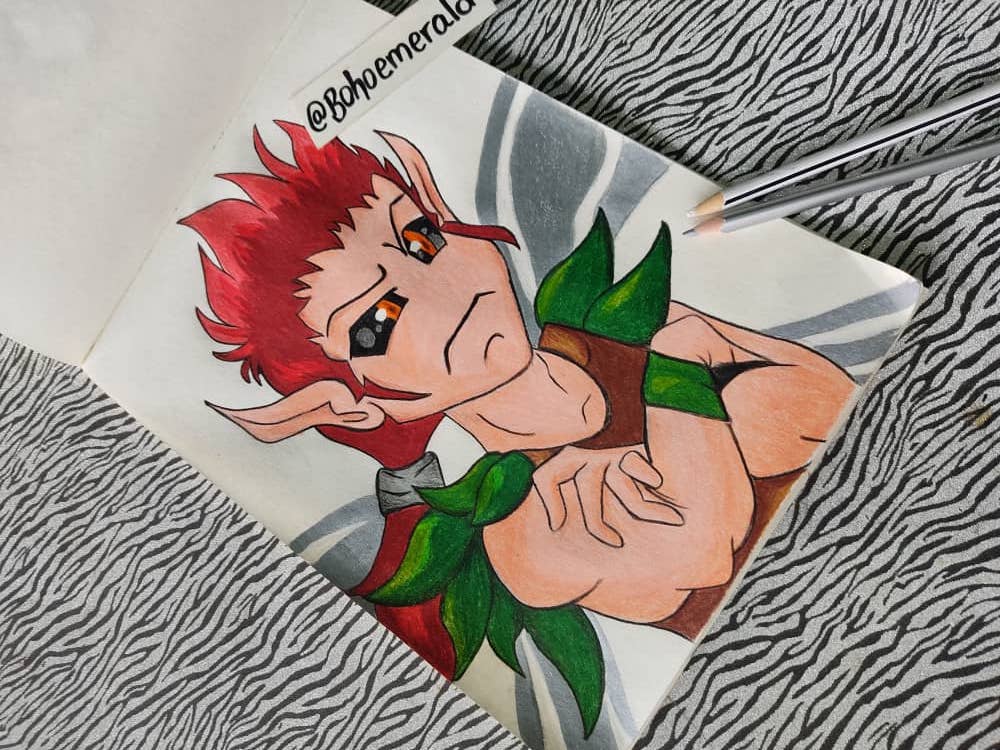 Finished - Terminado
Drawing and painting is one of my favorite activities, because it allows me to improve my concentration, relax, and above all it makes me happy to see the result of what I have been able to achieve. So it is recommended that everyone try to practice this art at home. Even better when we have a great imagination to create these original works without copying anyone. I hope you liked this beautiful elf who lives in the woods of Splinterlands....
Dibujar y pintar es una de mis actividades favoritas, ya que, me permite mejorar mi concentración, relajarme, sobre todo me hace ser feliz al ver el resultado de lo que he podido lograr. Así que es recomendable que todos intenten practicar este arte en casa. Mejor aún cuando tenemos un gran imaginación como para crear estas obras originales sin necesidad de copiar a nadie. Espero que les haya gustado este hermoso elfo quien vive en los bosques de Splinterlands..
I thank you from the bottom of my heart for all your visits and comments, especially for coming to join me in this new adventure and creative publication, I hope you can get to know me a little more, and invite me to be part of your group of friends.
Agradezco de corazón por todas sus visitas y comentarios, sobre todo por venir a acompañarme en esta nueva aventura y publicación creativa, espero que puedan conocerme un poco mas, y que me inviten a formar parte de sus grupos de amigos.
---
God bless you always🙏 bye!
---
---