Splinterlands Art Contest Week 184 - Drawing a Vera Salacia (EN/ES)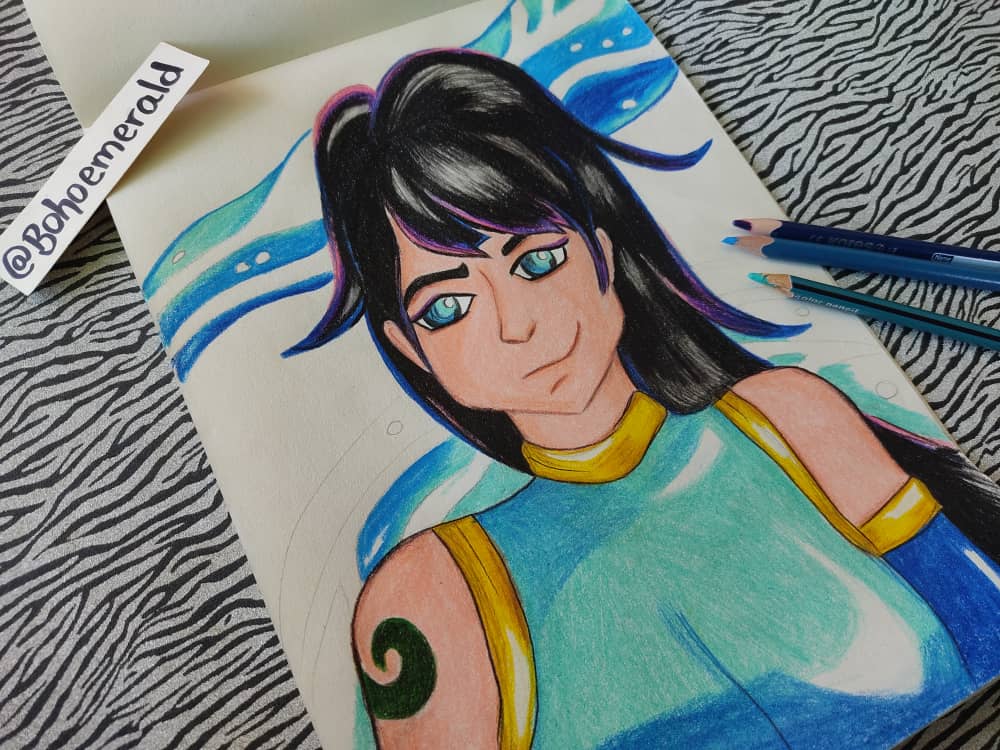 🇺🇸
Hello Splinterlands, in this new week I have made a drawing or a kind of portrait of Vera Salacia, made in my personal drawing blog with the help of graphite colors. I hope you can join me and enjoy my entry for this weekly contest, where I have lovingly prepared a tutorial for you to see and learn how to make this drawing part by part.
🇪🇸
Hola Splinterlands, en esta nueva semana he realizado un dibujo o una especie de retrato de Vera Salacia, hecho en mi blog personal de dibujo con ayuda de colores de grafito. Espero que puedan acompañarme y disfrutar de mi entrada para este concurso semanal, donde con mucho cariño he preparado un tutorial para que vean y aprendan como hacer este dibujo parte por parte.
---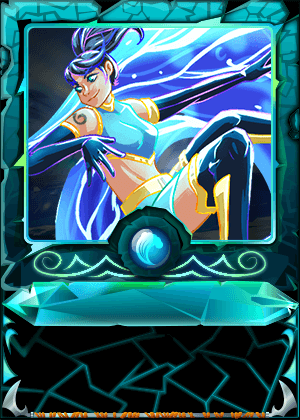 Vera Salacia
---
Vera Salacia keeps her home in the Salt Wastes of ΛZMΛRÉ, not far from the borders of Anenon. While most ΛZMΛRÉans regard the invading salt with fear and loathing, Vera draws her summoning powers from it. She even has special enchanted salts infused into the summoning garments she wears to the Mount Mox tournaments. When asked about her summoning secrets, Vera merely says that she found a special cave in the Frozen Hell. No one knows how she can withstand such extreme low temperatures. Source - Splinterlands
Vera Salacia mantiene su hogar en los Yermos Salados de ΛZMΛRÉ, no lejos de las fronteras de Anenon. Mientras que la mayoría de los ΛZMΛRÉans miran a la sal invasora con miedo y aversión, Vera extrae sus poderes de invocación de ella. Incluso tiene sales encantadas especiales infundidas en las prendas de invocación que usa para los torneos de Mount Mox. Cuando se le pregunta sobre sus secretos de invocación, Vera simplemente dice que encontró una cueva especial en el Infierno Helado. Nadie sabe cómo puede soportar temperaturas tan bajas extremas. Fuente - Splinterlands
---
-- Materials --
To make this portrait of Vera Salacia, I used a graphite pencil, black pen, highlighters, colors, markers, paints, brushes, and the reference image extracted from Splinterlands card market.
-- Materiales --
Para hacer este retrato de Vera Salacia, utilicé un lápiz de grafito, lapicera negra, resaltadores, colores, marcadores, pinturas, pinceles, y la imagen de referencia extraída de mercado de cartas de Splinterlands.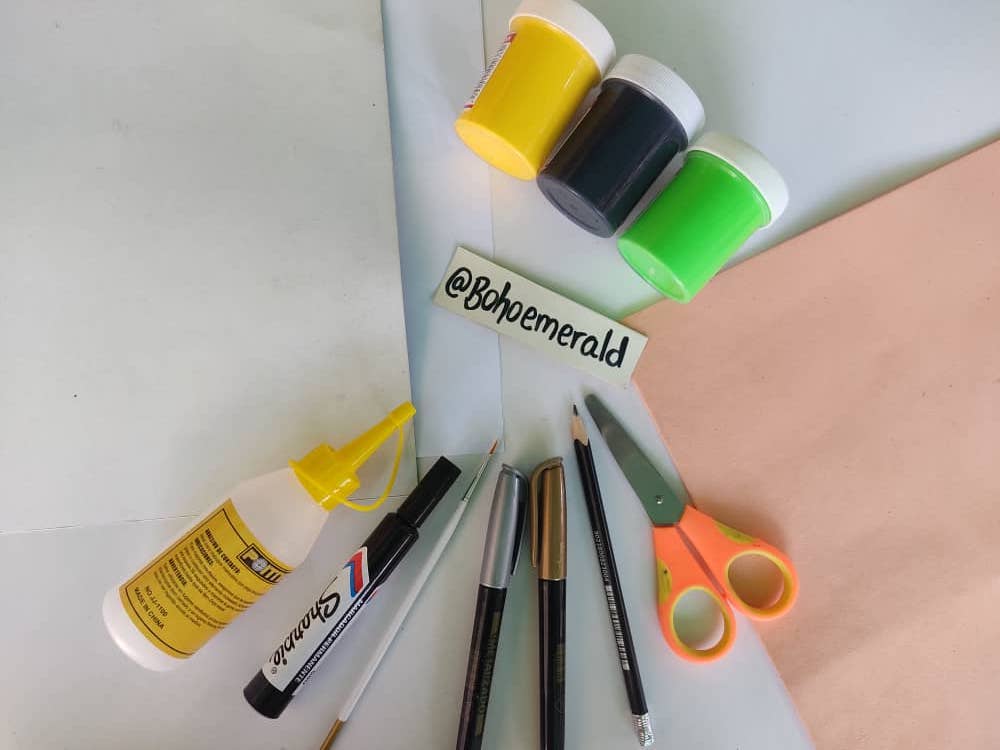 Materials-Materiales
---
-- Step by step --
Draw, the beautiful summoner Vera Salacia, I decided to make her profile or frontal portrait so that you can appreciate especially her face, of course in the hair she will wear a ponytail.
-- Paso a paso --
Dibuja, a la hermosa invocadora Vera Salacia, decidí hacer su perfil o retrato frontal de manera que se pueda apreciar especialmente su rostro, por supuesto en el cabello llevará una cola de caballo.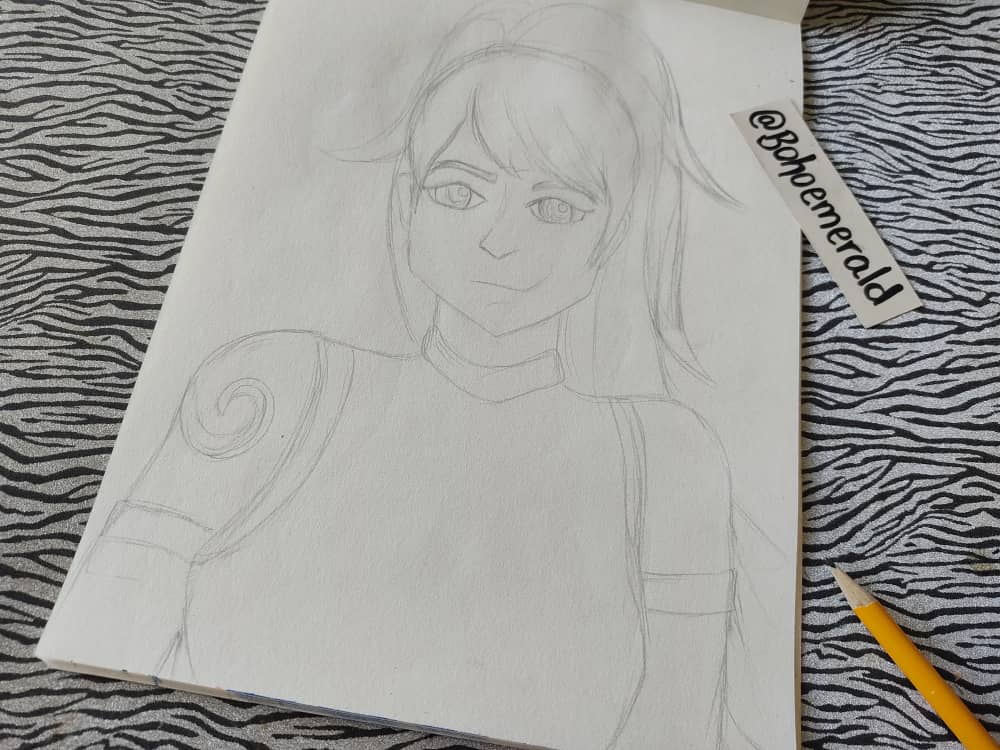 Step-Paso.1
---
Color her delicate skin with shades of pink or flesh color, also a little bit of light orange to give her a very special little shadow effect...
Colorea su delicada piel con tonos de color rosa o color carne, también un poco de color naranja claro para darle un pequeño efecto de sombras muy especial..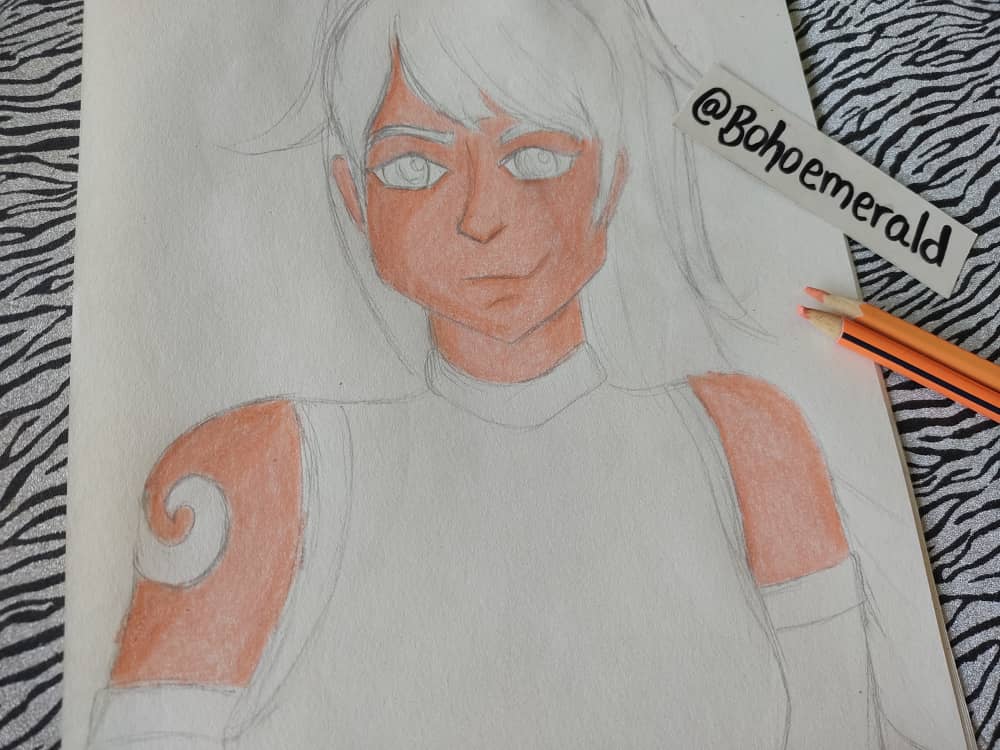 Step-Paso.2
---
Color her big beautiful eyes in ocean blue, her eyebrows in black and mark her nose and mouth with brown.
Da color a sus grandes y hermosos ojos de color azul océano, sus cejas de negro y marcamos con marrón nariz y boca.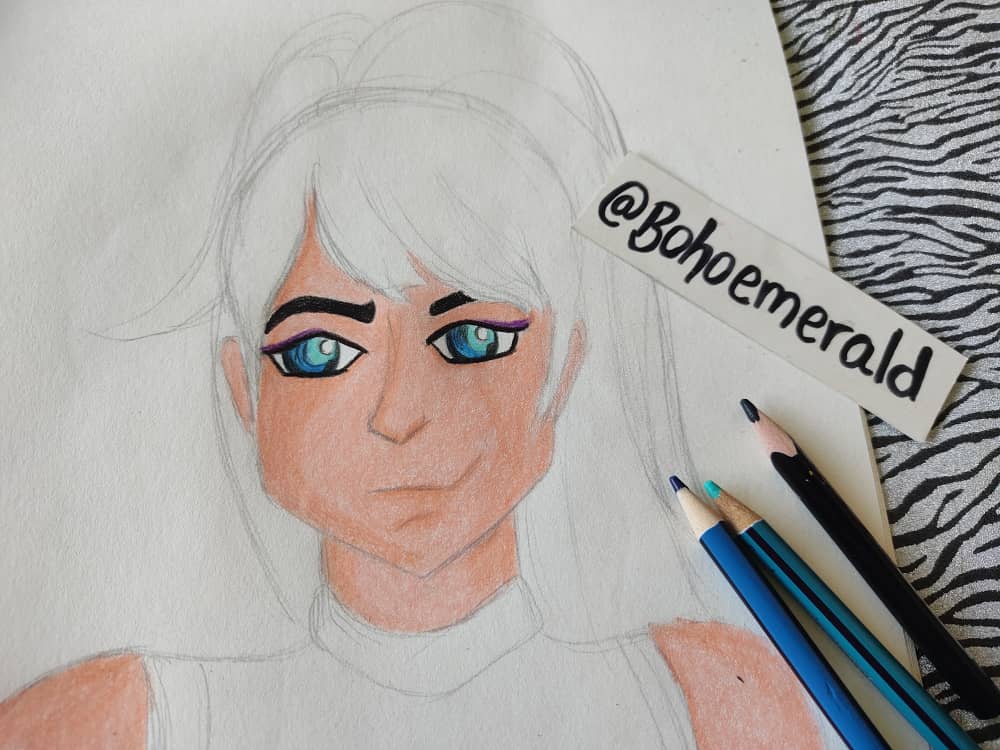 Step-Paso.3
---
Dye her beautiful and colorful hair, she starts doing some blue and pink locks and ends, while the black color is for the rest of the hair. She also colors a few strands of gray to give a touch of shine to her pretty mane.
Tiñe su hermoso y colorido cabello, comienza haciendo unos mechones y puntas de color azul y rosa, mientras que el color negro es para el resto del cabello. También colorea unos mechones de gris para darle un toque de brillo a su bonita melena.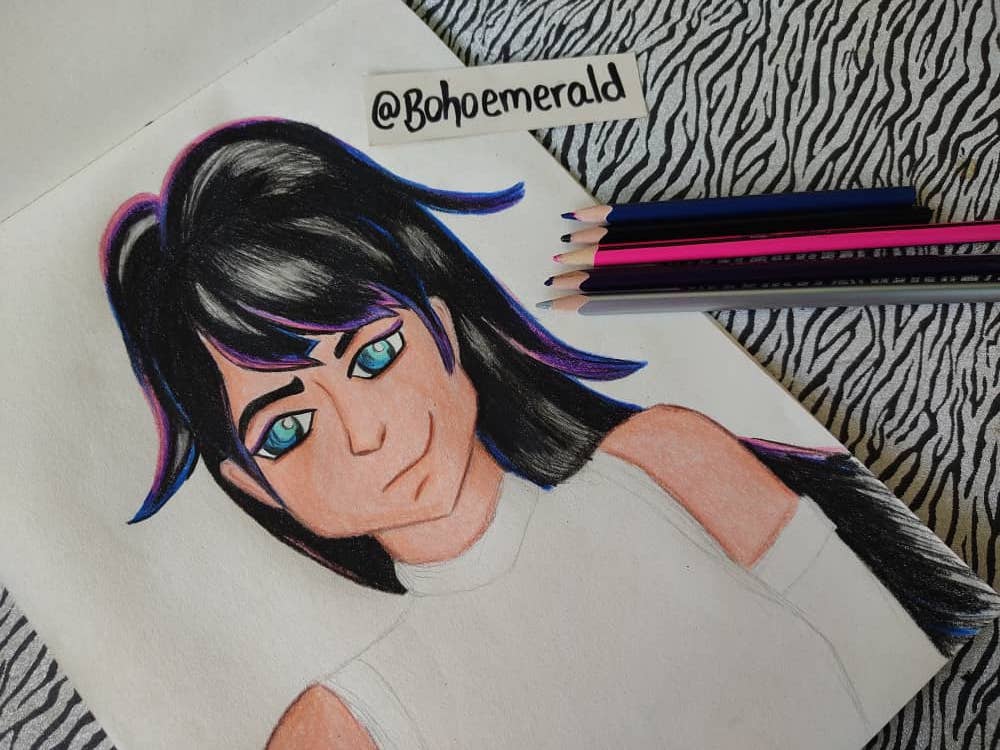 Step-Paso.4
---
Color her cute tattoo and her beautiful water summoner outfit, with turquoise, yellow, and blue colors. We also colored part of her gloves, which cover almost all of her arms.
Colorea su lindo tatuaje y su hermoso atuendo de invocadora de agua, con colores turquesa, amarillo, y azul. También coloreamos parte de sus guantes, los cuales cubren casi todos sus brazos.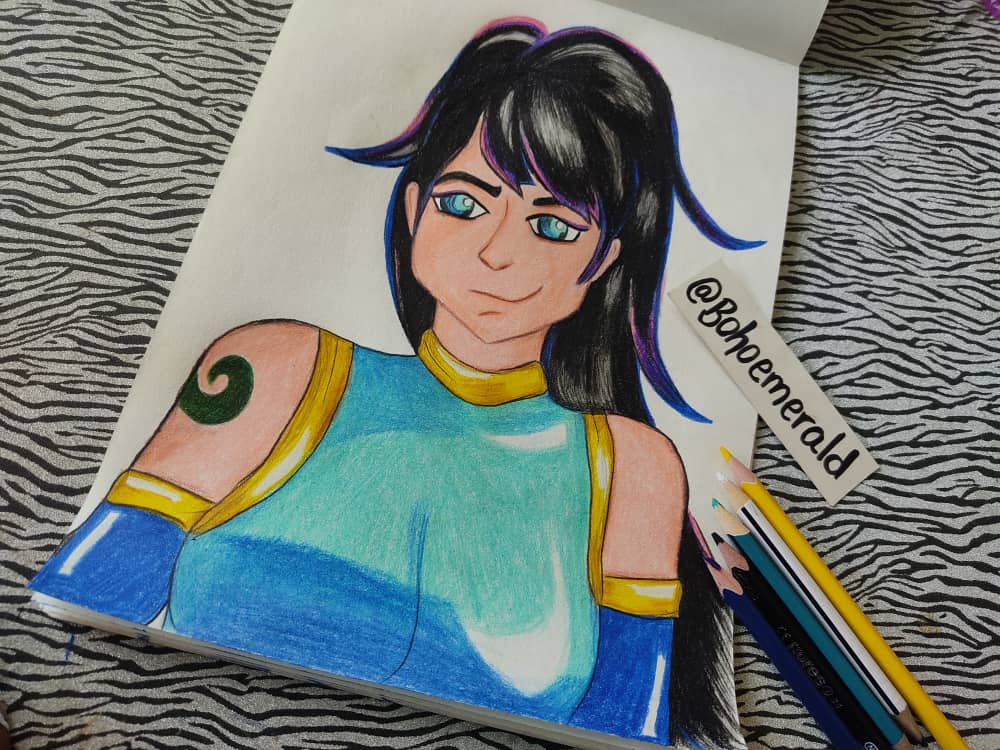 Step-Paso.5
---
To finish, color in the background some nice salt water waves with turquoise, light blue, and dark blue, as this pretty summoner has the power to control them, and we color them.
Para terminar, colorea en el fondo unas lindas olas de agua salada con turquesa, azul claro, y azul oscuro, ya que está linda invocadora tiene el poder de controlarlas, y las coloreamos.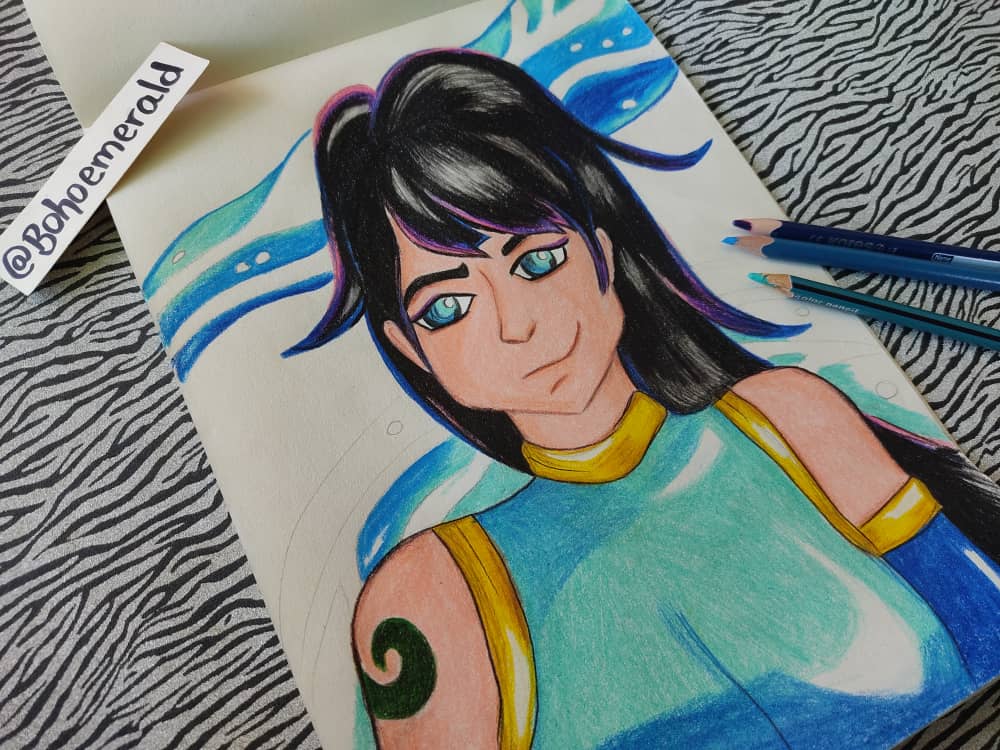 Step-Paso.6
---
. . . .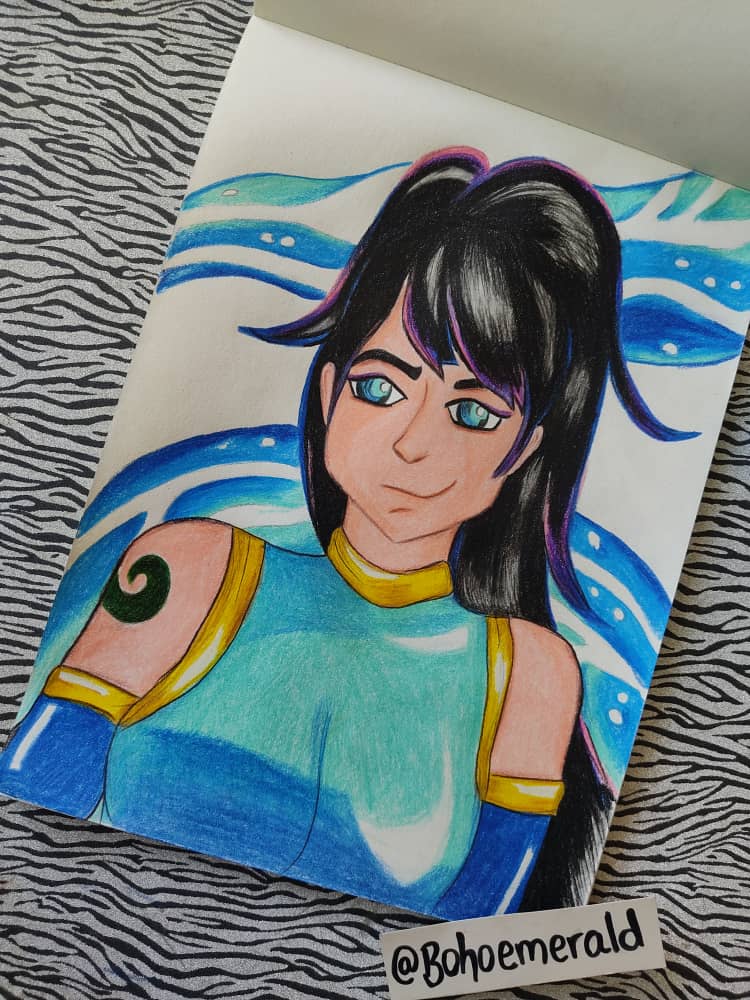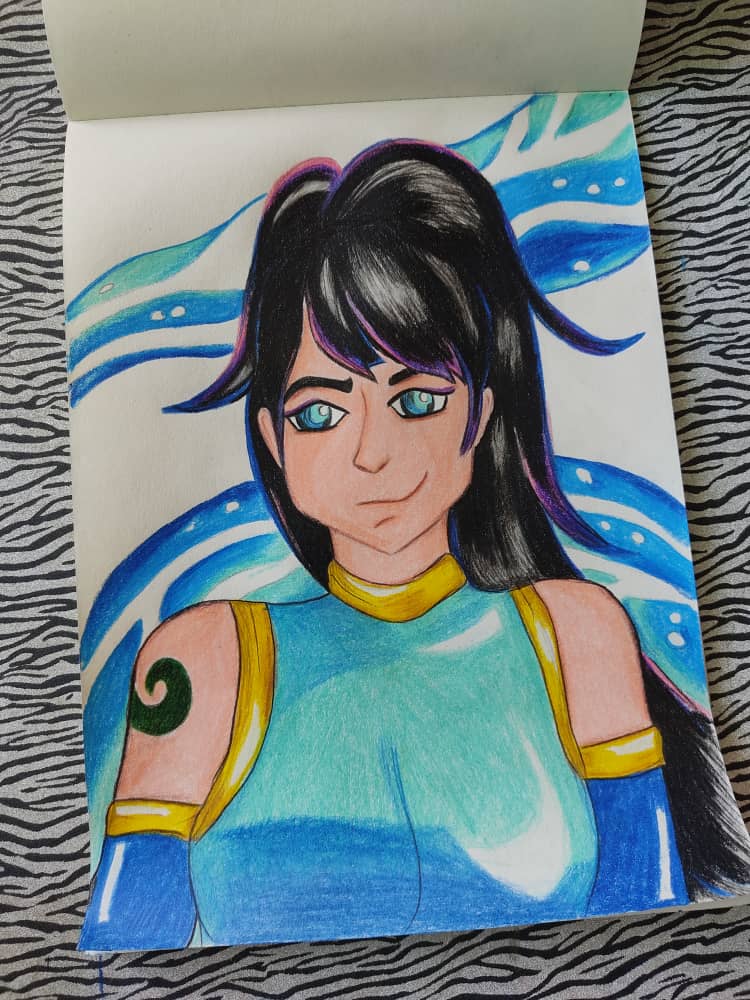 Finished - Terminado
Drawing and painting is one of my favorite activities, because it allows me to improve my concentration, relax, and above all it makes me happy to see the result of what I have been able to achieve. So it is recommended that everyone try to practice this art at home. Even better when we have a great imagination to create these original works without copying anyone. I hope you liked this beautiful girl who lives in the Splinterlands Salt Marshes.
Dibujar y pintar es una de mis actividades favoritas, ya que, me permite mejorar mi concentración, relajarme, sobre todo me hace ser feliz al ver el resultado de lo que he podido lograr. Así que es recomendable que todos intenten practicar este arte en casa. Mejor aún cuando tenemos un gran imaginación como para crear estas obras originales sin necesidad de copiar a nadie. Espero que les haya gustado esta hermosa chica que viven en los Yermos Salados en Splinterlands.
I thank you from the bottom of my heart for all your visits and comments, especially for coming to join me in this new adventure and creative publication, I hope you can get to know me a little more, and invite me to be part of your group of friends.
Agradezco de corazón por todas sus visitas y comentarios, sobre todo por venir a acompañarme en esta nueva aventura y publicación creativa, espero que puedan conocerme un poco mas, y que me inviten a formar parte de sus grupos de amigos.
---
God bless you always🙏 bye!
---
---