It reeks of damp up here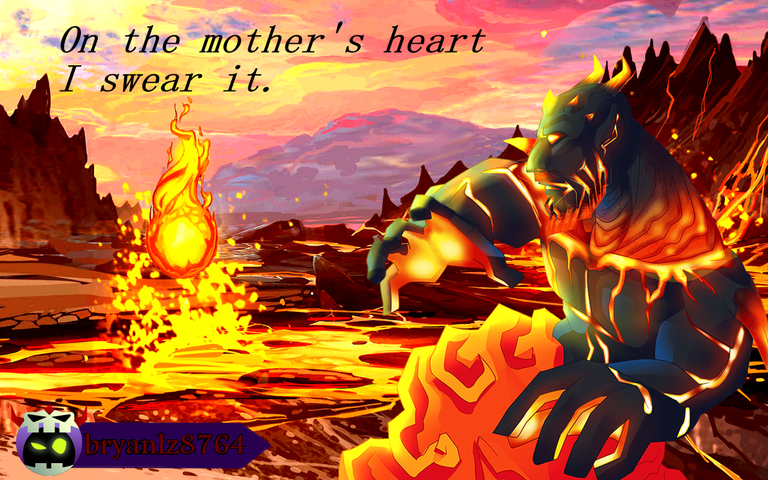 What a long trip to get up here -ughh- it stinks damp up here.
There is no point in complaining, I am in a wooded area and the humidity here is worse.
MMHH?come out of your hiding place or i burn down this whole forest.
-I'm sorry, I'm sorry, you showed up all of a sudden and I was already running around here.
Haha, he's a human, don't worry, I only came to fulfill my revenge against the chaos exercitus.
-really?really you (a monster) will fight against those beasts?
Listen to me little one, I am not a beast, I am Djinn Inferni Umun Sira and I am surfacing now for the chance to turn the odds in our favor.
And I with fire and death will restore these lands and put an end to their lamentations. By mother's heart I swear it.
-...
I will follow my path of vengeance to restore this land, and you...you have to be fiercely brave and fight against adversity, only by doing so, life will reward you.

How are you dear splinterlands community, today I bring you in this week's raffle... the wonderful DJINN INFERNI card.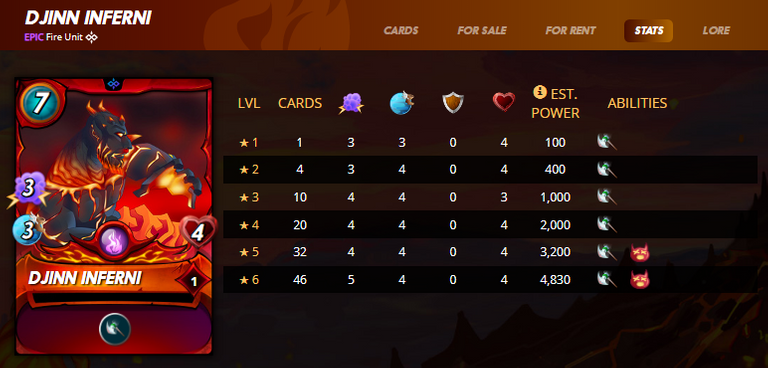 Proud and cunning are two words that define this character in the splinterlands world.
with its "giant killer" ability it now does double damage to cards with mana cost equal to or greater than 10.
With a good buff combination and adjusting to the rules of battles, it really becomes a true Giant Killer.

Lore :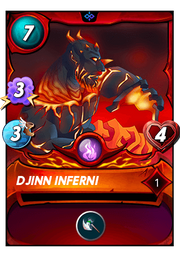 Djinn Inferni is the eldest of the ancient wardens of fire, spirits of flame that dwell in the deepest rivers of stone. Second only to Lord Janai himself, he is prideful and cunning, but fiercely loyal to his master. With the opening of the rift and the betrayal of Djinn Muriat he has taken up a blood oath of vengeance against the chaos exercitus, rising to the surface to lay waste to the enemies of stone and fire.

The rules for participation:
You have to vote and comment on this post with the name of your splinterlands account and the reason why you would love to have this card (if your comment is just the name of your account and that you want to participate in the raffle, you will be ignored and will not be in the list of participants).

the giveaway will end as soon as this post reaches 7 days, this is to give more people the opportunity to see the post and participate for these amazing prizes.

only 1 comment per account and your reputation must be higher than 25 to participate.

Just by following the instructions above you can enter the drawing and be the winner of this incredible card, but if you reblog the publication you will have your name twice in the list of participants, this means double the chances of being a winner, but hey, it is not mandatory.

Winners of the previous draw: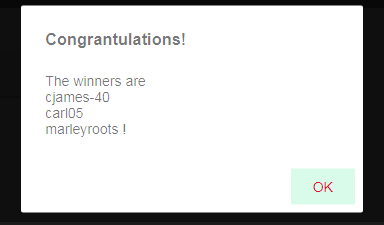 @cjames-40
@carl05
@marleyroots



Congratulations

Hey, but wait, that's not all... haven't you taken a good look at the design of RIFTWING?
it's like a kind of bat, it's good to observe well the designs of the cards right? before I saw this card as a kind of "hummingbird"...now I see that it is not like that and that its design is very cool.

You want to participate but you don't play splinterlands yet?enter here
You can also follow me on twitter here
thanks for reading

---
---