Comprando nuestro primer pack Gladius, Social media Challenge [Esp/Eng]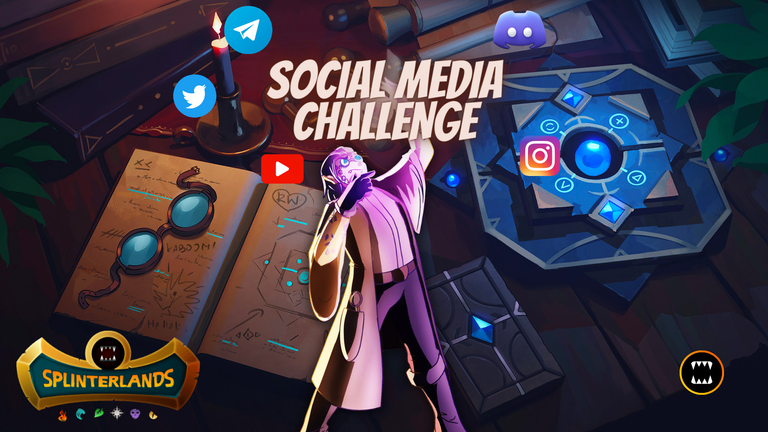 Hecho en Canva
---
Hola mi querida comunidad, aquí está el social media challenge en el cual les estaré mostrando mi posición en el brawl pasado de mi clan y también los packs gladius que abrí después de 3 largas semanas pude comprar mi primer pack gracias a que participe en todas las batallas de mi clan así que no se lo pierdan.
Hello my dear community, here is the social media challenge in which I will be showing you my position in the past brawl of my clan and also the gladius packs that I opened after 3 long weeks I was able to buy my first pack thanks to participating in all the battles of my clan so do not miss it.

En este brawl quedamos casi de últimos en la posición número 8 la cual no es tan mala, pero esta sería mi semana en la que más bajo he quedado, pero, a pesar de quedar casi de último, fue en la semana que más gane crow, merit, y sps pues, mi clan quedo de primero en las batallas de clan me enorgullece se parte de este grandioso clan.
In this brawl we were almost last in position number 8 which is not so bad, but this would be my week in which I have been lowest, but, despite being almost last, it was in the week that crow won the most , merit, and well, my clan was first in clan battles, I am proud to be part of this great clan.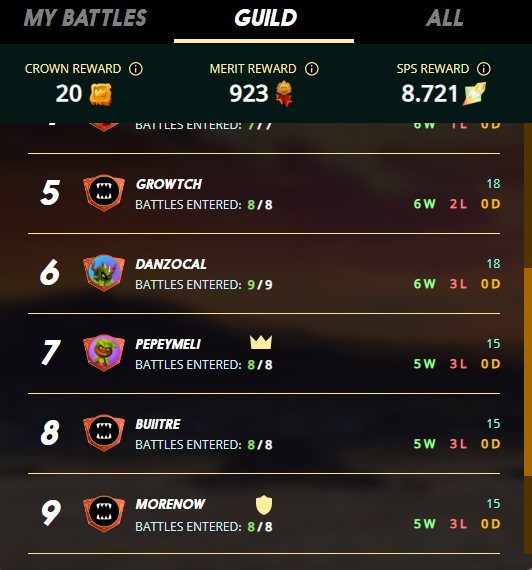 ---
Como ya mencione había durado 3 semanas para poder compraré 1 pack y por fin lo compre me hacía mucha ilusión compradme este pack, ya que las cartas que proporciona son en verdad muy buena y útiles para las batallas y se pueden hacer con estas grandes combinaciones.
As I already mentioned, it had lasted 3 weeks to be able to buy 1 pack and I finally bought it. I was very excited to buy this pack, since the cards it provides are really very good and useful for battles and can be done with these great combinations.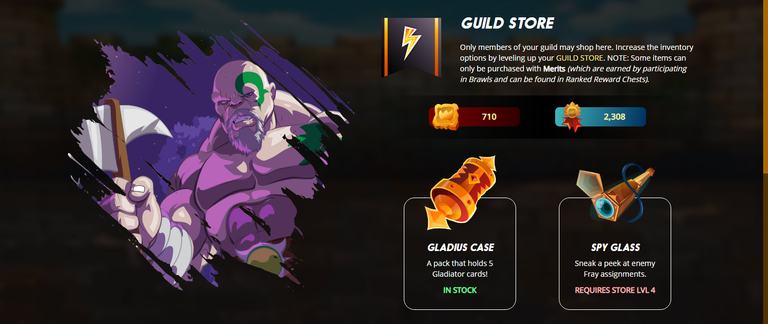 ---
Y estas serían las 5 cartas que me salió pregunte a unos compañeros y me dijeron que no fue una mala apertura, siento que la mejor carta que me puedo salir fue la LIZA FOX Y GOBSON. A estas le sacaré mucho provecho a la hora de batallas, pero eso si necesito un invocador para cada una de ellas para poderlas usar y espero que en los próximos sobres puedan conseguir algún invocador.
And these would be the 5 cards that I got, I asked some colleagues and they told me that it was not a bad opening, I feel that the best card that I could get was LIZA FOX AND GOBSON strong>. I will get a lot of use out of these when it comes to battles, but that is if I need a summoner for each of them to be able to use them and I hope that in the next envelopes they can get a summoner.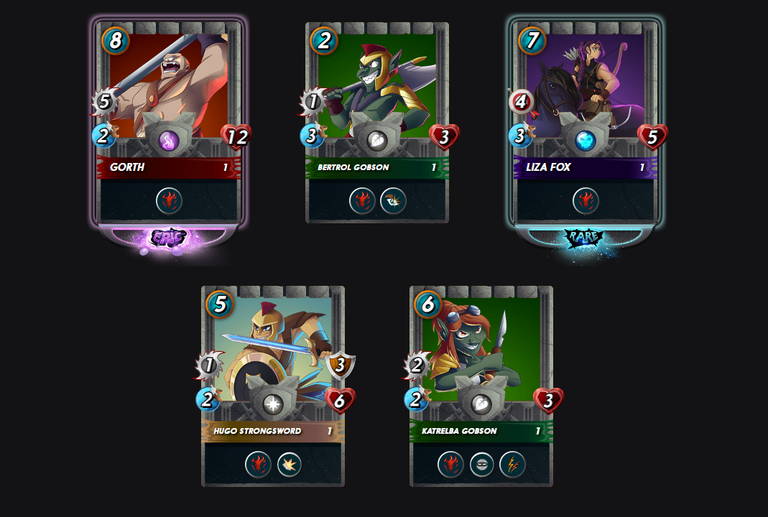 Obvio no me puedo quedar sin mostrar el poder de alguna de estas cartas.
Obviously I can't stay without showing the power of any of these cards .
Batallas - Battles
Esta batalla sé jugo con la regla Briar Patch una regla la cual cuando cualquier unidad cuerpo a cuerpo pega a otra se activan unas espinas las cuales le hace daño al atacante, yo en esta regla recomiendo usar monstruos con escudos o monstruos con ataque de rango o de magia para que no, nos afecte la regla a nosotros.
This battle is played with the Briar Patch rule, a rule which when any melee unit hits another, thorns are activated which do damage to the attacker, in this rule I recommend using monsters with shields or monsters with range attacks or of magic so that the rule does not affect us.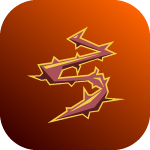 Para esta batalla utilicé un tank que le bajara el ataque a todas las unidades cuerpo a cuerpo y me sirvió bastante, debo admitir que esas cartas doradas de mi enemigo me intimidaron bastante, pero ya ni modo toco ver el desenlace, por cierto puse mi carta de triunfo al final para que le diera tiempo bastante de atacar y sin duda que funciono gracias a la ayuda de los otros monstruos pudimos acabar con todos los enemigos a pesar de ser 5 contra 6 logramos vencerlo y como se dice más no significa mejor.
For this battle I used a tank that lowered the attack of all melee units and it helped me a lot, I must admit that those golden cards from my enemy intimidated me a lot, but I can't even see the outcome anymore, by the way I put my card of triumph at the end so that he would have enough time to attack and without a doubt that it worked thanks to the help of the other monsters we were able to kill all the enemies despite being 5 against 6 we managed to defeat him and as they say more does not mean better.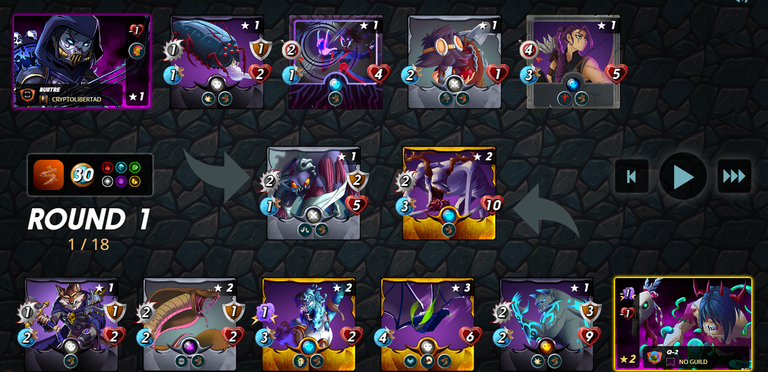 ---

Debo agregar que estoy muy contento con mis nuevas cartas, espero poder usarla lo más pronto posible para traerles unas batallas muy buenas sin más nada que decir, nos vemos que tengan un feliz día:D.
I must add that I am very happy with my new cards, I hope to be able to use it as soon as possible to bring you some very good battles, nothing more to say, see you, have a happy day: D.
---
Todos elementos de las imágenes tomados de la página oficial splinterlands.com
All elements of the images taken from the official page splinterlands.com
Por aqui mi Referido Aqui
Here my Referral Here
---
---