Splinterlands — PIZZA Brawl Report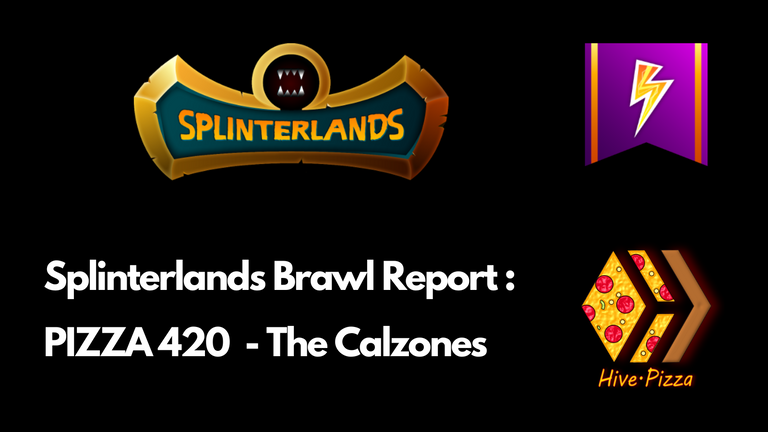 Splinterlands — PIZZA 4 Brawl report



🐲 Brawl Report 🐲
I've had a nice streak of winning Brawls going, but I had that pit of the stomach feeling that something was off as I was entering my teams this time around. 😱 I've had that feeling before and come out doing okay, but I didn't feel great about my chances going in...

| Battle Link and Highlights | Pre-Battle Screen Shot |
| --- | --- |
| Tarsa v Quix — I thought I had a good chance when this battle loaded as we had similar lineup, but I had the armor advantage. My opponents Chaos Dragon was the decider. Taking no earthquake damage and dealing magic damage to get past my armor did me in. Loss (0—1) | |
| Battle Link and Highlights | Pre-Battle Screen Shot |
| --- | --- |
| Thaddius v Kelya — Another battle I thought I had a shot at upon loading. I had the higher-level summoner and a decent lineup. My opponents Isgold was the MVP. Bloodlust is tough once it gets going. Loss (0—2) | |
| Battle Link and Highlights | Pre-Battle Screen Shot |
| --- | --- |
| Kelya v Kelya — Evenly matched Kelyas, but that Scavo, Merdaali combo can be vicious. It is losses like this that I'm reminded I need Baakjira in my collection too. Loss (0—3) | |

🤢🤢 1—3. My only win came from the opponent fleeing. I guess I should be grateful that I pulled that one off, the way this Brawl went I may have found a way to lose that one 😂 ☹️☹️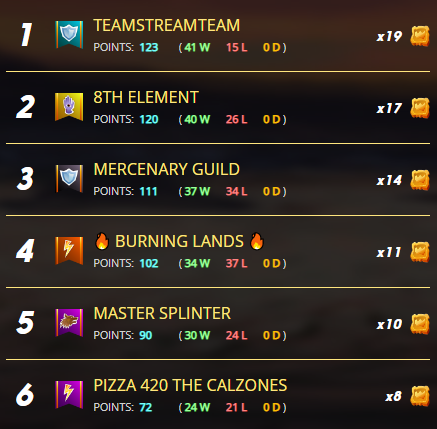 My poor showing didn't help the overall total and we ended up in sixth place. We had an overall winning record, which is a positive, but there were some high scoring guilds this Brawl. All of the top four scored over 100 points which is impressive.
I need four more Tarsa cards to max her out for Silver, then I can work on Sloan and Obsidian. Those should make me more competitive in the silver fray and hopefully lead to some more wins. Huge shout out to @jonimarqu for going 6—0 this Brawl. Way to make up for my losses 😀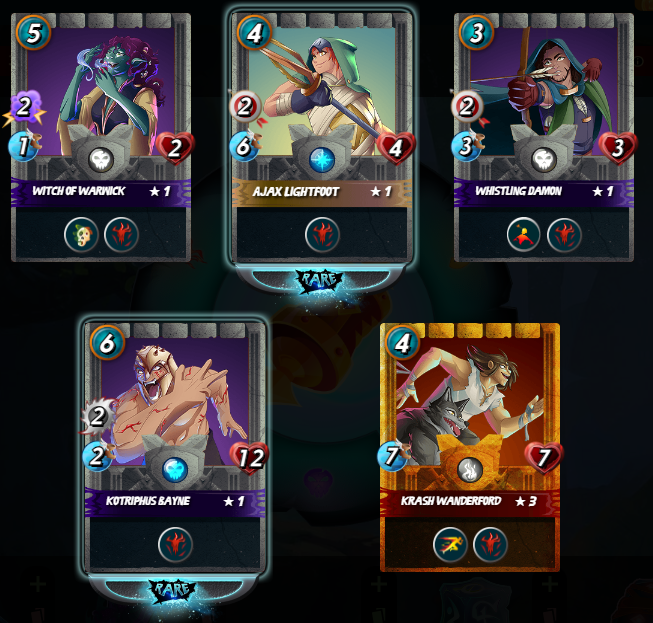 End of season chests pushed me over 2000 merits and rewarded me with my first GF Gladiator card. I like the swiftness ability, but with no attack the Bloodlust is negated. I'll likely stick with my favorite Grum and Chimney combo when using Fire, but I was still excited to grab a GF card. One more Witch of Warwick and I will be able to combine for a level 2 card. I really like that card so that was an exciting pick up as well.

Other Pizza Guild Brawl Reports
@shauner
—
41st Brawl Report
@kqaosphreak — Brawl report #51
🍕🍕🍕 What is PIZZA? 🍕🍕🍕
As with most activities connected to Hive, and the crypto world in general, I discovered PIZZA because of Splinterlands. Also like most Hive connected activities I discovered a world of possibilities beyond what I expected. So what exactly is PIZZA?
1️⃣ PIZZA is a trade-able token that can be staked for rewards and tipping, used to purchase games or traded for other tokens.
2️⃣ PIZZA is also an active Discord community for gamers and creatives. (I personally frequent the foodies-lounge, splinterlands and rising-star channels)
What are you waiting for, come check out the PIZZA Discord and join in the fun 🎉

---
---