Splinterlands — PIZZA Brawl report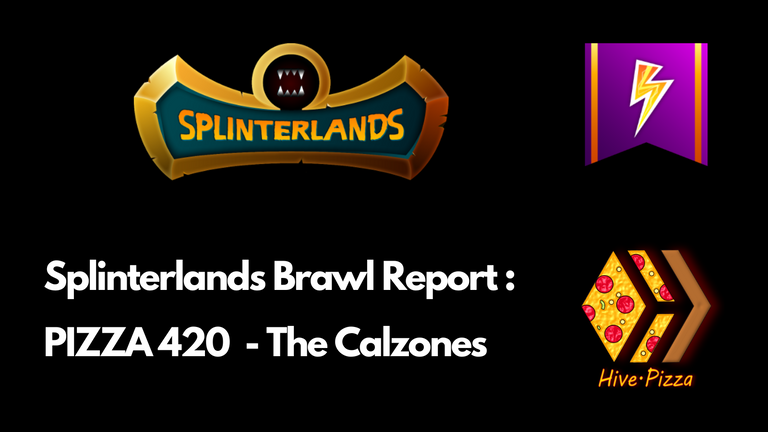 Splinterlands — PIZZA 4 Brawl report



🐲 Brawl Report 🐲
Coming out of last Brawl where my only win was an opponent fleeing, I wasn't going into this Brawl with the highest confidence. Loading up the latest Brawl didn't help increase my confidence with only two battles and both having the Noxious Fumes ruleset. I find that ruleset to often be a crap shoot for who can survive manage to hang on for the win.

Battle Link and Highlights

Pre-Battle Screen Shot

Sloan v Sloan — Sloan is not my most used summoner so it was interesting to start with a battle of Sloans. Captain Katie's BLoodlust was my savior and I won this Noxious Fumes crap shoot by a narrow margin. Win (1—0)
| Battle Link and Highlights | Pre-Battle Screen Shot |
| --- | --- |
| Kelya v Obsidian — Obsidian has a bad habit of wrecking my Kelya lineups, so I wasn't feeling good at the onset of this battle. River Nymph's Cleanse didn't end up saving me any health, but Tridawn and Lurker had enough health to stick around and deal enough damage for the win.Win (2—0) | |

🎉🎉 2—0. Not a lot of battles, but I will always celebrate an undefeated Brawl! 🎉🎉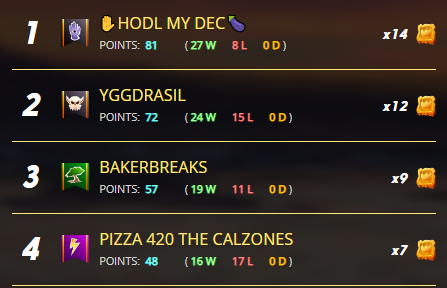 48 points was good enough for fourth place this Brawl. I guess I wasn't the only one that didn't have many battles lined up 🤷‍♂ This might be the first Brawl I've seen the winning guild have under 100 points, definitely the first time I've seen the winner have under 90. Hopefully this was just a one off and we will be back to fighting more battles next time, I really enjoy getting to use Gladiator cards and the different strategies that come with them.

Other Pizza Guild Brawl Reports
@shauner
—
42nd Brawl Report
@kqaosphreak — Brawl report #52
@edskymiguel Pizza guild brawl report
@vaynard86 Brawl report and social media challenge
🍕🍕🍕 What is PIZZA? 🍕🍕🍕
As with most activities connected to Hive, and the crypto world in general, I discovered PIZZA because of Splinterlands. Also like most Hive connected activities I discovered a world of possibilities beyond what I expected. So what exactly is PIZZA?
1️⃣ PIZZA is a trade-able token that can be staked for rewards and tipping, used to purchase games or traded for other tokens.
2️⃣ PIZZA is also an active Discord community for gamers and creatives. (I personally frequent the foodies-lounge, splinterlands and rising-star channels)
What are you waiting for, come check out the PIZZA Discord and join in the fun 🎉

e
---
---