Splinterlands Share Your Battle Challenge and Brawl Report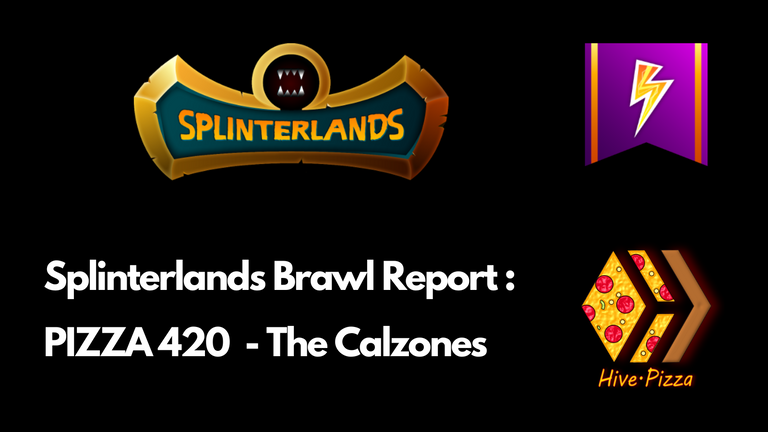 Splinterlands — Changing up my Brawl Reports a bit



🐲 Brawl Report 🐲
I'm super excited about SPS rewards being added to the next Brawl cycle. With new changes I felt it was a good opportunity to change up my Brawl reports. I've always wanted my reports to be a study guide for myself, and anyone else who cares to learn from an average player. I think the information has always been there, but I want it to shine more so it is easier to pick out and digest the learnings.
With this idea in mind I'm going to pick one battle each Brawl and dig more deeply into the particular strategy that won or lost the battle for me. Most of the shares will probably be losses as we learn best from our failures. But I'm sure I'll come across some fun wins that I will want to share as well.
I'll still make sure to give a full recap of my overall performance and The Calzones results, but I hope the focus on one battle will make it easier to learn from.


Learnings — It's not the highest level, it's the strategy!
| Battle Link and Highlights | Pre-Battle Screen Shot |
| --- | --- |
| Thaddius v Thaddius — This is a perfect example of a battle I need to study. I had my opponent outclassed with a higher level summoner and still managed to get crushed. | |
What a great battle to kick off my new format than a battle in which I had the higher level summoner and lost. It's frustrating to look at the opponents layout and see that I had the higher level summoner and owned the same cards played, some at higher levels and still lost. This is the perfect opportunity to step back and learn from the battle to determine how I can be better.

Some background on the options available. This was a Silver level Chaos
only battle. The mana cap was 60, which was a non factor with the Little League ruleset. The other ruleset was Knockout and the Dragon and Life splinters were not an option. Revealer is my only Little League card with Stun that could take advantage of the Knockout ruleset, but that card was not an option for Chaos only fights.
| | ME | OPPONENT |
| --- | --- | --- |
| | 12 | 20 |
| | 4 | 2 |
| | 2 | 2 |
| | 4 | 2 |
| | 2 | 0 |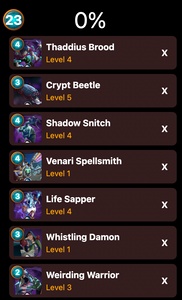 One look at the pre-battle chart and it is easy to see my error, I didn't put enough health on the battlefield. I had the advantage in attack damage, but it doesn't matter if my team can't stay around long enough to deal the damage. I had Life Sapper with Life Leech to help, but my opponent had the same card and also had Xenith Monk with Heal and Spirit Hoarder with Triage. Further study shows my team had a 0% chance of victory 🤦‍♂ Clearly I need to go back to the drawing board and rethink some of my choices.
Why did I make some of these choices
Hindsight is 20/20, but before knowing my opponents choices I did have some strategy in what turned out to be poor choices.
| Card | Synergy |
| --- | --- |
| | In the Little League battles attack power is limited. A card with Shield up front can last a long time if the opponent goes melee heavy. |
| | My hope was that my opponent would be thinking as I was and add a card with armor up front. Shatter would be bale to take care of that with one shot. |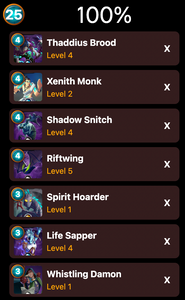 My thinking was sound, I just choose too many low health cards and my opponent was easily able to cut through my team. Xenith Monk should have been my tank. Even without the Shield ability it would have stayed around longer than Beetle and allowed my attack advantage to shine. Making that switch there were many ways to go, but adding in Riftwing, because of its high health would have been the only change necessary to take my 0% chance of victory to 100%. It's not always how high a level your cards are, there is a lot of strategy and synergies that need to be considered as well.

😒😒 2—3. Not my best Brawling, but as @chefbgob told me, it's a team effort, some days we help pull the team up and others the team helps pull us up 😒😒

I may not have performed as well as I would like, but the team crushed it! Second place and out best overall finish in some time. Hopefully this helps us build some momentum going into the next Brawl where SPS is on the table. I'm excited to see if SPS rewards bring more opponents to the table for Brawls. Battles have seemed a bit light lately and I'm hoping this means more chances to Brawl.


I hope the new format was helpful and that you learned something as I did. I'm looking forward to digging deeper into battles to see what learning can be found.

Other Pizza Guild Brawl Reports
@vaynard86 — Brawl report and social media challenge
🍕🍕🍕 What is PIZZA? 🍕🍕🍕
As with most activities connected to Hive, and the crypto world in general, I discovered PIZZA because of Splinterlands. Also like most Hive connected activities I discovered a world of possibilities beyond what I expected. So what exactly is PIZZA?
1️⃣ PIZZA is a trade-able token that can be staked for rewards and tipping, used to purchase games or traded for other tokens.
2️⃣ PIZZA is also an active Discord community for gamers and creatives. (I personally frequent the foodies-lounge, splinterlands and rising-star channels)
What are you waiting for, come check out the PIZZA Discord and join in the fun 🎉

---
---