Rent to Own Owster Rotwell: Day 1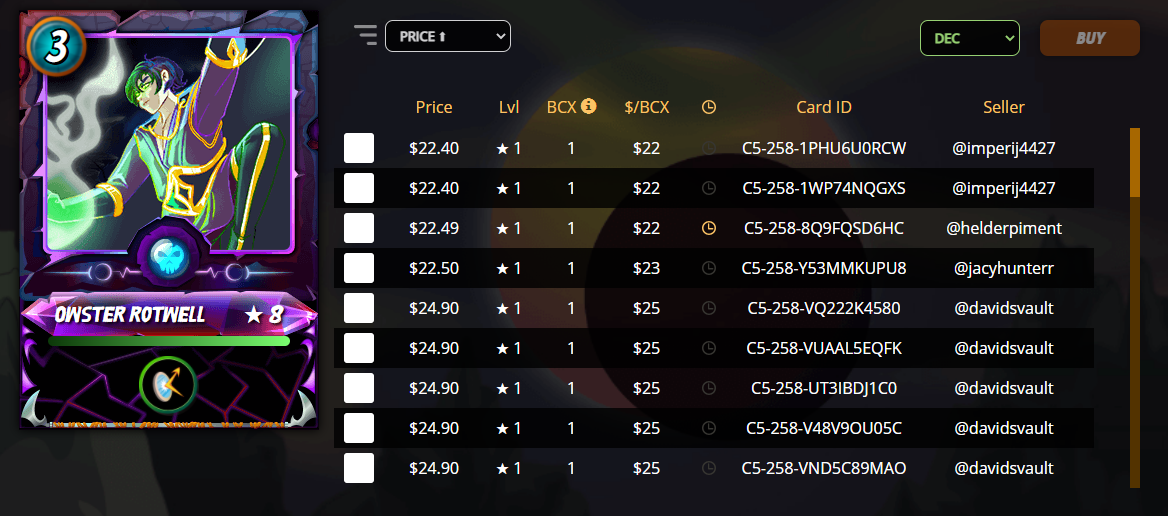 To recap from yesterday, I plan to rent Owster until I have earned enough to buy my own. My original statement was that Owster only cost .5 DEC to rent a day, and by the time I was finished writing that post the cheapest Owster I could find was 1.601 DEC per day. I rented that card for a week at the cost of 11.207 DEC total.
Amount Earned
I played a lot of ranked battles yesterday and I earned a fair share of DEC from those coming in at 139.058 DEC. This puts me 127.851/1900 DEC towards owning my own Owster. Beyond the DEC I have earned from ranked battles, I received .011 vouchers last night that I have listed on hive engine. I will keep the funds from that liquid as SWAP.HIVE until there is a good price on DEC or until I am about to purchase the card.
Battles
Owster of course is best used against the Alric magic spam that is predominant in bronze and will win a lot of games. A win however is not guaranteed as running an Owster into a team without magic is a huge liability. Getting juked when playing Owster leads to a lot of losses so you have to be really careful when you use Owster.
This first battle is an example of when using Owster is really good.
https://splinterlands.com?p=battle&id=sl_6d6e4e56de8e6d75af4456a7e1e9b248&ref=champster101
This second battle is an example of when Owster should have gotten the job done but fell just short. This battle was actually a lot of fun with such an unexpected ending!
https://splinterlands.com/?p=battle&id=sl_2051bea04c13884c7bd2448ee0912bc8
This third battle shows the ugly side of Owster when you run into somebody who ended up not selecting a magic squad.
https://splinterlands.com?p=battle&id=sl_cf7616cb14f0c91bbf30d08777a81d38&ref=champster101
Closing
At this rate, I will have Owster in roughly two weeks from now. I hope that I can finish it out a little quicker than that. Ten days is what I would really like to aim for so that I can move on and start earning my next card! As always, if you would like to support me in this journey, feel free to follow and leave a like! Additionally, here is the link for the first post in this series!
https://www.splintertalk.io/@champster101/rent-to-own-owster-rotwell-day-0
---
---