Warrior of the snowy lands | Creation of a character Illustration [ENG-ESP]

Hello bloggers, this time I come to show you how was to create a character starting only with objects to incorporate; this, for a contest which I did not win XD
Hola bloggers, en esta ocasión vengo a mostrarles como fue crear un personaje partiendo solo con objetos para incorporar; este, para un concurso el cual no gane XD,
---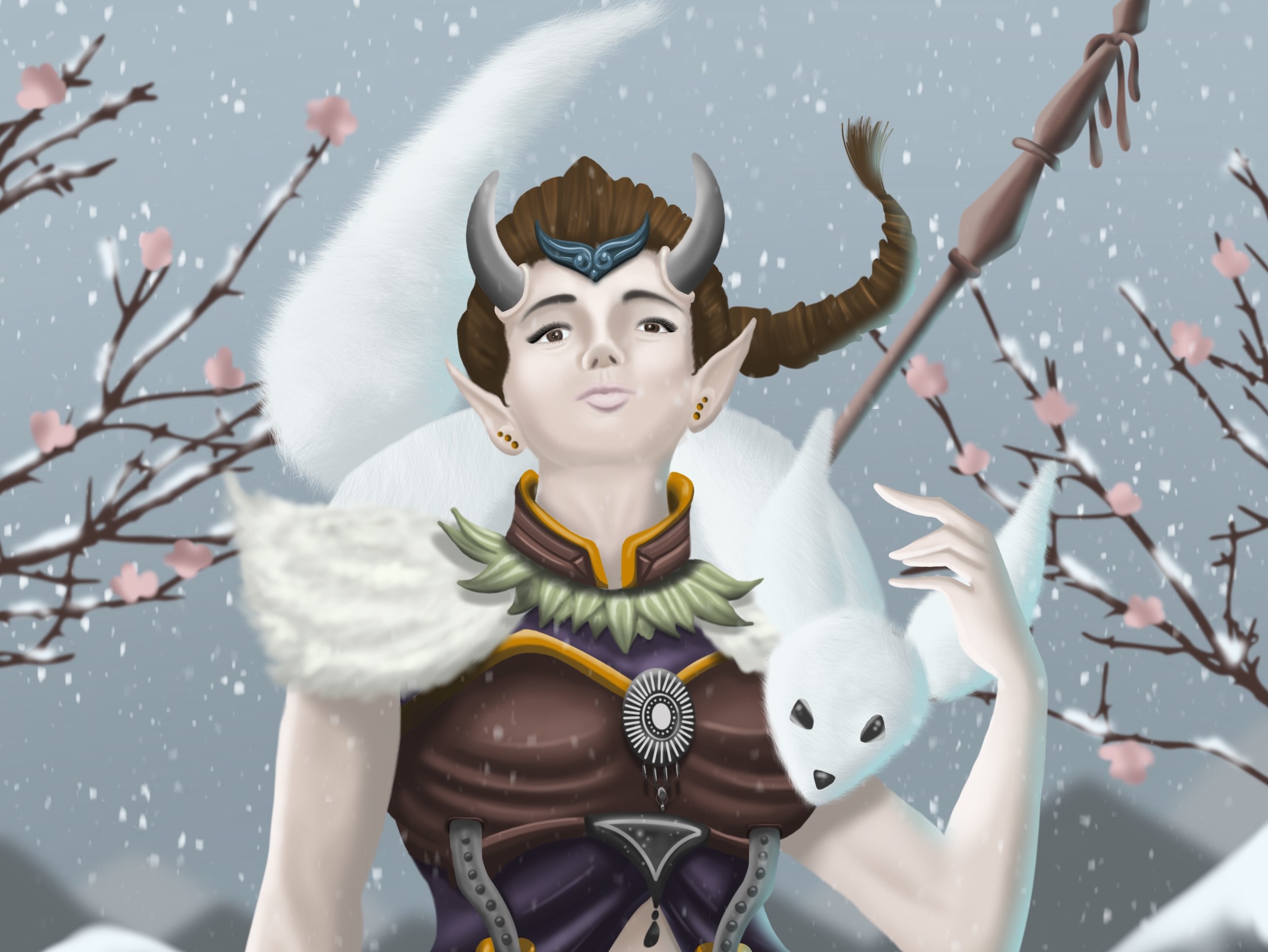 ❋ Warrior of the snowy lands❋
Guerrera de las tierras nevadas
Hello bloggers, this time I come to show you how was to create a character starting only with objects to incorporate; this, for a contest which I did not win XD, but what I like is to participate and enjoy doing it. So here I tell you how it was and how I was inspired to do it.
Hola bloggers, en esta ocasión vengo a mostrarles como fue crear un personaje partiendo solo con objetos para incorporar; este, para un concurso el cual no gane XD, pero lo que me gusta es participar y disfrutar haciéndolo. Así que aquí te cuento como fue y como me inspire para lograrlo.

For the initial sketch and design of the character, I took the objects and incorporated them to a greater and lesser extent; I had the little white fox, symbols and colors; the first thing that came to my mind was the image of a warrior in a snowy field where the color white abounded.
Para el boceto inicial y diseño del personaje, tome los objetos y los fui incorporando en mayor y menor medida; tenía el zorrito blanco, símbolos y colores; lo primero que vino a mi mente fue la imagen de una guerrera en un campo nevado donde abundara el color blanco.

For the armor, I worked with earth tones although I didn't think of any special era, I was just creating what came to my mind, but always having coherence in what I incorporated. I always like the combination of armor with earth tones and those golds that give the feeling of gold.
Para la armadura, trabaje con tonos tierra aunque no pensé en alguna era en especial, solo iba creando lo que me venía a la mente, eso si, teniendo siempre coherencia en lo que incorporaba. Me gusta siempre la combinación de armaduras con tonos tierras y esos dorados que dan la sensacion de oro.

I forgot to mention that as one of the elements to incorporate contained horns, so I turned the warrior into a kind of faun warrior XD.Drawing skins I love, but it's a job that takes some time, so I tried not to recreate it in many places just on her shoulders and a little on her back armor.
Olvidé mencionar que como uno de los elementos a incorporar contenía cuernos, entonces convertí a la guerrera en una especie de fauno guerrero XD.Dibujar pieles me encanta, pero es un trabajo que quita algo de tiempo,así que trate de no recrearlo en muchos lugares solo en sus hombros y un poco en su armadura posterior.

Especially my favorite part of this creation was the little white fox; he's not dead XD he's just standing on the warrior.
Although I didn't win, I really enjoyed this illustration and wanted to share it with you with a lot of love, I hope you like it as it was a pretty hard 10 hours.
Especialmente mi parte favorita de esta creación fue el pequeño zorrito blanco; no esta muerto XD solo esta sobre la guerrera.
Aunque no gané, Disfruté mucho esta ilustración y quería compartirla con ustedes con mucho amor, espero les guste pues fueron unas 10 horas bastante duras.

❉ Here is the final result of the Illustration/Aquí el resultado Final de la ilustración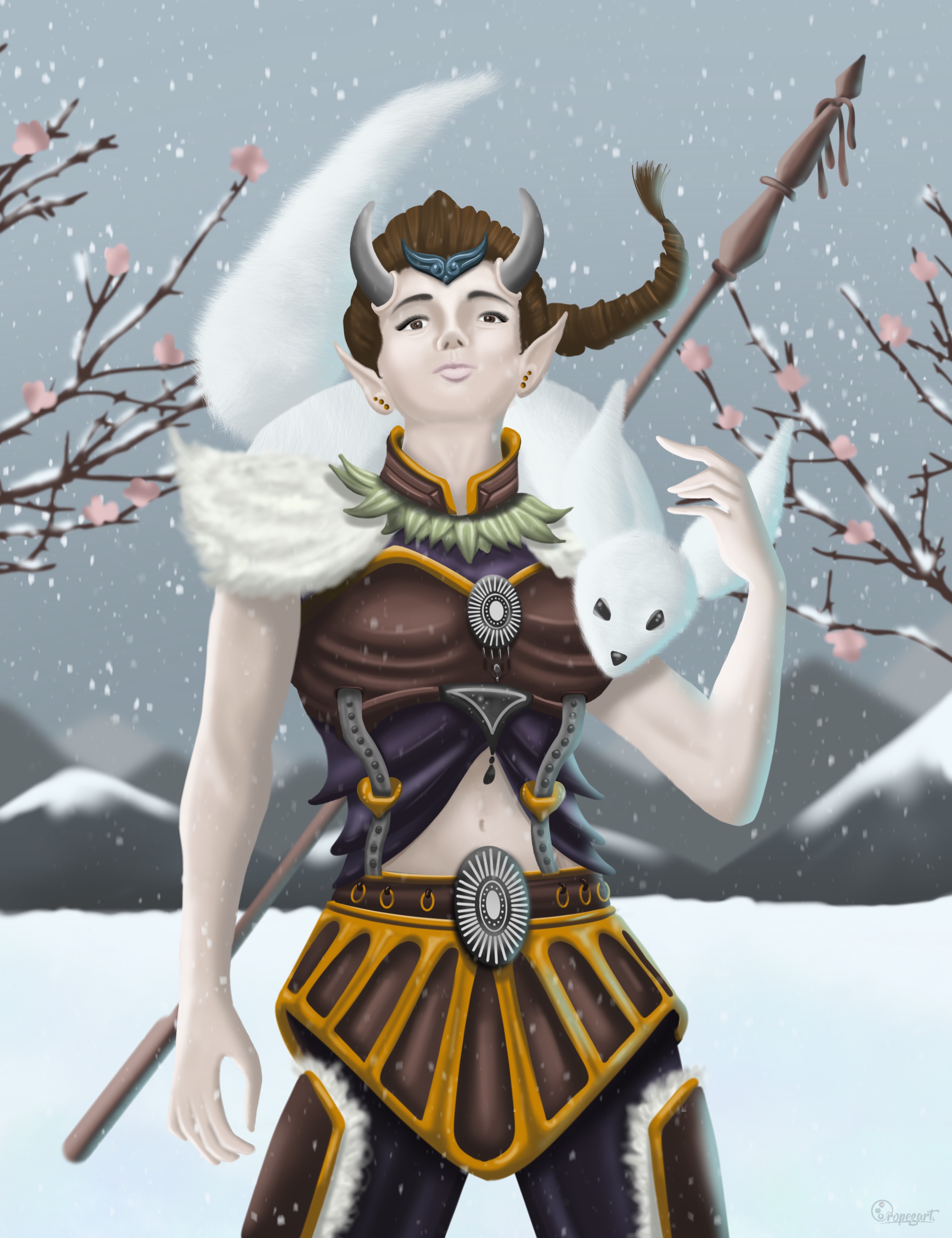 Original Illustration by:@chopiliart (Oropezart)
🖌Ilustración Original por @chopiliart (Oropezart)
Program:Procreate Duration: 10 hours
Programa: Procreate Duración:10 horas

Do you like it?
¿te ha gustado?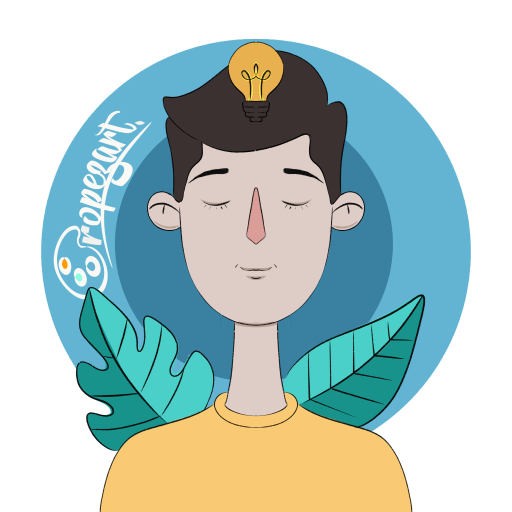 Original illustration by:@chopiliart (Oropezart)
ilustración original por: @chopiliart(Oropezart)
Espero mi artículo haya sido de tu agrado, déjame tu opinión acerca de la ilustración y si tienes alguna duda sobre ilustración puedes hacerla que con gusto responderé en los comentarios. Hasta otro post. .
I hope you liked my article, leave me your opinion about the illustration and if you have any questions about illustration you can ask them and I will gladly answer them in the comments. Until another post.
Follow me on/ Sígueme en instagram: @oropezart
Open commissions on/ Comisiones abiertas en : Fiverr
Follow me / Sigueme en: Youtube
Translation by/Traducción gracias a: Deepl


---
---