Splinterlands Updates Market Tips / Tricks + NFT giveaways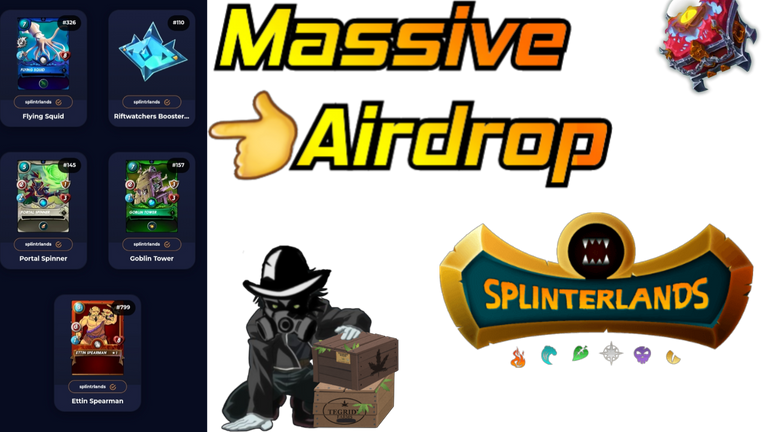 Splinterlands has had so much happen since last I posted, so todays write up goes over some Splinterlands Updates, tips, & tricks.
As always there is a NFT giveaway chaser & specifically todays Splinterlands WAX NFT airdrop is going to be something special.
Splinterlands Rift Watchers pack presale
I hope everyone had been holding on to their SPS & Vouchers with the Pre -Sale of the Rift Watchers pack starting their market demand is going up.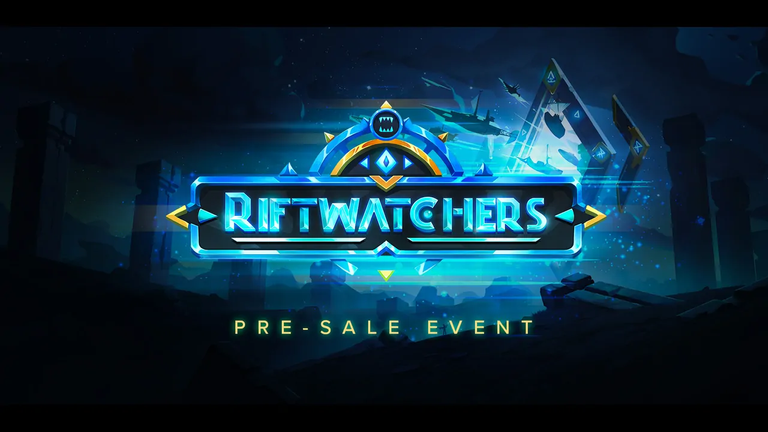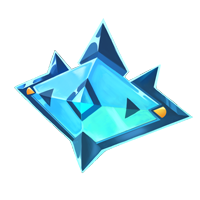 As this is the Pre Sale phase just like with the chaos legion packs where at launch the packs where unable to be opened. We must wait until 9/27 to open the Rift Watchers packs purchased during the presale.
I called them rift watchers packs because functionally they are but in game they refer to them as Rift Gem packs. The colection or edition is what is known as the Rift Watchers colection.



Though I'm writing this in advance of the presale & we will not be able to open the Rift Gem Packs for another 2 weeks at time of writing, a Splinterlands announcement contains pertinent details.
https://peakd.com/splinterlands/@splinterlands/riftwatchers-set-and-presale-announcement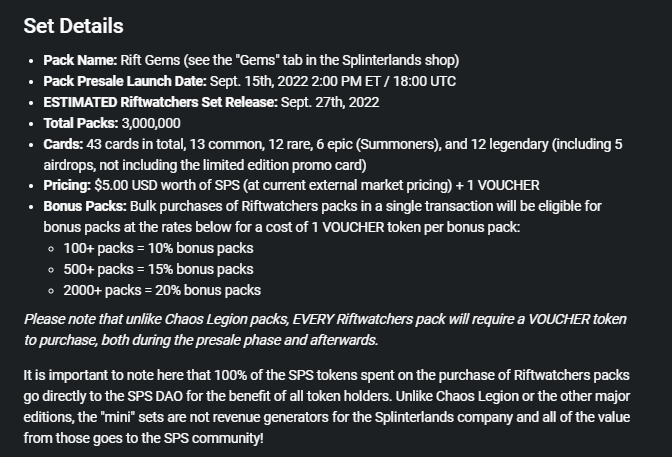 You see the last line on the screen shot above the value of these mini sets are for us the community not theirs as a company, that's true.
For you youngsters that had not yet joined Splinterlands for the Dice Packs you may not be aware of their profit margins being unbelievable.
Dice packs regularly earned me hundreds or thousands of dollars by opening packs & selling cards.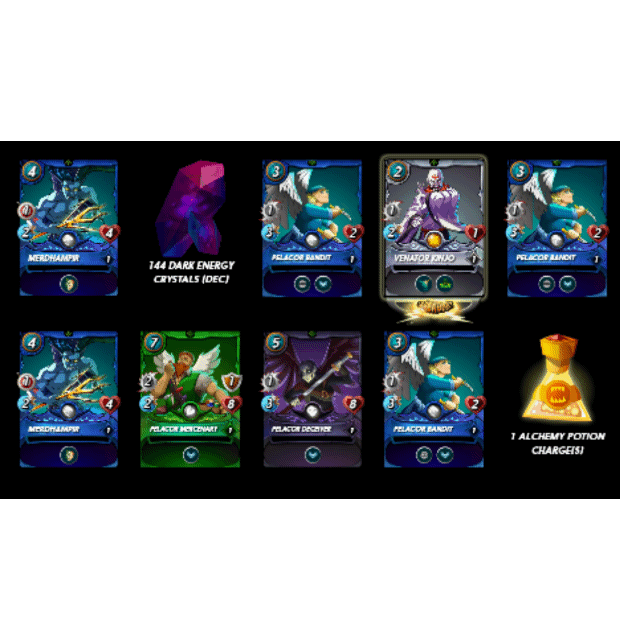 In fact as little as a few months back I was still reaping the benefits of Dice packs.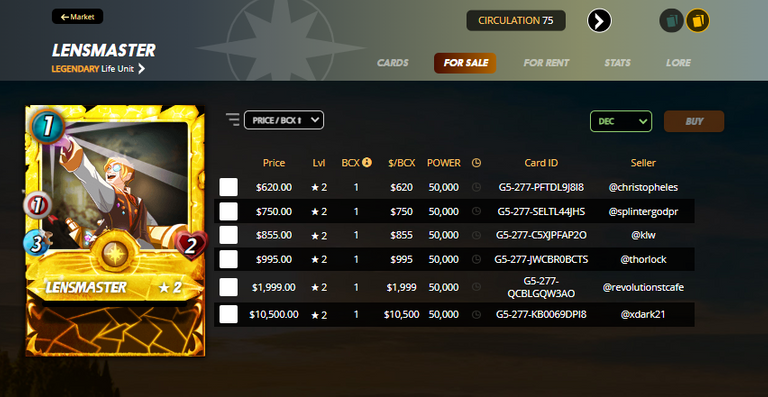 I sold mine at just under $1,200 for my second Gold legendary Lens Master & just over $800 for my first Gold Legendary Lens Master. I managed to get 2 because the Dice packs had such good odds.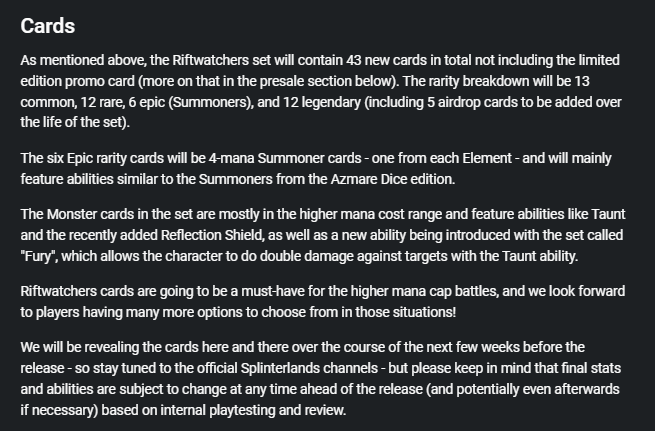 With 18 out of 43 cards being profit or breaking even when the Rift watchers packs have all the Airdropped cards added.
The odds while not as good as Dice packs are decent without even seeing the cards I can tell at least that.
Again I'm not a financial advisor, this is not financial advice, simply my observations intended for informational purposes only, always do your own research before investing.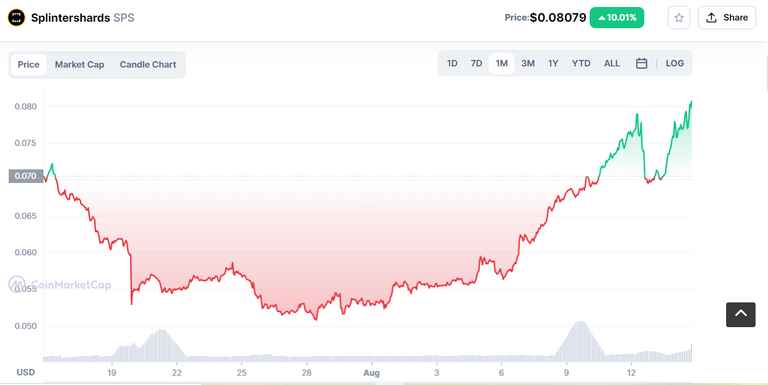 Not quite doubling my money but close given the SPS price when I bought in was just above $0.05 USD. Now with the Rift Watchers Gem Packs on sale the price sits just above $0.08 USD.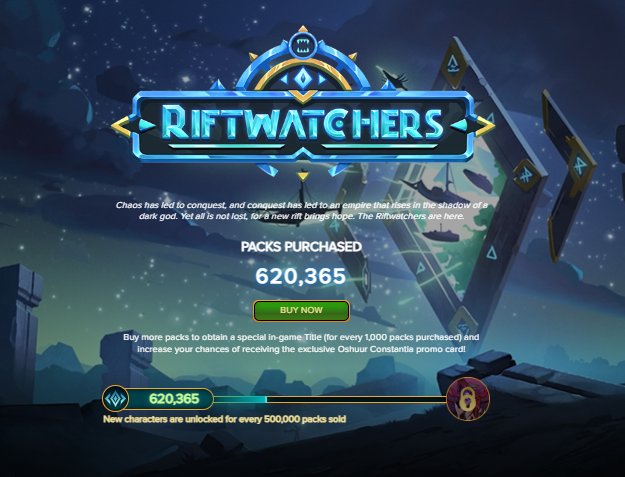 Our collectives supply of SPS is drastically decreasing, given the SPS & Vouchers are needed for each purchase it made sense to stock up.
Already 600,000 Packs purchased out of 3,000,000 meaning on day 1 we are already down to 2,400,000. This leads to my next investment tactic the Rift watcher gem packs themselves.
My prediction at most the rift watchers gem packs will take 6 months to sell out probably much less then that even.
Given on Hive Engine I can already purchase the packs at $3.60 USD on the secondary market I intend on stocking up.


Being able to see this type of thing ahead of time is key, in a manor of speaking its similar to having a lead on a solid bet.
While it may be good bet in no way should this be viewed as a solid investment, keep in mind these markets are purely subjective & the majority of the world hates NFTs.
I believe Splinterlands stands a chance of being a mainstream game, but this will take time, dedication of their fans, & a little luck.
So while yes I'm happy I was right about SPS up valuing, I recognize the dangers involved & dont spend more then i can afford to loose.
Recent pack openings
Haven't been opening many packs lately the chaos legion packs while cheap have significantly worse odds.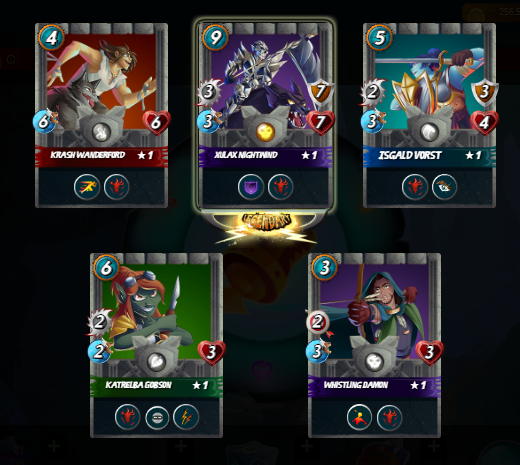 With Gladius Cases 👆 I cant apply potions yet.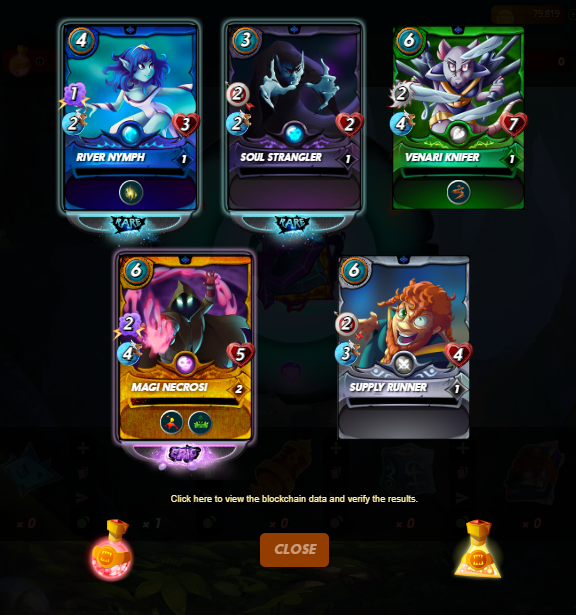 You see free is the best price if not free as cheap as possible that's why playing Splinterlands is so profitable, you can win packs in rewards chests.
Splinterlands Tower Defense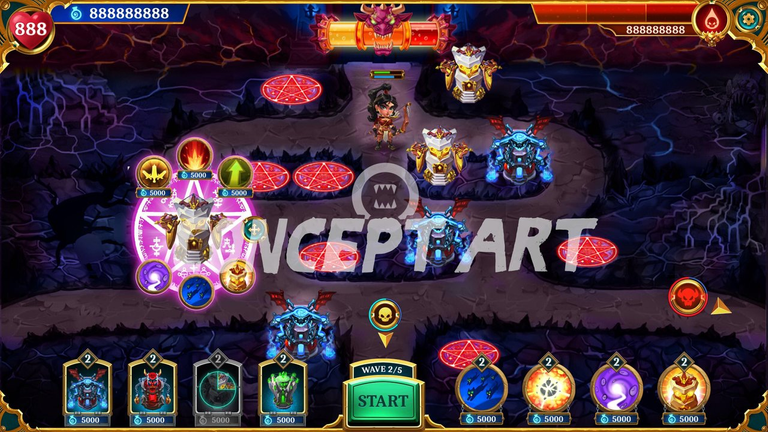 Yeah Splinterlands is getting tower defense, I honestly can see why the TCG multiplayer is getting brutal.
So what's going down with the Splinterlands Tower Defense Nightmare Pack. You may have trouble with this one as it shows up in your additional inventory in game.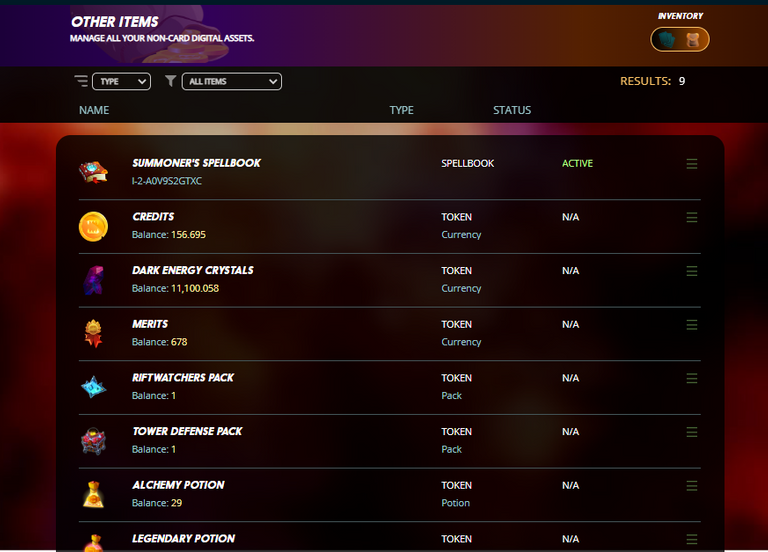 You get here via the button on the card inventory page outlined below.



I'm going to save you some trouble if you end up with one of these in your HIVE engine wallet & not in game you transfer it from HIVE engine by sending it to a certain account.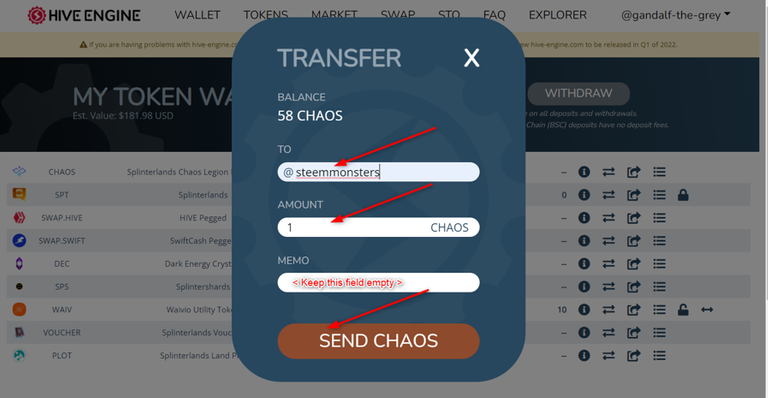 Specifically this account:👇
steemmonsters
In the to field for a Splinterlands asset transfer from your Hive Engine wallet enter the name 👆 above.
This is because I ended up asking the same question so there is the answer.
Splinterlands HIVE transfer tutorial
If you by chance have a Splinterlands Tower Defense Nightmare Pack on WAX, I may airdrop them so if you end up with 1 simply go to the following URL.
https://splinterlands.atomichub.io/tools/overview/splinterlands



Click the deposit to game option. you will need a Spell Book ($10) a HIVE account & then pair your WAX wallet in game.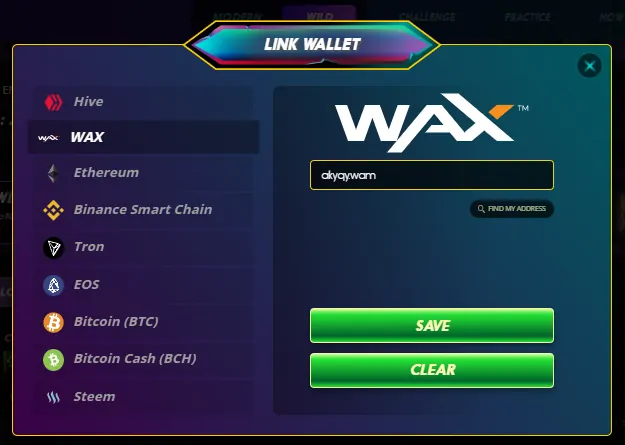 Ill cover the whole WAX process latter on in the write up.
Back to what I think about this new tower defense addition I think this is awesome & I hope they stick the landing.
I'm in no way affiliated with the Splinterlands Dev team, this being said I cant help but suggest options for the Tower Defense game.
One option I for one would like to see is a NFT staking / auto play option for the Tower Defense game. Beast Gardens added this to a WAX P2E title while not tower defense the NFT staking option is a great option for less hands on players.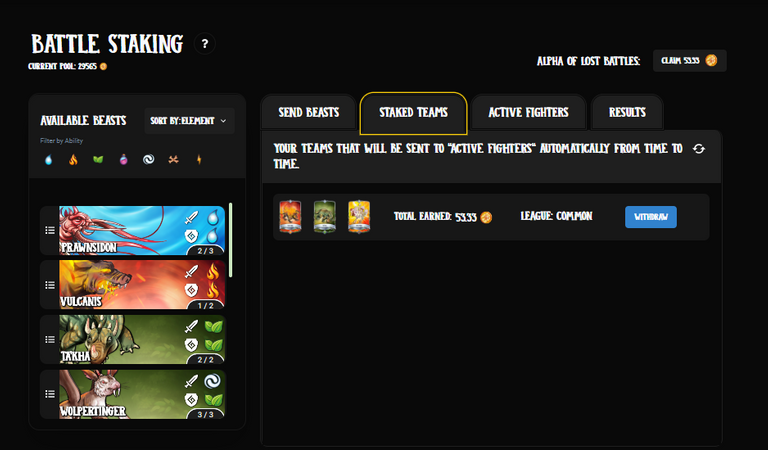 I understand I shouldn't draw attention to the competition but its a decent mechanic one I would love to see in Splinterlands.
Anyone that has thoughts on what they want for Splinterlands Tower Defense shout them out in the comments I like to hear you readers think about it.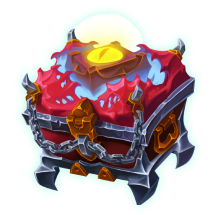 Last season rewards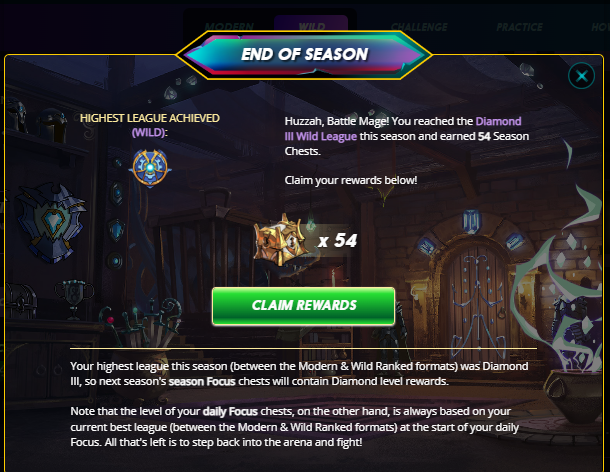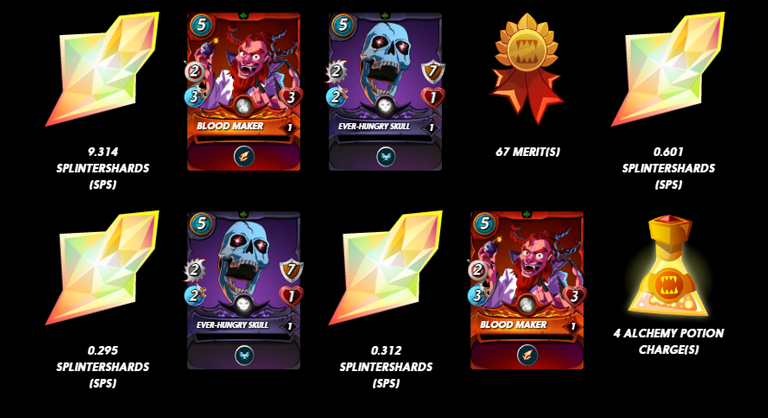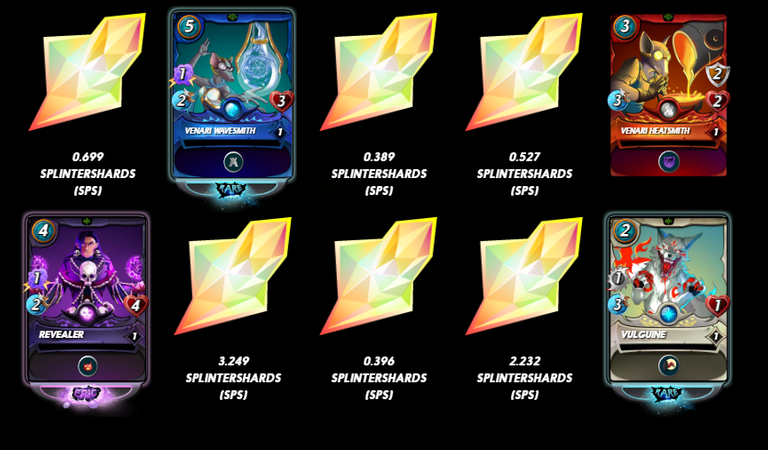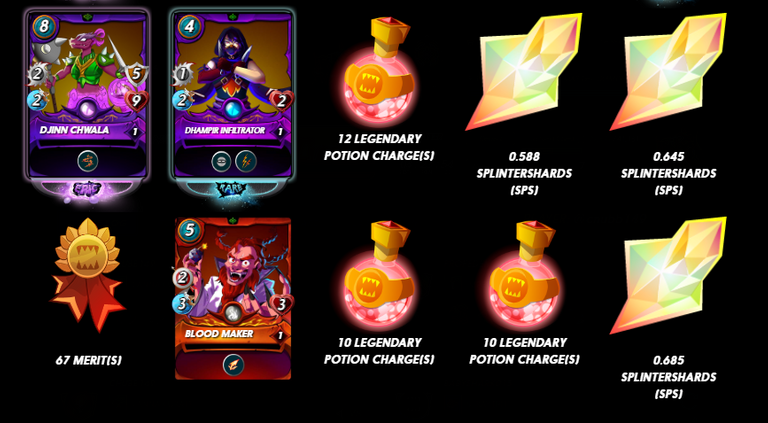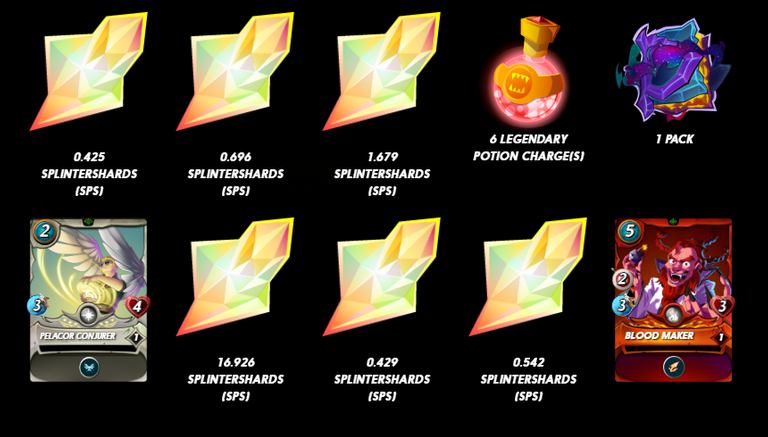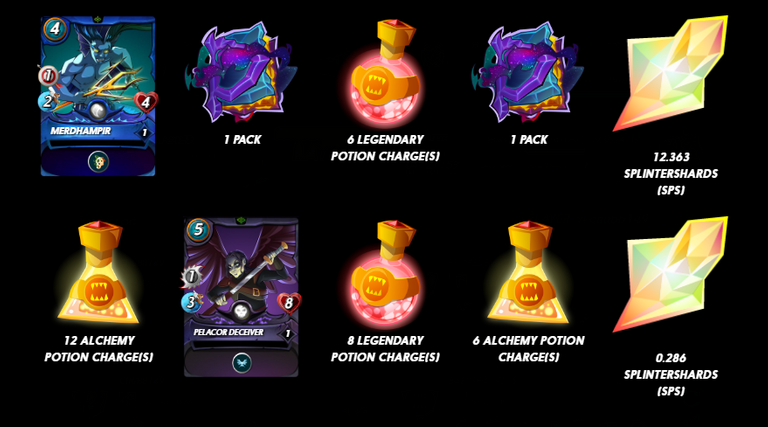 At a rental cost of $7.84 total I profited by a little margin tough to say exactly with 4 packs & 53.2 SPS I basically broke even.
Why so little?
I slacked off last season resulting in loosing my Diamond rank which resulted in giving me gold rewards this season.
Knowing how important that rank is I fought tooth & nail to reclaim it this season meaning next seasons rewards will be diamond.
Regardless nothing beats free when it comes to P2E games, I challenge that if your serious you should at least break even but likely profit even renting your whole deck.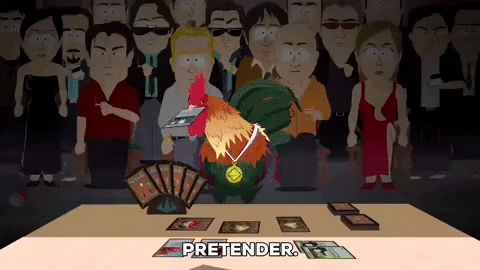 I cant lie people have been even giving me a challenge in ranked matches so I get why some cant really play at the level at which they are comfortable spending money on rentals.
For this reason the tower defense may be an interesting alternative as the TCG gets rough.
Splinterlands Market Tricks
Not only do I give away NFTs on every post, I also try to include as often as possible how to make the most money from the NFTs I give away.
A big part about my NFT giveaways is not giving out NFTs without a use case giving their ownership a more legitimate value.
Since todays post is all about the P2E game Splinterlands, here are a few market tricks to make the most from their colection.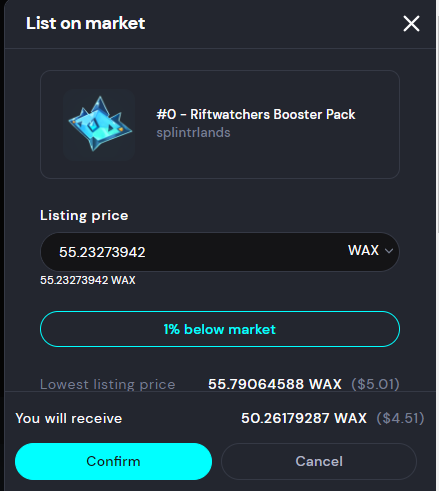 Take the new Rift Watchers Gem packs just recently launched they typically sell on WAX for more then they do on Hive Engine or other HIVE Dexs.



Since these markets are easily reached though unconnected enterprising individuals can profit from this in the intermediate.
So unlike say stocking up on Rift Watchers Gem Packs which is the long term profit situation this is a means by which I can profit in the short term.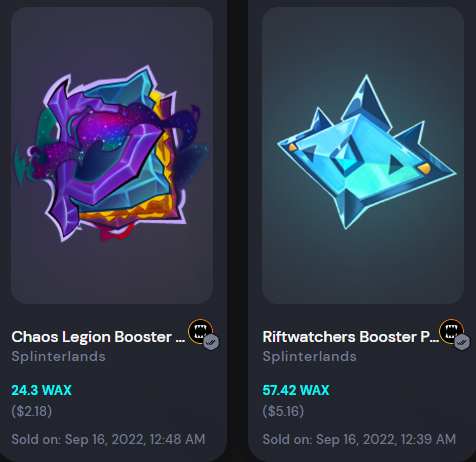 It takes some effort & a little patience but this is a solid method to profit of the Splinterlands market I use it often. Cards sell less often then packs which Chaos Legion packs & now Rift Watchers Gems will sell fastest in my experience.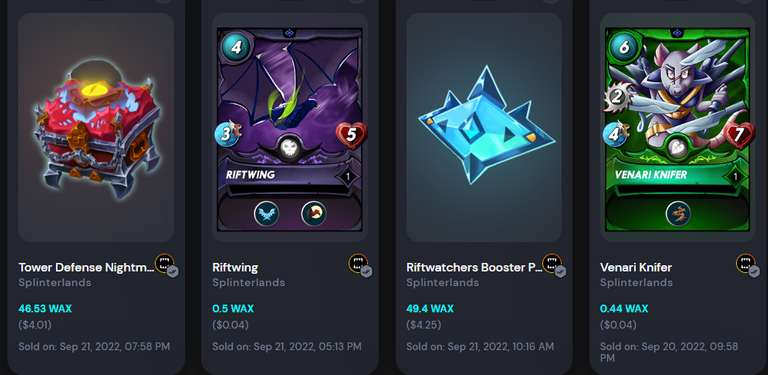 Splinterlands is always my top seller & my favorite P2E (play 2 earn) game which is why I do so many Splinterlands posts / giveaways.
Like I said it takes patience & persistence, but Splinterlands more then worth all the effort.
When buying cards on HIVE I use the following market
https://www.cardauctionz.com/
As for packs on HIVE P2P markets all the HIVE trading DEXs work
https://tribaldex.com/
https://hive-engine.com/
https://beeswap.dcity.io/wallet
When selling or buying Splinterlands NFTs on WAX I use
https://neftyblocks.com/
The reason for my choices Card Auctions has cash back & Nefty Blocks has NEFTY generation.
WAX tools
Now I airdrop many WAX NFTs for the Splinterlands game which is itself on HIVE, so what do you need to do to be able to use them?
WAX has a market called atomic hub which has its own Splinterlands market with game tools.
https://splinterlands.atomichub.io/tools/overview/splinterlands
First pair your WAX wallet to your Splinterlands account in game then use the tools found via the link above to transfer the NFTs to game.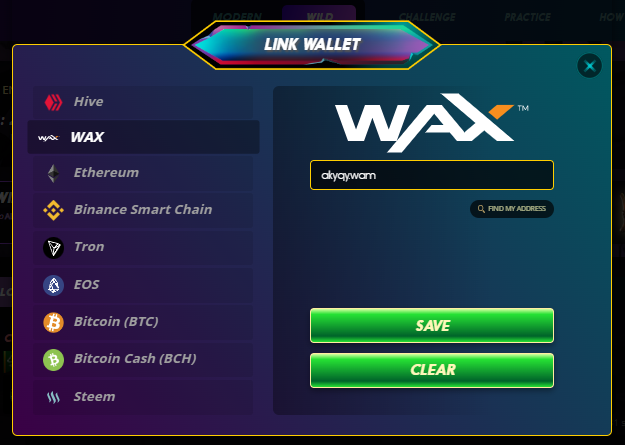 Now if you dont have a WAX wallet, dont panic the WAX blockchain is by far the easiest to use via their WAX cloud wallet a web wallet which can be signed in via social media.
https://wallet.wax.io/dapps
The link above is to a WAX cloud wallet easy to sign up takes 2 seconds & you will be able to participate in my WAX airdrops on every HIVE post including this one.
Joining the HIVE blockchain
HIVE the blockchain has many Dapps such as games & blogs built upon it, & you can sign up for HIVE on several of its blogs.
Here are 2 HIVE blogs which allow me to refer new users, with my following referral links you can begin signing up for HIVE.
https://peakd.com/register?ref=chubb149
https://ecency.com/signup?referral=chubb149
Splinterlands is just 1 of HIVE blockchains ever growing list of P2E titles some other games on HIVE include.
https://exodegame.com/?ref=4bb6e70
https://www.dcrops.com/?ref=peakd
https://www.hashkings.app/
https://bangdefense.net/home/index.html
This HIVE P2E game is totally free
https://www.risingstargame.com?referrer=chubb149
There are a myriad of other HIVE Dapps from exchanges to blogs even some HIVE tribes (blogs) have their own NFT markets.
Exchanges
https://hive-engine.com/
https://beeswap.dcity.io/wallet
https://tribaldex.com/
Some of my favorite HIVE tribes / blogs
https://leofinance.io/
https://www.splintertalk.io/
https://www.1up.zone/
On Weedcash I'm even a NFT producer & vendor
https://www.weedcash.network/
My #stashpass colection with a monthly raffle system is one of the most popular Weedcash NFT collections.
https://www.weedcash.network/nfts/
On HIVE tribes users can post content or interact with other users content to earn HBD (HIVE Backed Dollars) HP (Hive Power) & or HIVE alts.
You can actually earn a decent amount of crypto on HIVE by just using the many Dapps on the HIVE blockchain.
Dont misplace your HIVE keys when signing up they are very important.

Paying for a Splinterlands Spell book
This is the thorny issue with certain P2E titles like Splinterlands some even calling the title Pay to Earn, not Play to Earn.
For those unaware the HIVE P2E title Splinterlands will require a $10 spell book to own assets in game. Now you can still sell the WAX NFTs I airdrop without a game account or Spell book, for this reason I do WAX Splinterlands NFT giveaways.
None the less the $10 Spell book in my opinion is a worth while entry fee, my best investment ever in fact.
Now a days they give you $3 back in credits which can be easily turned into crypto by buying & selling NFTs.
So that's $3 off the $10 price tag if you have a HIVE account you can use the base version of the game without a Spell book to produce Splinterlands content.



Participate in any of the Splinterlands posting challenges & you will have the $10 in no time, a little effort sure but its free this way 7 how I paid for my Spell book years ago.



Again it will take some effort but it will cost you nothing by using HIVE to earn the Spell Book Costs.



Social media challenge being the simplest write a glowing review about Splinterlands post it to HIVE & Social media then comment in that Social media challenge post your Post URLs.
Here's the official HIVE Splinterlands account:
https://peakd.com/@splinterlands
Look there for the Posting challenges, if your new you may need HIVE resources HP, I have got your back Gift Giver is a lesser known gem of HIVE that gives out temp delegations of HP HIVE Power used for among other things for posting on HIVE.
https://giftgiver.site/
Now you have no excuse to miss out on this fantastic play to earn that legit changed my life Splinterlands.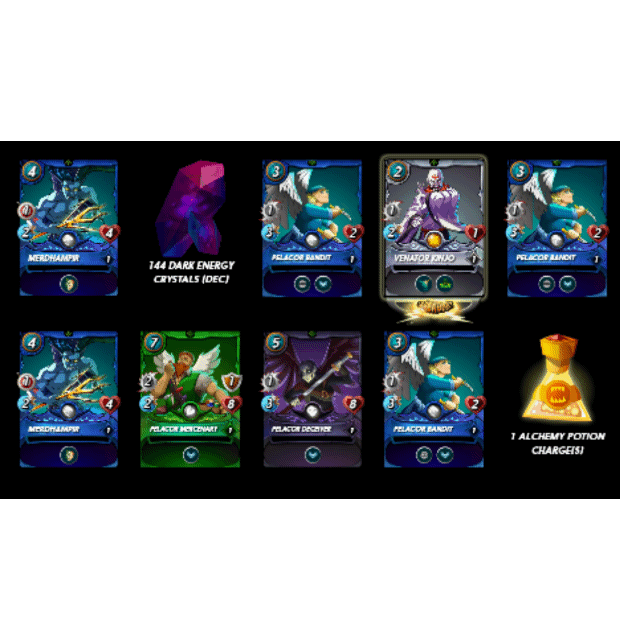 I'm all about giving readers tools, & teaching you to fish metaphorically speaking, putting in the effort is more then worth while in my opinion.
Given I have cleared well over $20,000 in profit since joining Splinterlands 2 years ago, so I may be a little bias.
Its for this reason I strongly suggest you sign up & start playing Splinterlands, please consider using my referral link below.
https://splinterlands.com?ref=chubb149
Forgive the time differences
I wrote this over a period of nearly 2 weeks working on the post at work mostly so I may have some prices & dates a little off in the whole write up my apologies for the confusion.
WAX NFT Giveaway tutorial
Every time I post on HIVE I do a few NFT giveaways, the first & larger 5 count WAX NFT airdrop URL which goes to the first user to click the link.
The next 5 WAX NFTs are given away to the first 5 users to comment their WAX wallet address, once I see the comment Ill send you a single WAX NFT followed by a reply stating I have done so. This is for the first 5 users only to leave their WAX address in the comments.
Splinterlands WAX NFT airdrop + giveaway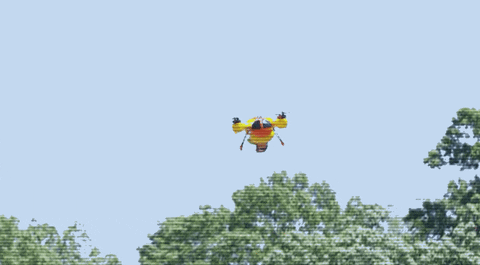 Below is a WAX airdrop URL first WAX wallet user that clicks it gets the large airdrop with 5 WAX NFTs including a Splinterlands Pack!
https://wax.atomichub.io/trading/link/1539030?key=5J6vrULdtz3UGmU2PaxbeEocsAtoDXJanS49eeyKpgVQCLmAmz5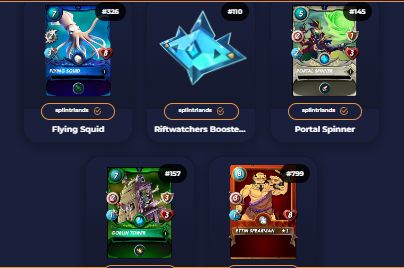 That's right the really lucky reader that claims the airdrop URL today gets a Splinterlands Rift Watchers pack!!
If your the lucky reader please let other readers know in the comments it helps.
Missed out on the Big Airdrop?


I have 5 more WAX Splinterlands NFTs to send to the first 5 people to comment their WAX wallet address.
Stash Pass Weedcash NFT giveaway
Every time I post anything on HIVE I do several NFT giveaways, one such giveaway is my #stashpass NFT giveaway.
How you participate in a #stashpass NFT giveaway is be one of the first 5 HIVE users to comment #stashpass on this post & then Re-blog, gets a #stashpass Weedcash NFT sent to their HIVE wallet.
My #stashpass Weedcash (HIVE) NFTs are part of a monthly NFT raffle taking place on the 20th with the #stashpass NFT ownership being used to determine who wins the raffle.
Full Instructions on #stashpass raffles can be found via the URL below
https://ecency.com/hive-195708/@chubb149/stash-pass-nft-airdrops-tutorial
You can view, buy, or sell Weedcash NFTs like #stashpass here
https://www.weedcash.network/nfts/
So the first 5 HIVE users to comment #stashpass & then re-blog this post gets an exclusive limited #stashpass NFT sent to their HIVE wallet.
Last months raffle featured prizes from Rising Star, Hashkings, & Bang Defense we had 3 grand prize winners that walked away with 6 raffle prizes each.



https://ecency.com/hive-195708/@chubb149/stash-pass-raffle-winners-9
The #stashpass raffles are won via ownership of either pass NFTs & the 3 randomly selected #stashpass NFTs randomly selected from the #stashpass colection that month.
What this means is the #stashpass NFTs like those I'm giving away for free today are used to determine raffle winners they are very limited minting's making all #stashpass NFTs hold a minimum value.
Full details on the #stashpass Weedcash NFT colection can be found at the link below.
Stashpass whitepaper
Thoughts / Questions
I want to hear what you think about the recent Splinterlands developments, in addition anyone with questions about Splinterlands if I cant answer something I can direct you to someone that can.
Let me know by shouting it out in the comments.
Keep in mind I'm not Splinterlands staff just a knowledgeable player / NFT vendor, I'm happy to help if I can.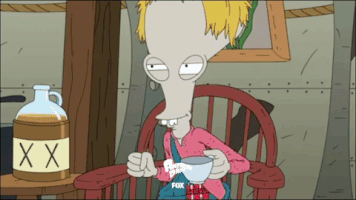 If your new to Splinterlands please consider checking the game out via my referral link below.
https://splinterlands.com/?ref=chubb149
---
---