𝔻𝕣𝕒𝕨𝕚𝕟𝕘 𝔹𝕐ℤ𝔸ℕ𝕋𝕀ℕ𝔼 𝕂𝕀𝕋𝕋𝕐 ✨ ESP-ENG 🌈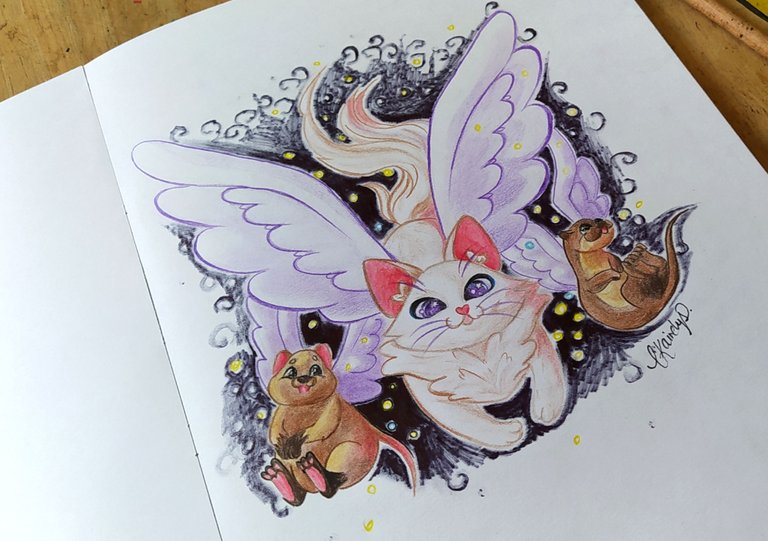 Debo confesar que luego que ví la carta de Byzantine Kitty, realmente quise hacerla "tal cual" y no hacer la versión "a mi estilo" como venía haciendo con Javelin Throwers y Wood Nymph. Me encantó lo lindo que es este personaje y sus acompañantes tan tiernos.
I must confess that after I saw the Bizantine Kitty card, I really wanted to do it "as is" and not do the "my style" version as I was doing with Javelin Throwers and Wood Nymph. I loved how cute this character is and her cute companions.
ℙℝ𝕆ℂ𝔼𝔻𝕀𝕄𝕀𝔼ℕ𝕋𝕆 - ℙℝ𝕆ℂ𝔼𝔻𝕌ℝ𝔼
Primero hice el boceto del gatito, remarque las líneas con los colores, luego fui rellenando en capas, de claros a oscuros. Para lograr el difuminado de las alas use un hisopo, hice la carita de último porque es mi parte favorita ¡Lo mejor para el final! Los ojos los rellené de morado, deje las luces y por supuesto los toques finales con color azul y negro.
First I made the sketch of the kitten, highlighted the lines with the colors, then I was filling in layers, from light to dark. To achieve the blurring of the wings I used a swab, I did the little face last because it is my favorite part The best for last! I filled the eyes with purple, left the highlights and of course the final touches with blue and black.

Luego de terminado el gatito, hice los bocetos muy claritos de sus acompañantes: la nutria y la marmota:
After finishing the kitten, I made the very clear sketches of his companions: the otter and the groundhog: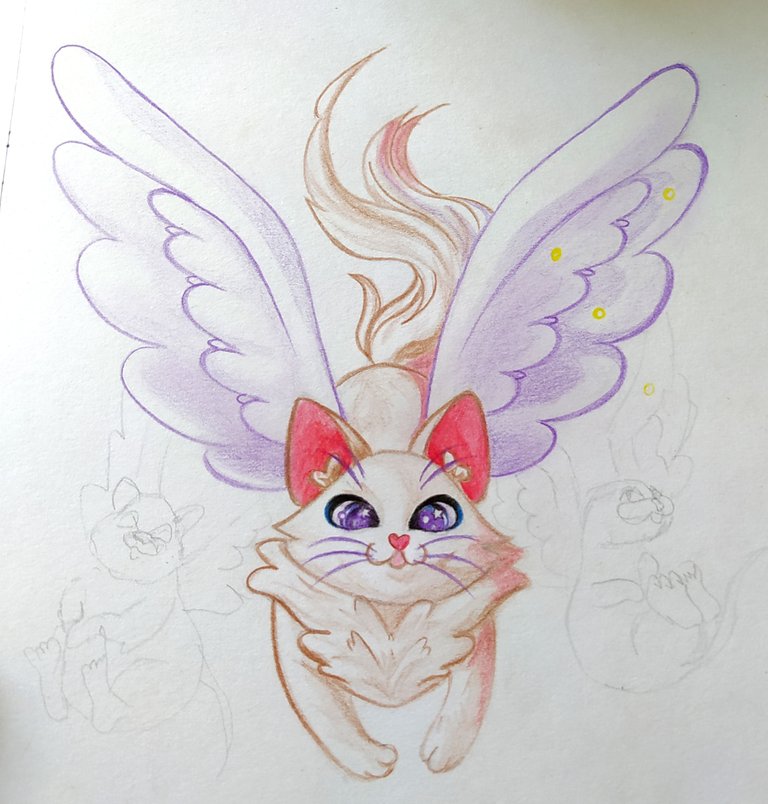 Del mismo modo remarque las líneas del boceto con los colores, fui rellenando por capas: primero marrón claro, luego marrón oscuro, haciendo más o menos presión dependiendo de la imagen de referencia que no deje de verla en ningún momento. Por último sus alitas con color morado y difuminé hasta que ya estuve satisfecha.
In the same way I highlighted the lines of the sketch with the colors, I was filling in layers: first light brown, then dark brown, doing more or less pressure depending on the reference image that I did not stop seeing it at any time. Finally, I filled in their wings with purple and blurred until I was satisfied.

Así quedaron las tres criaturitas tiernas:
That's how the three little tender creatures looked like: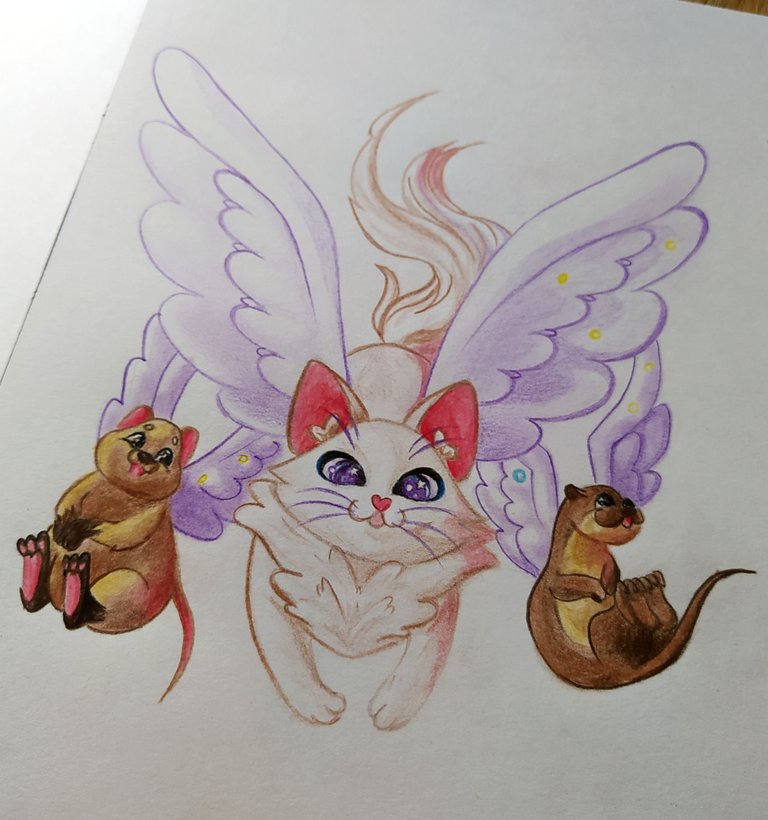 Posteriormente marque pequeños círculos que serían unas especies de estrellas y fui rellenando los espacios vacíos con marcador negro haciendo menos hincapié por los bordes.
Later I marked small circles that would be a kind of stars and I was filling in the empty spaces with black marker making less emphasis on the edges.
ℝ𝔼𝕊𝕌𝕃𝕋 - ℝ𝔼𝕊𝕌𝕃𝕋𝔸𝔻𝕆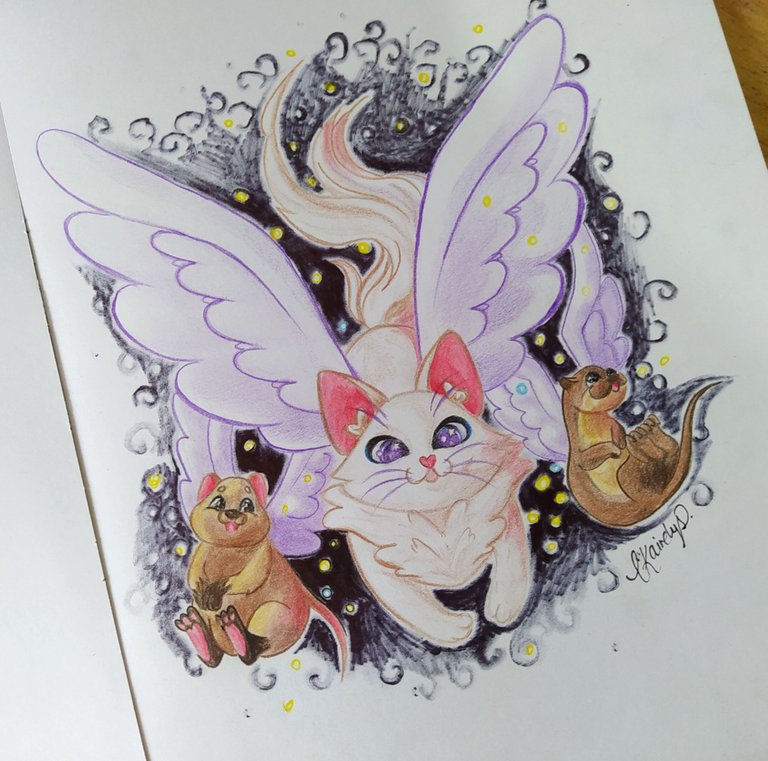 Espero que les haya gustado el resultado ¡A mí me encantó! Representa los dibujitos tiernos que tanto me gusta hacer. Gracias por leerme💗🌈🥺
I hope you liked the result I loved it! It represents the tender little drawings that I love to do so much. Thank you for reading💗🌈🥺

Referencia | Reference
SPLINTERLANDS
MY INSTAGRAM
Traducido con | Translated with
DEEPL
Conversor de letras | Letter converter
PILIAPP
---
---