Splinterlands card management with PeakMonsters
A few months ago I started upgrading and optimizing my Splinterlands cards, a job that was certainly not easy, it required time to sell my Alpha, Beta and Untamed cards and to buy the desired Chaos Legion cards. In this particular moment of the silent market, it is an excellent opportunity to constantly grow one's assets and be increasingly competitive.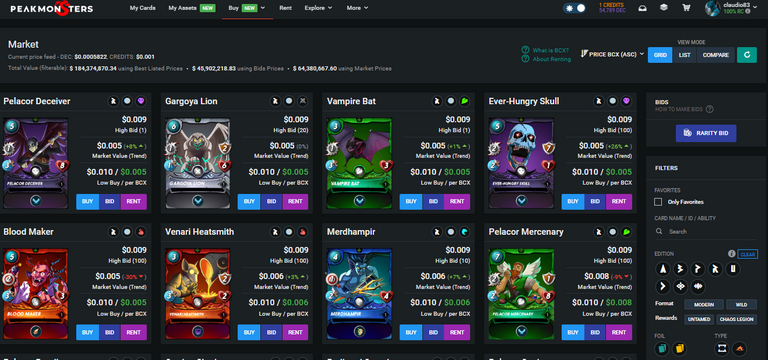 ---
I conducted all the sales and purchase operations on @peak-monsters, the alternative market of Splinterlands which, in my opinion, offers more details and opportunities to make targeted purchases at the best possible price. For example, it is essential to know the 3% discount on all purchases made. This means that if I make purchases for a total of 1 million DEC, I will have a discount of 30k, savings that I will certainly use for other purchases.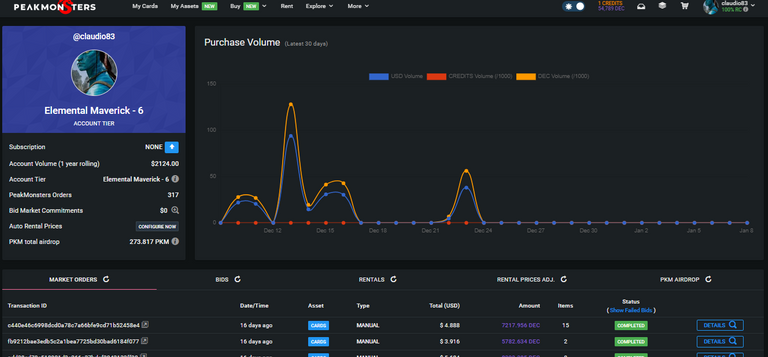 ---
@peak-monsters offers a very unique card management, many graphs and detailed statistics, information on prices, sales, supply, rental. Furthermore, a graph is available which informs me of all the movements made, in order to always have my budget updated. The platform truly projects the user into a professional world, ideal both for simple users like me, but also for those who manage, for example, important assets and carry out numerous daily movements. In fact, there is also the possibility of accessing the Premium service, at a cost of $4.50 per month, with a 33% discount if you decide to pay in PKM tokens (760 at the current value. The upgrade, in fact , offers additional tools and more detailed tools, as well as additional discounts and access to additional areas of the website.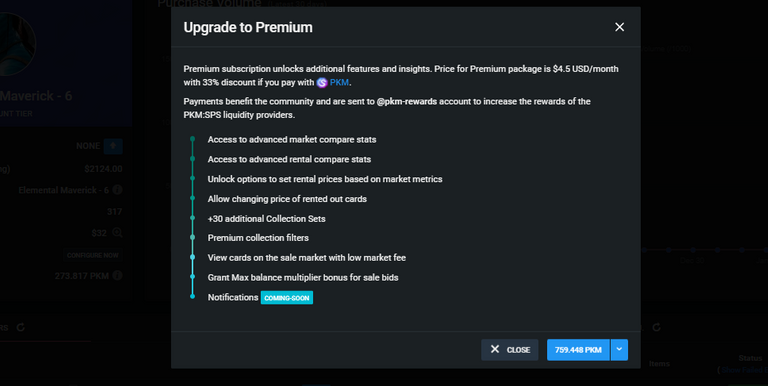 Furthermore, for purchases made on the platform, PKM tokens are received, the Peakmonsters token, which in the future will add further functions and benefits for its owners.
A very useful function is BID, i.e. the purchase offer for a specific card. In my case, I'm entering the . BID for the summoner THADDIUS BROOD, belonging to the Chaos Legion edition, for 40 BCX at an average cost of 0.80 USD. Currently in the market the minimum price is 0.82 USD for an upgraded card already at the maximum level. We'll see if in the next few days my proposal will be accepted by someone.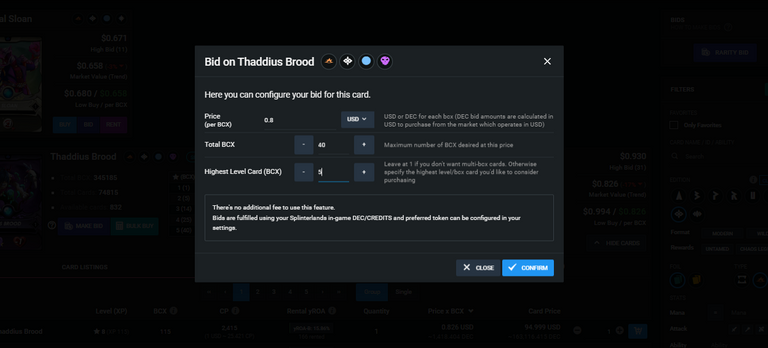 ---
I'm sure many Splinterlands players are already very familiar with @peak-monsters. The Rent section is certainly among the most important news, at the moment I have never rented cards so I haven't been interested in understanding the mechanism. In the future, however, I could change my strategy, so I will go into detail in this section.
Thanks for reading my post, if you liked it feel free to vote and reblog to share it with the Hive community

ITA
Da qualche mese ho iniziato un lavoro di potenziamento e ottimizzazioni delle mie carte Splinterlands, un lavoro di certo non semplice, ha richiesto tempo per vendere le mie carte Alpha, Beta e Untamed e per acquistare le carte Chaos Legion desiderate. In questo particolare momento del mercato silente, è un'ottima occasione per crescere in modo costante i propri asset ed essere sempre più competitivi.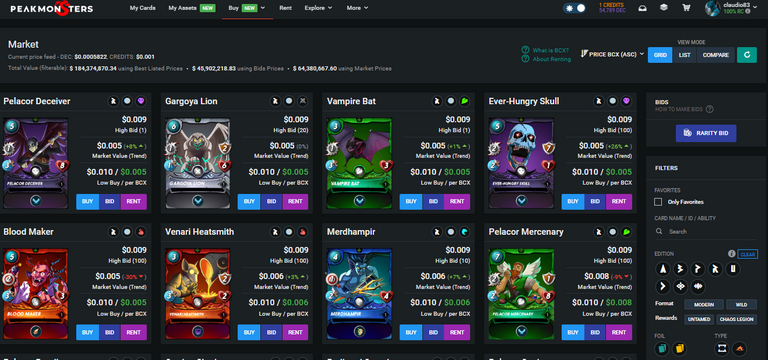 ---
Tutte le operazioni di vendita e acquisto le ho condotte su @peak-monsters, il mercato alternativo di Splinterlands che offre a mio avviso maggiori dettagli ed opportunità per effettuare acquisti mirati al miglior prezzo possibile. È essenziale ad esempio conoscere lo sconto del 3% su tutti gli acquisti effettuati. Ciò significa che se effettuo acquisti per un totale di 1 milione di DEC, avrò uno sconto di 30k, risparmi che io utilizzerò di certo per altri acquisti.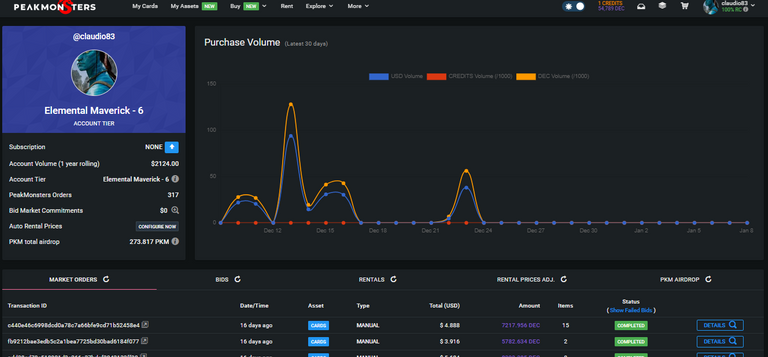 ---
@peak-monsters offre una gestione delle carte davvero unica, molti grafici e statistiche dettagliate, informazioni sui prezzi, vendite, supply, noleggio. Inoltre è disponibile un grafico che m'informa su tutti i movimenti effettuati, al fine di avere sempre aggiornato il mio budget. La piattaforma proietta l'utente davvero in un mondo professionale, ideale sia per gli utenti semplici come me, ma anche per chi gestisce ad esempio assets importanti ed effettua movimenti giornalieri numerosi. Di fatto, vi è anche la possibilità di accedere al servizio Premium, al costo di 4,50$ al mese, con uno sconto del 33% se decidi di pagare in token PKM (760 al al valore attuale. L'upgrade, di fatto, offre ulteriori tools e strumenti più dettagliati, oltre ad ulteriori sconti e accessi ad aree ulteriori del website.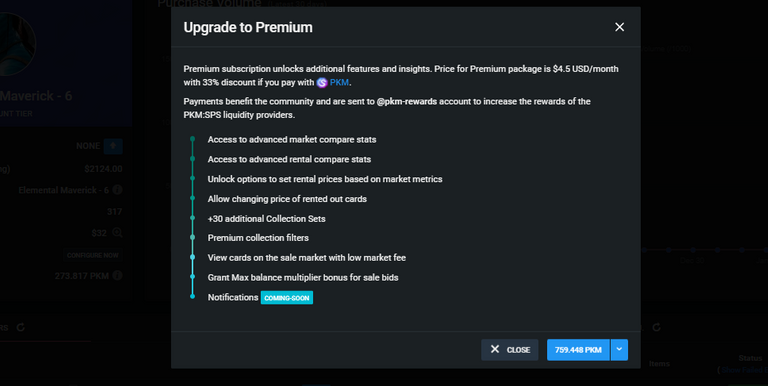 Inoltre, per acquisti effettuati sulla piattaforma, si ricevono token PKM, il token di Peakmonsters, che in futuro aggiungerà ulteriori funzioni e agevolazioni per i suoi possessori.
Una funzione molto utile è BID, ossia l'offerta d'acquisto per una determinata carta. Nel mio caso, sto inserendo il. BID per il summoner THADDIUS BROOD, appartenente all'edizione Chaos Legion, per 40 BCX al costo medio di 0,80 USD. Al momento sul mercato il prezzo minimo è di 0,82 USD per una carta potenziata già al massimo livello. Vedremo se nei prossimi giorni la mia proposta sarà accettata da qualcuno.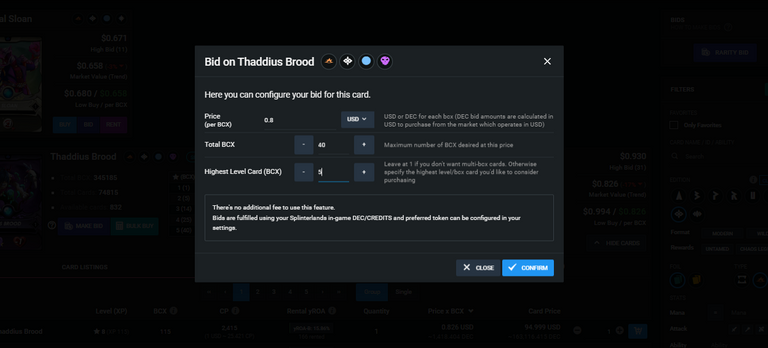 ---
Sono certo che molti giocatori di Splinterlands conoscono già molto bene @peak-monsters. La sezione Rent è di certo tra le novità più importanti, al momento non ho mai noleggiato carte per cui non mi sono interessato di capirne il meccanismo. In futuro però io potrei cambiare strategia, per cui approfondirò nel dettaglio questa sezione.
Thanks for reading my post, if you liked it feel free to vote and reblog to share it with the Hive community

---
---