Splinterlands! My Twitch Weekly LIVE Schedule & Opening Up 5 Untamed Packs!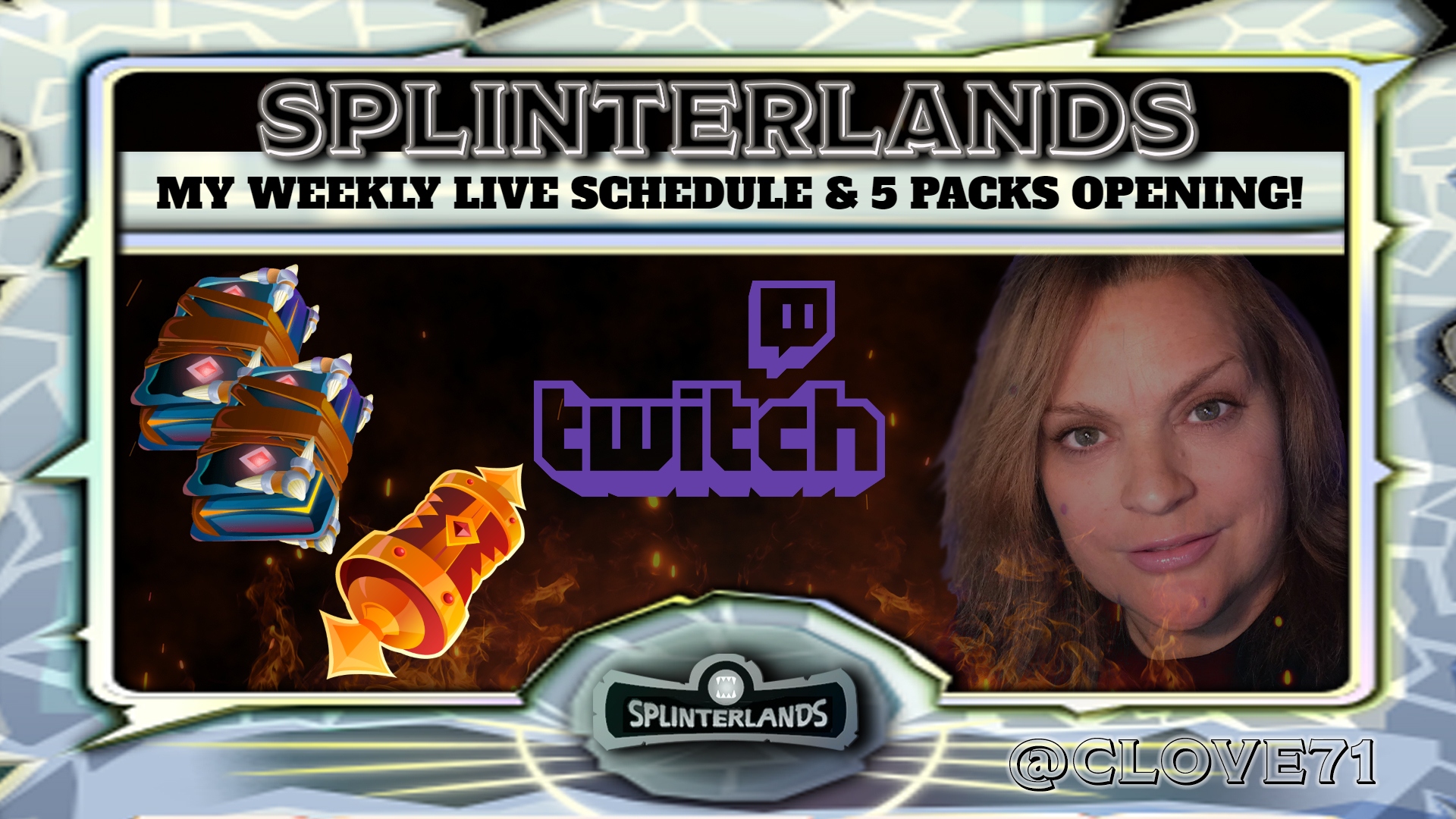 ---
Hello everyone! I hope to se you on one of my live streams, it is a great way to interact with the local Splinterlands Twitch community and be eligible for a giveaway as well! I am definitely the Queen of Splinterlands giveaways! I have given away 56 land plots back in January, I have given away close to 1/4 of what I have received from playing the game! I hope to make someone else as happy as I am playing the game and a giveaway is a nice start! Dec. 8th will be here soon and so many of us will be opening some Chaos Legion packs! I'm so excited! Remember to use credits when buying your potions! You will need 5 Alchemy potions and 5 Legendary potions! You will want that double chance to pull a legendary or a gold card! I never had potions long ago when I maxed out my Alpha set! I was the 6 or 7th player to max out their Alpha cards! The regular foil Alpha cards, not the gold foil ones, LOL! I was so proud of that then! I had to max out my cards so one day so I could battle with them! Those were fun times! I maxed out all my Alphas about 90% from opening Alpha packs! There were no potions to use and pulling a Gold foil legendary was so tough! In one layer and a half or so I only pulled one gold foil Spirit of the Forest Legendary card! I still have her!

The rest I either traded someone so I could level up my cards and trade them what they had extra of or I sold them to someone for a profit and bought from someone else what I did need. You had to trust the person, I only traded with those who I knew. I also sold a lot and the opportunity was brought to pay $100 to Splinterlands (Steem Monsters back then) and you could get the role and title as an NFT Broker/Trader or Middleman for card sales player to player. I just was eager to get any money I could and get the Alpha cards I needed so I could max them out fast! It is the competitive side of me, LOL! I wanted to be in that first top ten to max their cards!

I have been crazy about Splinterlands since it started! I am so excited on Dec.8th to open up Alpha booster packs up 9 Untamed packs. It was pretty fun, I am excited and waiting for Dec. 8th when we can open up our Chaos legion packs! I will be opening large quantities but I want to go live to do it, I am just not sure what time we will get the packs. I think it will be in the morning maybe, but I am not going live until 6pm est so there is no way I could wait until then!

I hope to see you all on my live streams this week! Clove71 Tournaments, Battles, and Marbles on Stream all with Giveaways!

The tournaments below are live and you need to play in real-time. You must also check-in 15 minutes prior, then meet me on Twitch and join the Twitch Splinterlands community for some fun with giveaways in chat! If you are present for the live stream and active in chat and you place in the top 5, I will double your prize on my live stream! My Twitch Subscribers have double the chance to win if the night bot picks you. Also, sometimes when available, Subs will win a wheel spin as well! You can also win at marbles on stream we will play in between rounds. You can find my tournaments of mine under events in-game!

I hope to see you all Monday night, November 29th, 2021 for a Monday Madness Silver League Tournament at 6:00 PM EST! Join the Tournament HERE and then join us LIVE for tournament battle and marbles on stream in between rounds! Giveaways in between the rounds!

A Warzone Wednesday Bronze Tournament, December 1, 2021 at 6:00 PM EST. It cost 1 DEC to enter! You must check-in 15 minutes prior to starting! You can join it HERE

A Fierce Friday Bronze League Tournament on December 3rd, at 6:00 PM EST HERE I hope to see you all there! ~@clove71

From now on, starting with the tournaments listed below, if you are in the live tournament stream and you are active there then your prize will be doubled if you place within the top 5! You must be active the whole tournament in the Twitch chat.

Monday Madness Silver league Tournament and Live Stream on Twitch with clove71 at 6:00 PM EST HERE

Warzone Wednesday Bronze league Tournament LIVE on twitch with clove71 and 6:00 PM EST! Join it HERE

Join me for a Fierce Friday tournament on Dec. 3rd at 6:00 PM EST HERE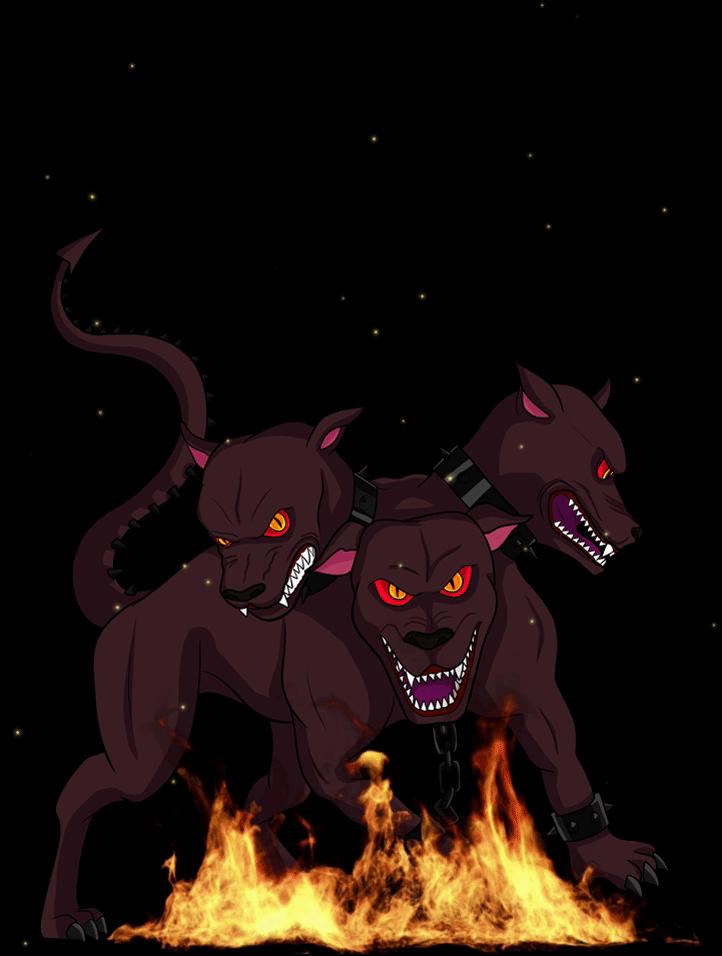 Catch me on Twitch for Live Coverage and Giveaways!
---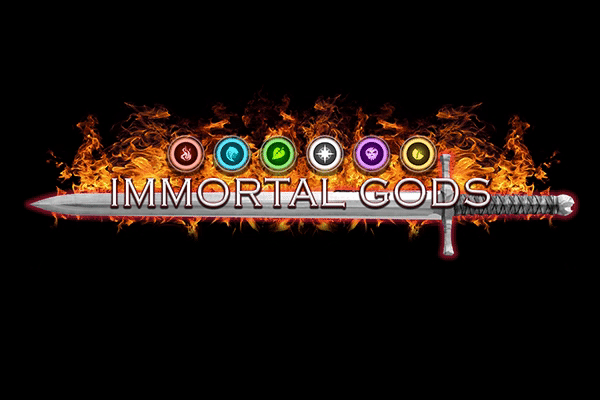 ---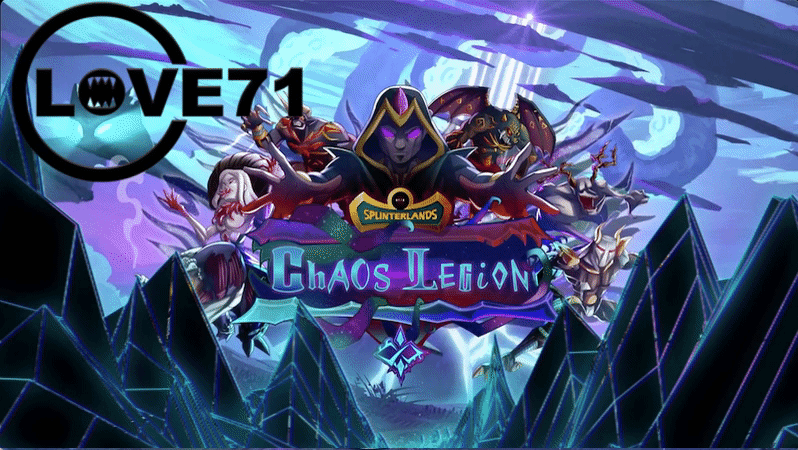 ---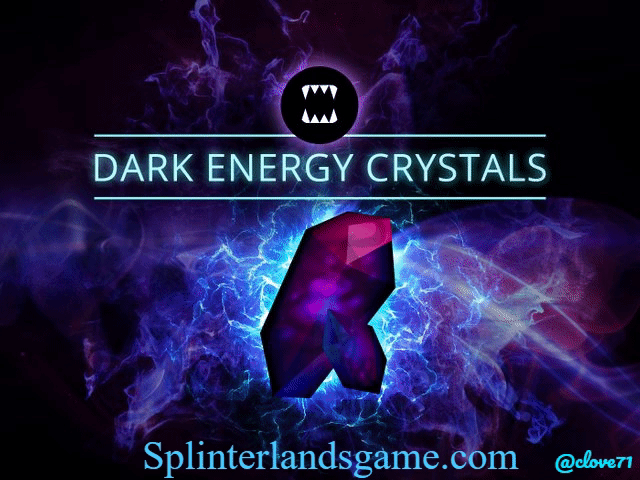 Check out all their features like the packs and rewards analyzer HERE.
View rewards cards going out of print, get your season report card and view cards by league cap by the great @kiokizz who is @splinterstats HERE please show him some Monster love on his recent Splinterlands posts!

Want to view Splinterlands stats? Check out @rafalski and his awesome Splinterlands stats HERE and make sure to show some Monster love on his recent Splinterlands post!

Check out @peakmonsters today HERE and all of their features!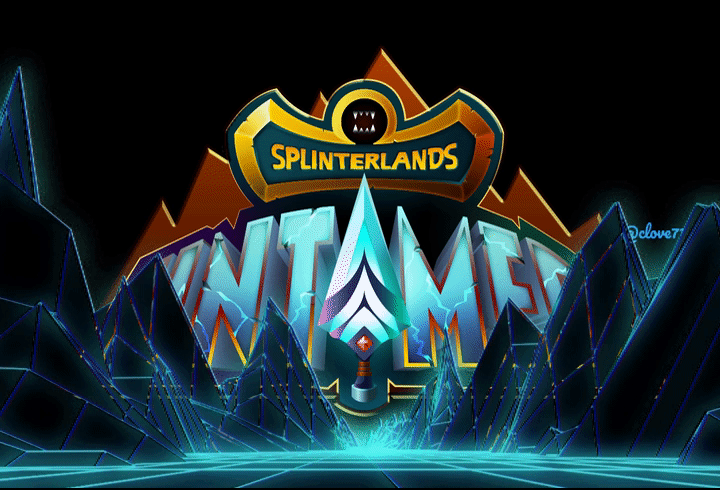 Splinterlands clove71 Discord HERE
Splinterlands Custom Merch HERE
Start Playing Now for FREE!
TWITCH Live Streams HERE
MY NFT ART GALLERY HERE
THETA.tv Live Streams HERE
Splinterlands Content Twitter HERE
Splinterlands TikTok HERE
Splinterlands Discord HERE
Splinterlandsgame IG - HERE
YouTube Splinterlands Content - HERE
3Speak HIVE Splinterlands Community - HERE

I wish you luck in your battles and daily quest loot chests!
I will see you all on the battlefield!
May the Monsters be with you.
Chris Love @clove71
Splinterlands Rep


2021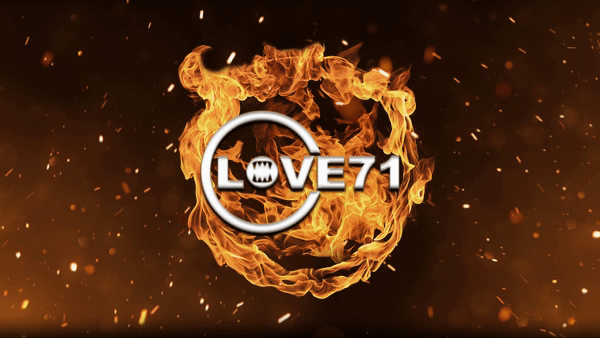 2019


2018


---
▶️ 3Speak
---
---