Splinterlands | SPT Did a 100x in 4 Months!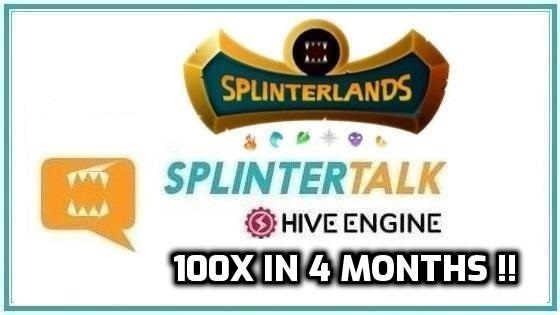 Another post around the Splinterlands SPT token used on Splintertalk.io as it now officially has done a 100x in the last 4 months!
---
This was what the market looked like 4 months ago when I made the post I'm Buying More SPT Tokens! with the price of SPT being 0.00014$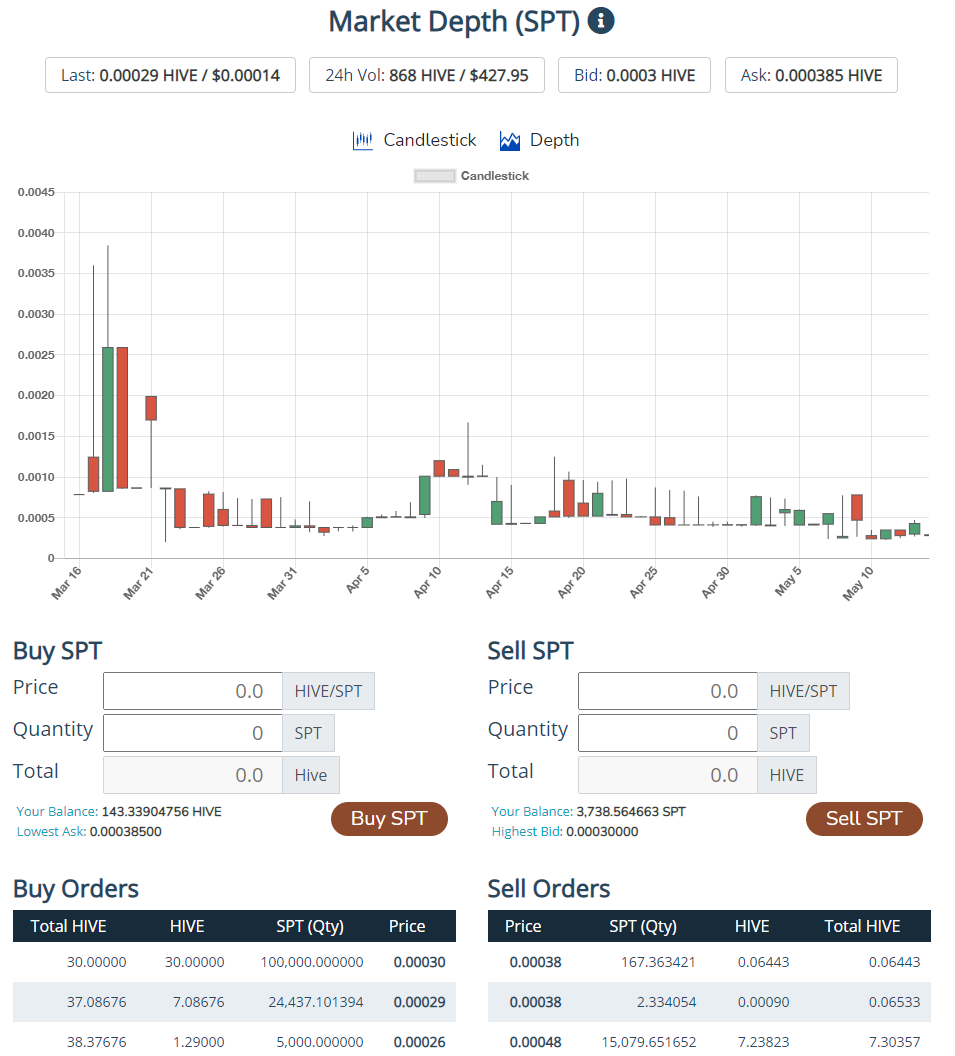 ---
Yesterday it reached 0.01593 which is exactly a 113x price surge in a really short time and I'm quite sure a large amount of SPT can be sold around this price range.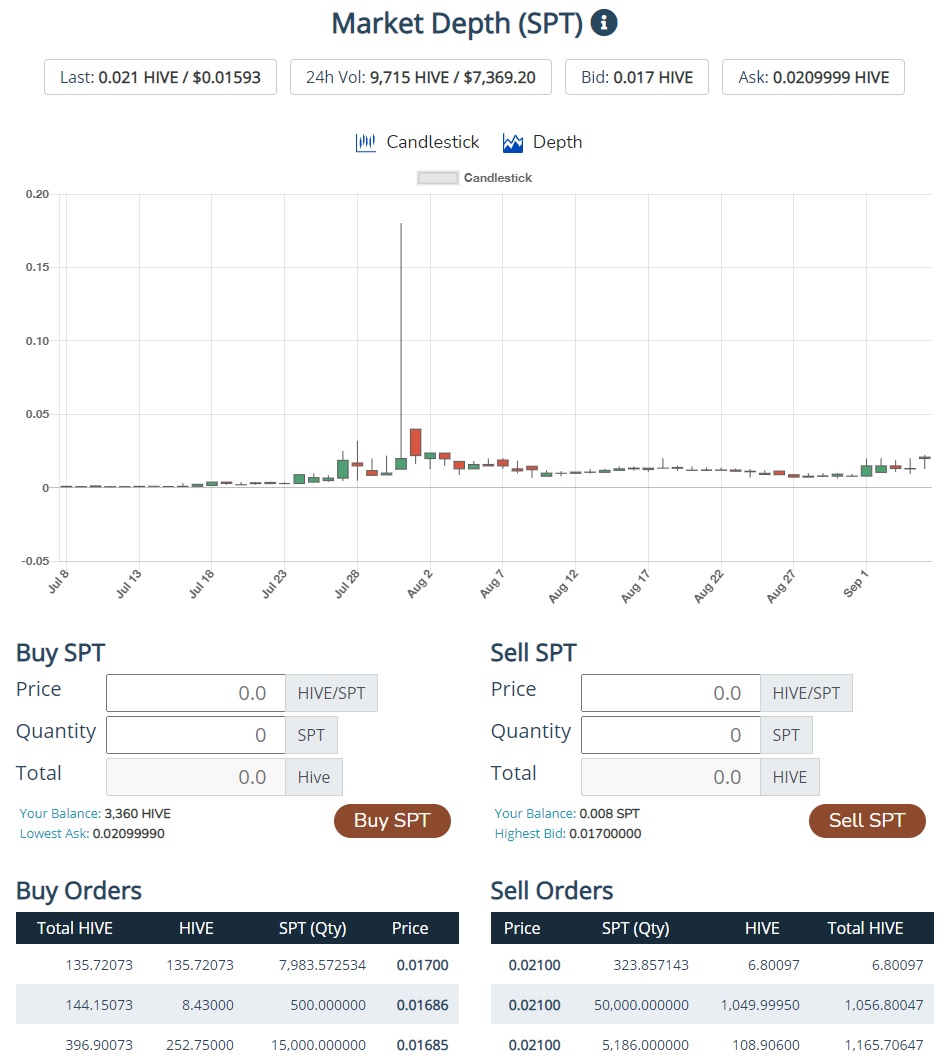 ---
Where To Go From Here on Out
The total market cap is still under 1.5 Million Dollars. To put this in perspective,
The Market Cap of SPS at Max Supply is over 1 Billion
The value of all current cards in the game are worth over 200 Million Dollars
The value of all DEC in circulation is ~6.7 Million Dollars
The Value of all Plots is 55 Million+ Dollars
The Value of Unopened Untamed Packs is 4.3 Million Dollars
The Value of Common Totems is 2.4 Million Dollars
...
The Fully Diluted Market Cap of AXS is 21 Billion...
---
Since SPT is currently in many ways linked to the price of SPS since 1 SPT gives 0.25 Airdrop points, there is a good reason for those that have SPT to hold on to it. If the SPS price goes up, the value of SPT should go up along with that at least as long as the airdrop lasts. The Splintertalk.io website also has been updated and it should become the main website/forum for info around Splinterlands where players interact. So the token that 4 months ago mostly had some speculative value in the anticipation for a more real use case to be given to it now provides plenty of reasons to earn and hold it. This along with the explosive growth in users which isn't looking to stop anytime soon as more gamers are starting to discover play2earn and there is just no way back once you are used to it, caused a price increase of over 100x
SPT Market Caps & Inflation
| Date | Price | Market Cap | Supply |
| --- | --- | --- | --- |
| 10/02/2021 | 0.00028$ | 19,318 $ | 68,905,727 SPT |
| 22/04/2021 | 0.00031$ (+10.7%) | 23,123 $ | 75,621,474 SPT (+9.74%) |
| 04/08/2021 | 0.00619$ (+2000%) | 460,895 $ | 85,561,680 SPT (+13.14%) |
| 05/09/2021 | 0.01593$ (+257%) | 1,425,000$ | 89,454,000 SPT (+4.55%) |
---
That being said, the inflation of SPT is still really high, and overall traded volume is still really low which can cause both spikes in price to the up or the downside. I'm personally happy to just hold on to the core position I managed to build while the SPT price was below 0.00025$ and continue to have it all delegated to @monster-curator for some double passive daily returns also getting the SPS airdrop. I will continue to take a bit of profit here and there on my SPT earnings because SPT is quite overexposed in my portfolio after the 100x it did in such a short time. The best thing everyone can do by far right now is getting engaged with the community on Splintertalk.io. Try to figure out what content you can potentially bring to give added value to the platform which most likely will get you generously rewarded. If you aren't that big on blogging, try checking the weekly challenges organized by the @splinterlands team which also can get you a good upvote and help you grow in the game organically without the need to do a heavy investment. For a more detailed guide on how to start blogging and earn some money with it check my Full Guide To Blogging for New Players!
---
Conclusion
Things are looking great for Splinterlands and the SPT token which doesn't mean that the next post I make around SPT can't show a massive price decrease. It remains very high-risk/high-reward as an investment but since it can be earned there is little to no downside to accumulate it that way. If you missed the SPT 100x and are looking for another opportunity like it, I would suggest keeping a close eye on what bloggers that wrote about it when it was cheap are getting into now early. ( Cough, ... Clash Of Streamers... ).
---
Congrats on all those that managed to get in on SPT and are Hodling now to reap the rewards!
---
For more Info Around the Splinterlands Game see...
---
Posted Using LeoFinance Beta
---
---