(PT-EN) Piercing the enemy!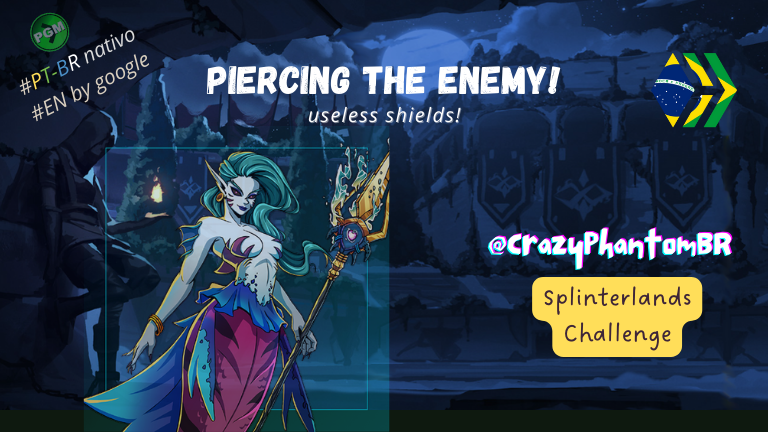 #EN first, #PT after
Hey guys, @CrazyPhantomBR in the area! My participation in the Weekly Media Challenge, this is the best game in the #hive #hivebr #play2earn ecosystem that exists!! #Splinterlands!!
This post is a submission to the Weekly Media Challenge Splinterlands!



Today my participation in the challenge will be a victory analysis of that very powerful attack that destroys not only the shield but also the opponent's life points! We will see?
---
OBJECTIVE
Deal a lot of damage with a single monster in restricted mana battle!
---
PREVIOUS ANALYSIS
When you can predict that the opponent is a bot we can try to take advantage of that. Of course, after a long time battling bots, we learned some small weaknesses and risked some more audacious strategies.
Not exactly this case, but it will serve as an example.
I knew the opponent was a bot. So how could I beat him?
I bet on the double sacrifice strategy, where we have a ruleset with the Born Again rule and use a card with the Martyr ability to get the
double sacrifice!
---
COMPOSING THE TIME
Everyone knows my favorite splinter is Water. At this point I had to make an initial choice, comparing my currently available summoners:
Possibilus the Wise, at level 2 (rented)
Kelya Frendul, at level 5 (my own)
Bortus, at level 1 (starter)
Well, the Born Again ruleset in my opinion can be well worked with Martyr monsters like Venari Marksrat, which is of the neutral element. I was determined to use him, and the summoner Kelya Frandul. Soon I would need 7 mana points. Exactly 10 mana points remained, which I decided to invest all in a single monster!
By betting on Coastal Sentry I gave up building a team with several cards, as it used up all available mana. On the other hand, it is one of my most evolved cards, being at level 6!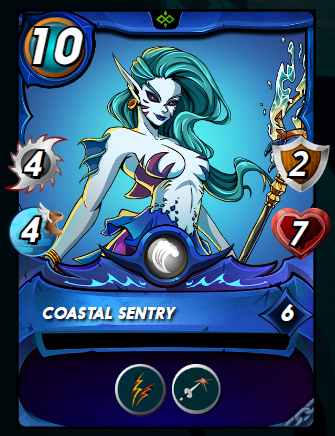 The Coastal Sentry has two skills at level 6, which are:
Double Strike, responsible for making her attack twice in each round!

Piercing, responsible for piercing the opponent's shield and hitting their life points in a single attack!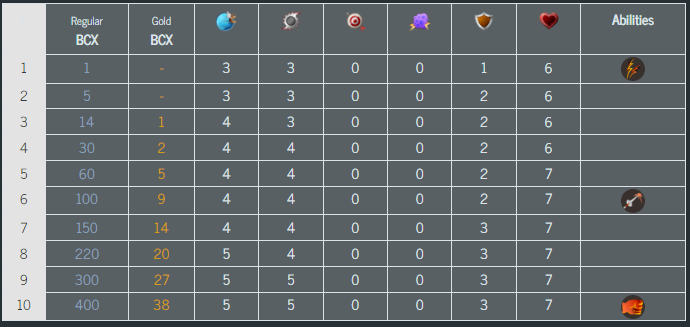 For my level of play, it is in the best evolution!
---
MY TEAM
I chose Venari Marksrat in the front row, followed by Coastal Sentry, and with Torrent Fiend in the rear.
---
ADVERSARY TEAM
The opponent chose summoner Quix Devioux, with Desert Dragon in front followed by Venari Marksrat and Ureaus.
Due to the ruleset determining Snipe for everyone, the opponent believed that his Venari Marksrat would be the main target of my attacks. But I only have one attacker, so he will only hit first position, which made the opponent sacrifice pointless.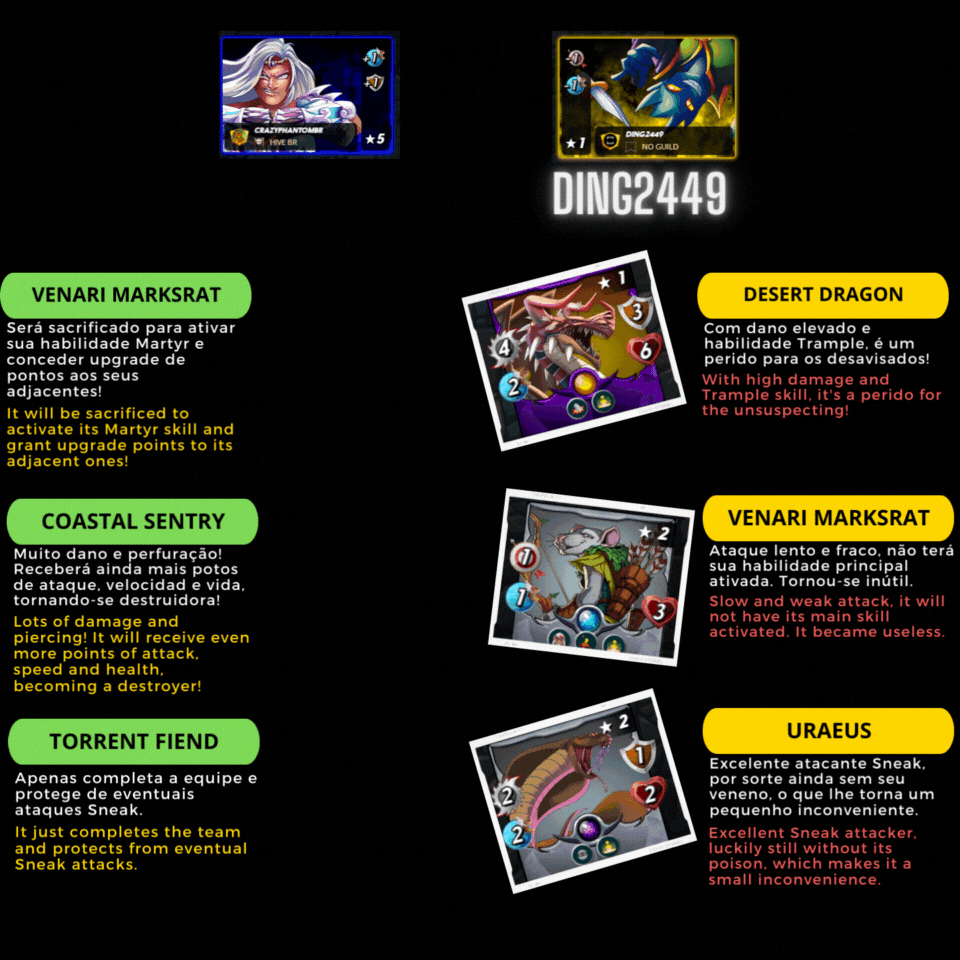 ---
BATTLE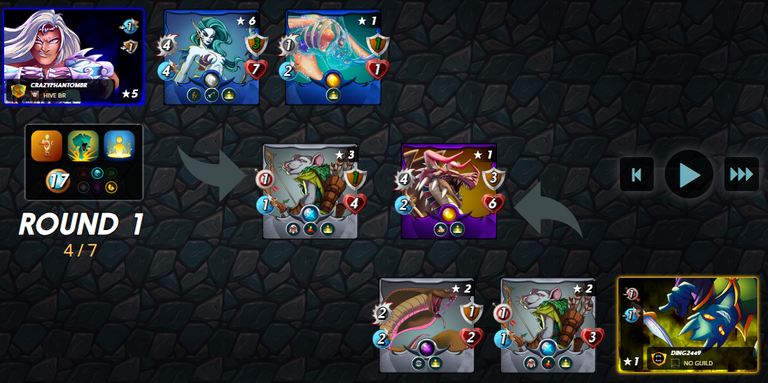 The battle took place in the Gol 1 league and can be watched through the link:
https://splinterlands.com?p=battle&id=sl_cadacbc2f210325ca351d5e0b467a9a9&ref=crazyphantombr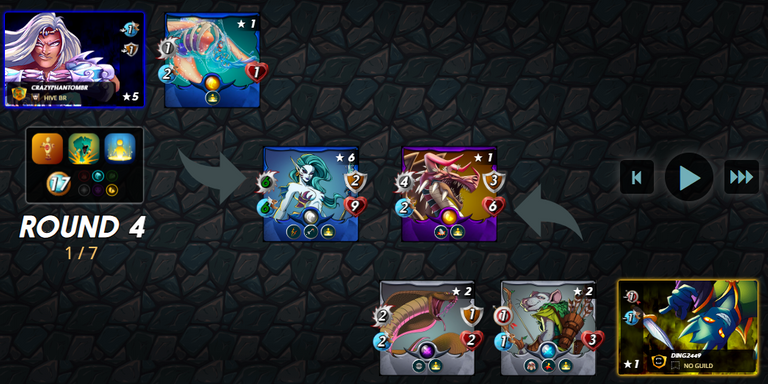 Until round 4 I had not performed any attacks! I was just waiting for the Martyr ability to activate twice, which resulted in the image above.
With six points of melee damage per attack, for a total of 12 points of total damage, it will be more than enough for Coastal Sentry to eliminate one opponent per round!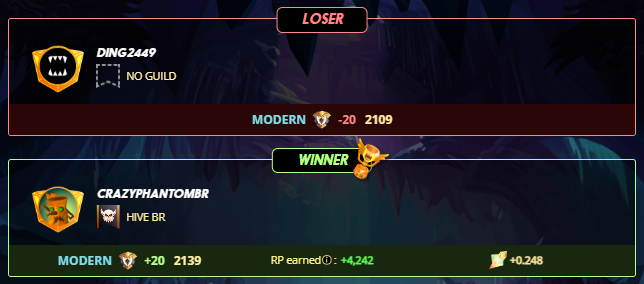 End of the game!
---

CrazyPhantomBR supports the PGM project
I invite you to know the PGM project.
A community geared towards gamers of all generations!
If you haven't played Splinterlands yet use myrecommendation link:
https://splinterlands.com?ref=crazyphantombr
---

CrazyPhantomBR supports Brazilian curators
@Hive-BR and @Brazilians
I invite you to discover the projects curated by the Brazilian communities HiveBR!
Delegate HP to hive-br.voter account and earn daily net Hive!

---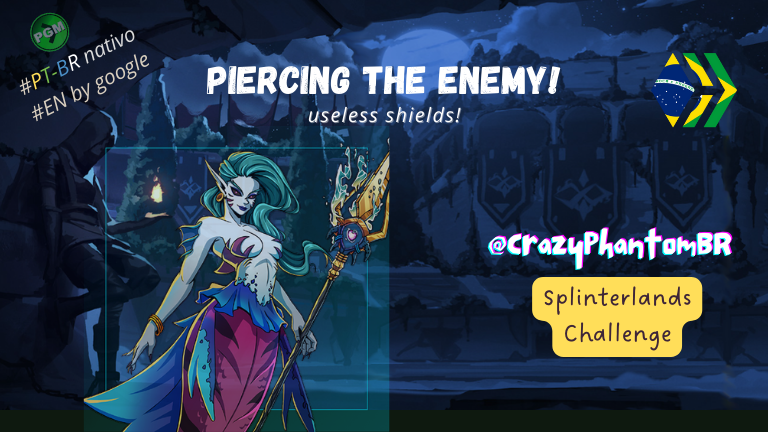 Fala galera, @CrazyPhantomBR na área! Minha participação no Desafio de Mídia Semanal, deste que é o melhor jogo do ecossistema #hive #hivebr #play2earn que existe!! #Splinterlands!!
Esta postagem é uma submissão ao Desafio de Mídia Semanal Splinterlands!



Hoje minha participação no desafio será uma análise de vitória daquele ataque poderosíssimo que destrói não só o escudo como também os pontos de vida do adversário! Vamos ver?
---
OBJETIVO
Causar muito dano com um único mostro em batalha de mana restrito!
---
ANÁLISE PRÉVIA
Quando você consegue prever que o adversário é um bot podemos tentar tirar vantagem disso. É claro que depois de muito tempo batalhando contra bot aprendemos algumas pequenas fraquezas e arriscar algumas estratégias mais audaciosas.
Não exatamente este caso, mas ele vai servir de exemplo.
Eu sabia que o adversário era um bot. Então como eu poderia vencê-lo?
Apostei na estratégia do duplo sacrifício, onde temos um ruleset com a regra Born Again e utilizamos um card com habilidade Martyr para obter o
duplo sacrifício!
---
COMPONDO O TIME
Todo mundo sabe que eu splinter favorito é o Water. Neste ponto eu tive de fazer uma escolha inicial, comparando meus summoners disponíveis no momento:
Possibilus the Wise, em level 2 (alugado)
Kelya Frendul, em level 5 (meu próprio)
Bortus, em level 1 (starter)
Pois bem, o ruleset Born Again na minha opinião pode ser bem trabalhado com monstros Martyr como o Venari Marksrat, que é do elemento neutro. Eu estava decido a usar ele, e a invocadora Kelya Frandul. Logo eu precisaria de 7 pontos de mana. Restaram exatos 10 pontos de mana, que eu resolvi investir tudo em um único monstro!
Ao apostar na Coastal Sentry eu abri mão de montar uma equipe com vários cards, pois ela gastou todo o mana disponível. Em contrapartida, ela é um dos meus cards mais evoluídos, estando em level 6!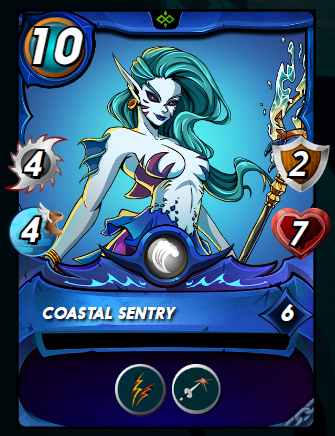 A Coastal Sentry possui duas habilidades no level 6, que são:
Double Strike, responsável por fazê-la atacar duas vezes em cada round!

Piercing, responsável por perfurar o escudo do adversário e atingir seus pontos de vida em um único ataque!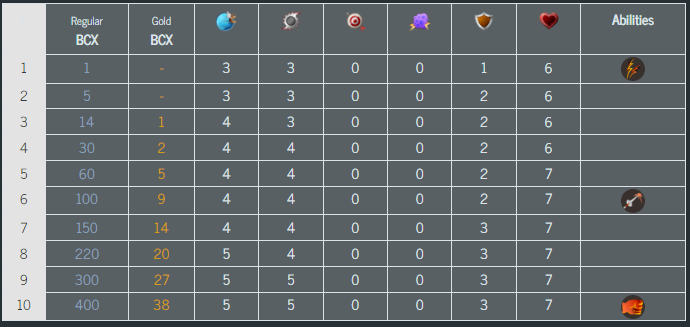 Para o meu nível de jogo, ela se encontra na melhor evolução!
---
MEU TIME
Escolhi o Venari Marksrat na linha de frente, seguido da Coastal Sentry, e com Torrent Fiend na retaguarda.
---
TIME ADVERSÁRIO
O adversário escolheu invocador Quix Devioux, com Desert Dragon na frente seguido de Venari Marksrat e Ureaus.
Devido ao ruleset determinar Snipe para todos, o adversário acreditava que seu Venari Marksrat seria o alvo principal dos meus ataques. Mas eu só tenho um atacante, então ele irá bater apenas na primeira posição, o que tornou o sacrifício adversário inútil.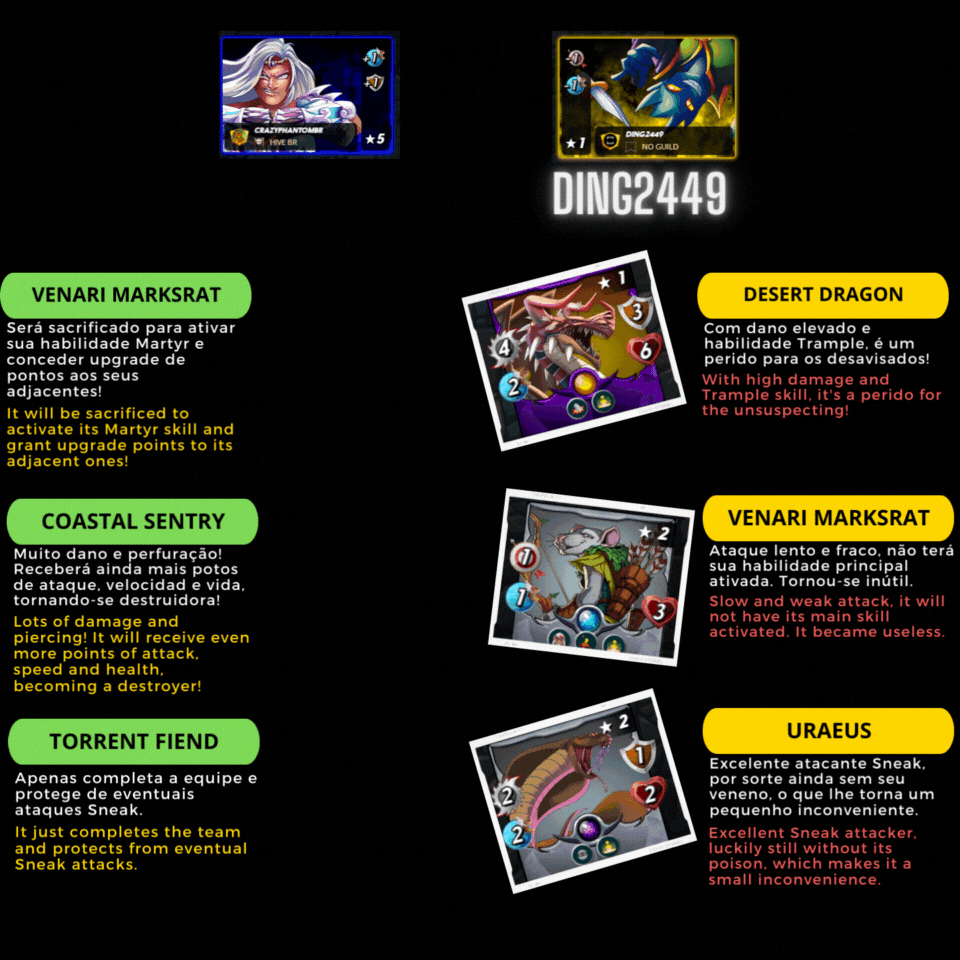 ---
BATALHA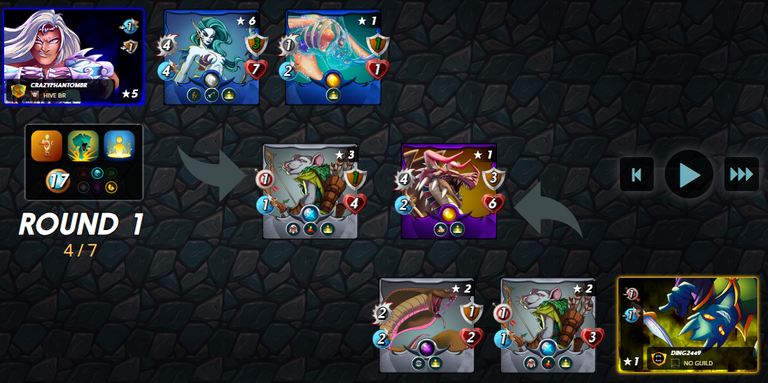 A batalha ocorreu na liga Gol 1 e pode ser assistida através do link:
https://splinterlands.com?p=battle&id=sl_cadacbc2f210325ca351d5e0b467a9a9&ref=crazyphantombr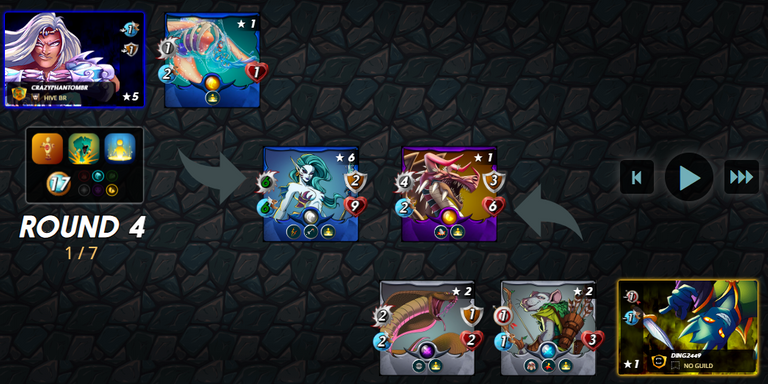 Até o round 4 eu não havia realizado nenhum ataque! Apenas esperava pela ativação da habilidade Martyr por duas vezes, o que resultou na imagem acima.
Com seis pontos de dano melee a cada ataque, totalizando 12 pontos de dano total, será mais do que suficiente para Coastal Sentry eliminar um adversário por round!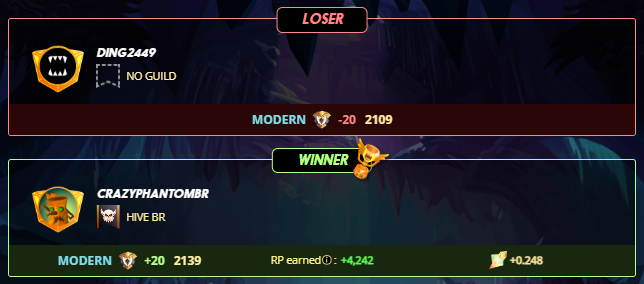 Fim de jogo!
---

CrazyPhantomBR apoia o projeto PGM
Te convido a conhecer o projeto PGM.
Uma comunidade voltada para gamers de todas as gerações!
Se você ainda não joga Splinterlands utilize meu link de recomendação:
https://splinterlands.com?ref=crazyphantombr
---

CrazyPhantomBR apoia as curadorias brasileiras
@Hive-BR e @Brazilians
Te convido a conhecer os projetos de curadoria da comunidades brasileira HiveBR!
Delegue HP para conta hive-br.voter e ganhe Hive líquida diariamente!

---
---
---