The Best Estimate of Human Players in Splinterlands is...
We can really get a sense of how many human players now.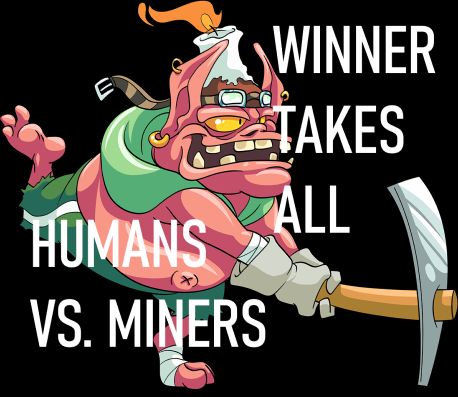 Does Splinterlands really have 150,000+ Daily Unique Players per game? The answer to that is obviously 'no'. It is actually much less. However, there are positive findings in the data uncovered by @chaoscommander in the Splinterlands API of the unique players in the ecosystem, the identified bots, and how much the bot farms have strip mined from the game.
But first, we must gain an understanding of why the human/bot ratio is important.
Struggling to fill spots in your guild? It's a Symptom.
Everyone is feeling the pain as alt accounts are the new members and new players with new money and personalities are not exactly entering the ecosystem. It becomes most evident on the guild level as human players have lapsed and new players are not necessarily filling the space as hoped.
Even with SPS rewards attached to Guild Brawls, it still may not be enough to encourage guilds to be filled and fully involved. Guild building is still hamstrung by not just DEC contributions, but crowns earned and competitiveness of the members themselves.
Splinterlands is overrun with bot farms mining for loot chests and selling Rewards cards, packs, Chaos Legion cards, unstaking SPS to exchange for Hive, and burning Gladius cards for DEC. Splinterlands is crypto mining with extra steps and this is clearly not the intention.
Rental Market Fluctuations and Bot Dependency
Ever notice how the rental market has been a bit unusual? There's no regular rhythm anymore to it and prices may surge at a given time? Some cards inflate in value quite considerably one hour and then crash the next?
It's all about bot farm account engagement and the strategies of the bot farms. Splinterlands is doing a better job with rooting out win trading and preventing bots from the same farms facing each other. Bot farm accounts are taking out different rental strategies and the key for human players and those renting is to figure out when the bots are getting in and out of the game en masse.

It's a rental market that provides opportunities like below.


But this is not even the most extreme example of what happens when bot armies are engaged and unengaged.


This above opportunity came up on October 8, 2022. Multiple bot armies stormed the rental market. It was a bad time to rent and a great time to rent out.
For those interested about the bots renting these cards: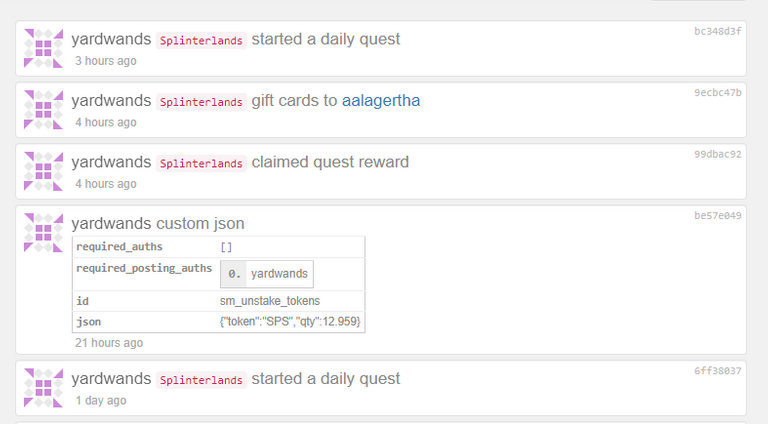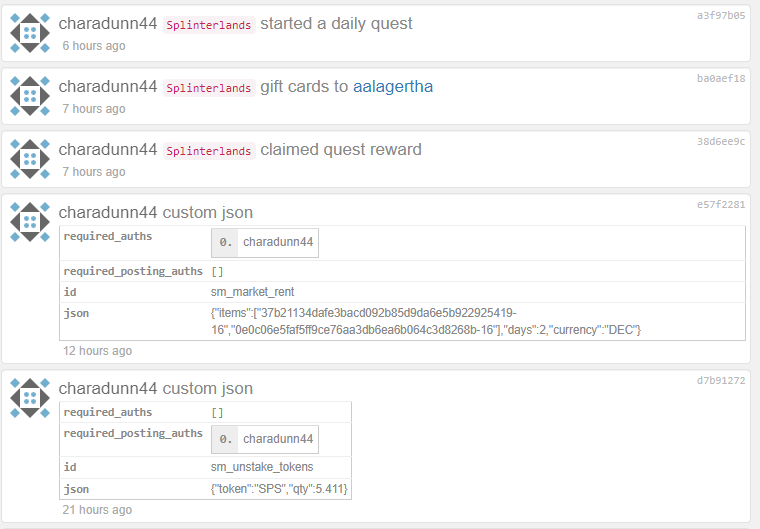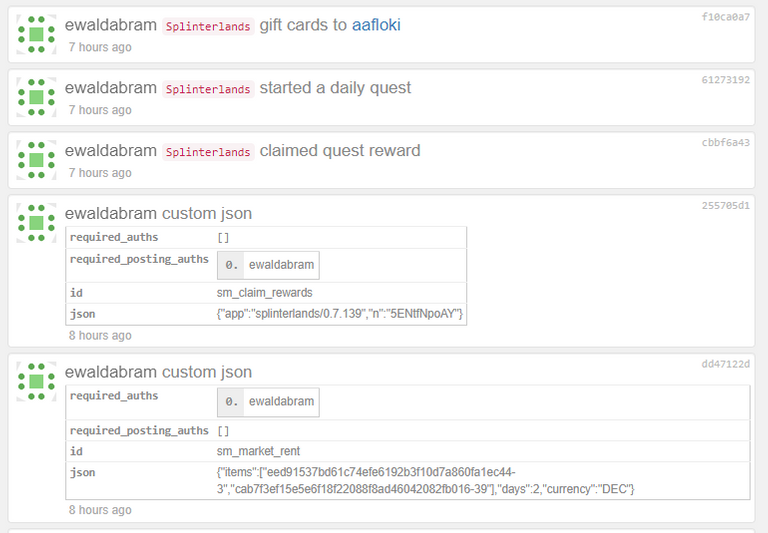 All of these fleeced renters are a part of the A-Team Bot Farm and they all unstaked at the same time. Anhdaden146 is the central account in this operation and they have introduced a managerial account (philip-do) that delegates cards to the bot farm accounts to reduce the rental cost load.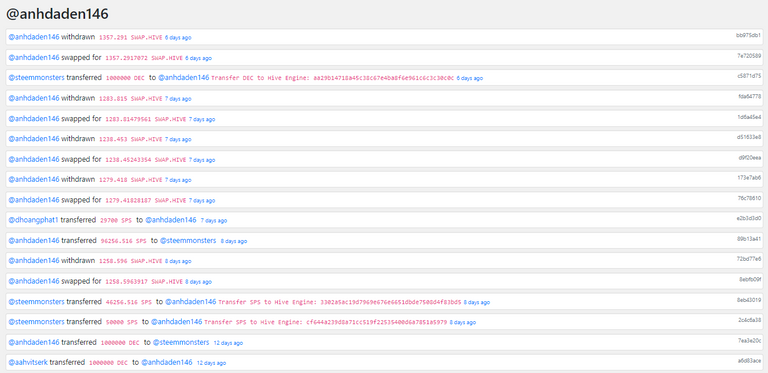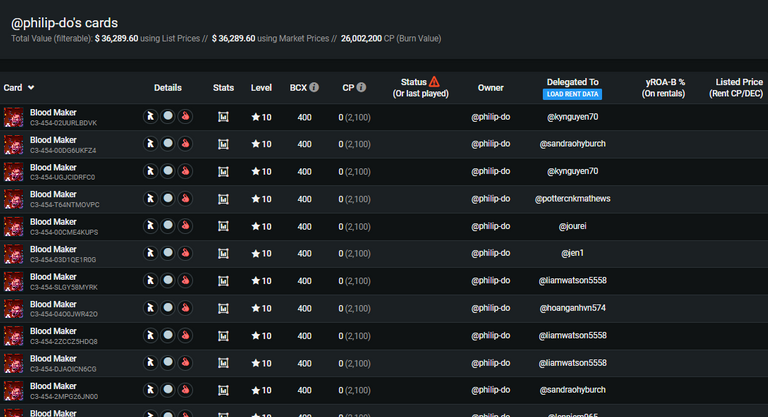 Over 26,000,000 Collection Power for this centralized account designed to delegate cards to bot farm accounts. All of it is comprised of new Rewards cards.
What happened on October 8, 2022?
Technically, this happened on October 7 and into the early morning hours of October 8, but the bots came back to the ecosystem.

Several things happened at once during this period. There was a shutoff point to take place just as people were traveling out to Splinterfest and the unique human player count fell to 2,212 on October 6. Then the bots came back, roughly 22,000 of them all at once. The rental market was flooded on October 7 and 8 for a period of 12 hours, prices skyrocketed.
It all times out quite well as the larger bot farms have responded to the changes in ECR and the 48 hour minimum rental period.
The Best Estimate of Human Players and Human Received Rewards
Readers can find out more about how the estimate came to be and all of the hard work put into figuring out this effort here.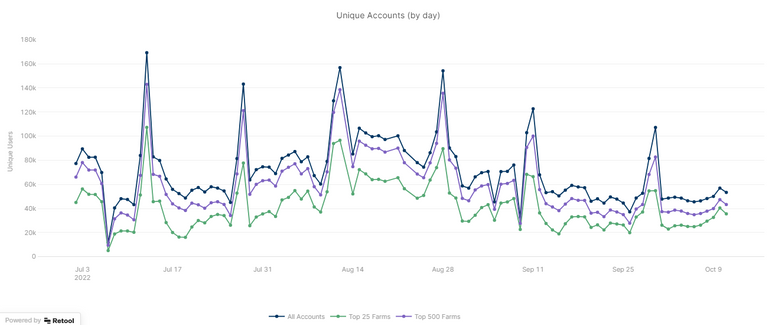 The Daily Active Human Users range is somewhere between 10,000 to 14,000 users per day. According to this same site that has scoured the Splinterlands API, 60.57% of reward earnings are going to bot farms. The Top 25 bot farms, which are defined by the old way of recognizing a bot farm (multi-seller/manager operations are broken up based on the individual accounts rather than the entire operation), make up 37.52% of all rewards earnings.
Have estimated distributions changed over time?
In the latest 30 days recorded (September 13, 2022 to October 11, 2022), 51.57% of rewards went to bot farms. In the previous 30 days, 63.14% of rewards went to bot farms.
The number of bot farm accounts has been falling since late August. The win trading bots getting caught has forced operations to change and thus there are less bots operating and earning rewards.
Season 90 (EoS Day Rewards): 54.9% went to bots.
Season 91 (EoS Day Rewards): 51.76% went to bots.
Season 92 (EoS Day Rewards): 50.58% went to bots.
Season 93 (EoS Day Rewards): 51.82% went to bots.
Season 94 (EoS Day Rewards): 43.49% went to bots.
Season 95 (EoS Day Rewards): 43.1% went to bots.
On a season-by-season basis...
Season 90 (July 2-13): 67.5% went to bots.
Season 91 (July 14-August 1): 63.16% went to bots.
Season 92 (August 2-August 16): 64.19% went to bots.
Season 93 (August 17-August 31): 65.95% went to bots.
Season 94 (September 1-September 15): 57.47% went to bots.
Season 95 (September 16-September 30): 53.32% went to bots.
Incomplete Season 96 (October 1-October 11): 51.12% went to bots.
This is one part of what is encouraging about the findings, the other is that there is a consistent 10,000-14,000 active unique Splinterlands users. There has not been any human growth that has expanded this band, but the humans are still being retained.
The marketing focus has clearly shifted from expansion to share of customer through @steemmonsters' efforts to be more than just a one product venture (Tower Defense, Genesis League Sports, Splinterlands, and the speculated Splinterlands Casino are all a part of the Steem Monsters portfolio). Users that have stayed along for the ride are getting a head start to gain value in their evolution to becoming a more diversified DeFi software gaming company.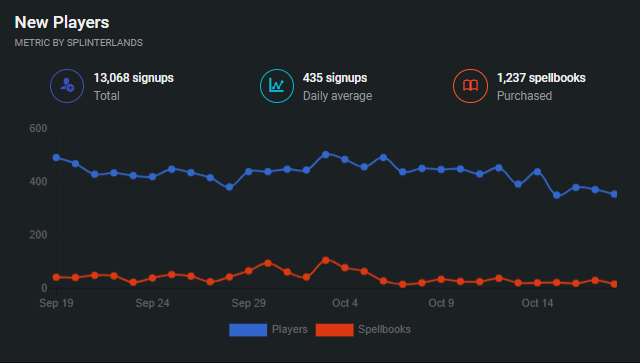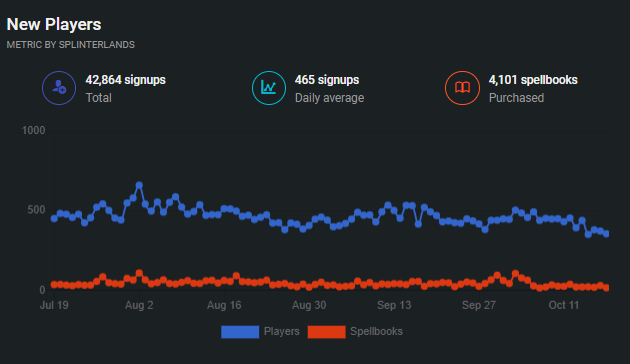 Above are charts that are beginning to concern many in the community, even as estimated human earnings rise and bot farms are being targeted with new proposals and community watchdog initiatives. Growing the human player base as the bot farm accounts begin to dwindle is critical for the purpose of saving face and future corporate partnerships that may result in revenue distributions to users and dynamic use cases.
Thank you to @chaoscommander for pulling, cleaning, and organizing this data so that this sort of an article could ever be made to inform the community of where this ecosystem stands. It's important to understand the state of affairs to create the plan that takes the community where it wants to be.
---
---