Crypto zard secret Santa charity stream. Raising money for Family funds who help family's with disabled children
Charity stream day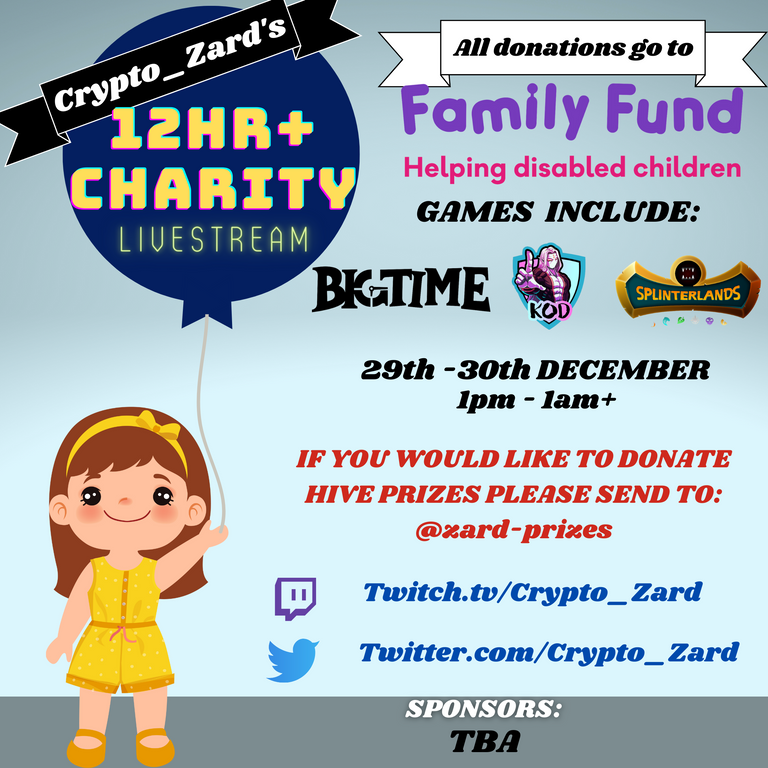 Summary of the day
During the whole day, we will be playing a bunch of play-to-earn games and doing giveaways while raising money for a wonderful charity called Family Funds who help families with children with disabilities. We will be starting the fund raising from the 12th December and will be doing the big stream event on the 29th. If you would like to donate to the charity, there is a link on our Twitch channel that will allow you to do this.
During the big stream event we will be having multiple tournaments in Splinterlands and hosting one of the first King of Duels tournaments. In between the tournaments we will run through dungeons in Big Time while talking about the charity we are raising money for. We will be doing giveaways all throughout the stream for the viewers so there is something to be won!

About the charity
Family Fund is the UK's largest charity providing grants for families raising disabled or seriously ill children and young people. Last year, we provided over 150,000 grants or services worth over £48 million to families across the UK.
Our purpose is to improve the lives of low-income families raising disabled or seriously ill children and young people.
Our mission is to provide items and services to all low-income families in the UK raising disabled or seriously ill children, that they could not otherwise afford or access, and that help improve their quality of life, realise their rights, and remove some of the barriers they face.
Our vision is that all families raising disabled or seriously ill children have the same choices, quality of life, opportunities and aspirations as other families.
We provide grants for a wide range of items, such as washing machines, sensory toys, family breaks, bedding, tablets, furniture, outdoor play equipment, clothing and computers. It can be a struggle financially, emotionally and physically for families raising a disabled or seriously ill child, and these grants help break down many of the barriers families face, improving their quality of life and easing the additional daily pressures.

Games being played and tournament timetable
The games that will be included in the Charity are:
Splinterlands: an auto battler card game
Big Time: A MMORPG dungeon crawler
King of Duels: A Tactical card game
Here is a preview of the current timetable which can be changed: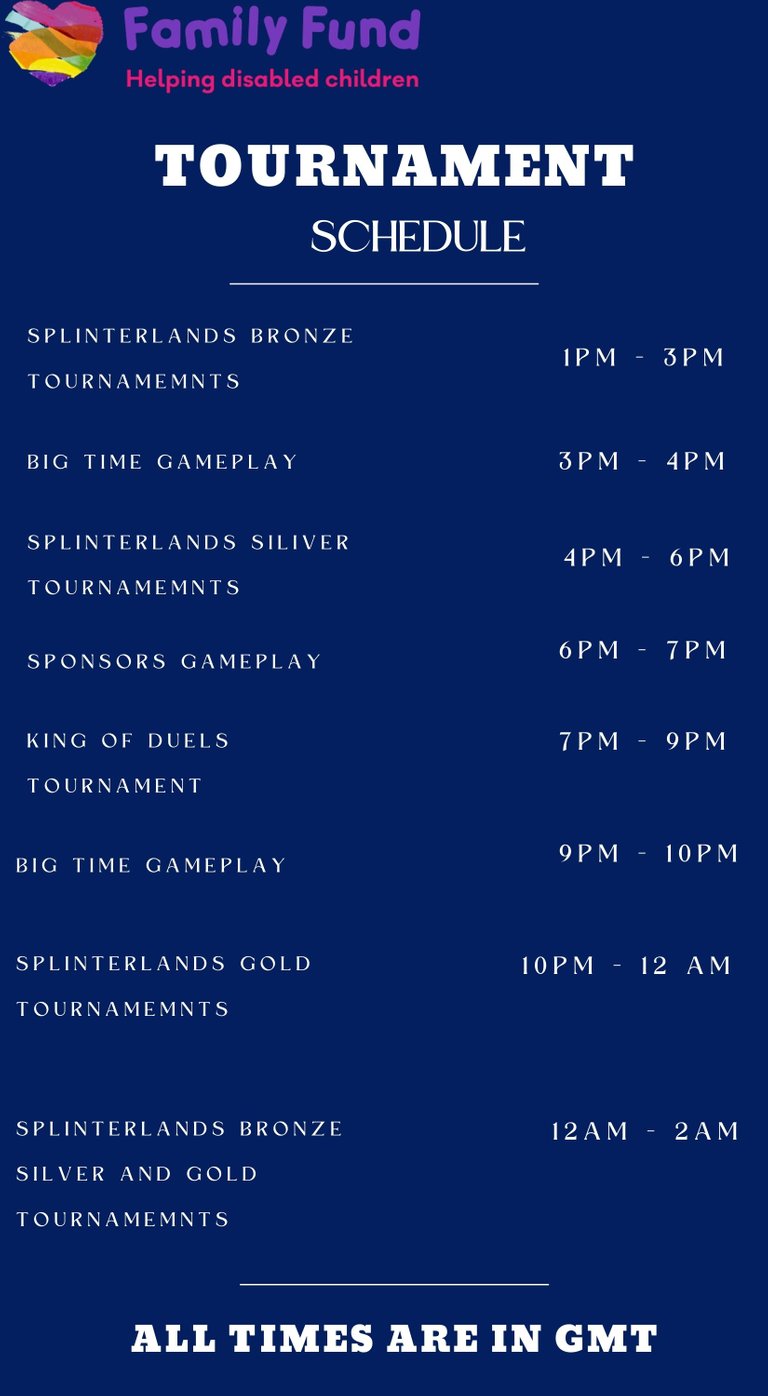 Splinterlands Section of the day:


The Splinterlands part of the stream will be Splinterlands tournaments mixed in with a few of our giveaway game shows including Guess That Splinter (our pack opening giveaway), and Spin That Wheel. We will try and get some of the Splinterlands players to come into the stream to have a little interview with you guys.
Big Time section of the day:


During our Big Time parts of the stream, we will be running through dungeons trying to get NFTs while explaining to you the wonderful world of Big Time (which is an amazing MMORPG P2E game which we think all you guys will like). We will be giving out passes to be a part of the Alpha of the game during these segments before the game is released later next year.
King of Duels section of the day:

In our King of Duels section of the stream, we will be holding one of the first KoD tournaments and it will have the minimum requirements to enter which will be the free card to get when you start the game and the 2 starter decks (which are $10 each). If you have any questions, DM Crypto Zard or Beccss for more details about the format. We will be giving away KoD packs during the tournament.
King of Duels Tournament: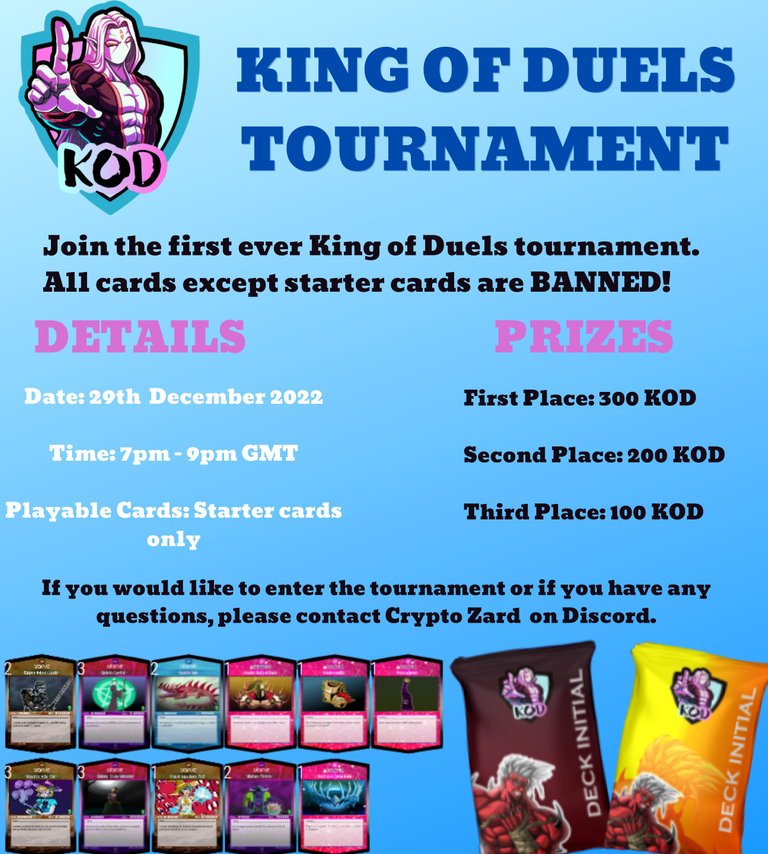 We will be hosting on of the first King of Duels tournaments and it will be very low entry level. All cards have been banned apart from the free starter cards you get when you make the account and either or both of the $10 starter decks. People will need to enter for this tournament before the tournament date and there may be limited spaces due to the timekeeping of the tournament. The top 3 players of the tournaments will win prizes:
First Place: 300 KOD
Second Place: 200 KoD
Third Place: 100 KoD
There aren't any fees to enter the tournament, the only requirements are to turn up to the tournament and only have the starter cards on your deck. If you have any question message me on discord.
Splinterlands Tournament Marathon: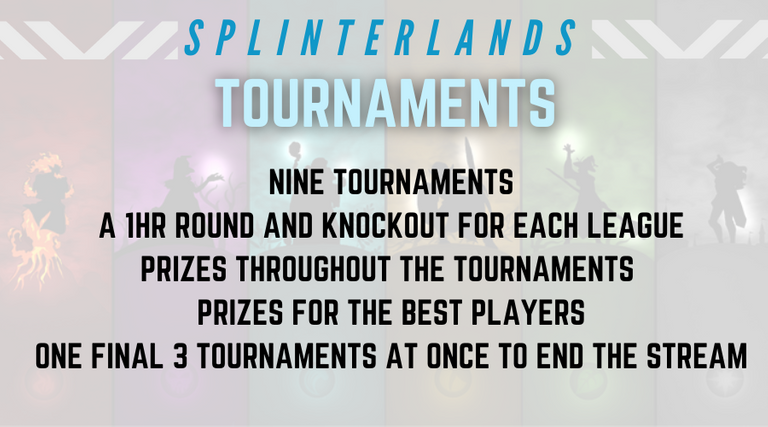 We will be holding tournaments all through out the day and for all ranks (Bronze, Silver and Gold). Each tournament bracket will be a double tournament format: one sit-and-go round tournament with 1-hour rounds, and one knock-out tournament.
During the rounds we will have break to do some giveaways and if we got time at the end we will try and have some interviewers from the players in the tournaments. We will be trying to make this tournament marathon one of the best Splinterlands tournament live event we have ever done and there may possibly be a reward for the best Splinterlands tournament player of the day.
Below is a breakdown of the time and leagues for the Splinterlands tournaments: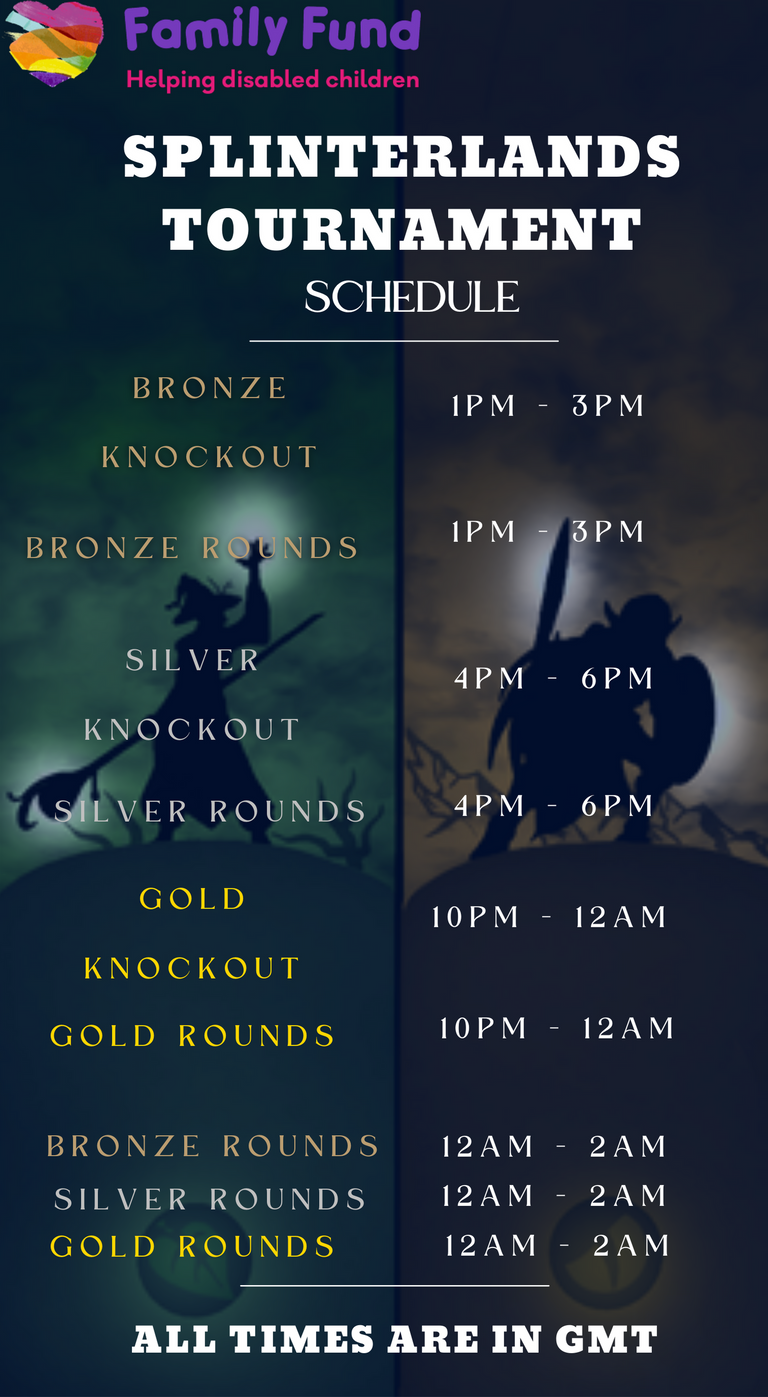 Ways to donate:
If you would like to donate any money to Family Funds, you can find a link on my Twitch channel. The subscribe button has changed to a Donate button and all the money received will be sent straight to Family Funds through Twitch as they are a charity partner. We do not take a cut of the money.
If you would like to donate any hive prizes to give out to viewers during the stream, you can send them to zard-prizes
All sponsors will be announced next week so keep an eye on the Peakd posts or join the Web3 Discord for up-to-date information regarding the charity stream.
Thanks to @beccss for making graphics for this post.
---
---