Dodging Isn't Everything in the Arena: My epic brawl loss INCLUDING: Strategy Analysis, Brawl Summary, Giveaway, Gladius Pack Opening and more!

Dodging Isn't Everything: Epic Battle Loss
For this battle analysis I will highlight one EPIC loss here. If you aren't playing Splinterlands click here for a free card.
For this brawl report I am going to highlight my epic Eld vs Eld brawl loss, the other four wins (one surrender) are located in the section below.
In this loss I am defeated by superior sustainability in the earthquake ruleset. Having greater damage output, with return fire damaging 3 enemies every turn, the enemy backline was quickly dealt with.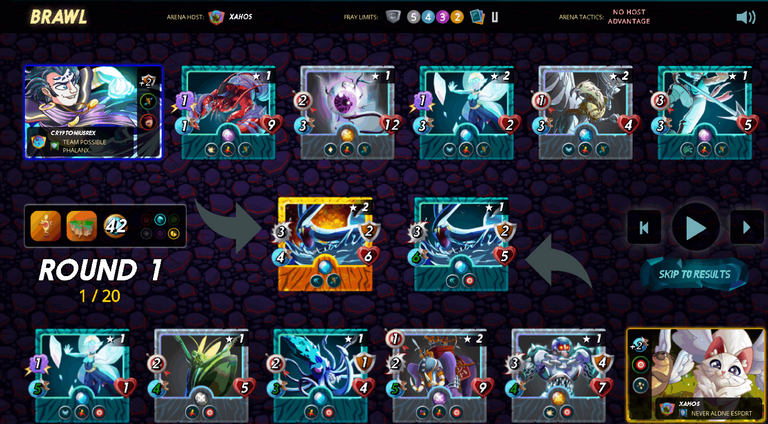 The issue came with the survivability of the position 1 tank and the position 2 reserve tank (Eld Serpent and Chain golem respectively). Due to Byzantine Kitty's terrifying tank heal ability chain golem outlasts ALL of my lineup even Cornealus the infamous regenerating eyeball. My lineup relied too heavily upon dodge, where the enemy had sustainable regeneration from BOTH primary tanks. The eld serpent slithering and swaying and dodging an ENTIRE volley from my team, but the real ace in the hole is chain golem, regenerating and having armor plating. Reducing all my damage AND earthquake damage, leading to chain golem dragging my units down into the depths.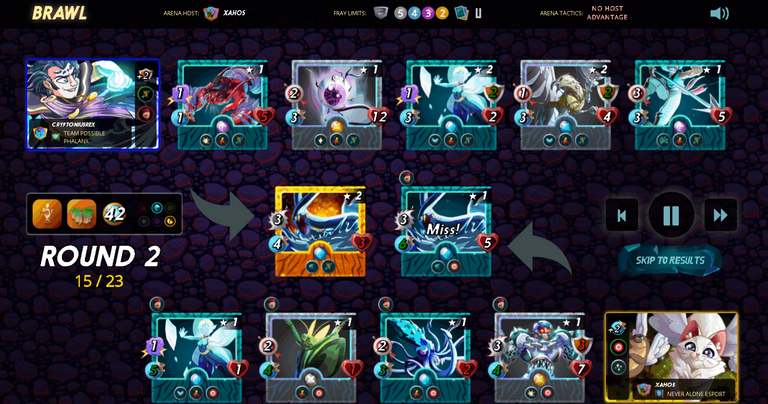 A high adrenaline match to behold indeed. True Strike added an additional benefit as the enemy was able to take consistent chunks of damage out of my position 1 where rng was still in effect for my opponent. My return fire, while deadly, was not enough. A chain golem with tank heal outlasted everything else. Admirably played, an excellent reserve tank with Byzantine Kitty.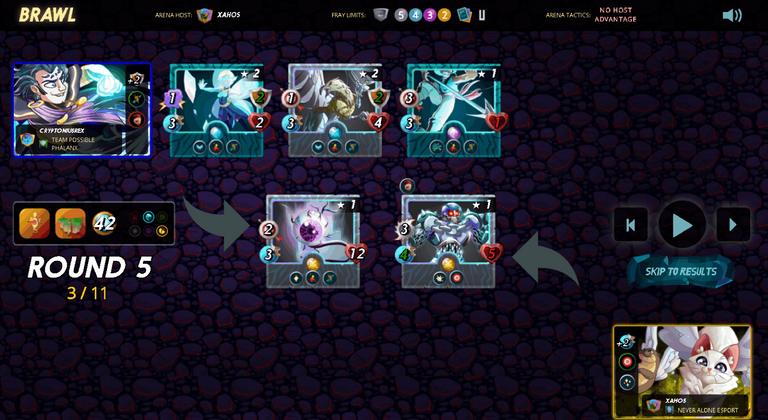 Chain Golem commits a multiple homicide and gets awake in the panic of the earthquake, and the moral of the story is... Dodging isn't everything.
Epic Brawl Non-losses
Battle 1
Battle 2
Battle 3
Battle 4
Gladius Pack Opening Results w/ Giveaway


Last week I had the pleasure of opening a Gladius pack, the cards within are Soulbound and can only be used in brawls. Each card having an extensive lore background. The highlight card for me in this pull is Alva the Crusher. Armor plating ,has a cost of 6 (solid stats AND Water splinter) , she is definitely a good common card. To enter the giveaway simply like AND comment on this post. One person at random will be delegated a lvl 1 hobgoblin for 15 days. A neutral card with double strike not to be underestimated. Comment whatever you like, it's all golden. If you like this post, giveaways, tournaments, and more don't forget to incinerate that follow button for more content.
Keep Summoning and See You in the #Splinterlands


---
---